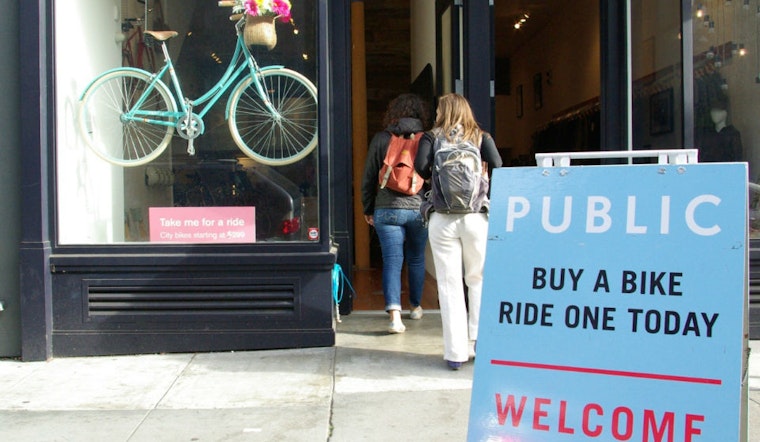 Published on May 23, 2014
Back in March, we brought news that local casual commuter bike purveyor PUBLIC Bikes
would be relocating its San Francisco store to the neighborhood
. Now, that time has finally arrived.
PUBLIC has officially opened the doors of its new flagship space, which takes the former Room Service space at 549 Hayes. The move means that they've closed down both their South Park and Valencia locations, though they'll keep the warehouse and weekend store in Oakland's Jack London District. Though they'll have an official grand opening sometime in June, the store is now ready to welcome visitors from 11am-7pm six days a week (they're closed on Tuesdays).
Dan Nguyen-Tan of PUBLIC says that they're
excited to become a part of the neighborhood. In fact, they've already partnered with local businesses CityRide Bike Rentals and Streets of San Francisco Bike Tours for a "Bike and Brunch" event on June 8th. It'll consist of a guided ride from PROXY along the Wiggle and into Golden Gate Park, with the return trip ending at Dobbs' Ferry.
Dan also points out that if you're looking for a job, PUBLIC has several openings available, including full-time retail store operations managers, sales associates, bike assembly and service leads and bike mechanics. If any of those openings rings your bell,
check out their jobs page
for more information.
They're also
still looking for a lucky winner of a giveaway bike
, so get your social media engine going. Just
share the news that PUBLIC is now in Hayes Valley (perhaps by posting this article) on Facebook, Instagram, Twitter, and Pinterest, and make sure to tag @publicbikes or #publicbikes. You could be the proud owner
of a 7-speed PUBLIC bike of your choice.
And if you're thinking of taking the plunge with a new bike, it bears mentioning that they've got a Memorial Day sale going on right this minute and lasting through May 27th, so stop on by and see if anything gets your wheels spinning.