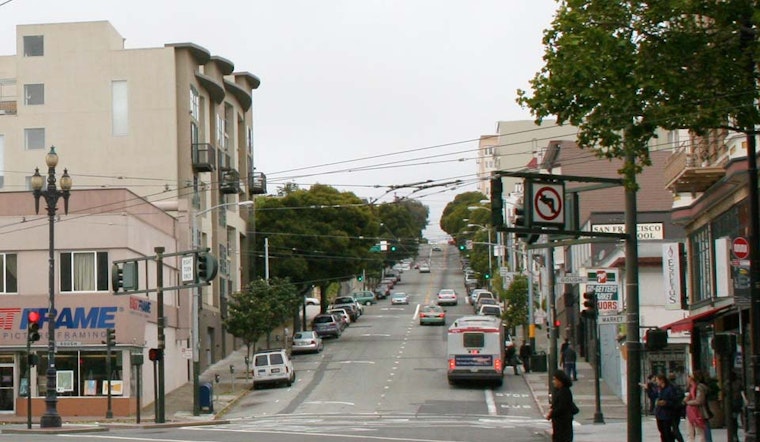 Published on June 09, 2014
For the next two weeks, crews will be preparing the eastern end of Haight Street for two-way traffic, a plan that's been in the works for
a good
three years
.
As of now, Haight Street is two-way for nearly its entire length, from Stanyan to Octavia. However, between Octavia and Market,
traffic only flows in the westbound direction. To avoid this one-way stretch, the eastbound 6 and 71 Muni lines are currently diverted north or south once they hit Laguna.
Starting today and lasting through next Sunday, the SFMTA will be preparing this final segment of Haight Street for a transit-only eastbound lane. This includes sidewalk improvements at the intersection of Market/Haight/Gough, and night work to improve overhead wires in the area. (This is separate from the sewer work that's been taking place around Haight and Octavia since April.)
What does this all mean for you?
Well, if you take the 6-Parnassus, your commute is going to be
rerouted
a little over the next two weeks.
During all hours of service, the outbound 6 bus will not make any of its usual stops between Market and Larkin and Haight and Fillmore. Instead, it will turn right from Market Street onto Hayes, continue down Hayes Street as if it's the 21-Hayes (making all of the 21's stops), and then make a left on Buchanan and a right onto Haight, resuming its usual route westward.
Only the 6-Parnassus line, which is powered by overhead wires, will be rerouted, not the 71. So i
f you want or need to disembark at any of the five stops that the 6 will be bypassing, you're encouraged to take the 71 instead.
Finally, parking will be restricted around the job area during work hours, but the streets will otherwise remain open.
If things continue at the current pace, the Haight Street
Two-Way Conversion is scheduled to wrap up by mid-September.