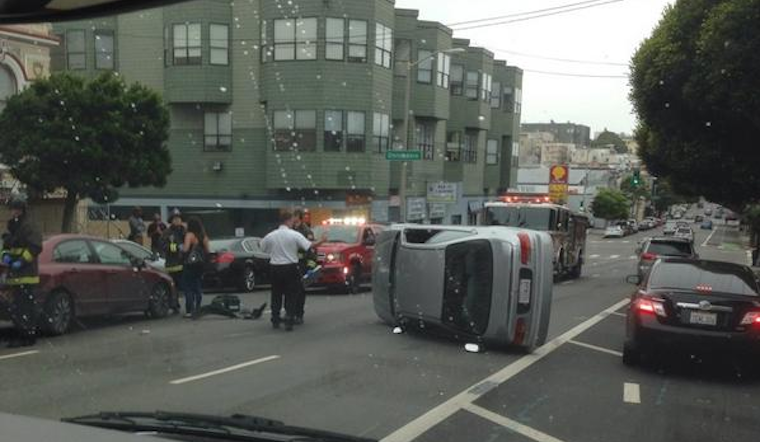 Published on September 19, 2014
Sometime around 9:45am today, a grey sedan heading east on Oak Street between Broderick and Divisadero flipped onto its side. Thankfully, no one was injured, but the accident snarled traffic east of the incident and reaffirmed Oak Street's reputation as notoriously treacherous thoroughfare.
In December, we had
this fatal accident
, which killed a motorcyclist at Oak and Steiner. Two weeks later, there was
this accident at Oak and Scott
, which seriously injured a pedestrian. In January,
a cyclist was injured
in a hit-and-run at Oak and Scott, and let's not forget about the Muni bus that pushed a car from Oak and Masonic all the way up to Fell
back in June of last year
. And further east, there was
this collision
down at Oak and Octavia last month, plus
this one
and
this fatal one
in previous years. And, back in November of 2011, a car flipped over on the same block as today's incident, sending a motorcyclist and a driver to the hospital:
"People gotta go slow," said Officer Guin at the scene this morning. "People are late for whatever in the morning, in a hurry, and there's an inattention to speed. It happens: that's why they call it an accident. That's all it was. Traffic was stopped. Everyone's okay ... no one was hurt."
Whether you use Oak Street's speedy eastbound car and bikes lanes or no, let this serve as a reminder to stay safe out there.
Nuala Sawyer contributed reporting to this story.