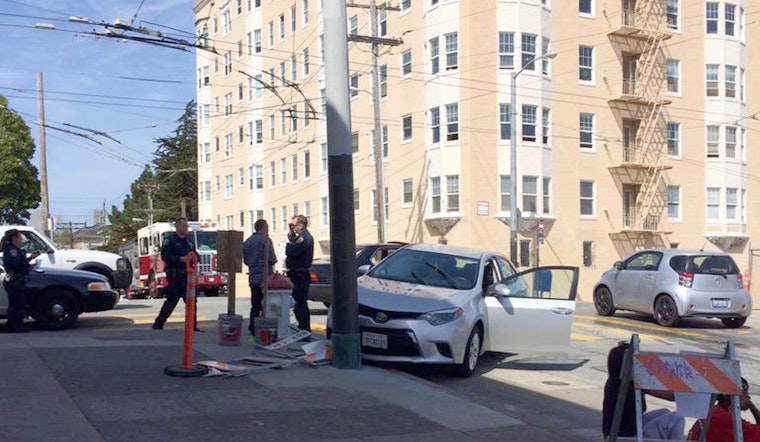 Published on March 30, 2015
It's been a strange afternoon in the Lower Haight, with a big melee followed by an apparent car crash nearby.
First, a huge fight erupted on Haight near Webster around 2:30pm. Reader Jeff M. wrote in with his account from the scene:
"MASSIVE brawl on the east side of Haight and Fillmore around 2:30p. Traffic in both directions completely shutdown and at least one pair on the ground slugging it out. Buses in both directions stopped and opened their doors, adding additional crowding to the fracas. Loads of people ran towards the fight westbound on Fillmore."
Moments later, a car possibly speeding away from the fight crashed into a utility pole at Haight and Buchanan:
@haighteration @HoodlineSF This afternoon has been kind of chaotic on this block of Haight. pic.twitter.com/X75Rh1w0Zb

— Lucas Saugen (@LucasSaugen) March 30, 2015
@LucasSaugen @haighteration @HoodlineSF saw it while stuck on a bus a bit ago. Fight broke out on Webster. Lady getting away crashed

— Eli Perez (@thrifteye) March 30, 2015
We've reached out to the SFPD for details on the fight and crash, and will update with any information. In the meantime, if you witnessed any of this action, let us know what you saw in the comments.
Update 4:20pm: SFPD tells us that the fight involved a "large group of females" that had congregated at the corner of Haight and Webster. A verbal fight ensued, which began to escalate into a physical altercation. A witness called police as the fight spilled into the street, causing a traffic hazard. Once units arrived, the group dispersed; there were no arrests made and no reports of injuries.
The car crash was reported separately to police, and they couldn't say whether the two incidents were related. It seemingly involved a single vehicle; there were no injuries.