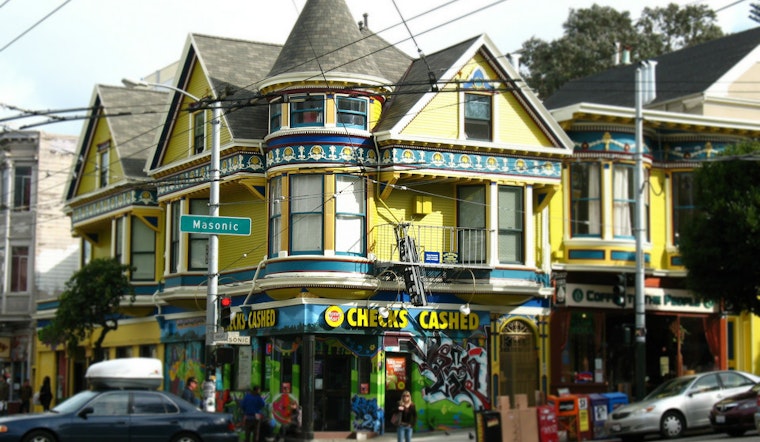 Published on March 10, 2015
The Haight's a cinematic place. On any given weekend, if you walk the length of the street, you might find someone shooting something. Telenovelas shoot here, blockbusters shoot here, and Woody Allen shoots here, among countless others. But this might be the first time we've been memorialized in animation.
Disney's Big Hero 6, which opened last fall and recently won the Oscar for Best Animated Feature, takes place in an alternate post-quake Japan-infused city called San Fransokyo. Hiro, the protagonist, lives in an old Victorian above a coffee shop called Lucky Cat. The cafe is inspired by Coffee to the People, and the building is modeled after the big yellow Victorian at the corner of Haight & Masonic.
Observe:
(Image via Hero Complex/Disney)
As you can see, the film Disney-ified our little corner perfectly. From an article in the LA Times:
A Victorian home on a picture-esque corner near Haight-Ashbury inspired the Lucky Cat cafe, which Hiro lives above with his aunt and brother. In the "Big Hero 6″ version, artists stretched out and exaggerated — or "wonkified" in Disney shop parlance — the shapes of the house. They added a figurine of a Maneki-Neko cat and Japanese signage, steepened the hill and lined the street with Japan's signature cherry blossom trees.
If you saw the film, did you notice the resemblance to our fair neighborhood?