If you've strolled through the Mid-Market area in the past six months, you may have noticed the large gallery space that's popped up near Huckleberry Bicycles. The space at 1059 Market St. has been a temporary home to Root Division, an arts organization and gallery space that offers workshops for both adults and kids in the community.
The organization has been around since 2002, and in the past year it's become the poster child for the non-profit struggle in a changing San Francisco. With arts collectives and studios falling victim to rising rents and an increasingly-competitive real estate market, it's rare to hear a success story. And yet in spite of the challenges Root Division has faced in the past year, it's managed to not only to find a new home, but also to expand its programming and reach new audiences. 
Last summer, Root Division was priced out of its former location on 17th and Shotwell. The organization relocated to Mid-Market in July of 2014, though the solution was always temporary. The transitional home at 1059 Market St. is smaller than its former location on 17th Street, though with a few added perks.
The first and most obvious is visibility. Amy Cancelmo, the Exhibitions and Events Director at Root Division, pointed out that being on an active commercial corridor has helped spread the word about the organization and its programs. The vast gallery space is easily visible from the street, meaning that foot traffic inside the space has increased around 40 percent. The metal gates that roll down in the evening reveal a huge advertisement for Root Division, further increasing visibility of the organization.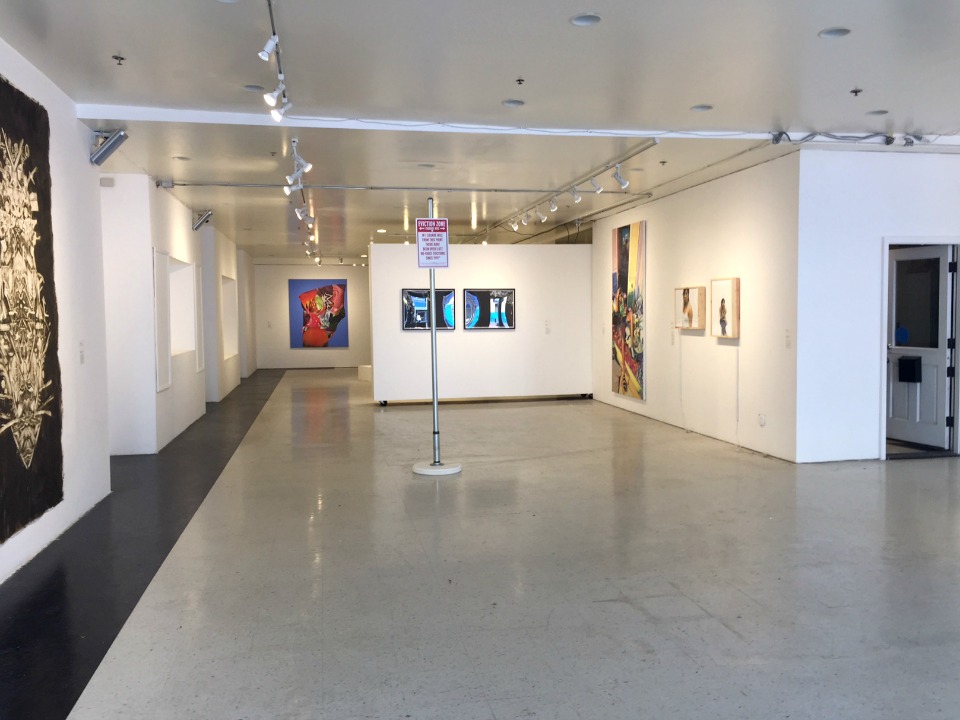 Root Division's temporary home. (Photo: Nuala Sawyer / Hoodline)
But this summer, Root Division will be moving once again—and hopefully staying put for at least another decade. Thanks to the help of Leiasa Beckham of the Northern California Community Loan Fund, Root Division has been able to secure a 10-year lease at 1131 Mission St., between 7th and 8th. 
Root Division's new location on Mission Street is going to be its largest yet—with 13,000 square feet of space to work with. The larger square footage will allow the organization to grow its artist residency program from its current 15 artist spaces up to 22, and will also make room for several classes to take place at a time. 
With a temporary location on Mid-Market and a permanent home just a few blocks away, Root Division is looking to its local community. During its time in the Mission, partnerships were developed with a number of organizations, including local public schools and the Mission Education Center, which helps newly-arrived Spanish-speaking children adjust to life and education in a new country. Many of the connections developed with the Mission community took years to build, and now Executive Director Michelle Mansour is faced with the task of continuing those partnerships from a few miles away, and branching into new communities. 
The organization is already sending art teachers to Larkin Street Youth a few blocks away, and have partnered with Kelly Cullen Community on Golden Gate Avenue to create programming for formerly homeless individuals who are putting down roots in a new studio apartment. Art programming includes home-based crafts, such as making planters, pillows, and home decor.
Future plans include branching out to Chinatown, where there's a school doing a very similar program to that of the Mission Education Center, but focusing on new immigrants who speak Chinese. There's also hope to expand some arts programs into the Central Y on Eddy Street. "We're excited, there's a lot of opportunity," says Amy. 
Stop by Root Division's temporary location at 1059 Market St. and check out the current show, the MFA Now 2015 Archive Project. For the fourth year running, Root Division is curating a selection of works from MFA students around the Bay Area, looking at what art practices and themes are trending.
The gallery is open from Wednesday to Saturday, 2pm - 6pm, and by appointment. And if you're getting creatively inspired, check out Root Division's list of constantly-evolving programming here.