Published on April 11, 2015
It's difficult to imagine genteel Pacific Avenue between Montgomery and Kearny streets during the heyday of the Barbary Coast, when it was home to a raucous assortment of saloons and dance halls.
But this strip, dubbed "Terrific Street," indeed boasted some of San Francisco's best-known entertainment joints, including the Hippodrome at 555 Pacific Ave.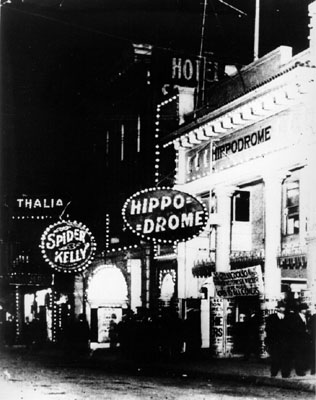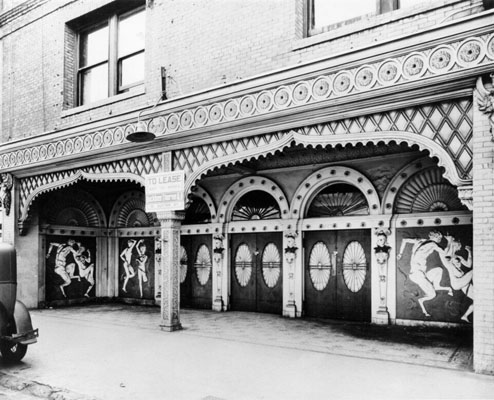 Photos: San Francisco History Center, SF Public Library
It boasted "six bas-relief panels in plaster, depicting a group of satyrs happily and purposefully pursuing as many nymphs, with anatomical details all complete," according to Herbert Asbury in The Barbary Coast: An Informal History of the San Francisco Underworld.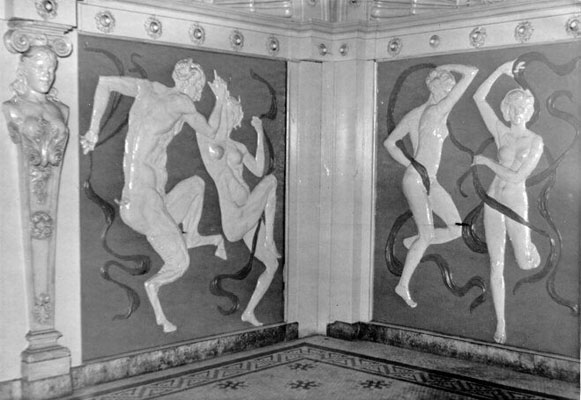 Photo: San Francisco History Center, SF Public Library
The clientele of current tenant Artist & Craftsman Supply would almost certainly appreciate the attention to detail, even though the randy satyrs are now gone. Long ago, they were transformed into angelic-looking women dancing with ribbons, reminiscent of nude rhythmic gymnasts.
Photo: Geri Koeppel/Hoodline
Inside, the smoky saloon has given way to clean, well-stocked aisles of art and craft supplies. Artist & Craftsman opened four years ago this June. "We try to reach everyone from a hobbyist or enthusiast to the professional artist," said manager Mike Randoll. "It's the full spectrum."
Looking to learn? The store offers workshops once a month; check the Facebook page for updates.
Or, if you want to show off what you've done, ask about putting your work on display: "We don't sell anything through the store, but we always have something up and people's contact info, so we're always looking for submissions," said assistant manager Justine Kessler.
The cavernous shop can be daunting, but there's no need to be intimidated. Because all 23 Artist & Craftsman Supply Stores across the country are employee-owned (well, 51 percent of the business anyway; the other 49 is held by founder Larry Adlerstein), you're likely to find someone knowledgable, experienced and eager to help.
"We're a closely knit company," Kessler said. "Lots of respect; everyone loves working here."
Upstairs stocks "everything to do art with," such as paint, inks, charcoal, graphite, pastels and brushes, and downstairs has "everything to do art on," from sketch books to canvas to papier-mâché figures, Kessler said.
At the back of the shop, just before the stairs to the lower level, there's a "play station"—a small sofa with an assortment of supplies for doodling.
Justine Kessler. Photo: Geri Koeppel/Hoodline.
They even have a line of papier-mâché figures created by Randoll ready to customize. He studied animation, so as a result, he said, "I draw, I sculpt and I work on tiny things."
Mike Randoll and his papier-mâché figures. Photo: Geri Koeppel/Hoodline
Kessler said her main areas of concentration are taxidermy and watercolor. When pressed about the dichotomy, she said she likes divergent things; she dresses up for Halloween as a "zombie mermaid." (We'd love to see that.)
Speaking of Halloween, the store gets busy around that holiday, and Burning Man, with people looking for costume supplies. But Randoll said it was also popular this year for Valentine's Day with sweethearts looking to make their own cards.
"Pinterest has brought do-it-yourself back into the mainstream," he said, "and that's great, seeing people making stuff from scratch."
Art students from the nearby schools are another big clientele; so are the working artists of North Beach.
The building also attracts tourists due to its colorful history. Emperor Norton's Fantastic San Francisco Time Machine tour takes visitors to the back of the downstairs area and into a set of tunnels most likely used for shanghaiing, Kessler said.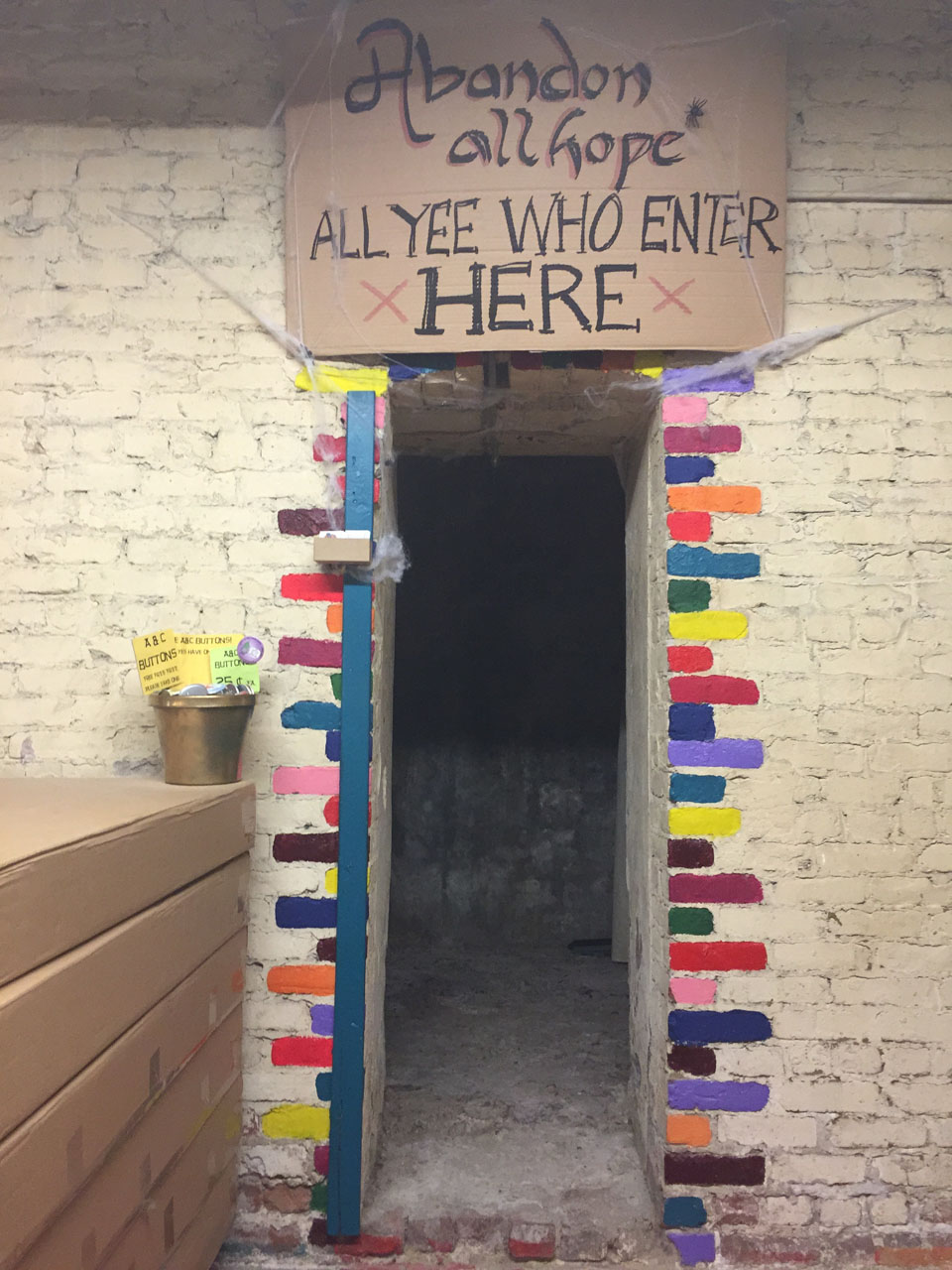 Entrance to tunnels. Photo: Geri Koeppel/Hoodline
And, in July 2013, the Alameda Paranormal Researchers certified the space as haunted. A video on their website purports to show evidence.
"We've seen things ourselves like tubes of paint flying off the shelves, footsteps, and someone darting around downstairs," Kessler said. "It's never really negative energy. They're friendly enough."