SFMTA is now slapping stickers directly on parking meters around the city to alert drivers of tow-away zones during certain times. 
The stickers warn drivers who might not be able to clearly see the signs on poles, which are often several parking spaces away, located high up or obscured by trees.
It's a long time coming, according to one Jackson Square merchant. "I've been in this space since 2006 and I can't tell you how many people have been towed away" in front of the shop, said Sarah Stocking, owner of Sarah Stocking Fine Antique Posters at 368 Jackson St. at Sansome. There's a tow-away zone on Sansome from 3pm-6pm.
"A lot of people were going to Immigration [at 444 Washington St.] and couldn't take their phone," she said of people who've had their cars towed. "Their phone was in the car and they'd come in here to use the phone to find out where their car was."
Sadly, she added, a lot of the people don't have the means to pay the fines and towing fees, so they'd have to make several more calls to get the money to get their car back. And if they couldn't, storage charges would add up and make it worse.
"We applaud the new stickers on the meter," she said. "They're eye level, so when that person drove up and that person drove up," she added, pointing at cars approaching parking spots tentatively and then driving off, "those two people would have parked there."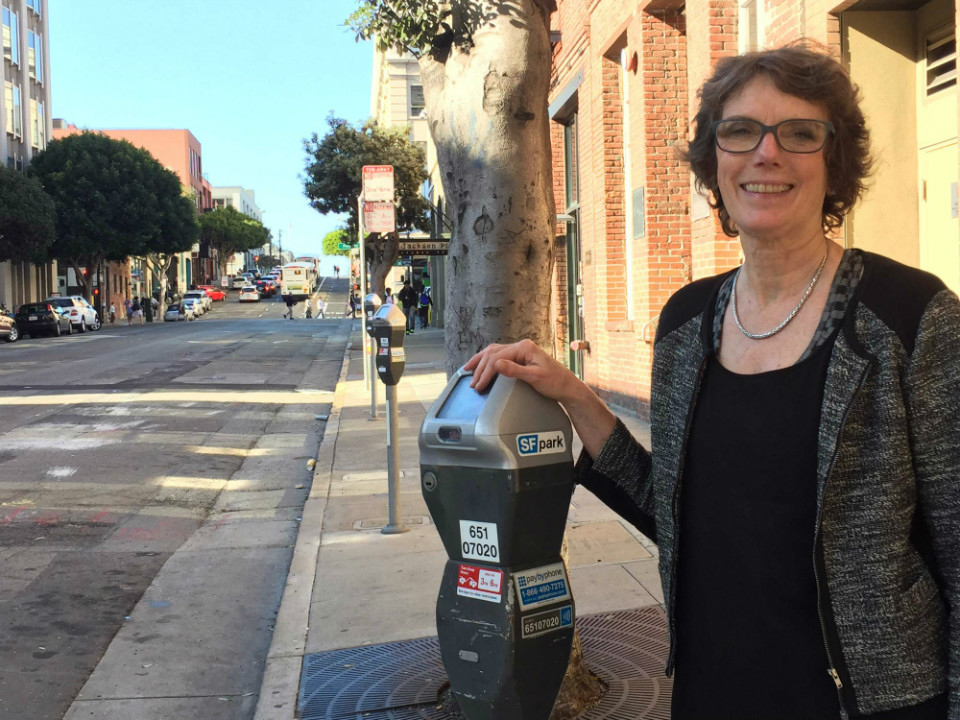 Sarah Stocking (Photo: Geri Koeppel/Hoodline)
Another block that saw frequent tows was Davis Street between Washington and Clay streets, which is a tow-away zone from 3–6pm so several Muni buses can line up and get ready to serve the FiDi during rush hour.
Tow-away zones are predominantly focused around the downtown area, but nighttime tow-away (blue) and daytime tow-away (yellow) extend westward past Franklin Street, and also affect Masonic Avenue and Bay Street, among others.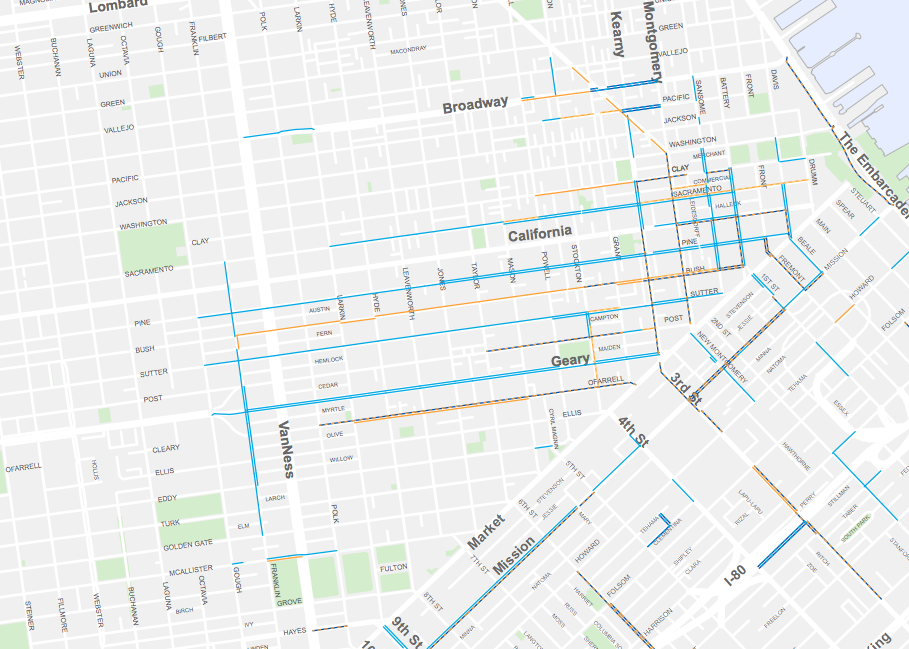 Tow-away zones in 2011(via SFMTA)
Stocking said she's asked SFMTA for years to put stickers on the meters and they refused. But SFMTA spokesman Paul Rose said in an email, "The MTA received a recommendation to implement tow decals on all meters that are in tow zones, as part of citywide smart meter upgrades, which completed on March 24, 2015." He verified that the agency is rolling out the stickers over time.
Also, Stocking said the meters shouldn't take money during tow-away hours or after hours. SFMTA Assistant Engineer Ian Trout said in an email that they don't: "I spoke with the head of our meter shop regarding this. The multi-space meters do not allow payment during tow or non-operational hours," Trout wrote.
"The single space meters (i.e. a meter/meter post for each parking space) display the tow times and indicates if you are buying into the tow hours. Unfortunately they do not have shutter and allow people to drop in coins during those times but should not allow credit card or pay by phone payments."
SFMTA's website has a schedule of towing fees, which run nearly $500 for passenger vehicles and higher for medium- and heavy-duty vehicles. If you don't pick up your car within four hours, you're slapped with another $57.25 charge, and subsequent days will run you $66.75 a day, with the cost higher for heavier vehicles.
Here's a map of the city's tow-away zones, updated in 2011.