Up to hundred upset activists gathered at Harvey Milk Plaza Plaza to demand affordable housing in the Castro, where average rents on new move-ins recently passed $4,000 per month. Several residents from the neighboring Mission district took part in the rally in part as a show of solidarity for the Castro protesters and to call out District 8 Supervisor Scott Wiener for what they see as his opposition to a temporary moratorium on luxury housing construction in the Mission.
The moratorium was proposed by openly gay District 9 Supervisor David Campos, who represents the Mission. Activists from both communities decried the escalating evictions of longtime residents, which has been said to be changing the demographics of both neighborhoods as young tech professionals move in. While still more than half of all Castro residents self-identified as LGBTQ in a recent survey of the neighborhood, the newest residents did the least.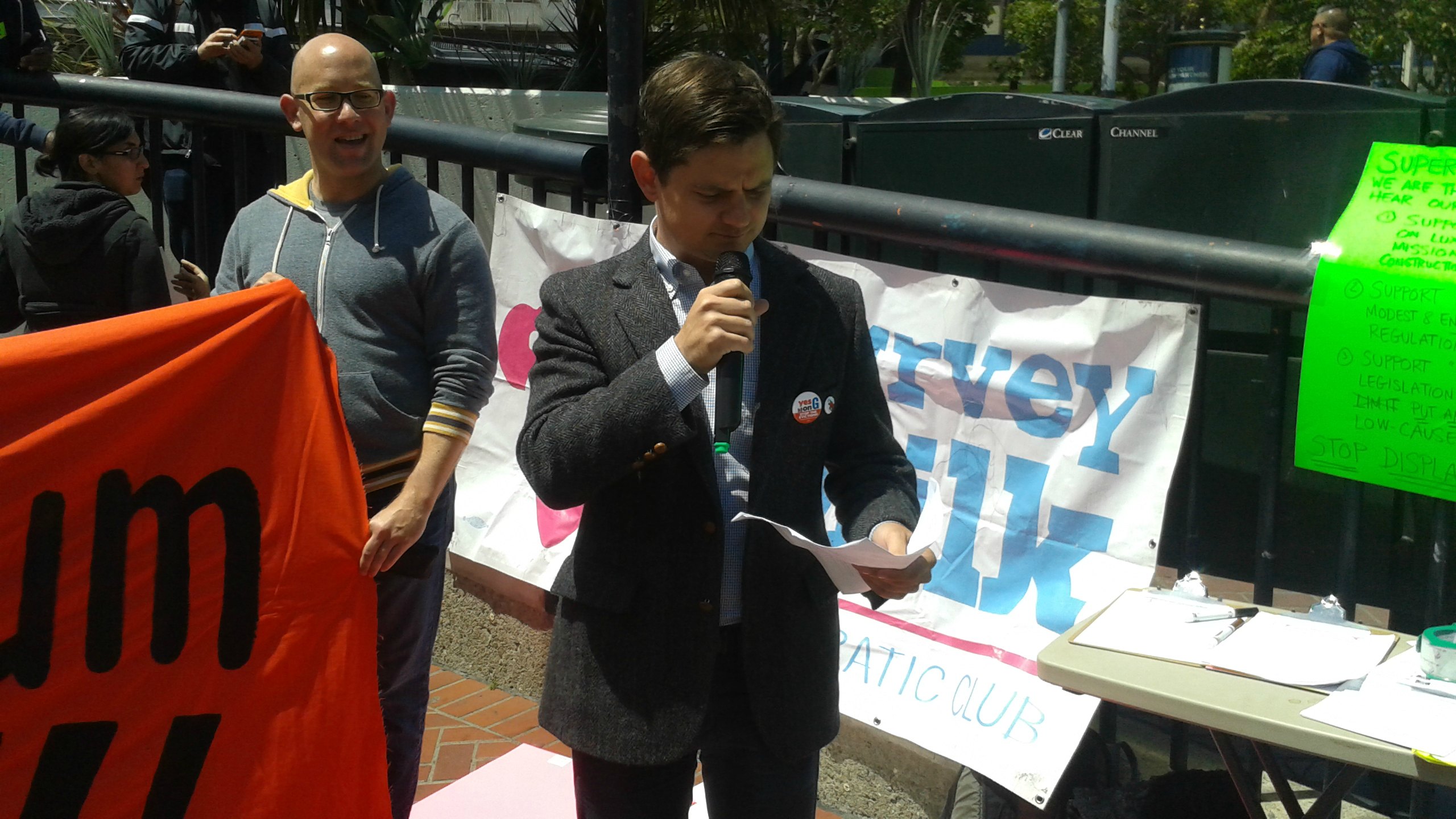 Lee Hepner speaks to the crowd. 

"Supervisor Wiener, we demand that you support the Mission Moratorium," said Lee Hepner of the Harvey Milk LGBT Democratic Club. "We remember when residents in Corona Heights wanted a moratorium on luxury housing–you supported them." Hepner said that Supervisor Wiener was willing to support wealthy neighborhoods but not poor or Latino communities.
He also addressed AirBnB, the online homesharing platform which allows people to list their homes and apartments for short-term rentals. Some have said that their AirBnB income has made the city affordable for them once more. Housing activists said at the rally that AirBnB contributes to the city's housing shortage.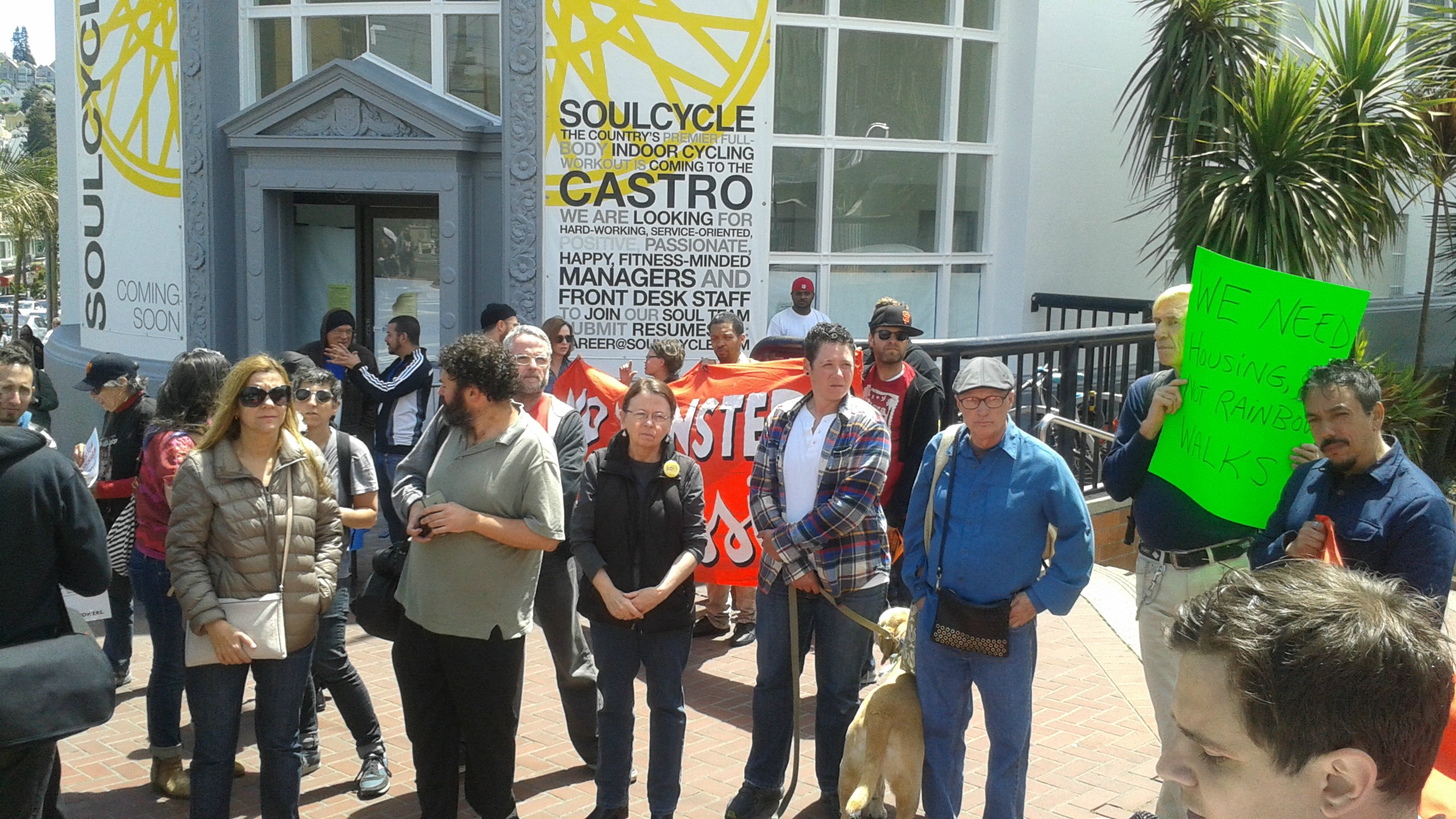 Activists rally at Milk Plaza.

Hepner said that 25% of vacant apartments in the Castro are now listed on AirBnB. "That is our affordable rental stock being swallowed up and taken away from us," Hepner said. "This is not progress. This is not a solution." Mission resident Miguel Bustos pointed to the lack of respect that wealthier LGBTQ people have for members of his community as more and more Latinos become priced out of the historically Latin Mission District.
"We need those San Francisco values to really shine and help us in the Mission," said Eric Arguello. "Harvey Milk would not be proud of a Castro District that has more rainbow crosswalks that gay people living in it," Hepner said as the crowd burst into applause.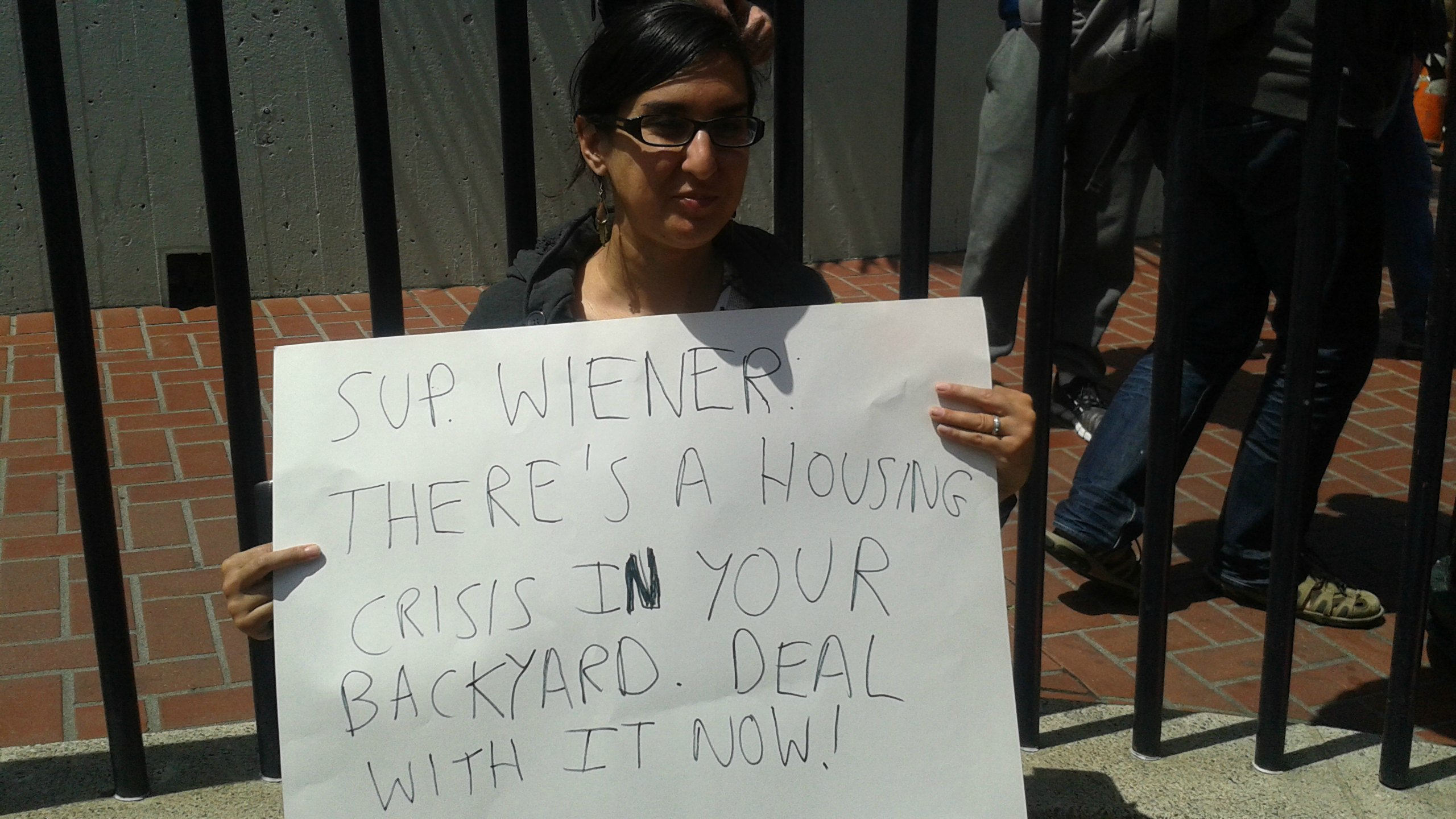 Activist Carmen Simon at Milk Plaza.

The activists continued calling for more affordable housing for longtime residents as they marched from Milk Plaza to Supervisor Wiener's home up the street."We're here, we're queer, we can't afford condos," they chanted.
The protesters hung signage at the front entrance of Mr. Wiener's building. The Supervisor did not appear to be home at the time but we caught up with him later that day.
"I share the protesters frustration about the ridiculous cost of housing and the number of evictions we're seeing, but a housing moratorium won't improve the situation," Supervisor Wiener told us. "The only people who will benefit from a moratorium are property owners, whose properties will become even more valuable."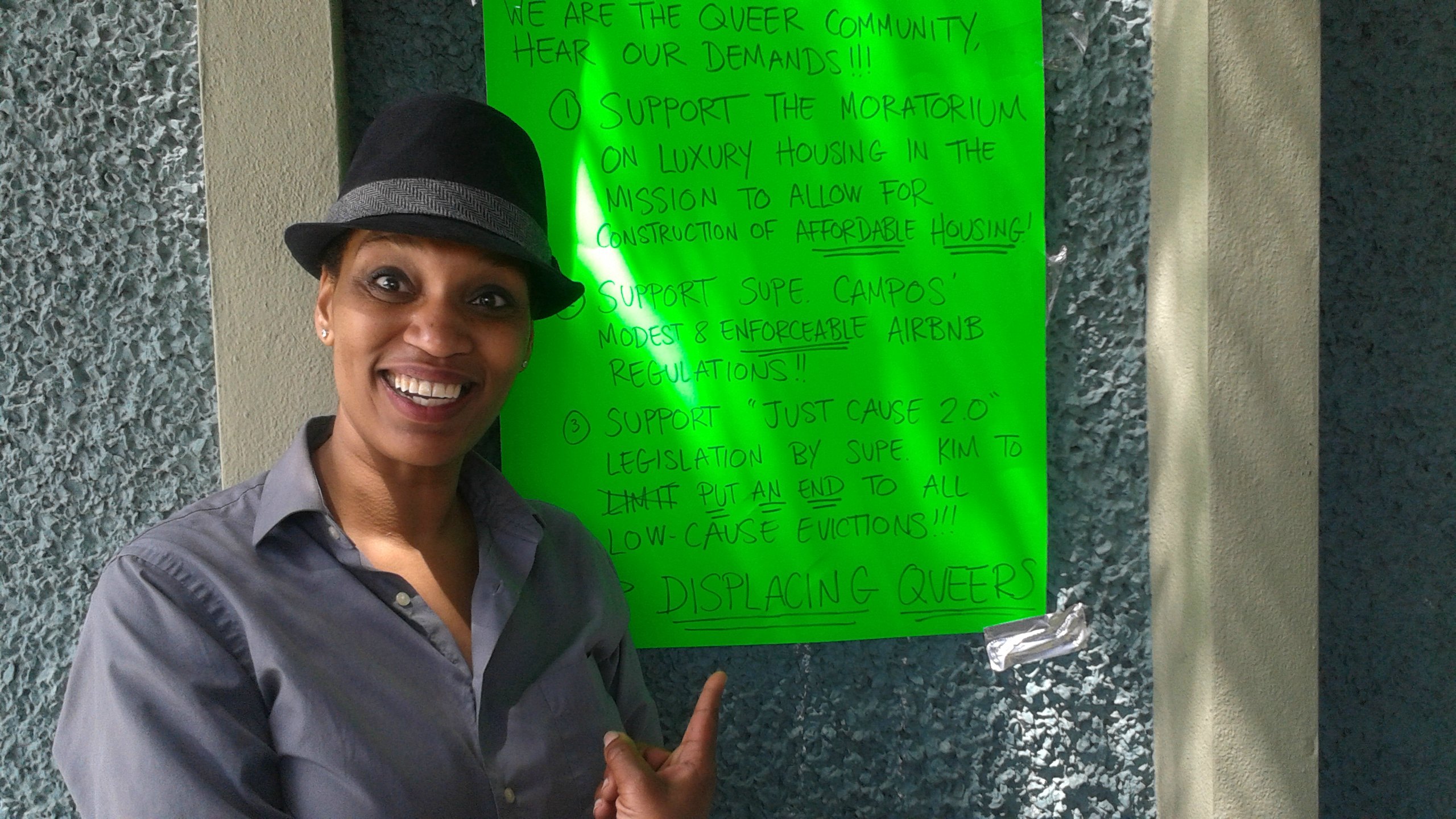 Activist Mahani Clay and a sign in front of Wiener's home.

The Supervisor said that he had a long record of advocating for affordable housing and that he was a strong supporter of rent control.
He also pointed to his recent legislation which allows homeowners to rent out more in-law units."I will continue to work hard and to move forward new and effective approaches to our housing crisis," he said.
"The proposed mission moratorium isn't just on luxury housing, it's on all housing that isn't 100% affordable housing," he added. "A project with 50% affordable units is covered by the moratorium--so are SROs and student housing. "
The real estate website Zillow.com currently lists Castro rentals at $2400-5800 per month. A five bedroom unit on Cumberland Street is listed at $25,000 per month.