Over the past couple months, we've received numerous reports from tipsters that things may not be quite right along one stretch of Divisadero businesses.
Tipster Kim first noted in early April that changes were afoot. "Just noticed that King foot Subs on Divis appears to be no more, the windows are all papered over." Later that month, tipster Dan offered an explanation: "King Foot Submarine closed—but closed only for renovations according to the owner of Bus Stop Pizza next door." A building permit for King Foot Subs at 258 Divisadero confirmed that the kitchen floors were being replaced and counter lowered for ADA-compliance.
However, we began to hear more ominous rumors. On May 11th, tipster Amy said: "Landlord is trying to get Bus Stop Pizza and sandwich shop next door out." An anonymous source offered more details: "The landlord for the building with King Foot Subs and Bus Stop Pizza (and formerly KK Cafe) at Divis and Haight is allegedly 'forcing' commercial tenants to remodel. Didn't sound seismic or safety related, some other impetus."
The businesses in question share the base of a building on the northeast corner of Divisadero and Haight. In order from left to right, these are King Foot Subs, Bus Stop Pizza, the former KK Cafe, and Sam's Smoke Shop. Here's what we know so far about the situation.
It appears that the former owner of King Foot, Eunah Kim, has sold the business, as business licenses show that new owners Son Jin Sub and Oh Sook He have taken over. However, a sign posted in the shop's window promises that King Foot Subs will reopen soon. So far, we've been unable to get in touch with any of the owners, past or present, to confirm or deny the rumor that the tenants have been compelled to remodel their spaces.
As you might recall, we reported that KK Cafe would be vacating 252 Divisadero in January, and that owners the Chang family would be starting a Kickstarter campaign to get a separate peanut milk business going. (Sadly they didn't reach their goal, but they have since started a new campaign using Dreamfund, and you can donate buy clicking here.) As we reported recently, a  new sushi restaurant called Ijji is likely moving in to the former KK Cafe space.
What we didn't know then was that, according to Jon Chang, son of owners Jack and Margaret, the reason for trying to sell KK Cafe in the first place was that business suffered greatly as a result of a required soft-story retrofit next door at Sam's Smoke Shop. Although the cafe was technically open for the two months that construction was going on, Chang says they were barely able to do business as a result of rattling walls and debris falling from the ceiling into the food. "Nobody's going to eat at a place with a jackhammer going next store," Chang told us.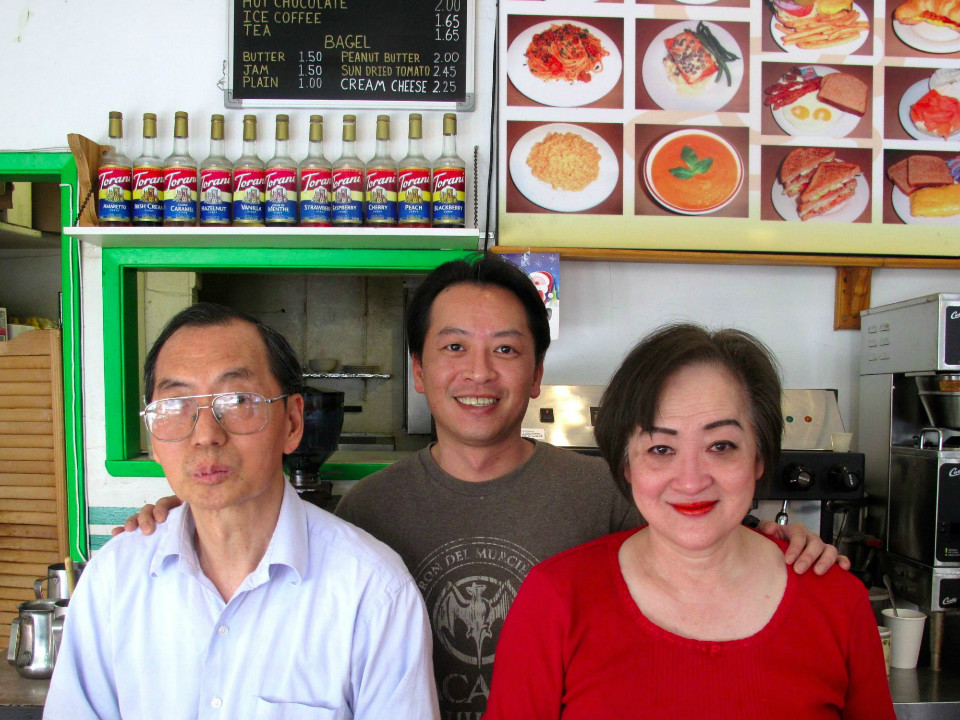 Jack, Jon and Margaret Chang. (Photo: Marilyn Berlin Snell/Hoodline)
The Changs sought reimbursement from their property manager, Graystone Partners LP, for the loss of business they experienced as a result of the construction, and Graystone refused, according to Chang. Chang said that his family then tried to sell the business, but that Graystone made it difficult for them to find a buyer, putting up roadblocks and ignoring their requests for credit checks for potential buyers. From Chang's perspective, the landlord simply wanted them out as soon as possible so that they could jack up the rent from $6 per square foot to $10 per square foot. 
Chang also relayed to us other stories of Graystone homing in on longstanding residential tenants of the building when they took over about a year ago, and forcing anyone with a month-to-month agreement out. He told us that after new residential tenants moved in, they complained about a rooftop vent from the restaurant being too loud, and Graystone required KK Cafe's owners to fix it. "They said either I needed to change it, or they would change it for me and send me the bill," said Chang. The repair ended up costing $6,000, which Chang said was devastating expense for a business as small as KK Cafe.

Unable to find a buyer for their business, and weary of dealing with Graystone, the Changs closed KK Cafe and left of their own volition.
As of now, Sam Heng from Bus Stop Pizza has declined to comment on the issue, and we not heard back from Graystone or with the owners of King Foot Subs to learn more about the current situation from their views.