For the grand finale of Pride Weekend today, we'll be posting photos from the parade and happenings around town. Have some good ones for us to include? Email them to editor (at) hoodline (dot) com, tweet at @HoodlineSF or post to facebook.com/HoodlineSF. 
Newest posts on top – scroll down for a roundup of our coverage of Pride events over the past days and weeks.
---
A million happy people celebrating equality and pride. #LoveWins #SFPride pic.twitter.com/zh3slmpgag

— Emily Chavous (@faitboum) June 28, 2015
#SFPride Parade filled with Strange Bedfellows: Kamala Harris, Loretta Sanchez, Sugary Coca-Cola, Scott Wiener & more http://t.co/cnmNEpbfQS

— Nancy Mancias (@nancymancias) June 28, 2015
Supreme Justices (and InJustices) #SFPride pic.twitter.com/DMB9wNUO6g

— Debbie Ohi (@debbieohi) June 28, 2015
Love the Recology garbage can drill team #SFPride #pride pic.twitter.com/bx3GrOFvn0

— Nancy Mancias (@nancymancias) June 28, 2015
"Let's go Warriors!" chants along the parade route. #SFPride pic.twitter.com/sAiNoBPEju

— Golden St. Warriors (@warriors) June 28, 2015
Jim Obergefell #SFPride2015 pic.twitter.com/yoTBvVZbIr

— Purva (@purva) June 28, 2015
Celebrating marriage with @HRC's @ChadHGriffin & SCOTUS marriage plaintiff Jim Obergefell at #SFpride. #LoveWins pic.twitter.com/de54dPC5B7

— Kamala Harris (@KamalaHarris) June 28, 2015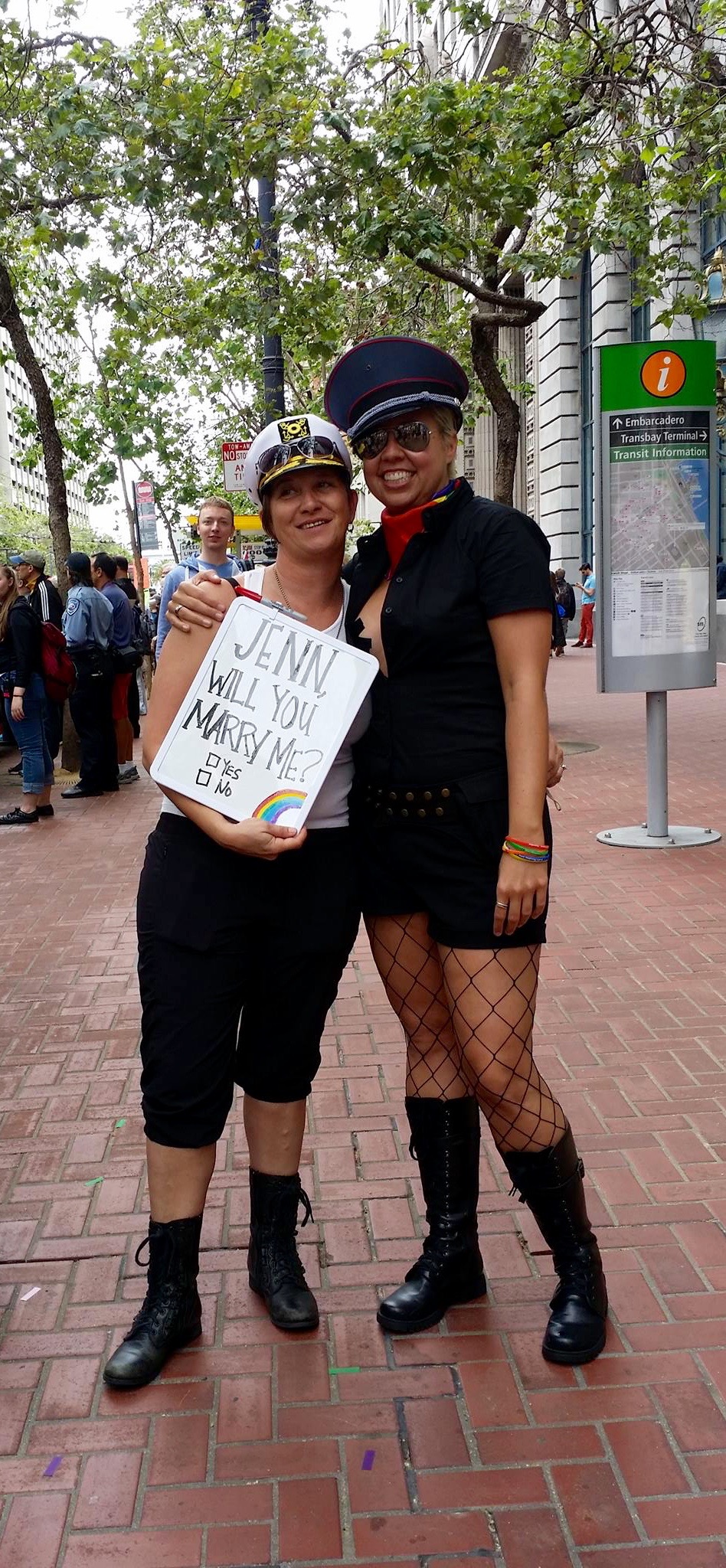 Tara Toni (right) proposed to Jennifer Berg (left) this morning in front of the start line of the parade at 10:20am – right before she led the parade at the front of Dykes on Bikes. They've been living together in Western Addition and planning on getting engaged for a few months; they talked about it often. One of their friends suggested that they make a competition of it to see who would have the better proposal. Tara took the opportunity this morning to ask Jen to marry her. Jen, of course, said yes. Text by Alisa Scerrato, photo by Jessica Brown.
This couple, with their MrsnMrs license plate. #SFPride pic.twitter.com/mAd27o4xA0

— Marcus Yam (@yamphoto) June 28, 2015
The parade begins with a celebrity sighting or two.
Apple CEO @tim_cook poses for selfies at the SF pride parade. #CNBC #1market #apple #pride pic.twitter.com/fFpY5eJARb

— Megan Hawkins (@sfmeghawk) June 28, 2015
The parade kicks off at 10:30am, with massive amounts of traffic expected in all forms. The SF Chronicle put together this map of the street closures around the official Parade, per the SFMTA.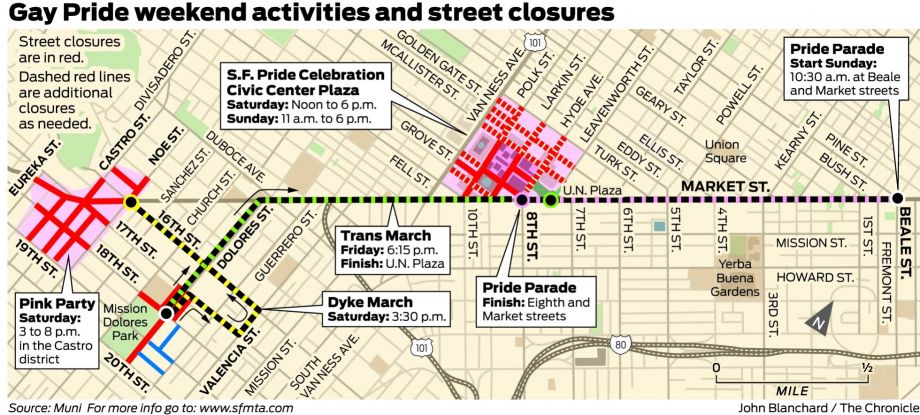 And CBS explains how the whole Bay Area is descending into complete traffic anarchy from north to south and east to west.
Commuters to the parade agree.
---
---
@HoodlineSF even the sky was with the program for Pink Saturday in the Castro pic.twitter.com/Vhr2jQsiAU

— Caroline S. (@carostanc) June 28, 2015
---
The Castro celebrated the SCOTUS ruling in style on Friday night. One Facebook event group, #DecisionDay SF, indicates that 1,500 of its members attended. There were no doubt many more. Photos, including the cool GIF above, by Win Mixter.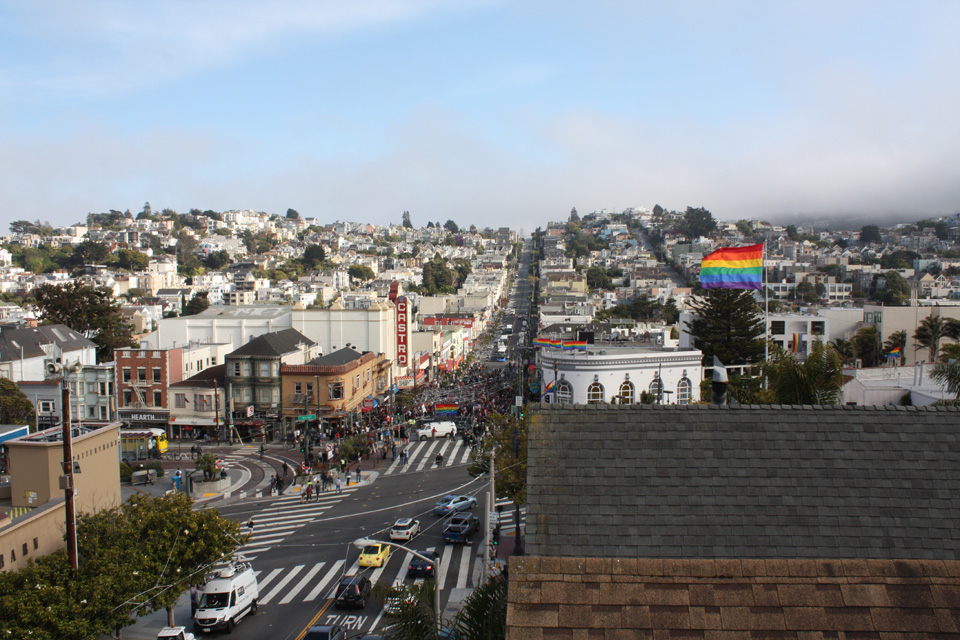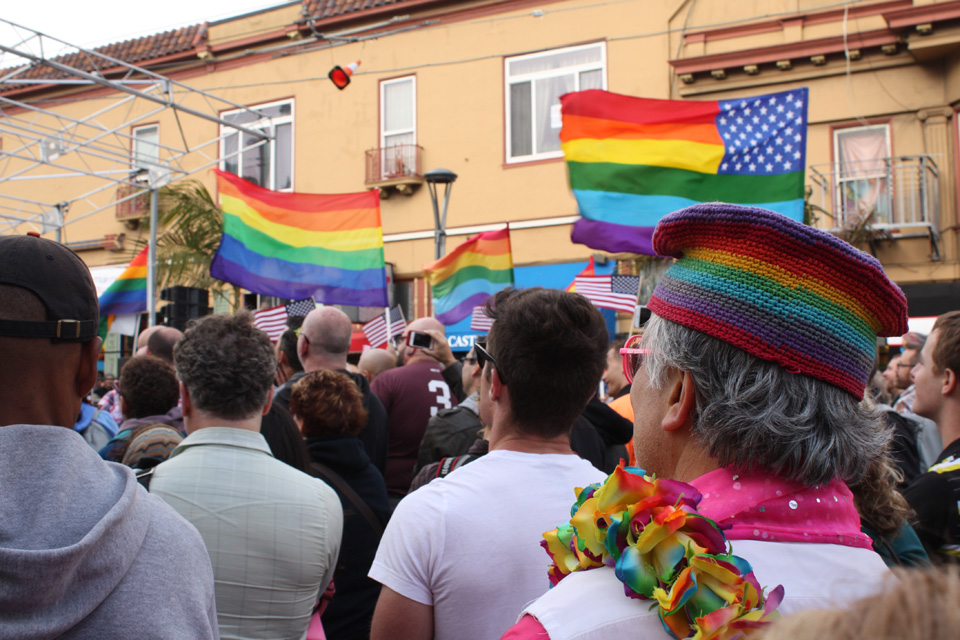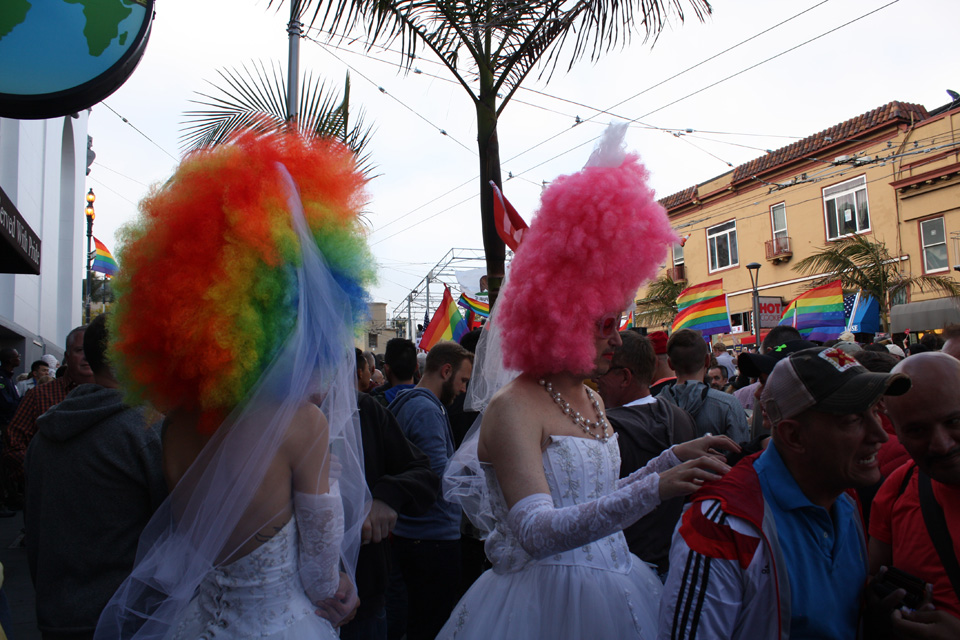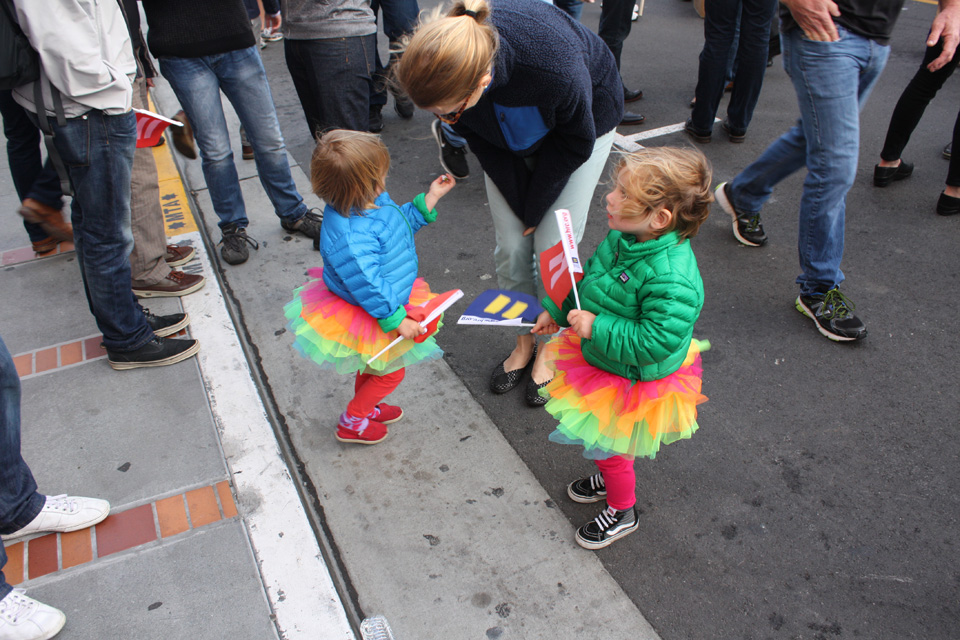 ---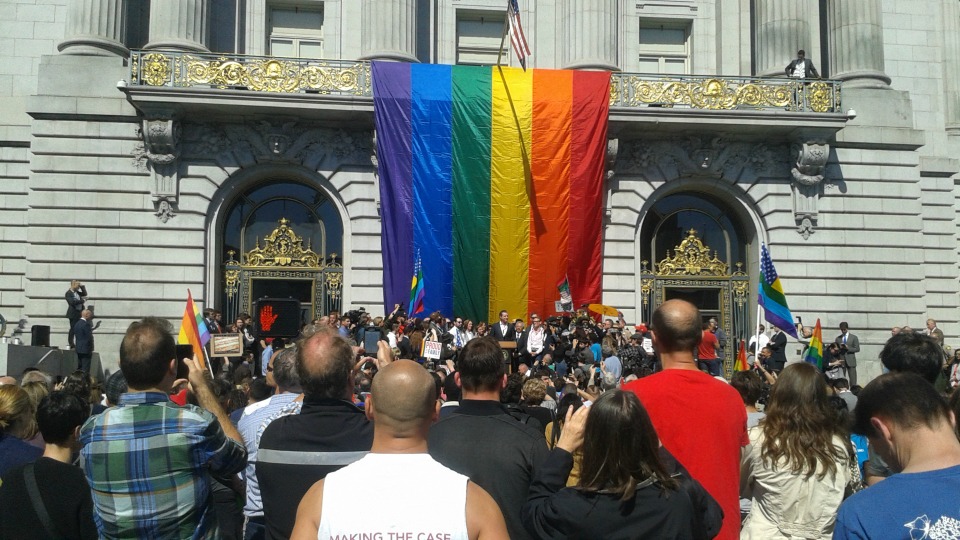 The weekend got off to a huge start on Friday morning when the US Supreme Court ruling in favor of gay marriage for all 50 states. Dignitaries were on hand at City Hall to commemorate the occasion. Photo by David-Elijah Nahmod. 
---
We've been covering LGBTQ history, traditions, personalities, events and much more around our neighborhoods in the lead-up to Pride. Here's a selection of stories in case you missed anything. 

A Dream And 100 Dresses: The Life Of Peaches Christ
Meet Tara And Deni, Leading Sunday's Pride Parade With Dykes On Bikes
Your Pride Weekend Survival Guide
Tenderloin Pride: Remembering The Compton's Cafeteria Riot
Castro Celebrates As SCOTUS Legalizes Gay Marriage Across The Nation [Updated]
Photo: ACT UP Members Remembered At 18th & Castro
Here Comes Pride: Your Guide To This Week's Events And Activities
Frameline Opens With Provocative 'I Am Michael' At The Castro Theatre
As Pride Approaches, Celebrating The 20th Annual Twin Peaks Pink Triangle