After 64 years of science, nature, and craft exhibits, the Randall Museum closed its doors to the general public on June 1st. It will return in fall 2016, after an extensive update and modernization.
The Randall, perched adjacent to the the craggy peak of Corona Heights Park and run in a public/private partnership overseen by San Francisco's Recreation and Parks Department, was awarded nearly $6 million for facilities upgrades through a 2011 Nature Education Facilities Program grant from the California Department of Parks. Non-profit Randall Museum Friends (RMF), which supports the Randall by "providing strategic private-sector leadership, fundraising, and administration for museum programs," is raising an additional $2.5 million, and is 85 percent towards its goal.
Founded in 1937 as "The Junior Museum," and occupying a former city jailhouse on what is today the campus of San Francisco City College, the museum was spearheaded by Josephine Randall, who earned a master's degree in zoology from Stanford University in 1910. With a lifelong passion for both animals and education, Randall became the first Superintendent of the Recreation Department for the City of San Francisco in 1926. She held the position for the next 25 years, increasing the department's recreation facilities from 22 to over 100 and working to create educational opportunities and nature retreats for children.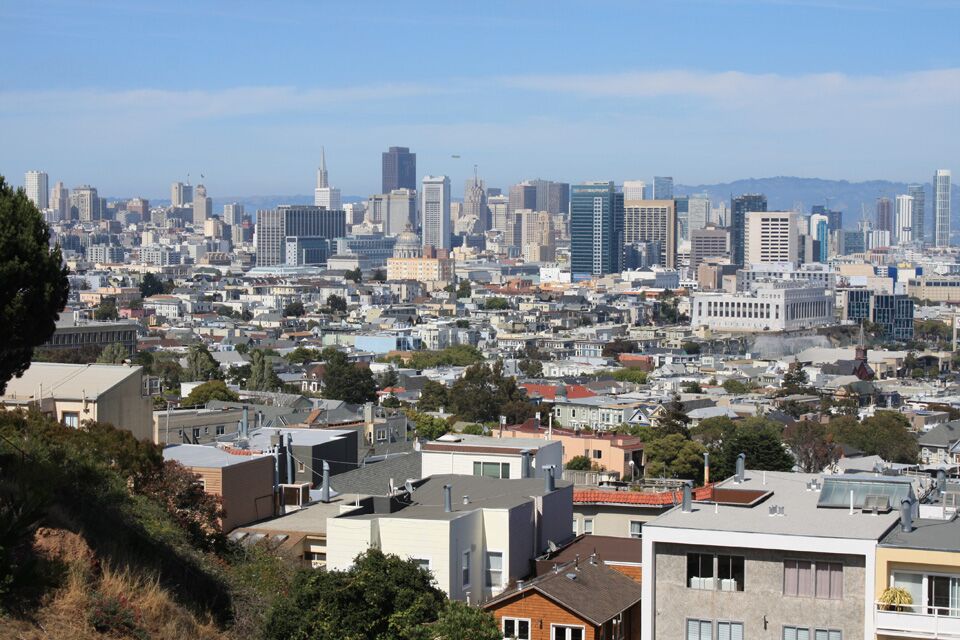 The dramatic view of downtown SF from the museum's 16-acre lot.
Randall also oversaw the 1947 campaign for a $12 million Recreation Bond, which authorized more than 50 projects citywide, including the museum. It opened in 1951, and was dedicated Josephine D. Randall Junior Museum by then-Mayor Elmer E. Robinson. Designed by architect William Merchant, the Randall is considered an influential precursor of modern museums, with ramped circulation that promotes inclusion. Its interdisciplinary youth programming made it the one of the first and most successful of the children's museums in the Bay Area.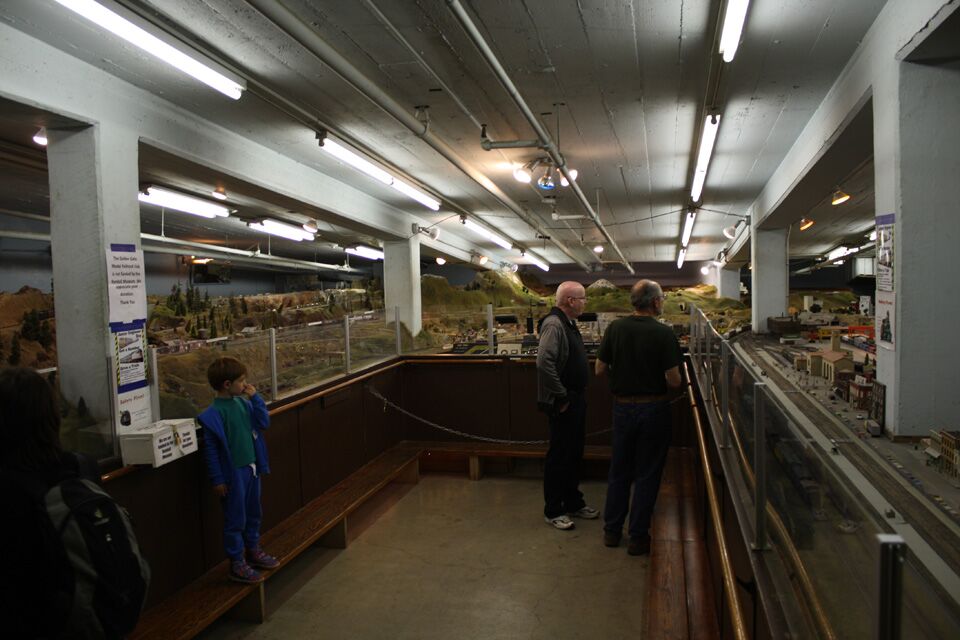 The Golden Gate Model Railroaders Club's HO scale train set, which has over 600 feet of track and features scale depictions of regions visible from actual California Railroads.
These days, the museum features live animal exhibits (with over 50 species of rescued animals), a ceramics studio, a wood shop, a model railroad (housed at the museum since 1961 and managed by the Golden Gate Model Railroaders Club), and classrooms. In 2003, the Randall underwent a modest $2.3 million update to add new outdoor spaces, including, an art patio, an observation deck, gardens, and a small amphitheater for group gatherings.
In 2012, the museum also gained a new installation, "Windswept," on its western facade. Designed by artist Charles Sowers, it's a mesmerizing array of alloy arrows that map the wind's movement as it traverses the building's exterior.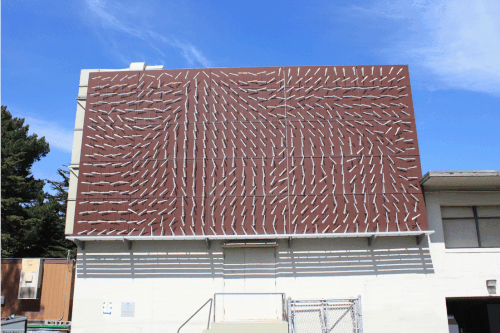 "Windswept" by Charles Sowers.
Now, 12 years after its first facelift, the Randall is ready for a more rigorous refresh of its facilities. In addition to structural and seismic upgrades, the museum's primary goals include ADA compliance and accessibility, as well as more dynamic spaces for interdisciplinary learning, making, and building. The live-animal exhibits will become more thematic and representative of the ecologies present in the Bay Area, and a more fluid connection between the museum and its 16-acre natural surroundings will be made possible by opening floor plates and reconfiguring the museum's central courtyard. The renovation and reconfiguration will be a partnership between local architectural firms Pfau Long Architecture and Kuth Raineri Architects, who beat out seven other contenders for the bid.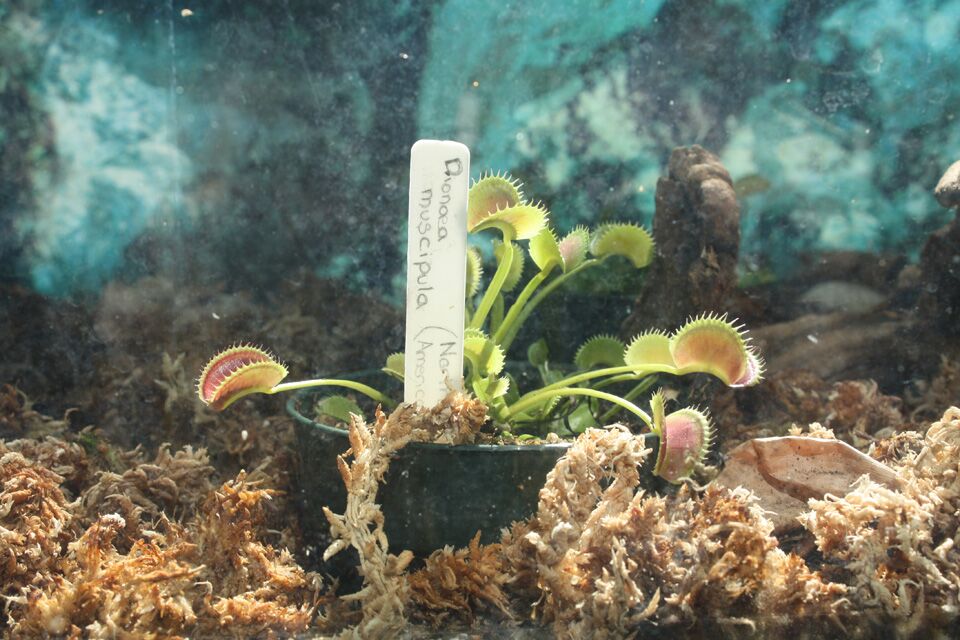 A Dionaea muscipula, or Venus Flytrap, on display as part of the Randall's live plants exhibits. While not native to California, the plants are fan favorites among the museum's young visitors.
To complement its new look, the Randall also has ambitious new programming goals. "We want to add programs aimed at slightly older children (12- to 16-year-olds)," says Traci McCollister, the Development Director for the Randall Museum Friends. "[We want] to ramp up our STEM [science, technology, engineering, and math] education programs; to double the number of students participating in field trips to the Randall [currently 10,000 visitors per year]; to add outdoor education to our mix of offerings. We are also considering the installation of an 'Energy Garden,' an outdoor exhibit that will showcase renewable energy opportunities."

Many of the new spaces will be created through reconfiguration and reprogramming, rather than adding new ground-up construction. "The programmable space will increase by 30 percent within the existing footprint," says McCollister. For a museum in a space-poor city, that is no small feat.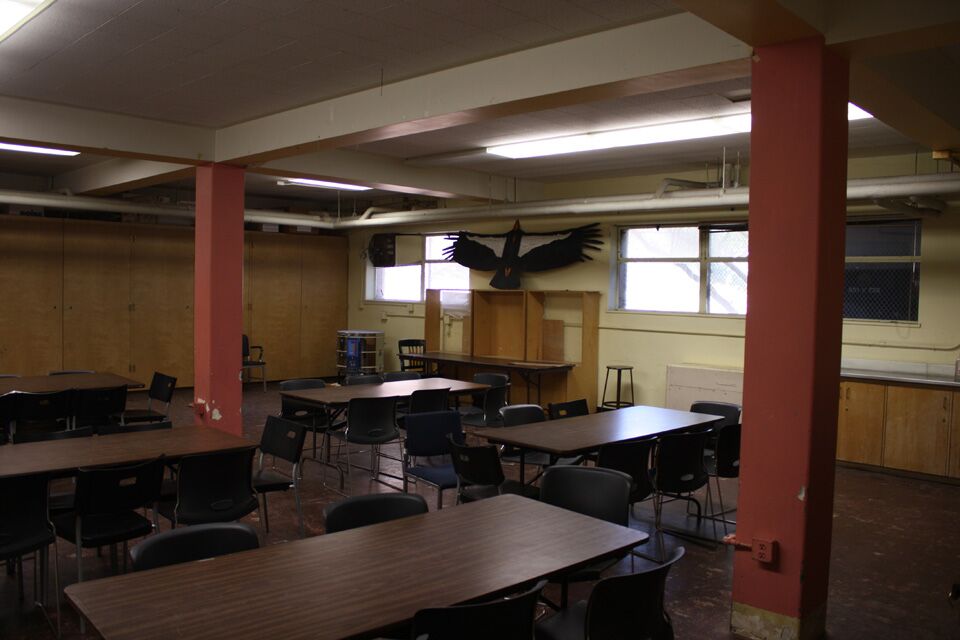 A current classroom at the Randall, which has limited natural light.
"The Randall has always set itself apart from other Bay Area science education institutions by emphasizing learning through 'making' or 'building,'" says Randall Museum director Chris Boettcher. "Students are not taught to reach pre-determined answers, nor are they limited to manipulating fixed exhibits. 'Learning by Doing' is still alive and well at the Randall, and the same principles apply to adult programs as well as programs for younger visitors," said Boettcher. "Many adults are engaged in jobs that have 'virtual' products, so they welcome the opportunity to work with natural raw materials or explore traditional crafts like ceramics or hand-tool woodworking."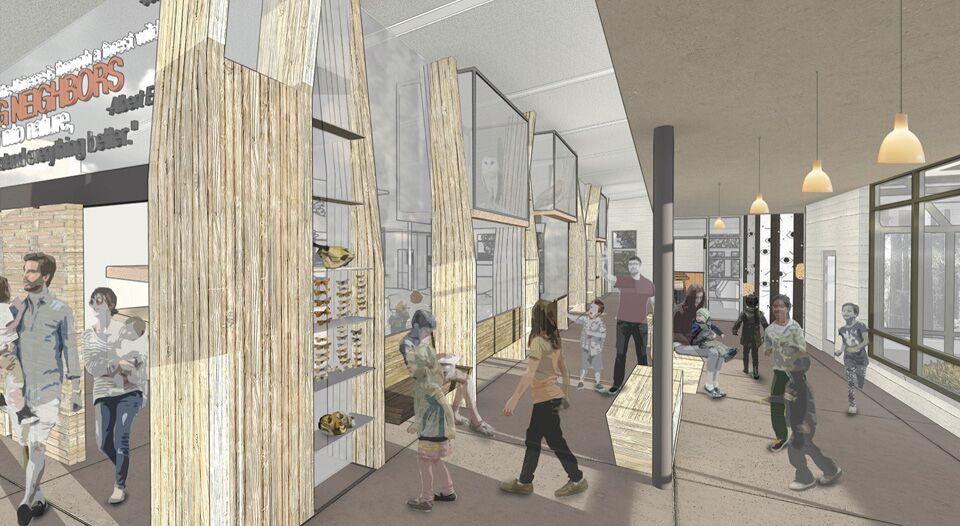 The grove, a sculptural tree wall, is a new space envisioned for the Randall. Rendering courtesy of Randall Museum Friends.
According to Boettcher, the new Randall will have eight major components:
The Main Lobby, which will be improved to welcome visitors and showcase changing exhibits
The Garage, a brand new STEM lab which will feature hands-on experimentation opportunities with state-of-the-art technological tools
The Natural Sciences Lab, an expanded and renovated space which will encourage visitors to look deeper into nature using the scientific method
The Buckley Redwood Room, which will host a variety of groups and special events (revenue will be re-invested in programming)
The Grove, a sculptural tree wall which will house raptors in its branches and showcase specimens and artifacts
The Randall Room, which will provide a revitalized space for large group classes, field trips and summer camps
Café Josephine, the Randall's first-ever food offering. The plan is to serve healthy, affordable fare, so that visitors can stay longer and have more enjoyable visits.
The Ceramics Lab, an enlarged and refurbished ceramics studio that will offer more varied classes in a more expansive environment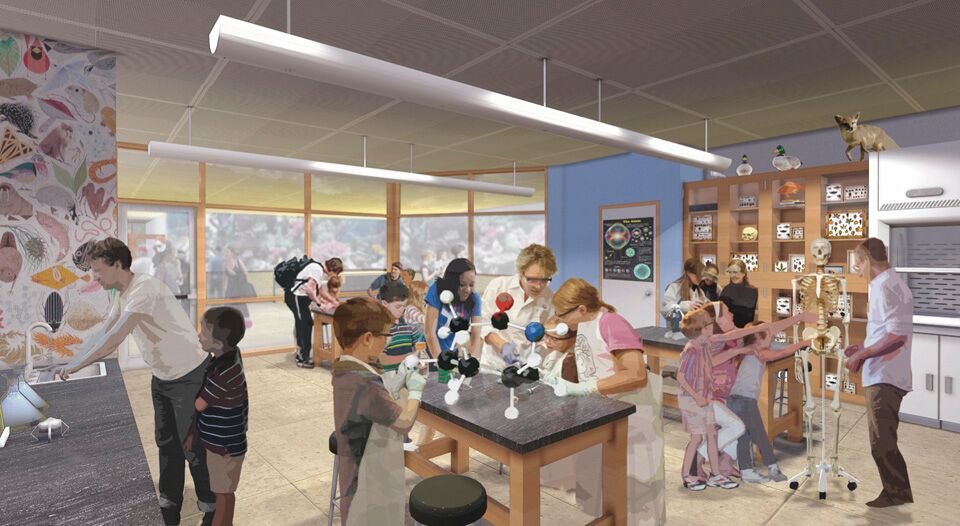 A rendering of the new science lab. Rendering courtesy of Randall Museum Friends.
The museum is also building with the future in mind. "Our goal is to update our project-based learning opportunities for the 21st century, by creating a dedicated STEM learning environment in The Garage," says Boettcher. "Programs in The Garage will bring our approach to direct learning experiences to the new digital domain, adding the power of computers and microprocessors while retaining the immediacy of hands-on learning. Once The Garage is established, we plan to include teacher-training workshops in our program menu."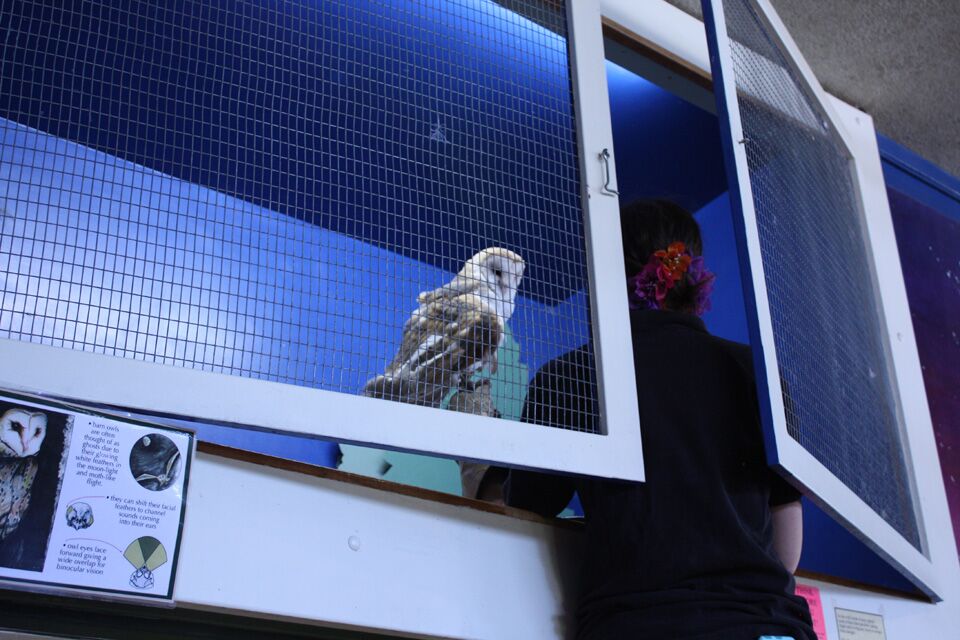 A Randall Museum employee tends to the museum's barn owl, which was found with broken wings. All of the animals in their live animal exhibits have been rescued.
Though the Randall Museum won't return until the fall of 2016, its staff will continue to offer programming in various other venues around the city. "We are currently in discussions to pilot The Garage programming at iHangar, a new incubator space in the Palace of Fine Arts," says Boettcher. However, the museum's biggest renovation project will be the move of its 100+ rescued animals to the Mission Art Center (745 Treat Ave.), with exhibits opening to the public on July 1st. The Randall will hold Saturday drop-in science and art classes at Mission Art Center during the summer, with a more robust schedule of classes and field trips set to debut in the fall.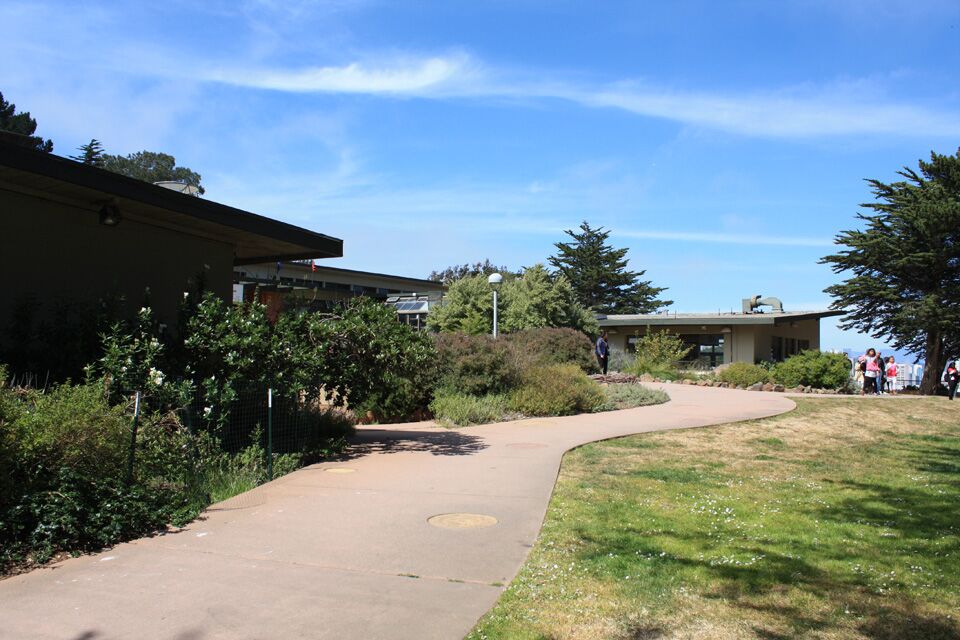 The museum's low-slung, mid-century modern buildings were designed by William Merchant in the 1940s.
"The move to the Mission Art Center was motivated by a desire to bring our programs and the live animal collection to an underserved community," said Boettcher. "We expect to leave most of those programs at the Mission Art Center when we return to the Randall after the renovation."