Cafe du Nord has long been a fixture at the Swedish American Hall, originally opening in 1907, the same year that the hall was built. It's gone through many changes over the years, serving as a music hall, bar, restaurant, and nightclub at various points in time; before its most recent closure, in 2014, it was a bar and rock club.
The new iteration, created by Aatxe, Central Kitchen, and Flour + Water owners Ne Timeas Restaurant Group and cocktail team The Bon Vivants, will open tomorrow. (Despite plans to rebrand as just "Du Nord," it looks like the full name will be retained.) What's in store for the neighborhood fixture? We spoke with Cafe du Nord rep Beth Hengeveld to learn more about the renovations, new menus and drinks, and the planned musical offering.
"The renovations draw design inspiration from the Cafe du Nord of the 1930s and 1940s," Hengeveld explained. "The wood wainscoting is complemented by vintage wallpaper, deco-era light fixtures and a 1930s-era color palette." Cafe du Nord is split into two rooms. The front of the space is a 20-seat bar (the original 107-year-old back bar remains), with cafe table seating. At the back of the space—formerly standing room for concertgoers—is the "Viking Room," which has a smaller bar, 30 seats for full-service dining, and a stage for musical acts.
Entertainment at Cafe du Nord will focus on music to be performed seven nights a week in the Viking Room. "Programming will highlight local artists playing styles [like] jazz, blues, and cocktail piano, as a complement to guests' drinking and dining experiences," said Hengeveld. In short, du Nord is now more of a restaurant and bar than a club, and its quieter emphasis may disappoint fans of its former punk and rock offerings. The Swedish American Hall is now also serving as a music venue, but it's required to be acoustic-only, due to noise requirements related to the condo building planned for next door. (Note: Hengeveld checked back in and corrected this detail, saying that according to the team, "there is no such requirement.")
The new menu was created by chef Thomas McNaughton, who aims to prepare classic dishes "found throughout watering holes and eateries in America in the 20th century." Options range from small snacks, like bar nuts or raw oysters, to larger dishes such as cioppino or a burger. For dessert, there's an ice cream sundae with pretzel brittle and chocolate sauce. Entrees range from $16.50-$34; see the full menu here.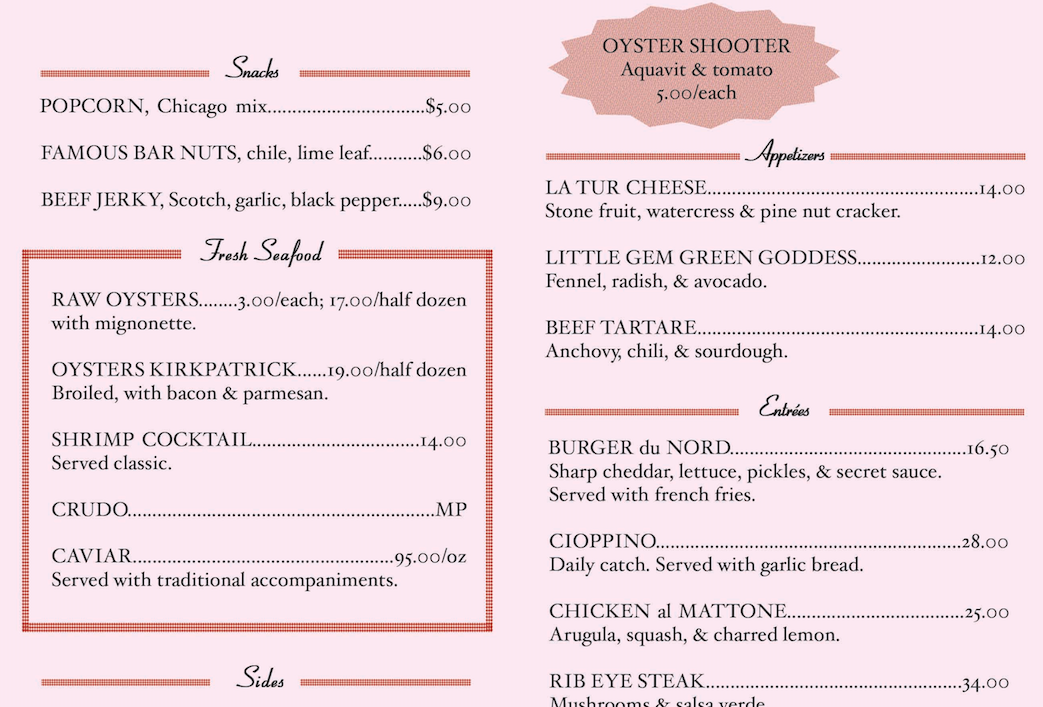 As for drinks, the menu includes a variety of cocktails inspired by du Nord's 100 years of business, as well as beer and wine. "The wine program focuses on Champagne and the diverse wines found throughout that region," Hengeveld said. "And in a nod to the tradition of Champagne served as a celebratory drink, and as a way to make coveted vintages accessible to all, all bottles of Champagne will be half-price after midnight, seven days a week."
The timeless appeal of the establishment is something that du Nord's new partners say they wanted to preserve. "Together we have thoughtfully restored the bar and created food and beverage menus for guests to celebrate all occasions while honoring the legacy of the local icon," Hengeveld told us.
Cafe du Nord is located at 2174 Market Street and will be open every night from 5pm–2am. Reservations for the Viking Room can be made by phone (415-471-2969), with food served until 1:30am. Visit their website for more information or to apply for a job at the new spot.