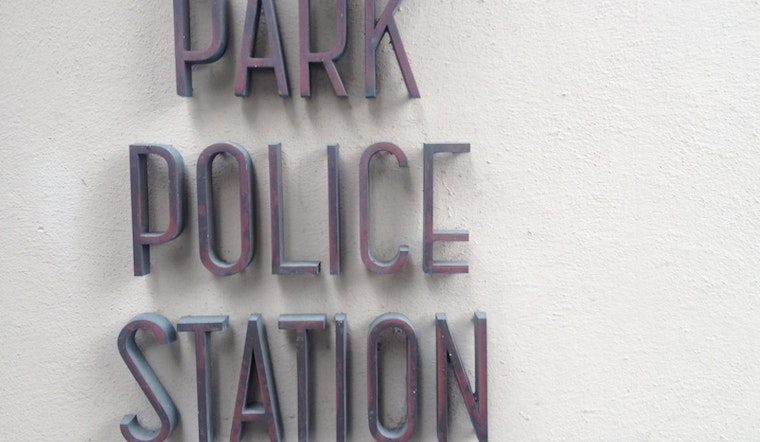 Published on June 11, 2015
Tuesday night's Park Station monthly community meeting included a debrief of Bay to Breakers, an overview of crime statistics and a presentation on the city's sterile syringe access program. In his third month leading the district, Capt. John Sanford, Jr. also announced that he's stepping up efforts to cite bicyclists for violating traffic regulations.
Bike Traffic Enforcement
Sanford said his decision to step up traffic enforcement where bicycles are concerned was fueled by the cyclist behavior he's witnessed around Park District. "I'm in an unmarked black police car, and they're just zipping past," he said.
Before the crackdown begins, district officers will promote education and awareness, but "bicyclists are required to follow the rules of the road," Sanford said. "There's a thing called a stop sign that bicycles are supposed to stop at."
Traffic enforcement teams will consist of bicycle officers and marked police vehicles, said Sanford, who reported that district officers have given 38 traffic citations to cyclists between January and May. "I am not too shy to say that it is a problem," said Sanford, who encouraged attendees to spread the word that a crackdown is in the works. "Tell your friends to slow, stop and obey," he said.
One or two attendees questioned whether increased traffic enforcement against cyclists was appropriate given the district's limited resources, but Sanford said that scofflaws on two wheels "present a hazard for many people," and noted that "the protection of life" is his highest priority.
Vehicle Thefts Still a Concern
According to Sanford, Park District continues to see high levels of vehicle thefts and break-ins. Because Haight Street and the east end of Golden Gate Park are magnets for visitors and tourists, Sanford asked local merchants to raise awareness about vehicle crimes. "Please encourage them to return to their cars as quickly as possible so they can secure their belongings," he said.
Citing a May increase in auto burglaries and thefts, Sanford said he wanted merchants and residents "to be our eyes and ears. If you see anything, please call it in." He noted that taking photos or video of people engaged in suspicious behavior can help prosecutors build a case, but citizens should try to record sketchy characters "only if it's safe to do so."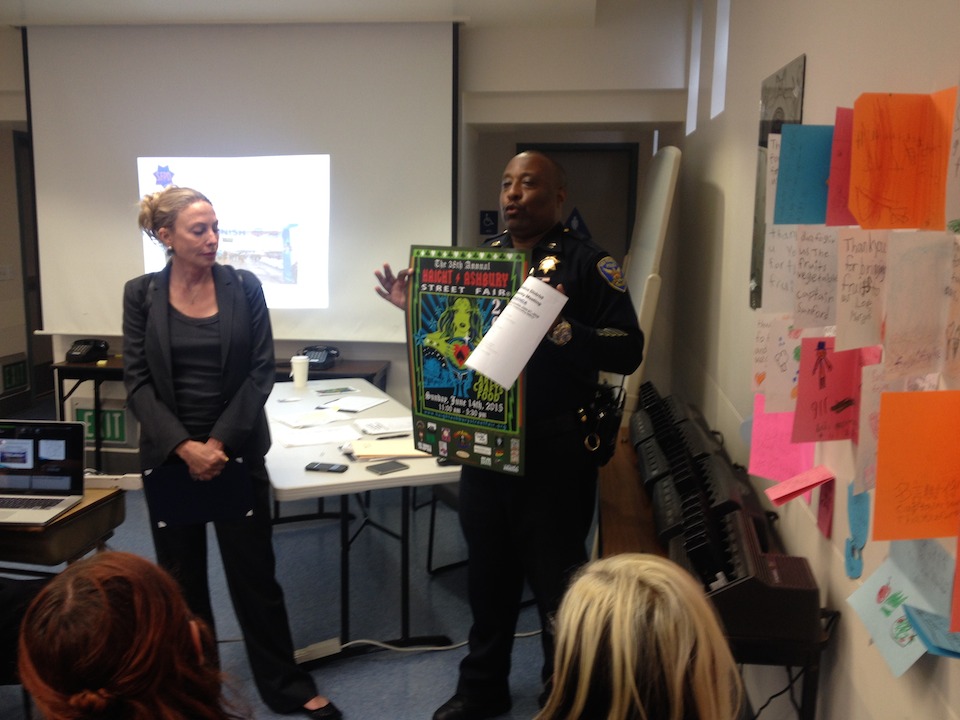 Buena Vista Park Homeless Encampment Cleared
Officers Jeff Sung and Ryan Crockett of Park Station's Homeless Outreach Team spoke about their efforts. They reported that on May 15th, they disassembled a campsite at Buena Vista Park. Working with the Department of Public Works and members of the city's homeless outreach offices, they gave two citations to campers and removed "one truckload" of refuse. "If it's illegal activity, we're going to respond to it," said Crockett.
"We will continue to take action in hopes that we can minimize the problem, if not eradicate it," said Sanford, responding to a comment that homeless sweeps in parks constitute "playing whack-a-mole." Sung and Crockett are developing a phone tree so residents can report quality of life issues more efficiently. "It's a little like a shell game," said Sung,"but we're working with the DA's office to hold these people accountable."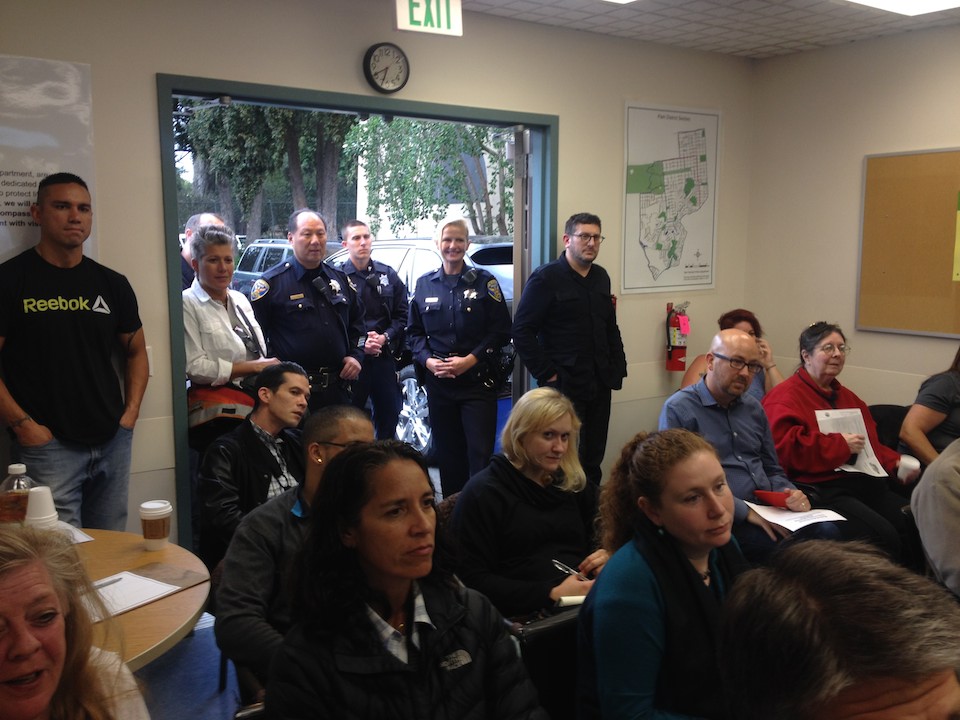 Bay to Breakers in Review
Sgt. Ron Meyer offered a debrief of the Bay to Breakers race on May 17th, which "went off without a hitch," he said. "Where the problem comes is the after party," he added, explaining that the Panhandle was a magnet for revelers who wanted to keep the party going. "We sent a lot of people to jail last year," said Meyer. "Some people remembered that, so there were less this year."Approximately 2,000 beers were poured out, and about 30-40 people made use of a "sobering tent" provided by race organizers.
"We had five arrests in Park District," said Meyer, compared to 25 in 2014. "It was intense as always, but as well-managed as possible, and destruction was minimized." Deploying street sweepers along the route as soon as the official race ended helped "break the crowd up," Meyer said.
To prepare for the upcoming Haight Street Fair, Meyer and Sanford said they were setting up another hotline to connect residents to the "war room" at Park Station. "If you are impacted in any way, please give us a call and let us know," said Sanford.
Officer Elizabeth Prillinger received an award for designing the official poster for the Haight Street Fair. Prillinger, who has an MFA, received a cash prize and a commendation from the Board of Supervisors for her efforts and plans to donate her prize to a community organization.
The meeting ended with a presentation by the Department of Public Health's Population Health Division about syringe access and safe disposal. SFDPH manages a program intended to promote safety among IV drug users. According to the presentation, there are an estimated 18,944 people who inject drugs in San Francisco. Health officials work with community providers and pharmacies to provide safe syringe access and disposal. "I am a believer that we need to dialogue about these issues," said Sanford.
Park Station holds its monthly community meeting on the first Tuesday of each month at 6pm, 1899 Waller Street. The next meeting will be held on July 7th.