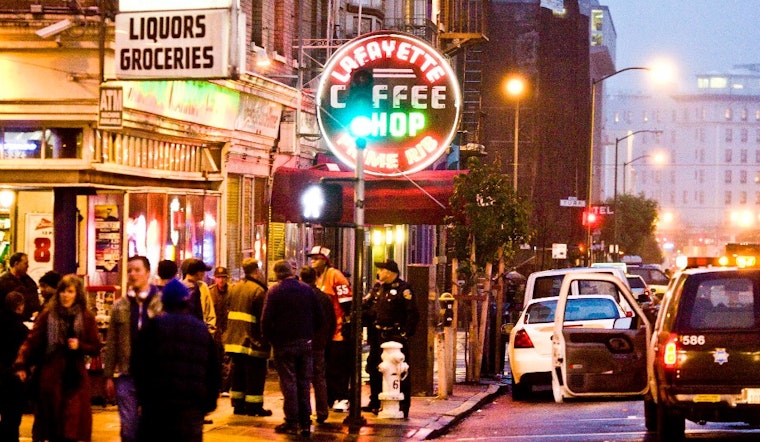 Published on July 06, 2015
SoMa, Mission, Marina. These, and most other San Francisco neighborhood names, have fairly straightforward origins. But the Tenderloin, a unique, .35-square-mile-world of its own, is quite another story. Even if you're a native, you've probably wondered why the neighborhood is named after a cut of beef. 
Back in the mid-19th century, the area was called St. Ann's Valley, and it bustled with theaters, luxury hotels, and restaurants. But by the 1890s, vice had crept in, and the area began to evolve. Although the name "Tenderloin" doesn't appear on SF maps until the 1930s, it was referred to as such as early as the 1890s by historians like Herbert Asbury.
So why is the Tenderloin called the Tenderloin? Well, we know that San Francisco's Tenderloin got its name after a neighborhood in New York City was dubbed the Tenderloin. Police Department Captain Alexander S. Williams gave the New York neighborhood the nickname in 1876, when he was first transferred there from a quieter NYPD precinct.
The name came about, many think, in honor of the bribes he stood to receive from ignoring crimes happening in front of him. "I've had nothing but chuck steak for a long time, and now I'm going to get a little of the tenderloin," he was quoted as saying. All this extra money would allow him to afford a better cut of meat.
Of course, there are a few other theories as to how San Francisco's Tenderloin got its moniker:
The Soft Underbelly Theory: The tenderloin is the most tender, and most often most expensive, cut of beef, known as the "king of steaks." Fancy filet mignon comes from the tenderloin. Some believe the TL is so named because it was the "soft underbelly" of vice in San Francisco.
The Dangerous for Your Health Theory: Another popular hypothesis is that cops received hazard pay for patrolling the often dangerous streets, thus affording them the budget for tenderloin cuts of beef.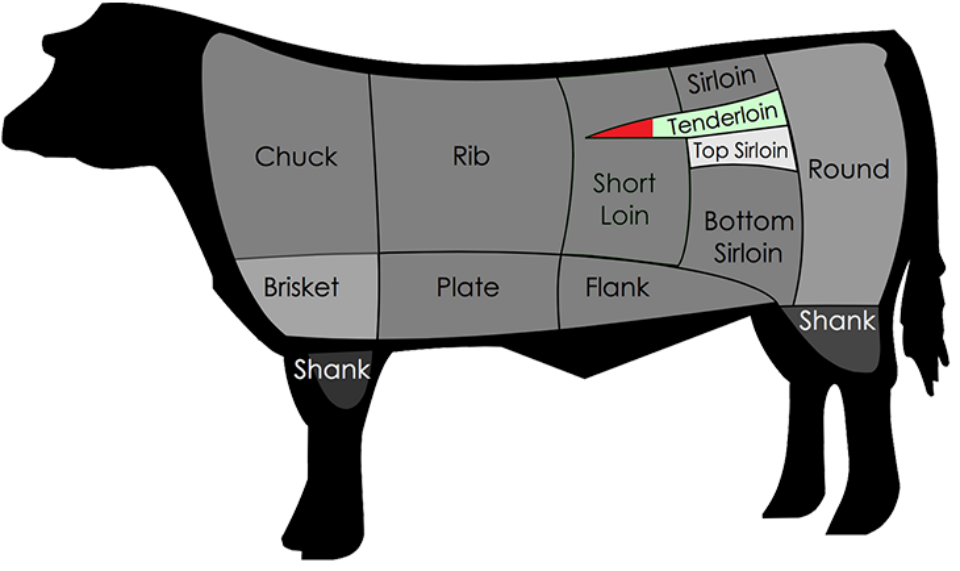 Image: Top Rated Steakhouses
The Prostitutes Theory: Others speculate that the nickname referred to the tender loins of the neighborhood's once-rampant prostitutes.
The Shape Theory: This is the most literal of all the theories. Some think the Tenderloin is named for its quirky shape within the map of San Francisco, with the oblong outline resembling an actual tenderloin cut of beef.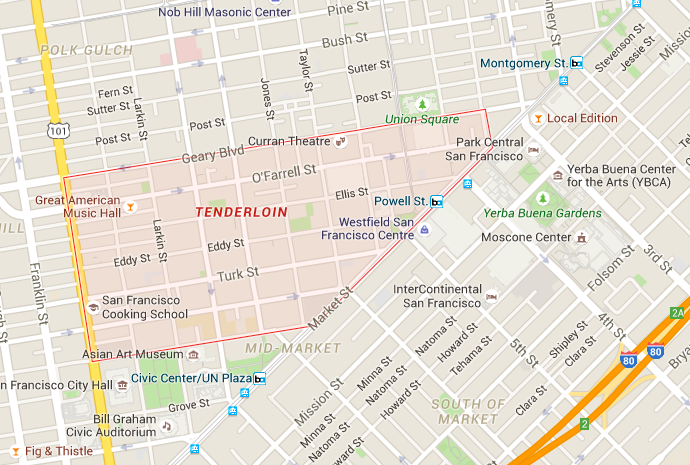 Image: Google Maps
Whatever the reasoning behind it, the Tenderloin moniker is here to stay. In 2011, PETA asked Mayor Ed Lee to change the name to the more animal-friendly Tempeh District. The Mayor's response? No, thanks. "I think most people are wanting to change not so much the name, they actually want to save lives," he said.