Were you a fan of Pee-Wee's Playhouse? Do you like your fine art served with a side of hilarity? If so, head down to Heron Arts tonight and check out the opening of Ass Kicking Contest, a show featuring renowned artist Wayne White and his son, Woodrow White.
We caught up with White, Sr. this week for a brief interview about the show.
Wayne received many accolades (including three Emmys) for his design work on Pee-Wee's Playhouse back in the 80s. He's essentially a puppet master, and also has some really serious chops when it comes to painting. His most notable later work centers around bright, humorous statements that he paints onto old cheap paintings he finds at thrift stores in LA.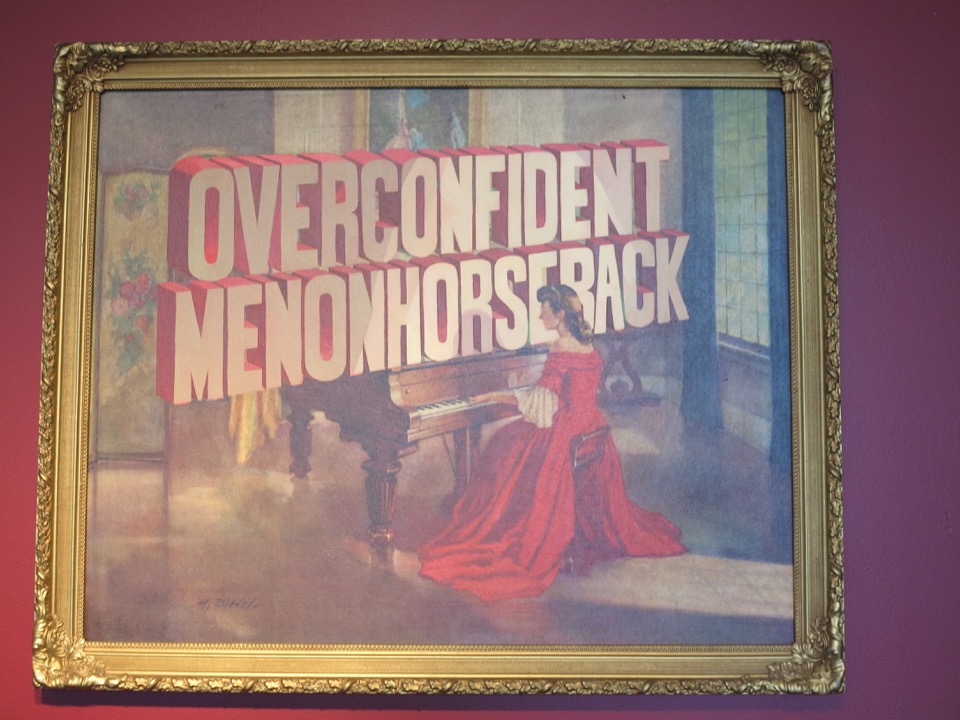 His son Woodrow is, well, obsessed with Bigfoot. He will be showing a collection of acrylic paintings depicting the elusive, hairy beast in various iterations. According to a statement on his website, Woodrow's work "experiments with the failure of the illusion, examining the nexuses of narrative, history and artifice. Palette, subject matter and personal connections inform the dual nature of each tableau. Through the realm of kitsch, such as museums and movie sets, I aim to connect these subjects to a conversation about painting and illusory art, at a time when all trust in images has been lost."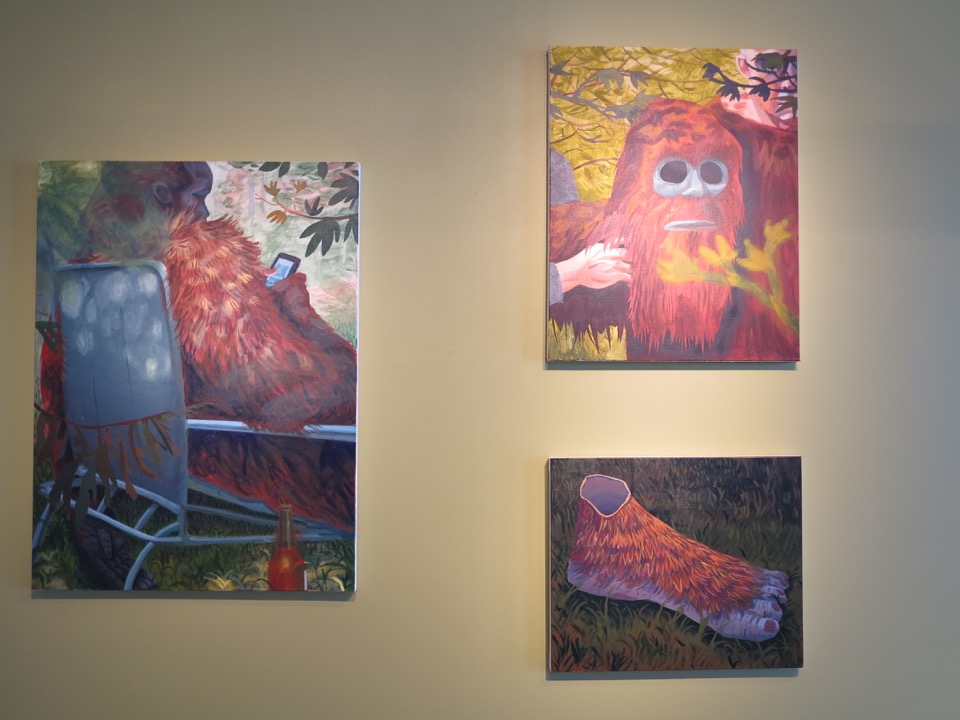 The show will mark the first time the duo has ever shown art side by side. The name, originally given by Wayne, is a reference to the old saying, "busier than a one-legged man at an ass kicking contest" and was thought up before Woodrow was brought on the bill. However, Wayne notes that it now has a deeper meaning, referring to a sort of paternal conflict – although by all reports he couldn't be prouder of the work his son is producing. "It's a chance to have a two-man show with my son, and that in itself makes it a special event," he told us.
Heron Arts Director Noah Antieau is extremely excited for the show, citing the similar palette and aesthetic present in each artist's work. "It's interesting as a viewer, to bear witness to that. It's almost physiological," he told us.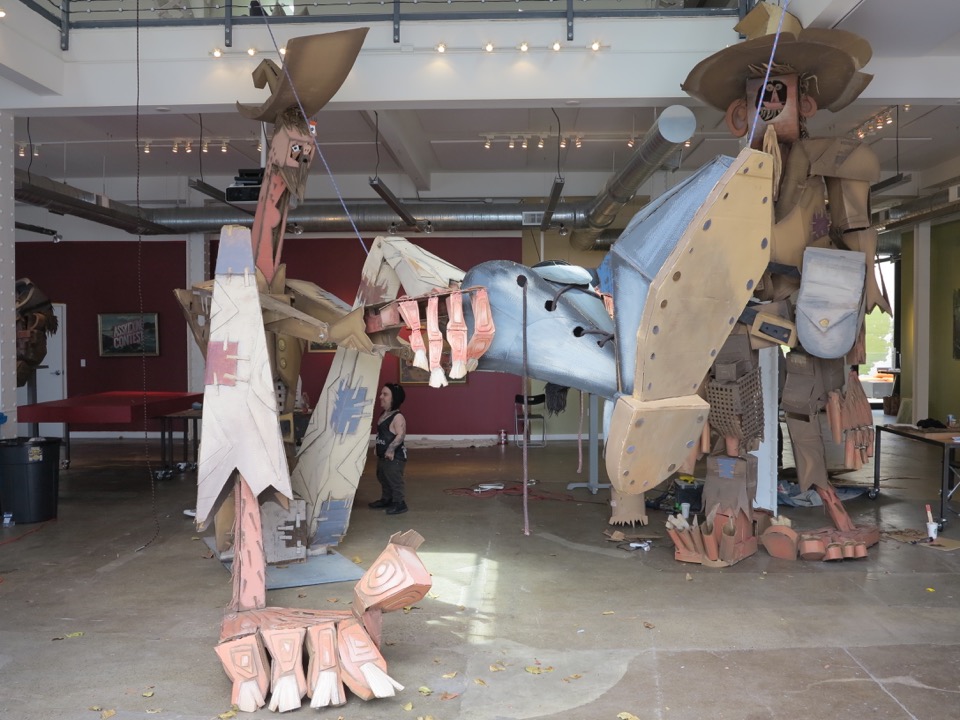 The massive puppets, made of cardboard, wood, and steel are part of a collection called "Foe", that was originally created in York, Pennsylvania to commemorate the only time the Confederate Army captured a Union town in The Civil War. Each puppet is a southern infantryman, and the large, animatronic one is putting on a boot that he liberated from some poor northerner during the battle.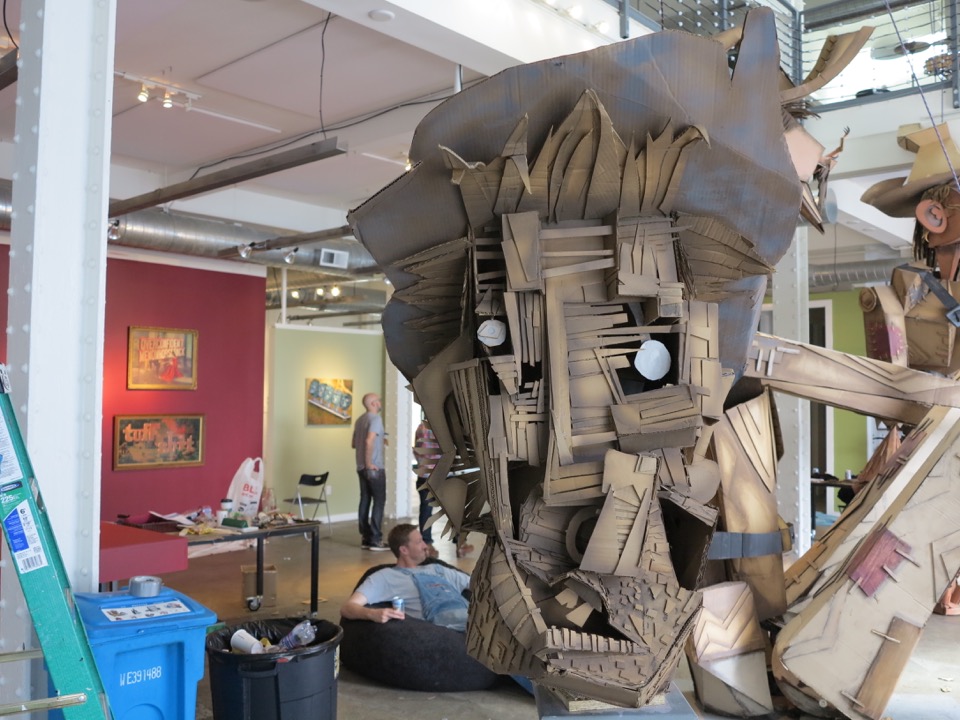 Yesterday, we got a few minutes with Wayne while he put the final touches on his show. Here are some highlights from the interview:
What was the most remarkable thing about working on Pee-Wee's Playhouse?
Being part of something that was so dang popular, ya know? It was my first time to experience that kind of widespread adoration. I mean, I didn't get it, but I live through my work, and my work got it. I was strictly a behind-the-scenes guy. But seeing your work shared by so many people on that scale, that was the mind-blowing part of it. And knowing that you're going to have such a wide audience brings out the best in you.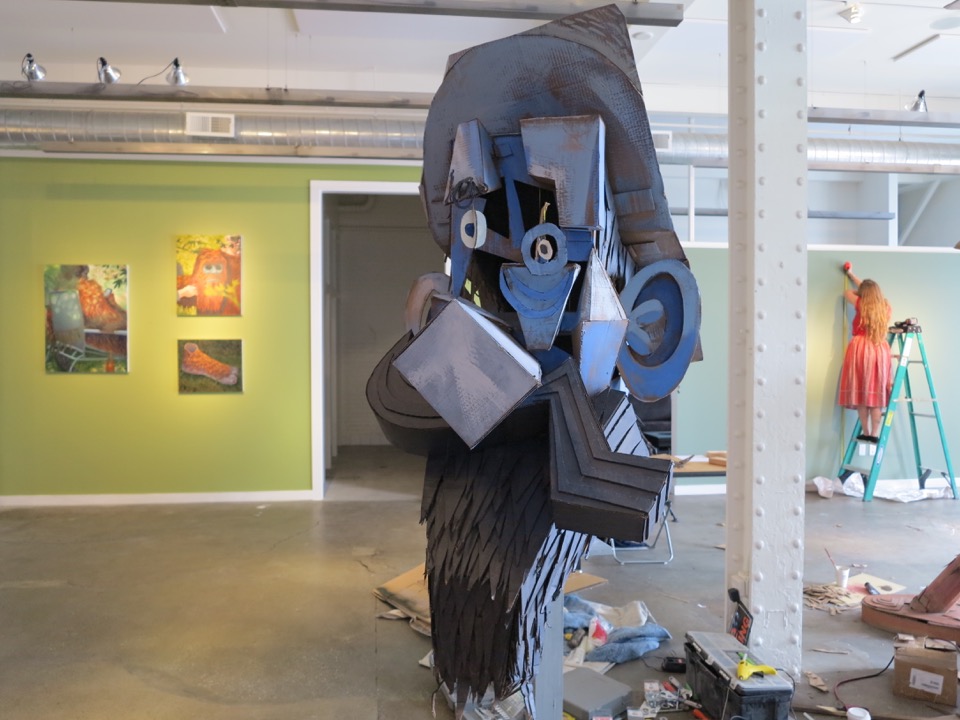 What's so special about puppets?
Haha, that's a good question. Well number one,  they made me a lot of money in my life [laughs]. Ya know? I bought two different houses in LA and raised two kids on puppet money. I was attracted to puppets first in a kind of anti-puppet way as an art student. I used puppets in 'performance art' as I called it then, so I was never warm and cuddly with the puppets, I always approached them kind of as art, as objects, as sculptures, as happenings, as performances. A puppet stage is a sculpture, a puppet is a sculpture. I make no distinctions, in fact it freed me up to play with puppets. It got me out of the restrictions of trying to be a so-called 'fine artist' and I just had fun with them, so I was attracted to that fun feeling, and the fact that I could paint and draw and sculpt and still call it a puppet show. Plus, who doesn't like a giant puppet? You show me somebody who does not like a giant puppet. I mean c'mon! There's nobody! I am for sure instinctively attracted to giants. Ya know? We are. It's just a thrill to see a giant, a looming figure. I don't know why, childhood memories, collective memories, I don't know. Giants are a huge part of the myths of all cultures. I like to build giant puppets.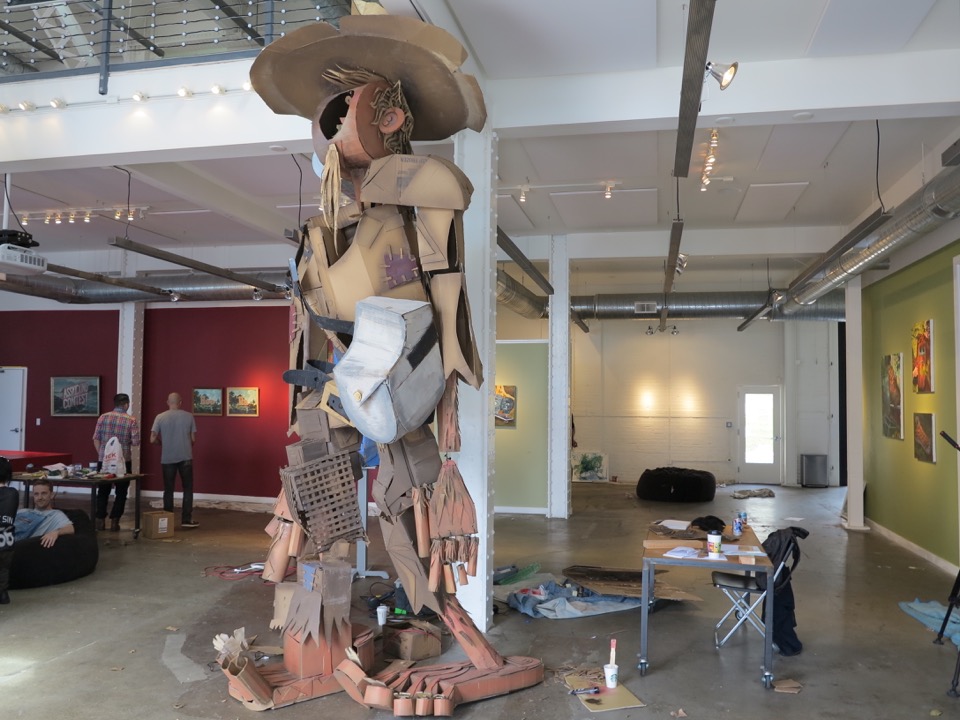 What do you hope people who come to the show take away from it?
Art, that they paid for [laughs]. Cash on the barrel head, art. I hope that they are entertained. Simply that. Ya know? There's stuff to think about of course, and depth, but I like to present a spectacle for people to come and look at and have a fun evening out. It's as simple as that. My installations, my big puppets are about spectacle and showmanship, so it is, like literally, a show. Entertainment.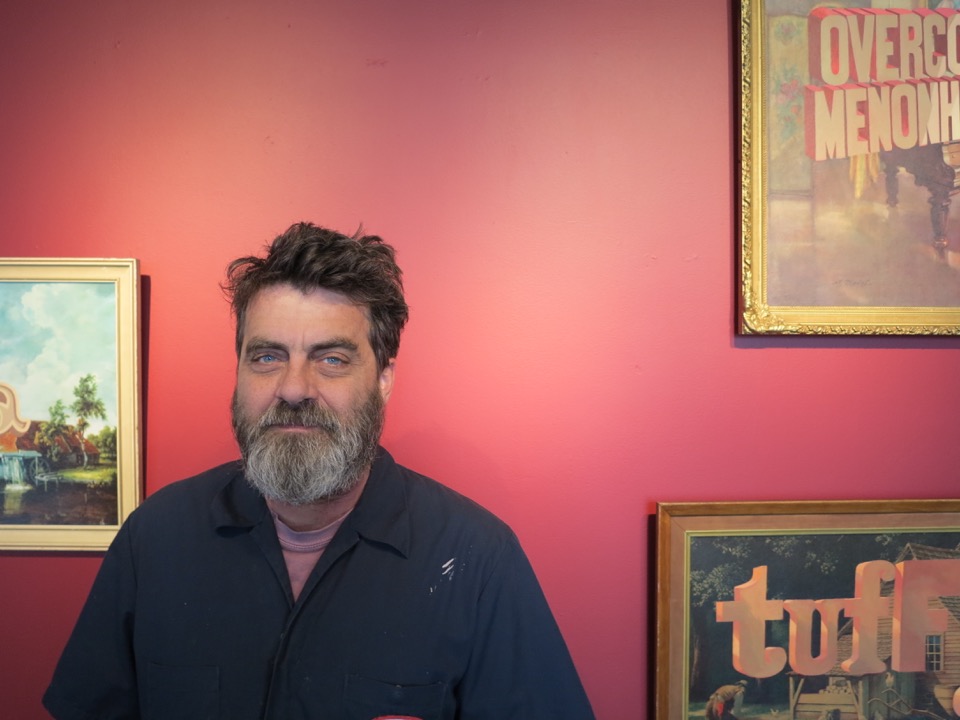 Ass Kicking Contest will be at Heron Arts until August 10th, but after this evening it will only be available for viewing by appointment. Tonight's event goes from 7pm to 10pm, with free booze provided. They will also have some taco trucks pulled up out front. If you'd like to set up an appointment, contact Noah Antieau at [email protected], or by phone at (504) 231 -6760.