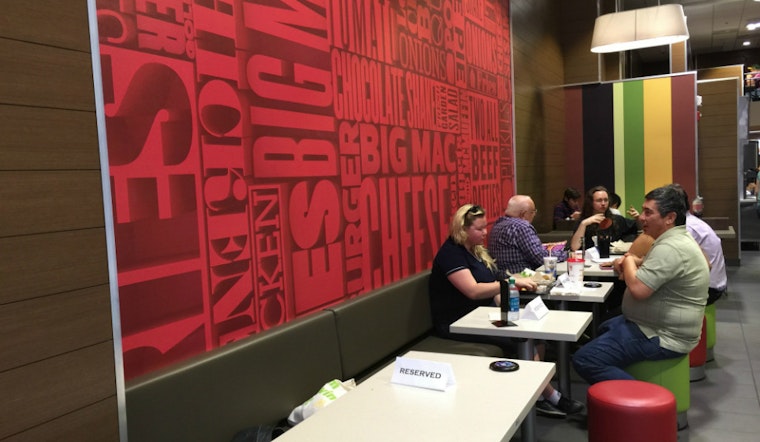 Published on July 24, 2015
The McDonald's at 441 Sutter St. in Union Square is the first in Northern California to debut the chain's radical (for McDonald's, anyway) new approach: allowing customers to customize their burgers. The new "Create Your Taste" program, complete with touch-screen ordering and an interior refresh, debuted in the spring; on July 23rd, the burger giant held a "coming-out" party of sorts for the media.
The revamped McDonald's now looks like a modern cafe, with rich wood grain and pops of bright red and lime green. For the tech-savvy, there's free wi-fi and plug-in work stations. If they wish, customers can still order at a counter at the back, but the emphasis is on encouraging orders from oversized electronic touch-screen kiosks toward the center of the dining room. (There's an on-site host to help, in case of any questions.)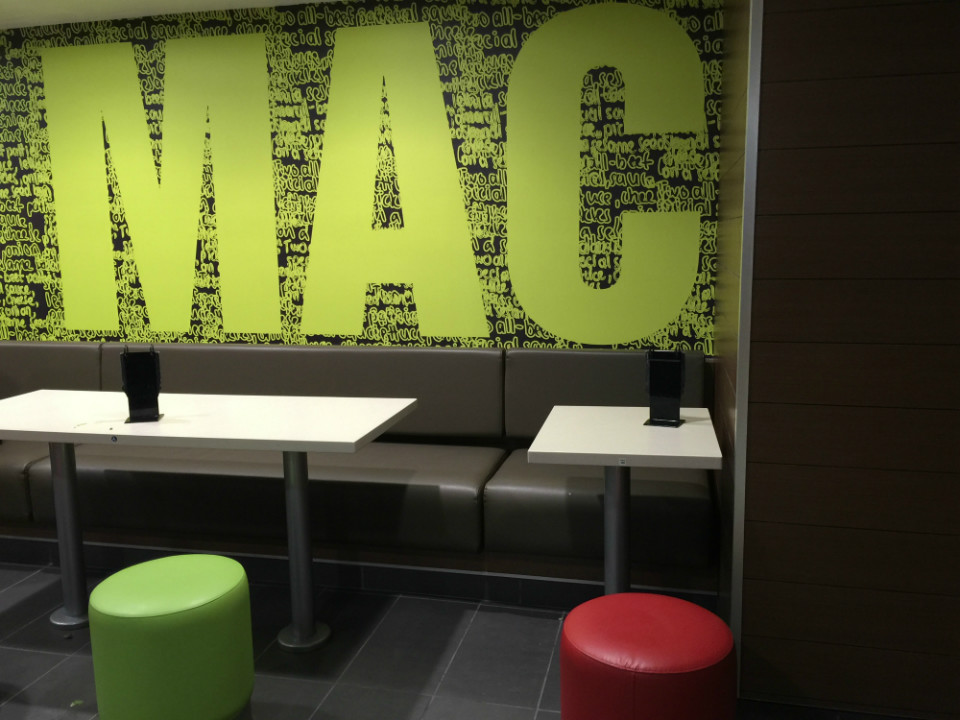 Both the classic menu and the new Create Your Taste menu can be ordered using the screens. After an order is placed, customers grab a locator puck, and the meal is brought out and served at the table—no more waiting for a number to be yelled.
All of these changes can throw customers for a loop. "It's fun to watch people walk in and do a double-take," said Scott I. Rodrick, the president of franchisee Rodrick Foods, Inc., which owns 16 McDonald's locations in Northern California. So far, the gambit seems to be working: The Sutter Street location has four stars on Yelp, and Rodrick said it's going so well, he plans to roll out Create Your Taste at his locations in the FiDi (235 Front St.) and at the Stonestown Galleria.
Letting customers build their own burgers is a steep departure from McDonald's business model over the past 60 years, and involves a much wider array of ingredients than the chain usually offers. Customers choose their type of bun (options include a ciabatta roll, a buttered and toasted artisan roll, or a low-carb lettuce wrap), then add cheese (including pepper jack, white cheddar, American or shaved Parmesan). Toppings include grilled mushrooms, grilled tomatoes, cucumber slices, chili-lime tortilla strips, guacamole, and creamy garlic sauce.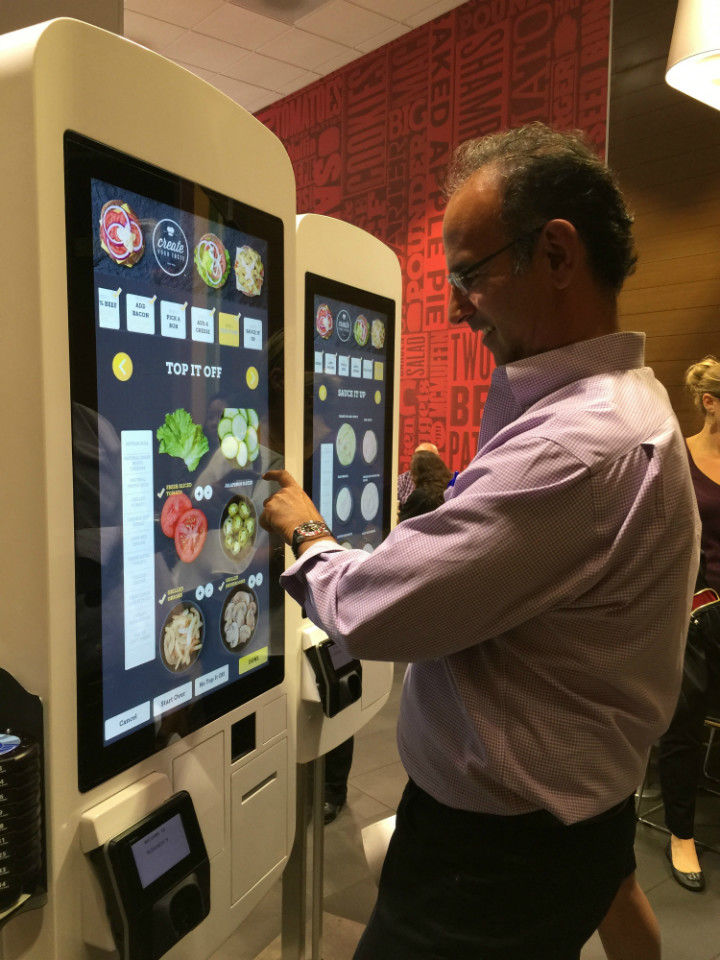 Franchisee Scott Rodrick demonstrates the machine.
Anything from the list can be piled on the signature quarter-pound all-beef patty or grilled chicken for free, even in multiple quantities. The only extra charge is for extra meat or bacon. Customers can even go meatless, heaping on the veggies instead; Rodrick said two women who work next-door come in daily for a vegetarian sandwich. (If you want proof of just how customizable the system is, take a look at this YouTube video.) With tax, the basic burger comes to just over six bucks, a rare affordable option in pricey Union Square. 
About 25 percent of customers order from the touch-screen kiosks, Rodrick said—higher than original estimates, but seemingly low for such a tech-friendly city. However, Union Square's high concentration of tourists isn't necessarily the culprit. "A lot of things [at this McDonald's], like touch screens and contemporary decor, are not foreign to tourists coming from across the globe," he said. In fact, Create Your Taste has already rolled out across Australia, with a slightly different list of ingredients. You won't currently find Australian options like grilled pineapple or sliced beetroot at the SF location, but that may change, as stores plan to shift their offerings in accordance with customer demand.
In the U.S., about 100 of McDonald's 14,000+ outlets have implemented the concept, Rodrick said. Some people have griped that the kiosks will reduce the need for labor, but Rodrick said he actually has more employees at the Sutter restaurant than he does at his other locations.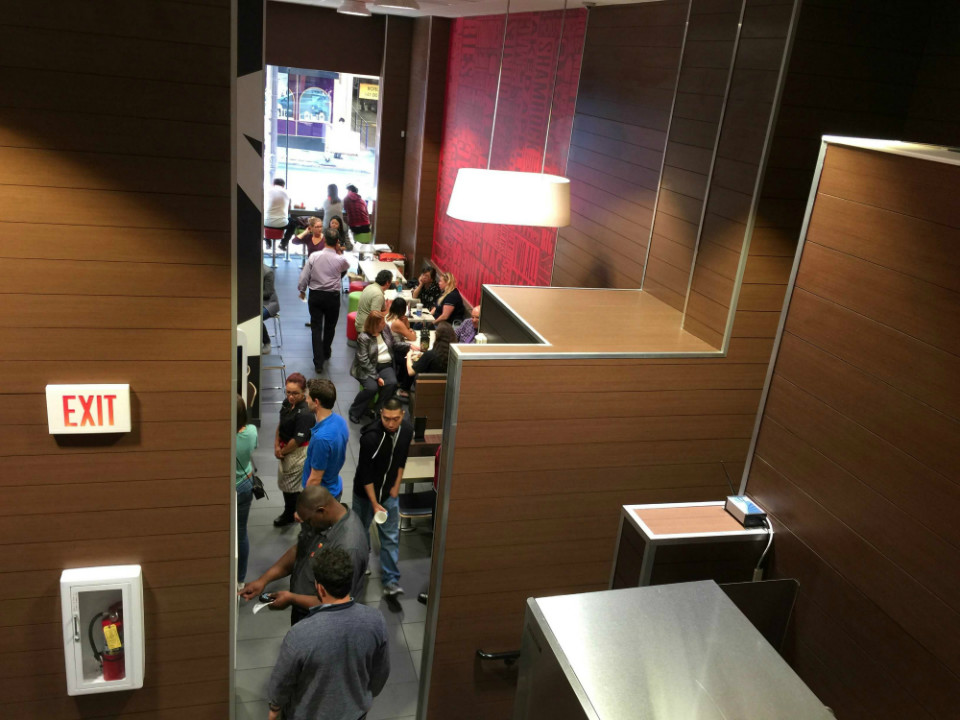 Though this modern take on "Have It Your Way" may sound pedestrian to anyone who's visited a Chipotle, custom burgers are a big deal for Mickey D's, which has relied on a tried-and-true formula for decades. Many questions remain to be answered: Will customers pay more for a higher-end product at a chain known for its low prices? Will franchisees invest the money in the overhaul required to offer the concept, including those pricey touchscreens? Will "Create Your Taste" alienate diners in a hurry by taking the "fast" out of "fast food," since the cooked-to-order burgers take eight to ten minutes to come out (versus 3.5 for a standard burger)?
Rodrick believes the changes are exactly the recipe needed to ensure the brand's future success. "It's absolutely resonating with guests," he said. "It takes a few more minutes, but guests are telling me it's worth the wait." He added that Create Your Taste "allowed us to introduce ingredients customers have been asking for for a long time."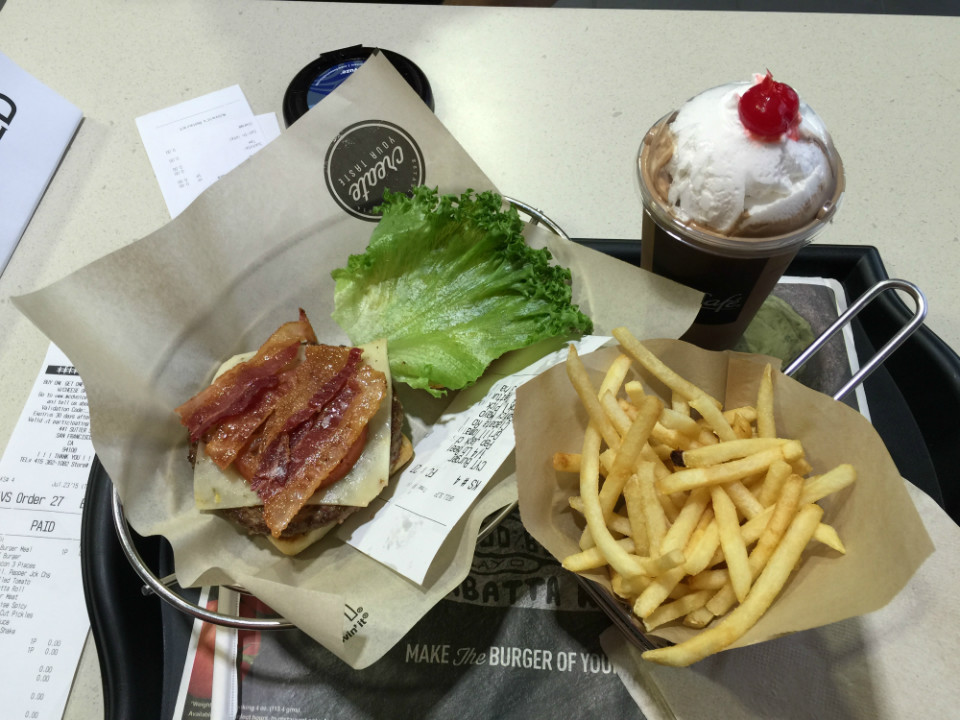 Rodrick, whose father was one of founder Ray Kroc's original franchisees, wouldn't say how much it costs an operator to incorporate Create Your Taste, only that the price tag is "a lot." McDonald's does provide some co-investment, and Rodrick believes the changes are "a calculated risk built on success around the world based on the same platform." In fact, after seeing the success of the Create Your Taste locations in Los Angeles and San Diego, he demanded the company let him test it. "I was blown away by the quality of the sandwich I put in my mouth," he said. 
"From my own perspective as an individual operator, I would say for McDonald's to be successful over the next 60 years, we have to start thinking and acting like a startup restaurant company," Rodrick said. "What used to be 'the big eats the small' is now 'the nimble eat the slow.'"