Though the Tenderloin is home to a number of nonprofits and community services, a new program has been introduced to support the educational aspirations of adults hoping to catch up after life's circumstances get in the way of schooling.
The program comes from Glide Memorial Church and Five Keys Charter Schools and Programs, who have recently formed a partnership to provide programming at Glide's 330 Ellis St. campus. The new collaboration aims to add free educational services to Glide's repertoire, including English as a Second Language (ESL), GED prep classes and testing, basic literacy and computer skills, academic advising, high school credit recovery, drop-in class times, as well as structured class support. These services represent a much-anticipated addition to Glide's already impressive list of services.
Glide's new program space, located on the fifth floor (home to their HIV/HEPC Services and Department) is modest but bright, with a whiteboard and markers, rectangular and circular tables and chairs, and large windows looking out to Ellis Street that providing plenty of breeze and sunlight for reading and studying.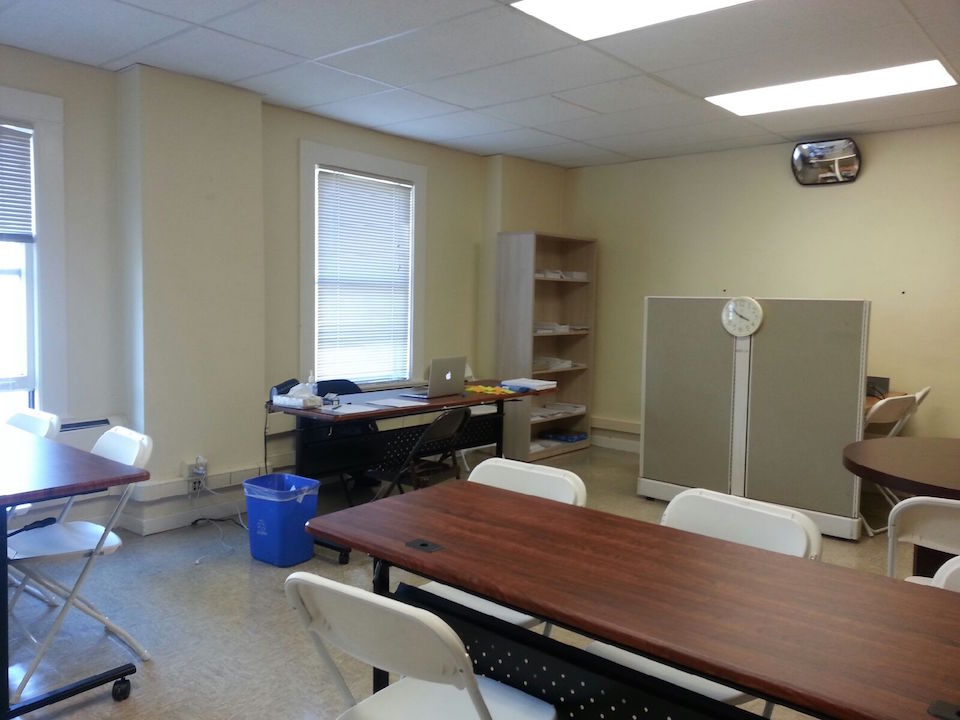 Glide's new program space located on the 5th Floor (Photo:  Pete Valceschini/Five Keys)
At the front of the room sits Pete Valceschini of Five Keys, a historian and social and economic justice guru who is also Glide's new resident teacher. Part of Valceschini's job is to assess every client to get an accurate idea of their current education level.  After that, he manages the classroom, five days a week, seven hours a day, so that people have the freedom to "walk-in" and work at their own pace. "We have classes, independent studies where clients can work on their own, get help from the teacher, work more intensively with a teacher in a class, or work one-on-one with me," he said. "We try to be as flexible as possible."  
Five Keys had its beginnings in the San Francisco county jail system as one of the first charter schools of its kind in the nation. Due to the program's success, Five Keys expanded its reach to community-serving agencies such as the Bayview YMCA, Goodwill Industries—and most recently, Glide. 
"The initial idea was to get into the prison system or the county jail system to meet people where they were," explained Valceschini. "Five Keys has taken that original idea and expanded throughout the community; we are still in county jails in San Francisco; we've expanded to Los Angeles, San Bernardino County up to Solano County, and now we have partnered with community organizations all throughout all of those regions."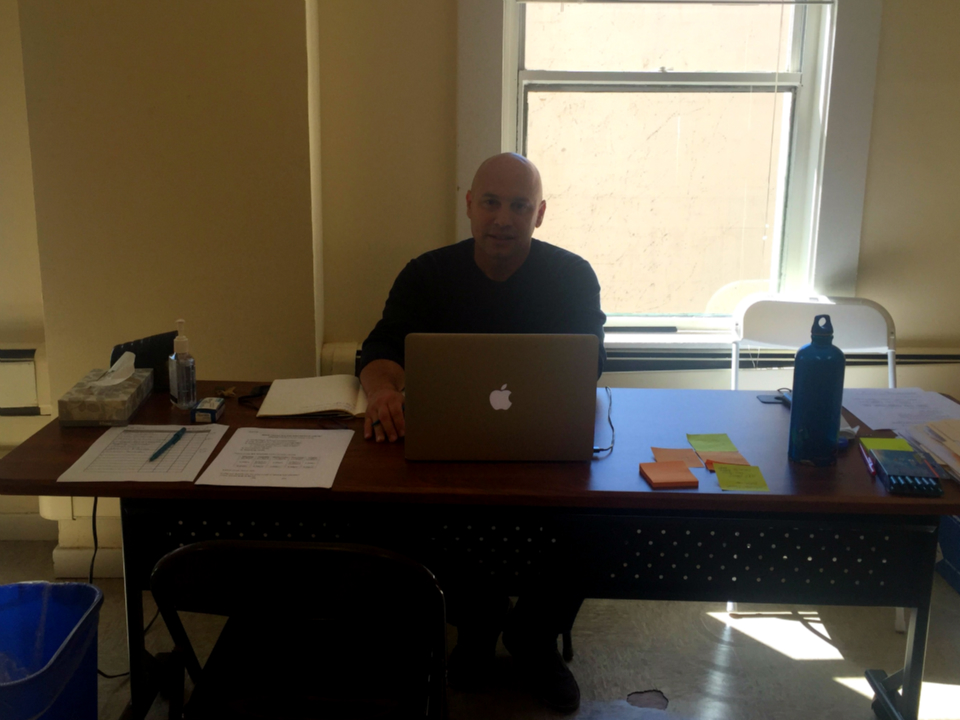 Pete Valceschini (Photo: Blair Czarecki/Hoodline)
Valceschini points out that it's hard to navigate coming out of jail and getting a job when you're not proficient with using computers, or your reading, writing or math skills aren't up to par. "Besides all that, the core of the program is to restore the communities and restore a sense of humanity to the process, so we try really hard to bring in some of the subjects that people have missed by virtue of the fact that they've missed a lot of high school," said Valceschini.
"It's great to expose folks to poetry or literature for the first time. For some folks this may be the first time they are ever reading Catcher in the Rye, or ever reading Hemingway.  So we try to get folks to a point where they can appreciate the humanistic side to education, not only the vocational end."
Program client Fred studies up. (Photo:  Blair Czarecki/Hoodline)
Glide and Five Keys' philosophies align when it comes making sure that their program is flexible and approachable for their clients,understanding that pressing life circumstances may take precedence at unforeseen times in a person's life. They also take into consideration that their clients may be coming to them with a myriad of needs:  housing, mental health, and/or to brush up on their English skills, with one not necessarily trumping the other in terms of importance.  
"I think in general, this larger idea of 'You don't have to start over in your life, you can pick up where you left off' is very much present in the philosophy of our programming in both Five Keys and Glide, and I like that because we want to incentivize people's learning for themselves in a way that fits within their schedule," said Barbara Lin of Glide, who is currently managing the partnership.
This flexible model that works with people's schedules  is what makes their program stand apart from many others which often rely on consistent attendance by virtue of funding requirements. And due to Glide's robust offering, the hope is that continuing education will go hand-in-hand with other services.
"If we look at each of these things siloed it might be difficult to move forward—the idea is folks might not be interested in continuing their education if they are worried about food, or if they are worried about housing. So some of the resources we're leveraging outside of general space for the classroom are case managers on-site, a kitchen on-site, anti-violence prevention programs, etc." said Lin. "Hopefully each service is a venue of empowerment for the clients that come through."
The classroom is open on a drop-in basis Monday through Thursday 11am to 6pm, and Friday from 8am until 3pm.