Published on August 24, 2015
SFPD officers and private security guards stand at intervals, patrolling the perimeter of the Bill Graham Civic Auditorium. Sidewalks on two sides of the venue are inaccessible to pedestrians. Enormous power generators are stationed on the Larkin Street side of the building, occupying a lane of parking spots. And all anyone will say publicly is that the building will be closed for a "private event" for the better part of a month.
What exactly is going on here?
That's what we—and at least a few likeminded readers—want to know.
The Bill Graham Civic Auditorium has been surrounded by security the past few days. They say can't say what's up. @HoodlineSF any clues? :)

— Gavin St. Ours (@CharmCityGavin) August 21, 2015
One security guard we chatted with yesterday would only say that the venue will be closed until September 13th for a private event. No public events are slated at the site until a Zedd concert on September 16th, according to the auditorium's website.
Applications filed with the Planning Department chalk the activity up to a "trade show" which will purportedly run from Sept. 4th until the 10th. Yet not only do those dates span the Labor Day holiday, which would be unusual for a trade show, but we could find no other evidence of a trade show, conference, convention, or other event planned for the venue during those dates.
So again, what exactly is going on here?
At least one observer claims the event may in fact be an Apple product launch, which would correlate to rumors that the company will be debuting its latest iPhone and other products at an as-yet-unannounced media event on September 9th.
Unlike its annual WWDC conference, which has been held at the Moscone Center each June since 2007, Apple tends to hold its fall phone launches in varying locations across the Bay Area. 2014's edition was held at the Flint Center in Cupertino, 2013's was at Apple's Cupertino offices, and 2012's was at the Yerba Buena Center For the Arts. The company typically only announces its launch events 10-12 days in advance; last year's, also held September 9th, was announced on August 28th. 
There's one more clue in the Planning Department documents. Four windows on the Grove Street side of the building, pictured above, will be removed to make way for a 15-foot-tall fiberboard logo, which will hang on the exterior of the building, and may be very oddly shaped: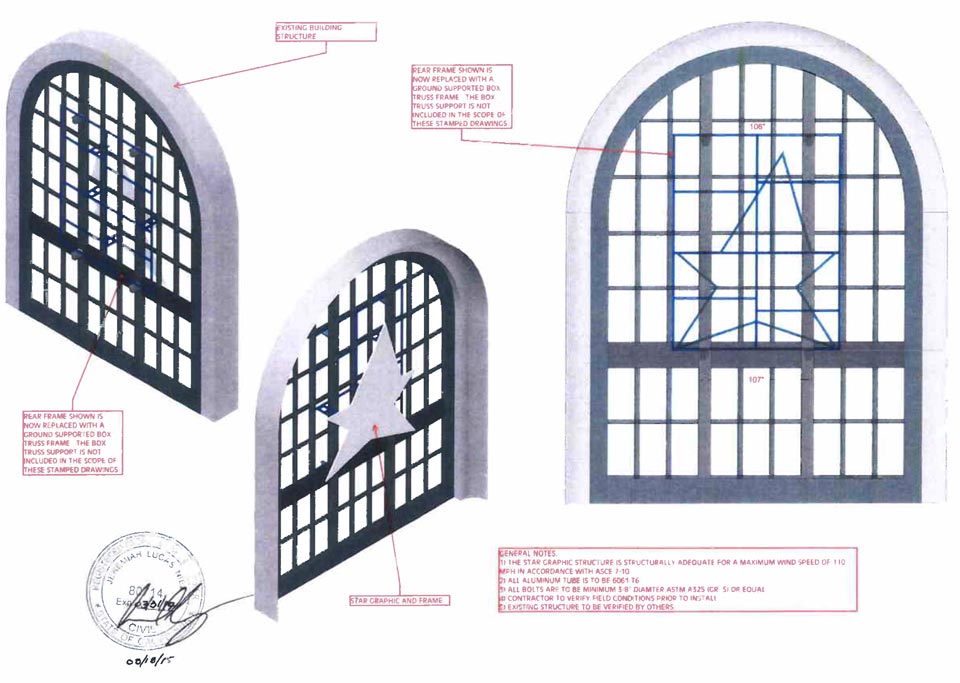 Image: Hopper Engineering Associates, via SF Planning Department
The logo doesn't look very Apple-like to us, although it's possible the star shape is just a placeholder to throw nosy hyperlocal reporters off the track. 
So, that's what we know at the moment. If you have any information that can help us get to the bottom of this Civic Center mystery, we're all ears.
Update 8/26: A source tells us that Apple is indeed behind the event.