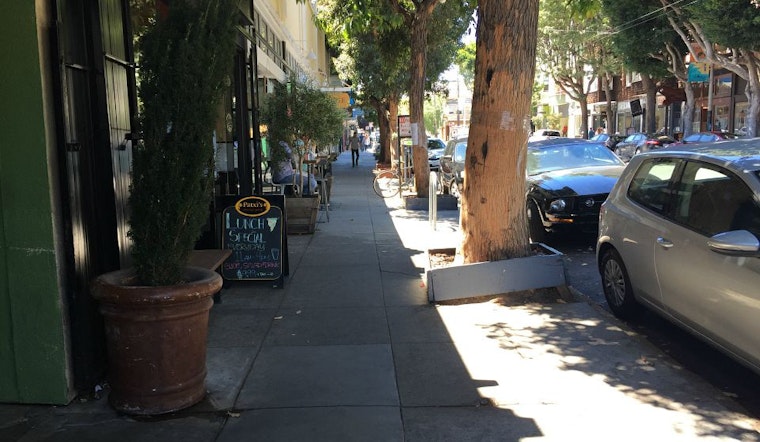 Published on August 04, 2015
Yesterday, we brought word of two parklets proposed for Divisadero Street. Today. we've got news on plans for two more parklets, this time in Hayes Valley. One parklet is proposed for the space outside Paxti's and Souvla on Hayes Street, and another is planned for outside Loving Cup and Artis Coffee on Octavia Street. 
The parklets would be the third and fourth in the neighborhood. Mercury Cafe at Octavia and Page opened up a parklet in March of last year, and Arlequin Cafe at on Hayes and Gough streets also has a parklet. 
Loving Cup's Liz Fielder told us that the parklet on Octavia Street would be a space for the entire city to enjoy, hosted by both businesses. "We envision our parklet as an extension of Patricia's Green," said Fielder. "We want to encourage the public to explore the neighborhood, and hope to provide a safe and comfortable place for people to socialize and enjoy an amazing frozen yogurt or coffee from our local businesses."
Alex Lowe from the newly-opened Artís Coffee also confirmed that a shared parklet is in the works.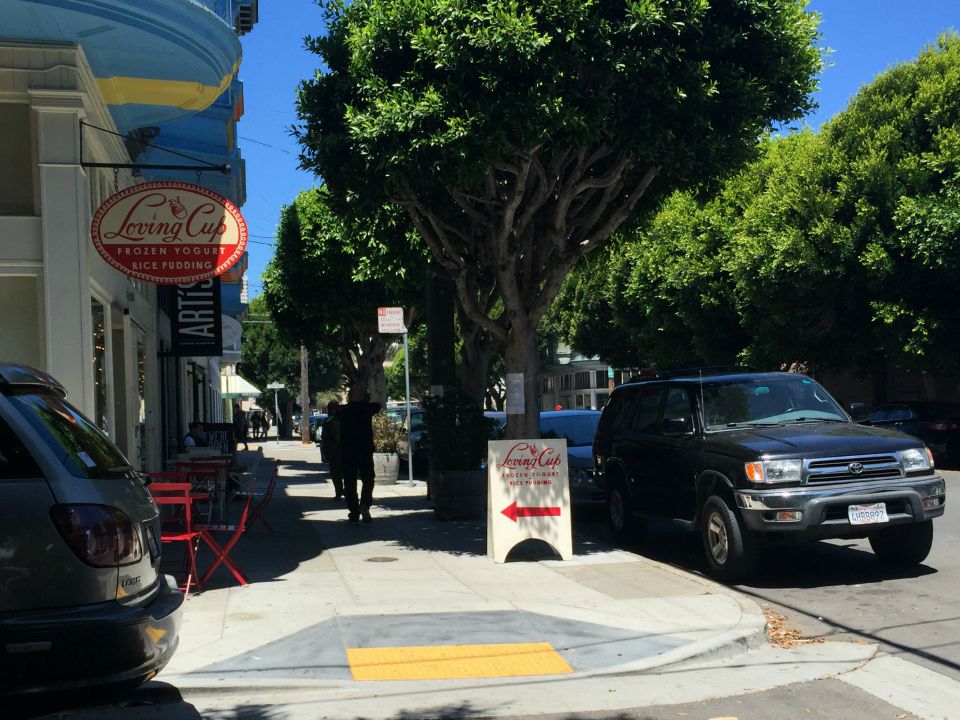 The proposed parklet area outside Loving Cup and Artís Coffee.
Over on Hayes Street, signs citing the application for a separate parklet are posted on trees outside Souvla and Paxti's Pizza. The parklet was proposed by Jim Howard, the head of marketing for Patxi's, who is also coordinating a possible parklet for the pizza chain's Inner Sunset location, on Irving Street.
"The idea of a parklet came about as another way for us to give back to the community. Every week we dedicate one day for charity and give back 10 percent of our sales to a local Hayes Valley school, charity or children's organization," Paxti's cofounder Francisco "Patxi" Azpiroz told us in an email. "Now, we'd like to give back by building a parklet.  A well-designed parklet will ease sidewalk congestion and create a common area for the community to come together."
As both parklets are still in the application process, renderings have not yet been released, and it's not immediately clear how many parking spaces would be removed for the project. 
Both parklets are up for public comment through tomorrow (August 5th). To learn more about the proposals, check out the signs posted outside Patxi's, Souvla, Loving Cup and Artís. If you'd like to provide feedback, email parklets [at] sfdpw [dot] org, or call (415) 554-5810.
We'll keep you in the loop if either of the proposed parklets get the green light to move forward.