Now on its 32nd year, the Folsom Street Fair is just a few days away. And what better way to say goodbye to summer than with a full-blown leather fetish and enthusiasts' extravaganza?
This year, some 200,000 to 250,000 folks from all walks of life are projected to attend SoMa's long-running leather and fetish celebration. Associated with taglines such as "not for the faint of heart," Folsom Street Fair is considered one of San Francisco's largest 'for mature audiences only events.' It's actually recommended that you leave your pets and children and home due to the high volume of foot traffic (and for other obvious reasons).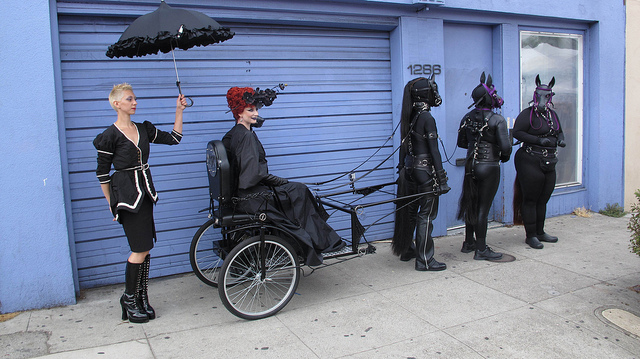 Photo: Ed Bierman/Flickr
This Sunday, September 27th will bring 200 fetish exhibitor booths armed with fetish toys, gear, and more to Folsom Street between Eighth and 13th streets, the fair's main corridor. According to Demetri Moshoyannis, Executive Director of Folsom Street Events, more emphasis has been placed on entertainment this year. Expect an eclectic mix of electronic, indie and and alternative music sets to perform throughout the day, including headliners Missing Persons and Lady Hawke; Missing Persons will hit the main stage at 4:10pm and Ladyhawke at 5:10pm. (You can visit Folsom Street Fair's website for the full entertainment line-up. 
New additions to this year's venue include an artist area with a stage offering non-music-focused entertainment such as fire play and burlesque dancing, and a mixed-gender relaxation station area hosted by Queer Sphere.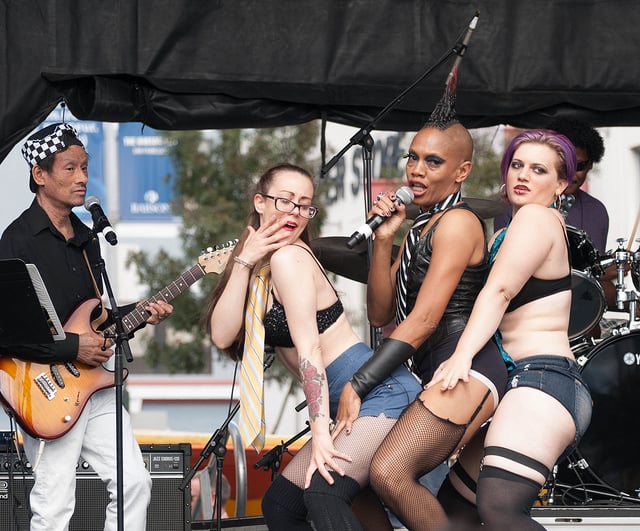 Photo: Ed Bierman/Flickr
SF Eagle will also be offering up its space, transforming the corner lot on 12th & Harrison with a Victory Party stage and and keeping the party going until 8pm. "This was a big plus for us," says Moshoyannis.    
Returning to the event is Big-Ass Amazingly Awesome Homosexual Sheep (BAAAHS), the converted school bus-turned-mobile-sound stage best known for its appearances at Burning Man. Venus' Playground will also celebrate the 10-year anniversary of its Women's Only area for those identifying as women and genderqueer.
To get you oriented, here's a map of Sunday's event: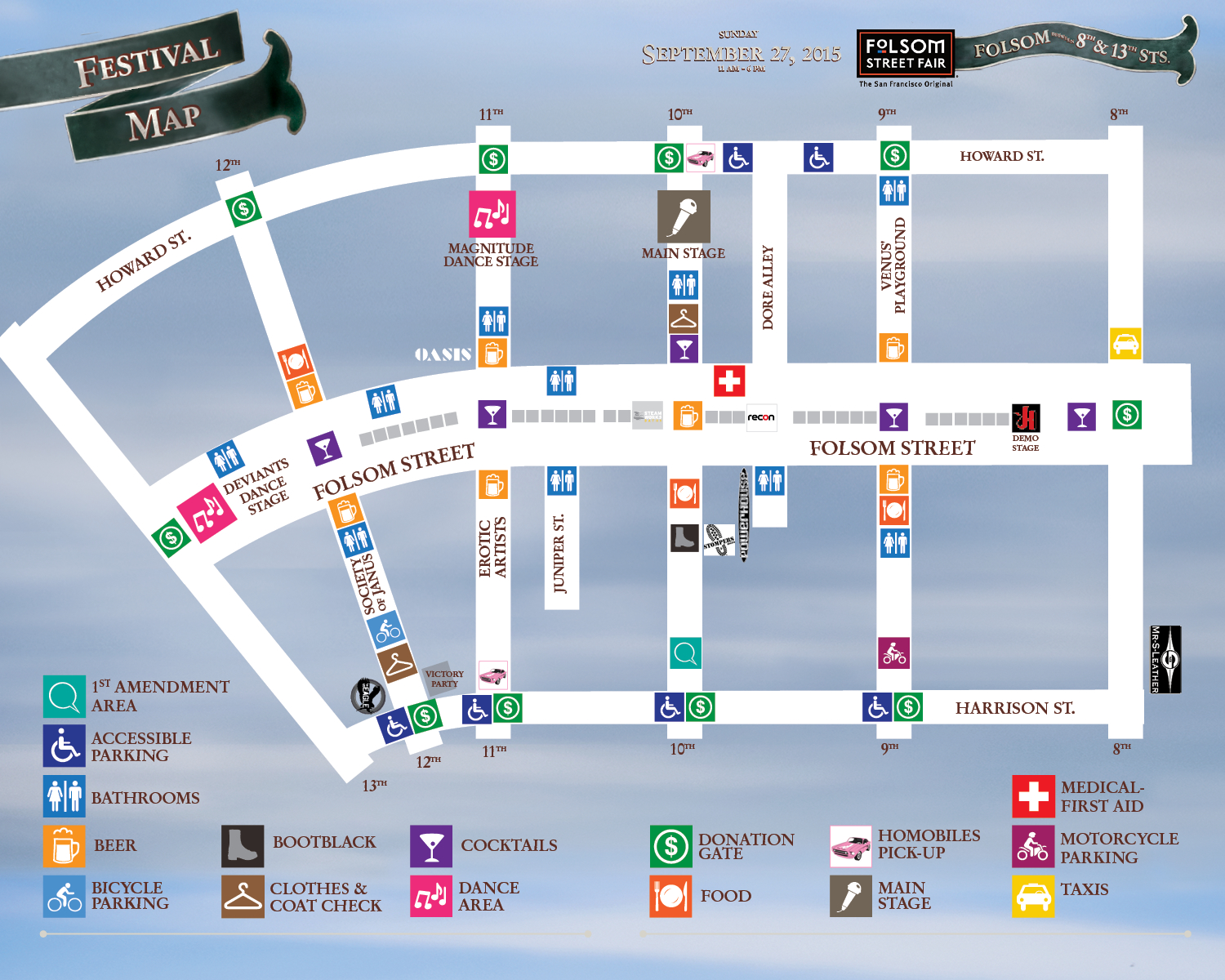 Photo: Folsom Street Events  

For many, September 27th is more than just the rowdy, leather clad crowds congesting over 13 city blocks: it the amalgamation of SoMa's rich history. "1984, the first year [Folsom Street Fair took place], it was called MegaHood which started as a means of raising visibility of the gentrification in South of Market; so it wasn't a leather event at all," says Moshoyannis.

In a history of the event written by Kathleen Connell and Paul Gabriel, Folsom Street Fair is described as the culmination of SoMa's many diverse goals during the '80s. Its inauguration celebrated the LGBT communities significant to SoMa's history, and aimed to unify the neighborhood and to give it an identity as more than just a neighborhood in need of redevelopment.
In 1985, a year after the Folsom Street Fair debuted, Up Your Alley became another permanent fixture of Leather Week. "It started as a leather event," says Moshoyannis. However, both events found themselves plagued by a dwindling volunteer base in the late '80s during the height of the AIDS epidemic. "[The two organizations] merged in 1990, and in the early- to mid-'90s Folsom Street Fair took on more of a leather feel; and by '96 the first image that you can see very clearly of the leather connotation comes through," says Moshoyannis.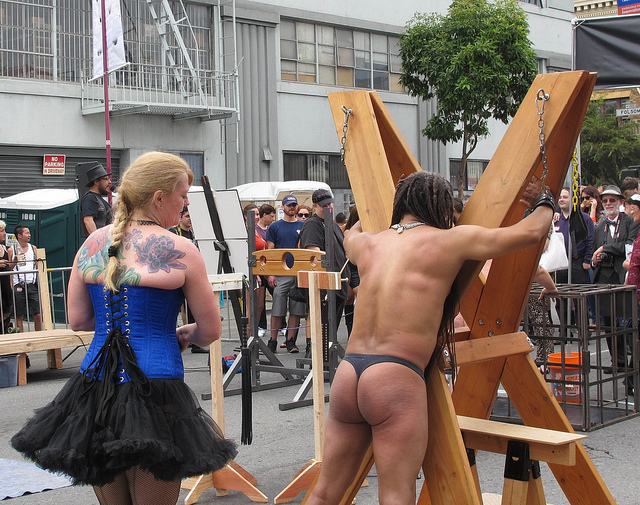 Photo: Ed Bierman/Flickr
These events both continue to operate under their nonprofit umbrella organization, Folsom Street Events, which also produces Bay of Pigs, Up Your Alley, Magnitude, DEVIANTS Adult Arcade and LeatherWalk in association with AIDS Emergency Fund and Breast Cancer Emergency Fund. Folsom Street Events has donated roughly $5.5 million dollars to charities over the years.
As the fair has prospered and the participation grown, minor logistical changes (shifting the fair from Seventh & 12th streets to Eighth & 13th streets last year) have eased congestion for the onslaught of guests. "This opened up Eighth street to outbound traffic, which has considerably eased traffic around the festival," says Moshoyannis.  
If it's your first time attending Folsom Street Fair, Moshoyannis has some words of advice. "I would say make sure you do a little research online first; this is the real deal. If you come with an open mind and in the spirit of the fair, that is the best way to do it. There may be things you've never seen before, and there may be things you have never tried before and want to try ... and we encourage that," says Moshoyannis. He also advises steering clear of reviews from "the one-star Yelpers." "[They] clearly did not know what they were getting into."
Folsom Street Fair begins takes place from 11am to 6pm this Sunday, September 27th. For more details, visit Folsom Street Fair's Event Page.