Plans to demolish a 1908 Edwardian on Irving Street between 12th and Funston and replace it with a modern structure containing residential and retail units have been canceled. According to an email from the Planning Department that was shared with Hoodline, the property's owners withdrew their permit application this week.
Earlier this year, the proposed project triggered a neighborhood debate over whether the new building was an appropriate size and design for the neighborhood. Addtionally, some bemoaned the loss of a vintage San Francisco house. Supporters said the plan fit within the guidelines of the area's Neighborhood Commercial District and supported the project as a way to add housing and retail space to an area considered "underutilized" by the city.
Opponents also complained about poor outreach and notification, while supporters noted that the owners had a long history of good works in the neighborhood and wouldn't do anything to harm it.
Hoodline covered a September 3rd Planning Commission hearing at City Hall, where dozens of residents showed up to voice their opinions, with an overwhelming number of them expressing support for the project.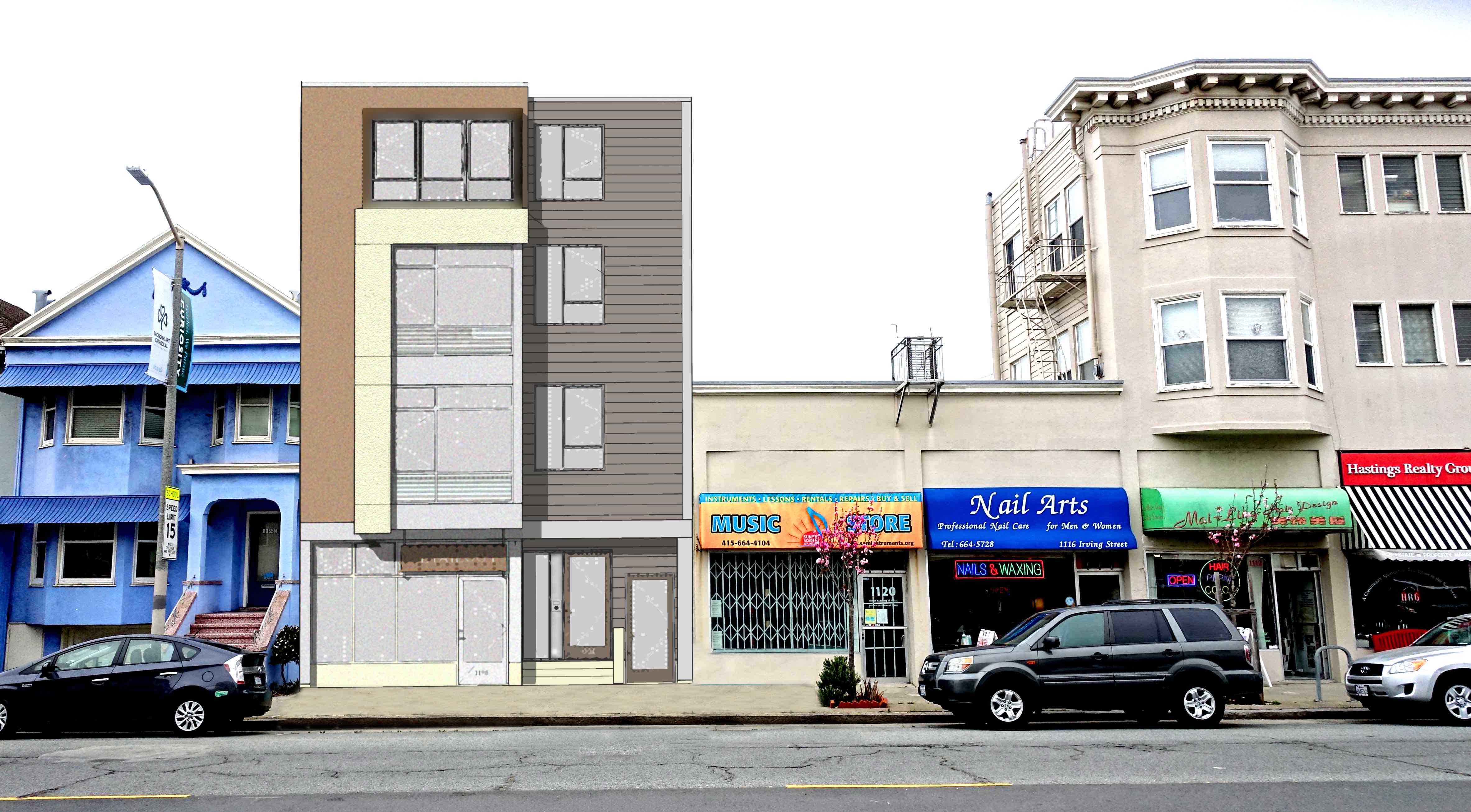 The proposed construction at 1126 Irving. Image: Elevation Architects
The Planning Commission's decision was largely focused on whether the existing building contained more than one permitted residential unit, and whether or not that meant that rent control rules applied to the building. "We can't take the risk of unintentionally demolishing rent-controlled units," said Commissioner Dennis Richards.
Due to the property's complex history of permits and construction, the issue was delayed for two months so its rent control status could be determined. The matter was to be revisited at a November 5th Planning Commission hearing, but the Planning Department's email implied that the building had been determined to be a rent controlled building. As a result, the owners had withdrawn their application for demolition.
The email went on to say that it was believed that the owners of 1126 Irving would likely change their plan from a demolition and complete rebuild to some sort of alteration that would preserve the existing rent controlled units. As of this week, no permits had been filed for that alteration, and it was unclear how such an alteration would compare in size and design to the now-canceled new construction.
Hoodline was unable to reach the owners of 1126 Irving to discuss recent developments and their future plans for the site. According to Patrick Morris, a neighbor who opposed the project, "many who live in the same builder's homes as the one planned for demolition are greatly relieved," because buildings like these "define our neighborhood, and make our city unique."
"The irony is this home may have been saved by what lead to destruction of these homes in the 1970s," said Morris. "Affordable housing."