Wednesday night's uncharacteristically brief meeting of the Northeast Waterfront Advisory Group hit on just a few issues, most notably the Salesforce Dreamboat, a cruise ship that was used as a floating hotel during the company's 2015 Dreamforce conference (Sept. 15th–18th).
We broke the news in September that neighbors overlooking the cruise ship terminal at Pier 27 and just off of the Embarcadero had concerns about Salesforce's use of the docked Celebrity Infinity as a temporary hotel for attendees. They asked the Port and Salesforce to create a plan to mitigate noise and light from the ship, and to set up a 24-hour hotline for complaints. The nonprofit neighborhood group Telegraph Hill Dwellers (THD) also sent a letter noting that hotels aren't allowed on the waterfront, as per city code.
"I think it did go smoothly and wasn't that impactful," the Port's Deputy Director of Planning and Development, Byron A. Rhett said at the meeting. He attributed that to regulations that limited activity on the ship (gambling, for example, must occur off-shore) and who could come and go—namely, only guests who'd booked rooms. It turned out to be less dream than snoozer, according to this SFGate article, which said the boat was "like a ghost ship."
"They couldn't have an event or party there, and that was part of what they were hoping to do," Rhett said, adding the crew wasn't allowed to leave the ship, either. "It's not clear Salesforce or anyone else will want to do this in the future."
Rhett also said that the Port checked into the legality of hosting a floating hotel, and that it was allowed. Proposition H—a 1990 city ballot initiative that banned hotel construction on the city's piers—didn't apply, he said. Stan Hayes, president of THD, thanked the Port for its efforts to manage concerns regarding the Dreamboat, and added that if it plans to allow hotel use on the cruise pier again, "it would be very welcome" to open a dialogue with NEWAG and others. Rhett agreed that the Port considered hosting it again, the Port Commission would hold a public hearing to discuss it.
During the public comment session, one neighbor said he used the Dreamboat hotline to call and complain about a bright rotating spotlight shining into his bedroom, and it was shut off right away. He said it was" handled quite well." Nonetheless, he doesn't believe a floating hotel is a legitimate use of Port property. "Though this was a one-off and I think it was done well, I don't think it was a good precedent."
Another neighbor disagreed. "I thought it was a very successful event, from what I observed. I think it's really prudent to think of different ways we can utilize that space and generate revenue for the city."
In other NEWAG business, the group voted for two members—Jane Connors and Stewart Morton—to represent it on the Waterfront Plan working group, sharing the volunteer position. Between the two, the plan is to "strategically look at which agenda items are at each meeting" and decide who would best represent NEWAG, Connors said. Rhett said that would work fine, but noted that "it will be important that there will be certain meetings where you both should be there."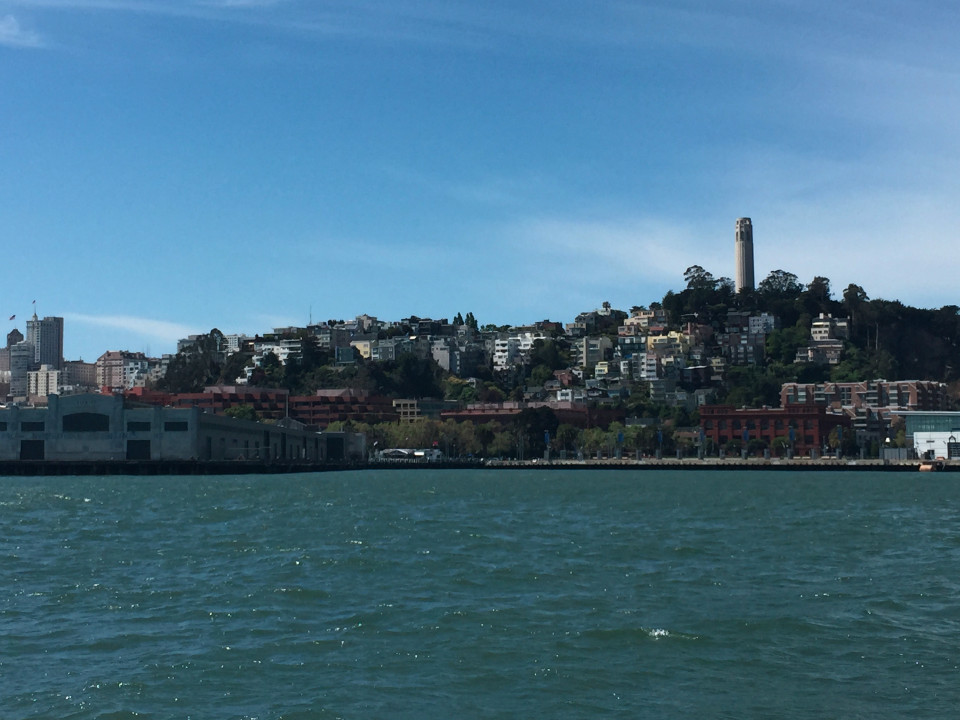 Waterfront Plan working groups and advisory teams will help shape the waterfront. (Photo: Geri Koeppel/Hoodline)
A recent staff report to the Port Commission lists the other members of the Waterfront Plan working group and advisory teams. Rhett noted that the teams have members from every supervisorial district and nearly every ZIP code in the city. He invited everyone to attend the Waterfront Vision Workshop from 6–8:30pm Oct. 19th, at the Pier 27 cruise terminal. Those who can't attend can also leave comments online; more details about the Waterfront Plan Update process are online as well.
In other appointee news, NEWAG member Bruno Kanter of North Beach Neighbors will represent the group on the developer selection panel for the affordable housing project planned for Broadway and Front Street, on a Port parcel called Seawall Lot 322-1. Normally, the Mayor's Office of Housing and Community Development only allows one community member on such a panel, but NEWAG asked for a representative, and MOHCD allowed it. Kanter will join Bob Harrer of the Barbary Coast Neighborhood Association.
Finally, Jay Wallace spoke on behalf of Teatro ZinZanni. As previously reported, the circus dinner theater ran at Pier 29 from 2000 to 2011, when it was asked to vacate the pier so it could host the America's Cup and then build the new cruise terminal. The city promised it a new home, and in May, the Board of Supervisors unanimously approved a sole-source waiver for ZinZanni to build a new, permanent theater on Broadway at the Embarcadero.
At the meeting, Wallace said ZinZanni will start on design work this month, and begin meeting and talking with neighborhood groups as well. It will present again at the next NEWAG meeting. Wallace later told us Teatro ZinZanni hopes to submit an application to the Planning Department by the beginning of 2016.