In order to help curb the startling rise in auto break-ins, particularly in tourist areas, San Francisco hotels have begun to urge visitors to "park smart" —using rearview mirror hangers that valets place in guests' cars. The hangers remind people not to leave anything in their cars, and with the holidays and Super Bowl on their way, there will be many more tourists to warn.
The Hotel Council of San Francisco came up with the idea to print the hangers, building on an idea that grew out of meetings with SFPD. They read: "PARK SMART! Take ALL your belongings with you." Kevin Carroll, executive director of the Hotel Council, said it printed and distributed 10,000 hangers for the first run. "Some hotels have customized it to put their logo on it," printing their own modified versions, he said. "Hotels have been actively using them."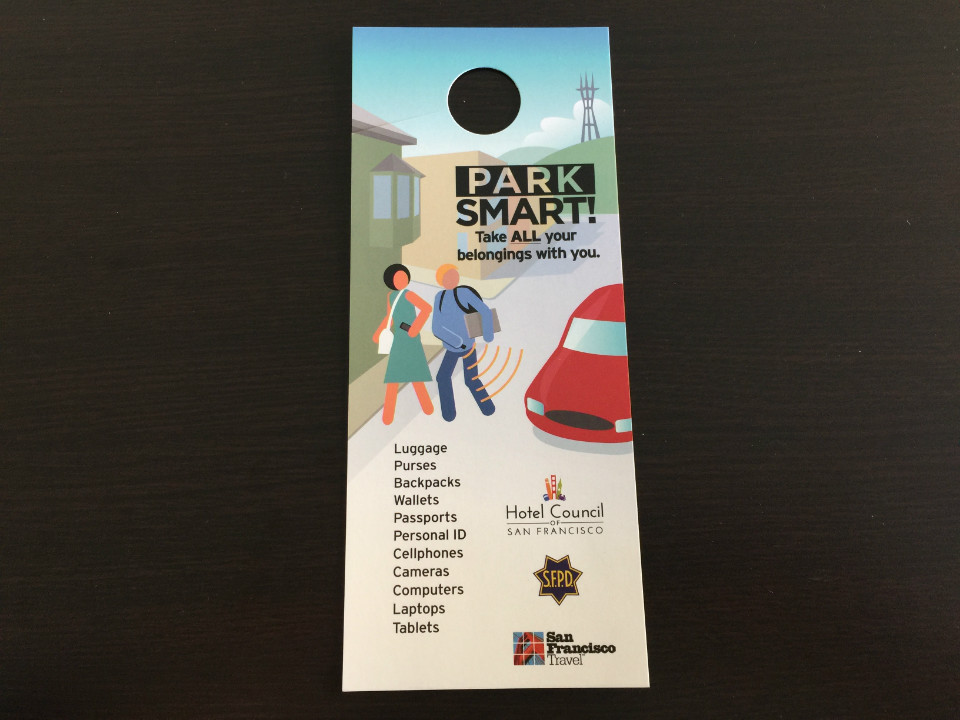 "We want our guests to have great experiences when they're in the city," Carroll said. "The last thing we want to do is help them fill out a police report because their car has been broken into." And the more thieves are rewarded with loot from those break-ins, the more they'll do it—spilling over to locals, who have seen break-ins reach epidemic proportions. Carroll said the Union Square Business Improvement District and Fisherman's Wharf Community Benefit District were both helpful in promoting Park Smart.
The back of the hanger includes phone numbers, addresses and websites for tourism information, contact details for police and hospitals, and a list of tips. They include: Dress in layers, check for bicyclists before opening a car door, carry a reusable bag when shopping, buy a Muni Visitor Passport and curb your wheels.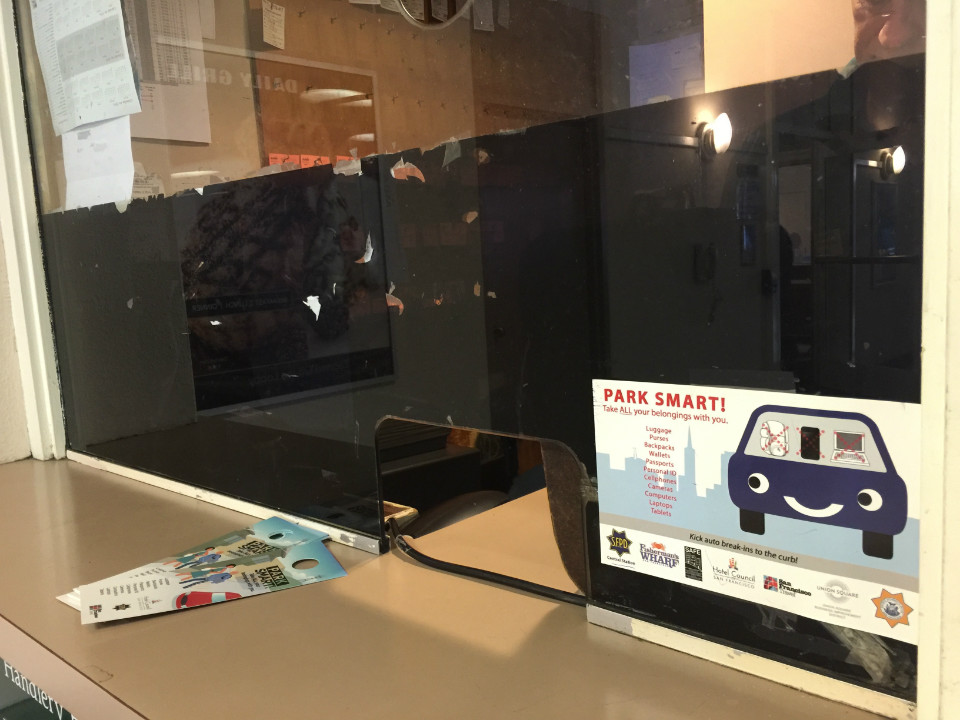 The Handlery Hotel valet window displays Park Smart cards and hangers.
The idea for developing a way to warn drivers not to leave their things behind originally grew out of SFPD Central Station's Community Police Advisory Board. Capt. David Lazar tasked the group with a plan to reduce break-ins, which he saw were getting out of hand. Troy Campbell, executive director of the Fisherman's Wharf CBD and a member of the CPAB, designed a postcard with Park Smart tips for rental car agencies and hotels to distribute.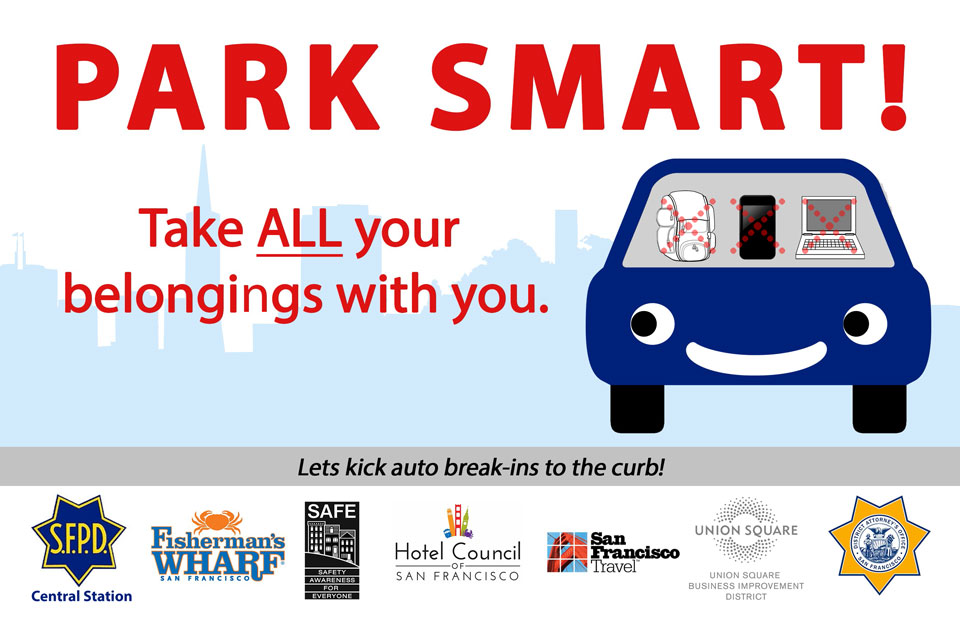 With help from District 3 supervisor Julie Christensen and her aide Mason Lee, the city also has put up 17 "remove valuables" signs, with another 33 in the works, Lazar said. They've been placed in highly trafficked tourist areas like Lombard and Larkin streets, Filbert and Hyde streets, and Washington and Drumm streets.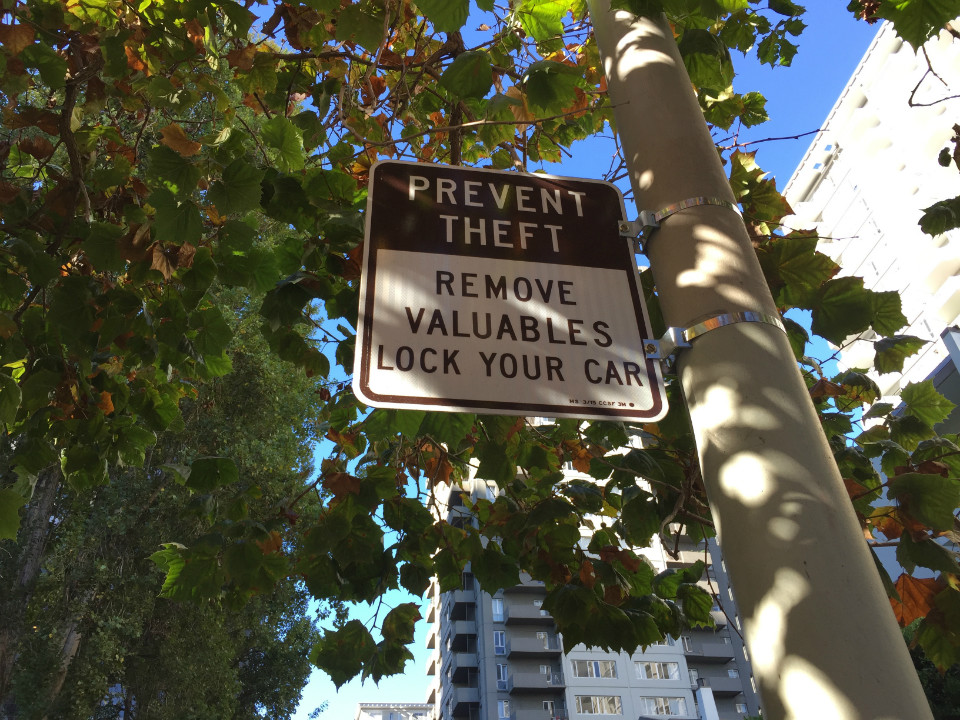 Sign on Washington between Davis and Drumm streets.
Lazar said his officers have made about 125 auto burglary arrests this year, but the SFPD doesn't have specific statistics comparing the number of break-ins this year to previous years, due to the redistricting of station boundaries that took effect on July 19th.
News reports this summer said that SF auto break-ins were up nearly 50 percent in the first half of this year compared to the previous year. But since the summer, Lazar said, "My perception is that it's down. It's still constant, but it's down." He's basing that perception on daily reports; he said he reads every one.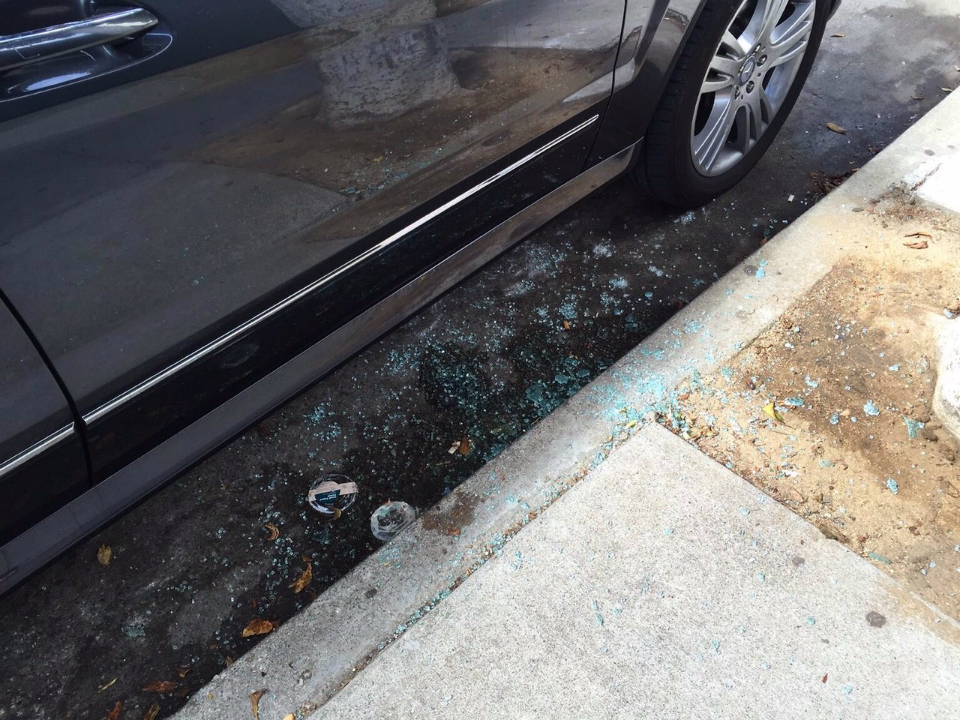 Glass from a smashed car window.
The Park Smart team advises visitors staying at local hotels to stash their things with the bellmen if they've checked out—don't even put anything in the trunk. Thieves are breaking into cars even if there's nothing obvious inside, in hopes that the trunk will yield some goods.
And for both locals and visitors, here's some anecdotal advice: one commenter on Nextdoor said after numerous break-ins when nothing was in the car, leaving the glove compartment and console open curbed the problem.