In 2011, when the landlord wanted to raise the rent on PianoFight's performance complex at 965 Mission St., partners Rob Ready, Dan Williams and Kevin Fink went looking for a new venue for their particular, irreverent brand of comedy (PianoFight's tagline: "New Work by New Artists").
They combed the downtown neighborhood on foot. The last place they went was the old Original Joe's at 144 Taylor St., which had closed due to a fire and had just come up for lease. There were still forks and ketchup bottles on the table when they arrived at the building, a 1910 historical landmark. 
Last December, after a million-dollar-plus renovation — funded by a successful Kickstarter campaign and other sources including a loan —they created two black-box theatres (45 and 95 seats respectively) in the back, and a full-service restaurant and bar in front, with a cabaret stage.
Now PianoFight is about to celebrate its first anniversary in the Tenderloin. 
The dining room, soon after opening last December. (Photo: David B./Yelp)
It's been a challenging but successful first year for the company, established in 2007. 
"One thing I did not imagine was cleaning toilets!" artistic director Ready told Hoodline cheerfully; for most of this first year, they couldn't afford a janitor.
Ready's personal schedule involves 10-hour days on Monday and Tuesday, but much longer than that Wednesday through Saturday, sometimes until 3 a.m. He switches gears continually, from administration to box office to cleaning tables to making drinks to house managing to performing.
At the artistic heart of the organization — its raison d'être — is the PianoFight Creative Company: a large group of artists including not only the three partners (Williams is the executive director and Fink manages the finances) but also the all-female sketch comedy troupe Chardonnay and the sketch comedy troupe Mission CTL. The Creative Company offers a dizzying lineup of comedy and variety shows in addition to the shows that PianoFight coproduces with other companies, and the straight-out rentals. Ready himself is in the house band and, among other things, hosts  ShortLived, an audience-judged playwriting competition.
By the year's end there will have been more than 700 performances in the two theaters, plus free music events in the bar.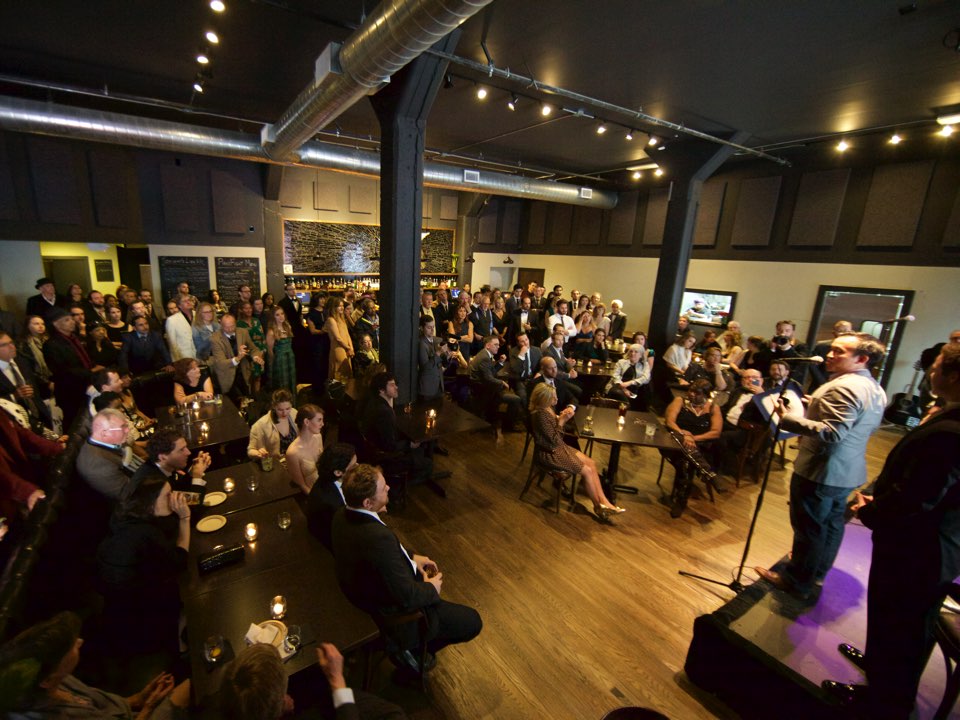 The PianoFight trio is particularly proud of its live recording suite in the larger theatre, with three cameras and live streaming capability. "That was hard to implement," Ready acknowledged. "We know how to do theatre; live streaming is a different beast." He envisions recording all content within the next five or ten years: "How do we make this a really cool hub going forward? Here we're limited to [the number of seats in the two theaters]. If you record you're not limited by anything other than distribution channels." 
Meanwhile, the crowds keep coming. Many are heading for the restaurant or bar and are surprised to discover the two theaters in the back. Most, though, come to see a show, but don't realize they'll be seeing it in an actual theatre space, not in the bar. 

The 95-seat theater. (Photo: David B./Yelp)
For their part, the PianoFighters were surprised about how well they fit into the Tenderloin, a neighborhood that comprises a very diverse group of people.
"We've hosted the opening and closing night parties for [Exit Theatre's] Fringe Festival," said Ready, "and we'll have a more intense partnership with the Festival next year."
CounterPulse, which is opening this month around the corner at 80 Turk St., has been working temporarily out of the PianoFight bar and using some of its storage space downstairs. The staff of Carole Shorenstein's Curran Theatre on Geary St. also works out of the PianoFight venue sometimes, and PianoFight is hosting the Theatre Bay Area awards ceremony after-party on Nov. 16.
"The theater community definitely has a bar now!" exulted Ready. 
#DontBeEvil rehearsal Day #31. Run #3. Tickets available @ http://t.co/kVrQ06W4a8. @pianofight #sfthtr #Sftheatre pic.twitter.com/qkvU2WTnkr

— Gabriel Montoya™ (@Gabriel_Montoya) August 25, 2015
In addition, PianoFight is a stop on Del Seymour's walking tour of the Tenderloin and the headquarters for his employment program Code Tenderloin. The tech community also tends to come in for happy hour and corporate events and has donated money to the renovation. "The Tenderloin feels close-knit and incredibly welcoming," said Ready. 
He expects to have sold 30,000 tickets by the end of the year, and said that most of the prime-time slots are 95 to 98 percent booked for 2016, with a few holes left in the calendar "to make sure we can accommodate us five years ago!"— that is, up-and-coming young troupes of comedians and improvisers.
PianoFight's program is extensive and currently includes many weekly events, some free, like Yacht Rock Thursdays, and musician J. Raoul Brody playing his favorite Beatles songs, as well as popular groups like the long-running sketch comedy troupe Killing My Lobster. Some shows start as late as midnight. Go to pianofight.com or call (415) 816-3691. Ready is likely to answer the phone.