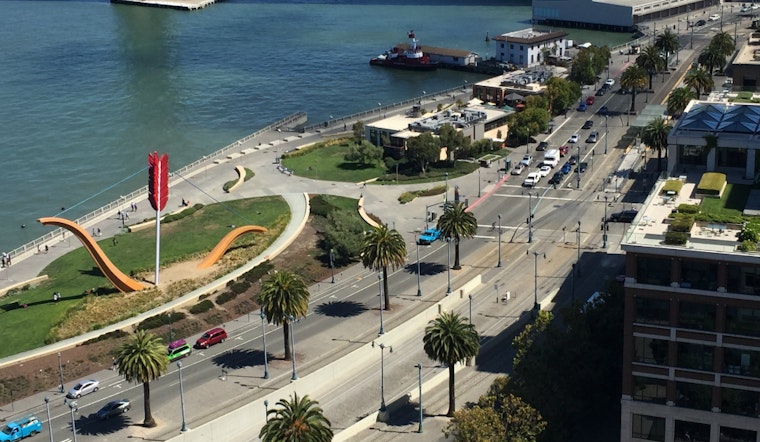 Published on November 18, 2015
Barring any further legal battles, the proposed luxury condo and mixed-use high-rise at 75 Howard St. will move ahead, after a unanimous decision by the Board of Supervisors in the early morning hours of Wednesday. The board voted to reject an appeal to an environmental impact review (EIR) of the project, which was brought by many of the same opponents who fought the proposed 8 Washington condos and have been involved in other waterfront development debates.
75 Howard's developer, Paramount Group, plans to build 133 units of luxury housing, 5,824 square feet of retail space and 102 below-ground parking spaces on the site of what's currently an eight-story parking garage. Paramount originally proposed a 348-foot tower with 31 stories, but that was later cut to 290 feet, and now, 220 feet.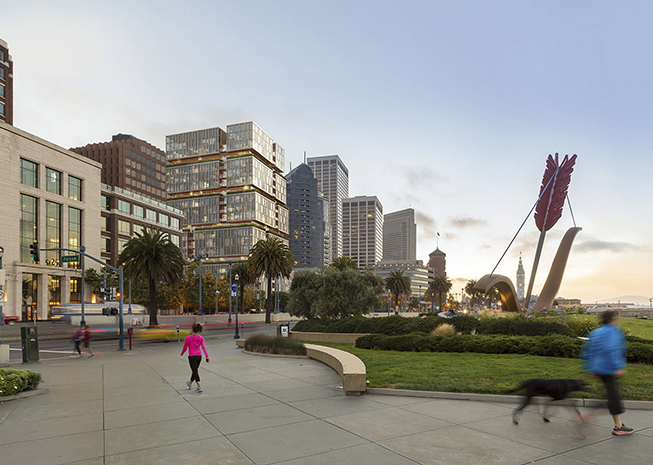 Rendering: Paramount Group, Inc.

Earlier this week, Paramount also voluntarily increased its percentage of in-lieu affordable housing fees from $9.7 million (equivalent to the required 20 percent) to $15.7 million (roughly equivalent to 33 percent). The Chronicle reported all of the financial details on Tuesday; it pencils out to the equivalent of about 38 units of affordable housing, with the Mayor's Office of Housing and Development overseeing the distribution of funds to its various affordable projects. 

But despite the added contribution, opponents were not swayed, claiming that a shadow analysis and traffic studies were flawed. As we previously reported, they organized a group, Save Rincon Park, to fight the project, with local residents, office tenants, and Boulevard restaurant among the members. (Original materials about the project can be found on the Board of Supervisors' site, including letters from the project sponsor and the appellant in last night/this morning's hearing.)
The Planning Department voted 5-1 to approve the 75 Howard project on September 3rd; the Board of Supervisors doesn't need to give its OK to the project as a whole, because there are no height or zoning changes needed. But that doesn't mean opponents won't consider further litigation, or, as in the case of 8 Washington, try to gather signatures for a ballot referendum against the project.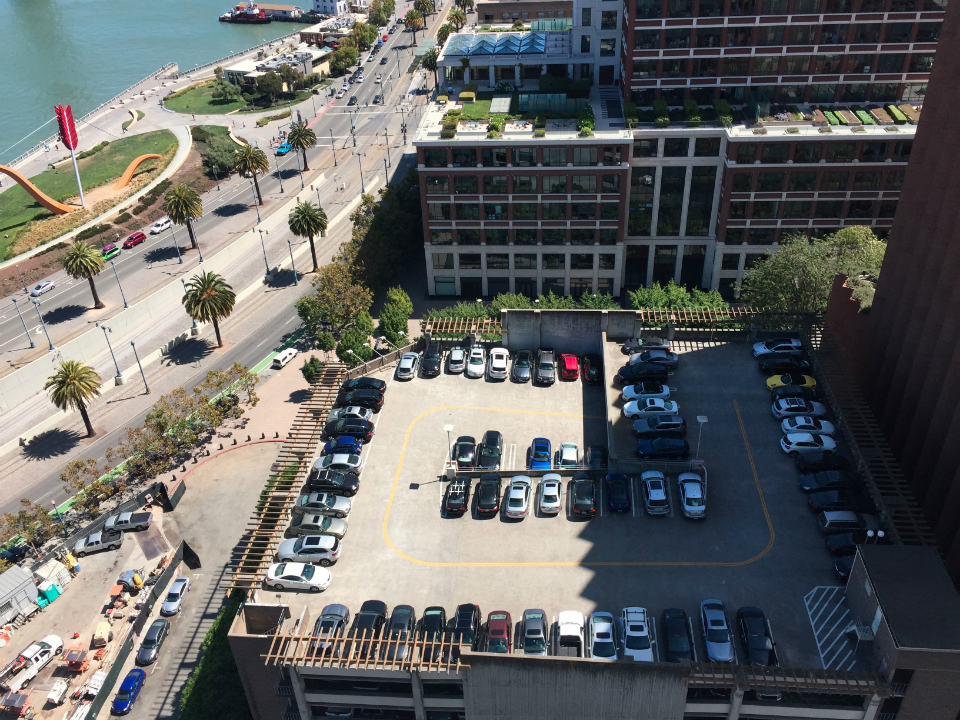 The 75 Howard site is currently a parking garage.
One of 75 Howard's main opponents, David Osgood of the Rincon Point Neighbors Association, told us that any further action "remains to be determined," but he'd support either course. "It's hard to explain why all the supervisors are so out of touch with waterfront planning issues."
"Everyone's evaluating our options and we'll see where we go from here," said Jon Golinger, one of the main drivers behind the No Wall on the Waterfront campaign. That campaign led to a successful ballot initiative, requiring voters to approve any increase on height limits for developments on Port of San Francisco parcels. (It's currently being battled in the courts.)
"The Paramount Group is pleased with the Board of Supervisors' unanimous rejection of the baseless appeal of 75 Howard," said Alex Clemens of Barbary Coast Consulting, which spoke at the hearing on behalf of Paramount Group, in a statement. "As the Supervisors—and the Planning Commission before them—found, the project complies with the city's existing height limits, is shorter than its three closest neighbors, and will significantly contribute to the city's efforts to battle our affordable housing crisis. It will replace a 550-space, Embarcadero Freeway-era parking garage with new housing, and will displace nothing but cars." 

One of opponents' biggest objections to 75 Howard is that it will cast shadows on Rincon Park. They've asked for step-downs toward the waterfront to minimize the shadows, which they say will violate the Sunlight Ordinance. (The appellant letter from Rincon Point Neighbors Association suggests a "100-foot alternative.") However, no changes have been made to the design; Clemens said in an email that any further changes will be worked out collaboratively with the Planning Department.
Danny Yadegar, legislative aide to District 6 Supervisor Jane Kim, pointed out that any building higher than 100 feet tall will cast a shadow (the current garage is 91 feet). Also, he said the developer told Kim that the building's design includes a 20-foot parapet of glass, which isn't "as impactful" as if it were a solid mass.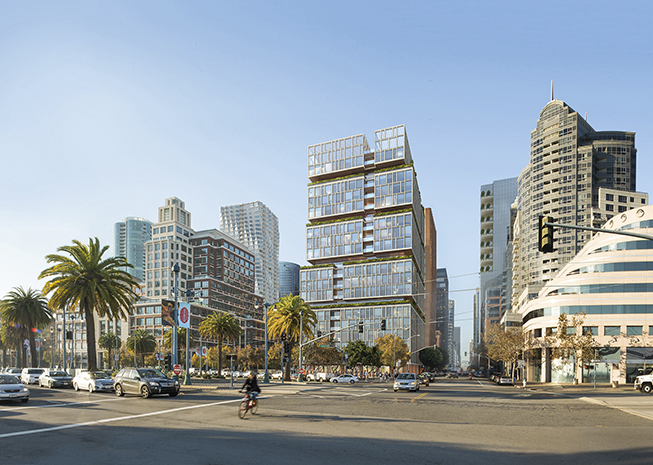 Rendering: Paramount Group, Inc.

Osgood also questioned whether the traffic analysis, done in 2013, should be revised, but Yadegar said that Kim was satisfied with the information she received regarding the analysis.
Not all SoMa residents oppose the 75 Howard project. We spoke with one longtime resident who said more residential development is welcome, because neighborhood-serving retail and services usually follow.
For his part, Osgood rejected that idea: "These luxury condo buildings typically generate maybe high-end restaurants and things like that, and the obligatory dry cleaner, but they're criticized for not generating a lot of retail or the services we need."
Osgood also said that the 75 Howard meeting has him concerned about the increased length of public meetings. He said it's difficult for average citizens to attend these hearings when they could start anytime from 3pm to 9pm or later and/or run past midnight, which yesterday's meeting did. An earlier Planning Department meeting on 75 Howard also ran late.
"Being heard at some ridiculous hour; it's absolutely absurd," Osgood said. "It's a hostile process for citizens." He said that everyone involved knew this Board of Supervisors meeting would be a marathon, given that it included a hearing (which ran seven hours) on the contentious 5M project.
He also said he tried tirelessly to get meetings with city decision-makers, but was mostly unsuccessful. "Developers can waltz into meetings with the mayor and supervisors; we can't ... There's all the components of a corrupted planning process: Too much lobbyist access, secret negotiations, money, late-night meetings, flawed analysis."

Yadegar, Kim's aide, said roughly two people spoke against the project at the meeting, and six spoke for it. He said both the project sponsor and the appellant must agree to a continuance, and while Osgood requested it, Clemens declined.