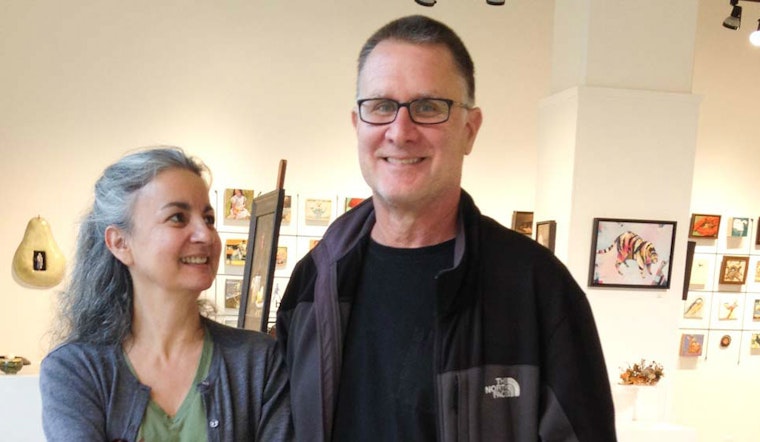 Published on December 05, 2015
The city has seen plenty of disheartening stories of neighbors forced to move and businesses leaving, unable to keep up with the demand for higher and higher rents. But not all stories of displacement have an unhappy ending.
Open since 2003, Studio Gallery has moved locations twice, the second time because of a large rent hike. But with tomorrow's 12th anniversary celebration, which also marks a year in its newest space, the gallery continues to weather the changing rental market. 
Owners Jennifer Farris and Rab Terry (who also appear in this Souls of Polk piece) first opened Studio at 1718A Polk St. (at Clay), with a mission to showcase local artists. Terry is a well-established artist in the Bay Area, with a studio at the venerable Hunters Point Artist Community.
"I've been doing open studios and art fairs and giving workshops all over the Bay Area, for years," Terry told us. "Stepping into the position of gallery owner was not such a big leap." 
Farris' experience was mostly in the business world, but she's always nurtured a love of creativity and a special appreciation for art made locally. "We make a good team," she said.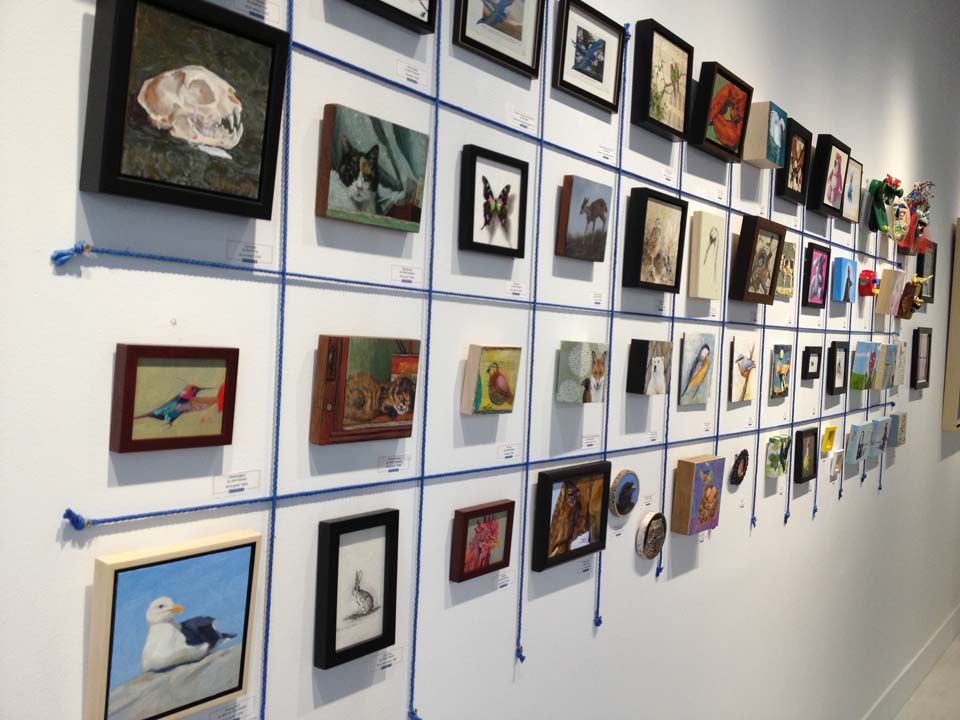 That first location on Polk was small and narrow, but it attracted the attention of artists and clientele. So after five years, Studio was on the move, looking for a larger home. "We felt extremely fortunate to be able to find a bigger space just a block away," Farris said. "That's when Studio really took off."
The bigger new space at 1815 Polk St. offered storage space in the basement and even a little squeezed-in patio in the back, shared with building neighbors. It also had a cozy back room for more intimate viewing, and a place to exhibit smaller-format art and jewelry.
After the move, Terry and Farris began attracting more artists, and garnering more attention citywide. They largely concentrated, as they do now, on themed group shows, occasionally focusing on solo artists' exhibits.
The crowds at the openings kept getting bigger, and the artwork more diverse. But after five years, "our lease was up and the new owner nearly doubled the rent," said Farris. "We decided to move again."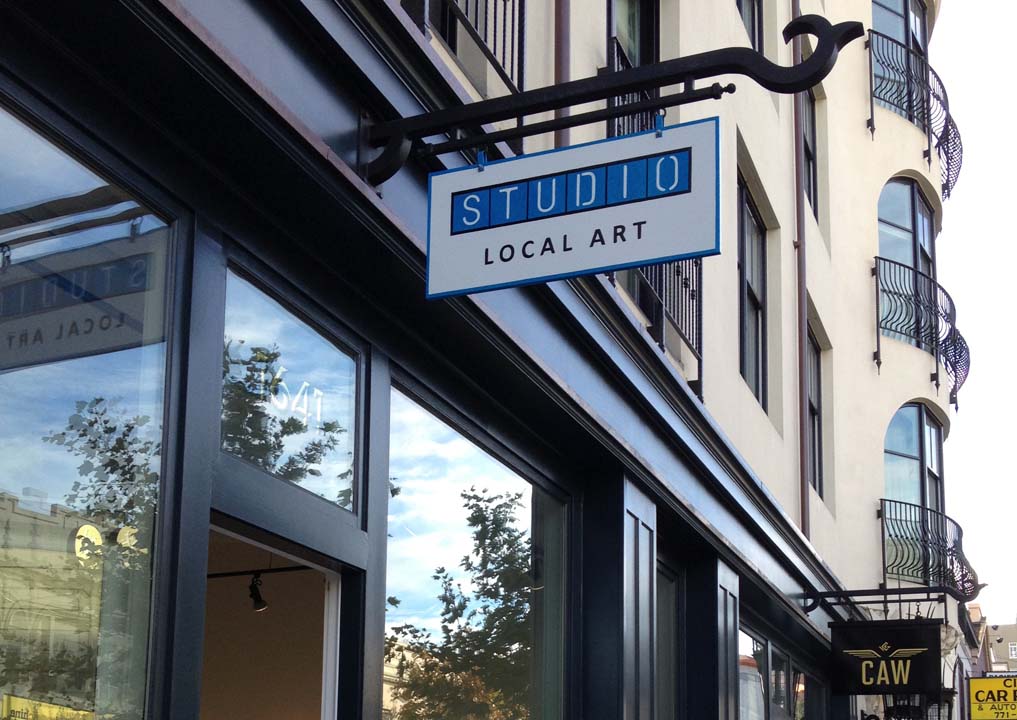 After a hiatus of many months, and artists, clientele and friends wondered if they would see Studio again in the neighborhood—or at all.
The time off was equally painful for Farris and Terry, who have many friends in the neighborhood and were unsure whether they'd be able to stay. "Like many art dealers these days, a great portion of our business is done online, but we live in the neighborhood and we really wanted to stay close," Farris said. "Having a street presence and being involved in the community is an important aspect of our gallery."
After six months of waiting and worrying, Studio Gallery found a new location at 1641 Pacific Ave., between Polk and Van Ness. Its new home is its biggest yet, with stretches of white walls, high ceilings, and lots of room for more art.
The 1645 Pacific building is remarkable in itself. Defying the current trend for boxy, utilitarian architecture, it's decorated with oversized black iron lanterns at either side of the building's main entrance. There's also a botanical, art-nouveau influenced bas-relief above the door.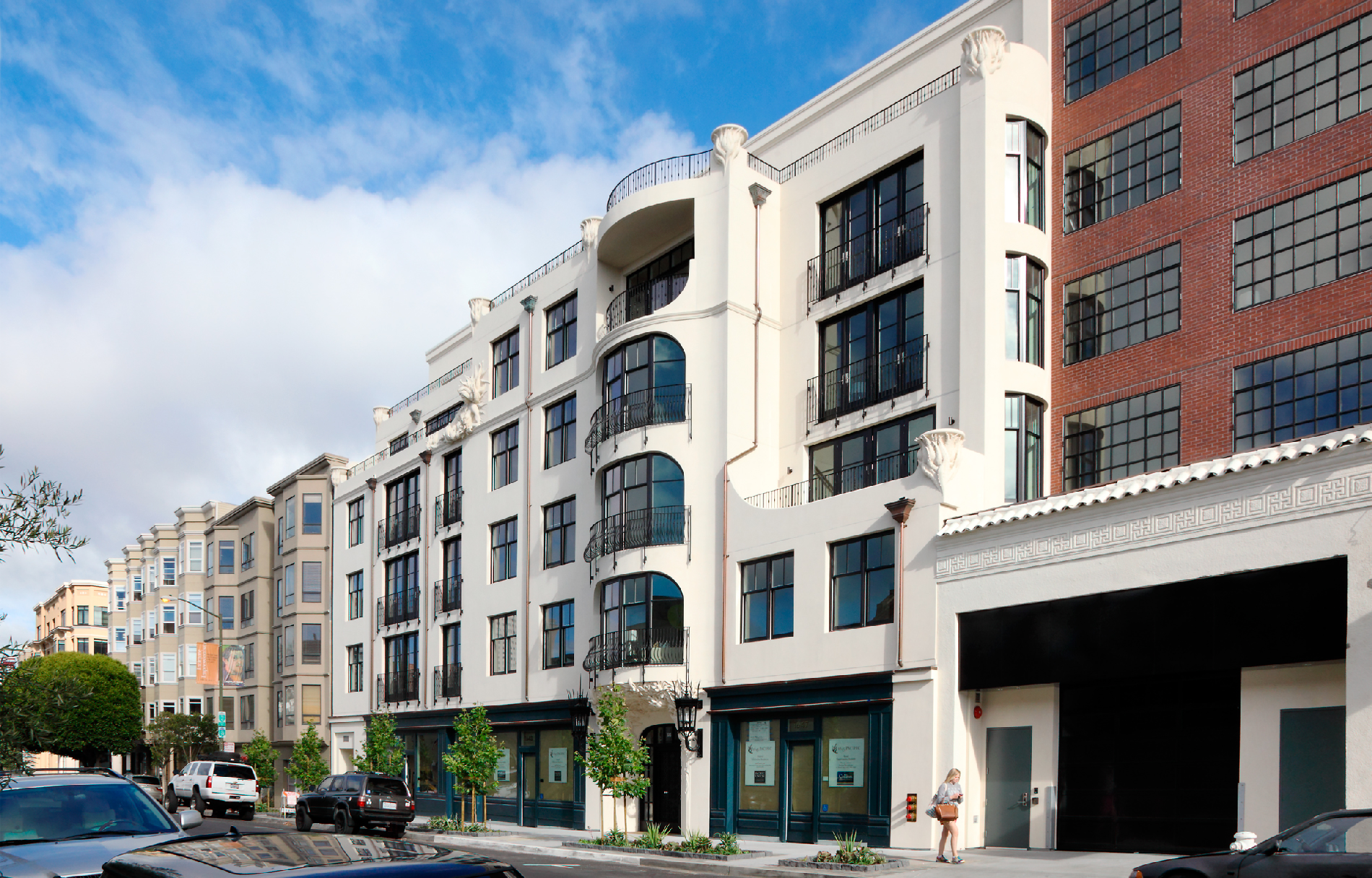 Photo: BAR Architects
"The developer really wanted to make a statement," Terry said. "BAR (the building's architects) did a wonderful job of providing some real interest and beauty to the street."
And Studio Gallery is stronger than ever. Its popular annual TINY show, with a focus on artwork that's small and affordable (and perfect for holiday shopping), has returned for another year. This Sunday, Dec. 6th, from 1pm-6pm, Studio will host a 12th anniversary party and opening reception for TINY, which will be up through Dec. 23rd. Stop by to take a peek and celebrate the gallery's longevity.