One of Hayes Valley's most notoriously pricey housing developments, Avalon Hayes Valley, only debuted a year ago. But the complex has already upped its pricing—and early residents are feeling the pain. The price jump is part of a new tiered pricing program, which varies depending on how long residents plan to remain in the building. 
Avalon, which wowed us with its $3,135 price tag for a studio last October, is now charging up to $8,329 for a two-bedroom unit, according to a lease renewal form shared by a frustrated resident on Twitter.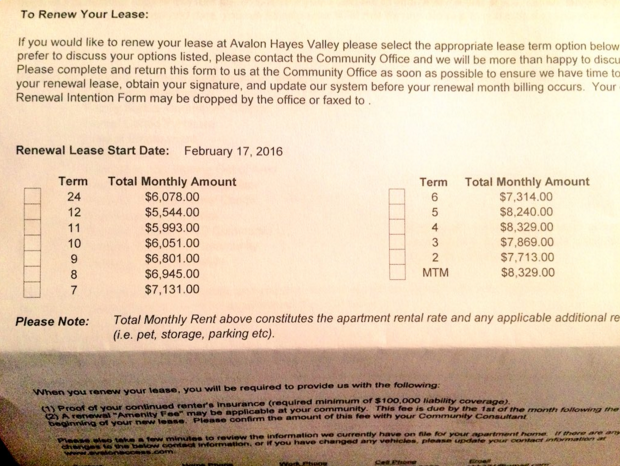 Ugh. It's been real Hayes Valley. If u know of a 2bd2ba or an awesome app that's better than craigslist, lemme know! pic.twitter.com/FnAaqpyOH4

— Roshni Naik (@roshninaik) December 14, 2015
"I actually didn't know management could increase rent by the amount they did," she added. (Update: As Naik clarifies in the comments to this story, she's actually not frustrated at all. "This is just the reality of living in SF.")
The $8,329 number is the highest, for a month-to-month lease; under Avalon's new policy, shorter-term renters will have to pay a higher rent, while longer-term renters will pay less—to a point, anyway. (The exception: a one-year lease renewal for a two-bedroom would be $5,544 per month, while the next-longest option, a two-year lease, would jump to $6,078 per month.)
Before its debut, Avalon was charging a base rate of $4,270/month for a two-bedroom, meaning the year-over-year rent hike would be an additional $1,274 per month—and that's for those choosing the cheapest option. 

To put those eye-popping numbers in perspective, Zumper reported this month that two-bedroom units in San Francisco had reached a median monthly price of $4,830, $714/month lower than Avalon's cheapest option, the one-year lease. (The rental service start-up's recent report is the same one that noted that rental rates in San Francisco actually fell slightly from October to November, while Oakland's were on the rise.)
To get a peek inside Avalon Hayes Valley, here's a recent promo video:
We reached out to Avalon—which advertises its units with a breezy "Why live moment to moment when you can live in the moment?"—for comment, but have yet to hear back. In the meantime, if you live at Avalon and received a similar notice in the mail, let us know about your experience in the comments.