It's been a mere week since the so-called Bike Yield Law passed in a vote by the Land Use And Transportation Committee, and this afternoon it was raised in a full Board of Supervisors meeting which showed just how split the Board is on the contentious issue.
Official consideration of a new policy recommendation that would allow cyclists to yield at stop signs instead of coming to a full stop comes after increased enforcement of bikes along the Wiggle by SFPD's Park Station, an effort which caused protests from local cyclists.
The measure will need eight votes to pass when it goes up for a binding vote on Jan. 12th, but in today's procedural vote, it received only six. Supervisors Wiener, Avalos, Breed, Campos, Kim, and Mar were all in favor of the measure, which would make enforcement on bicycles safely yielding at stop signs a low-level priority for SFPD.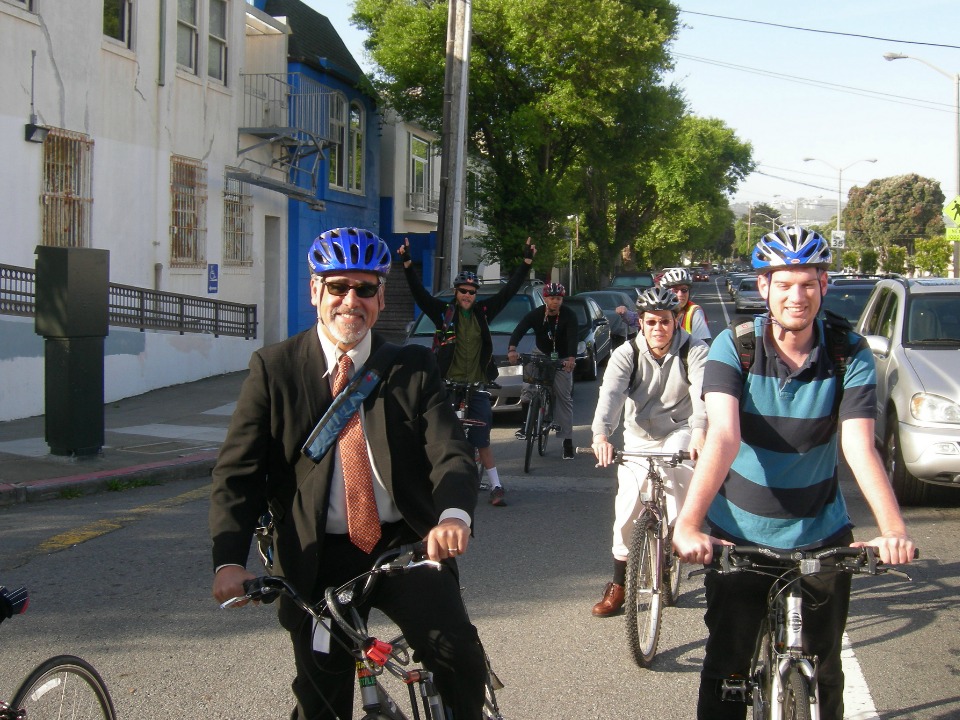 Supervisor Avalos on Bike To Work Day. (Photo: SF Bicycle Coalition/Flickr)
Supervisor Avalos admitted the measure was controversial, but backed up his support. "As part of Vision Zero, SFPD implemented Focus on Five," he said. "These are running red lights, running stop signs, violating pedestrian right of way, and speeding. However strict enforcement of stop signs is counterintuitive. It takes away resources from where they're needed, it contradicts how most bicyclists and drivers currently use intersections, and it discourages people from bicycling." 
Also voicing his support of the measure, Supervisor Wiener pointed out that the Board was probably "11 for 11" on ticketing reckless dangerous cyclists. "It does not in any way seek to exonerate people who are engaging in unsafe behavior," he said. "We're talking about people who slow down and cautiously enter an intersection, only if there's no one else there. This legislation does not in any way apply to anyone blowing through a stop sign or running a red light."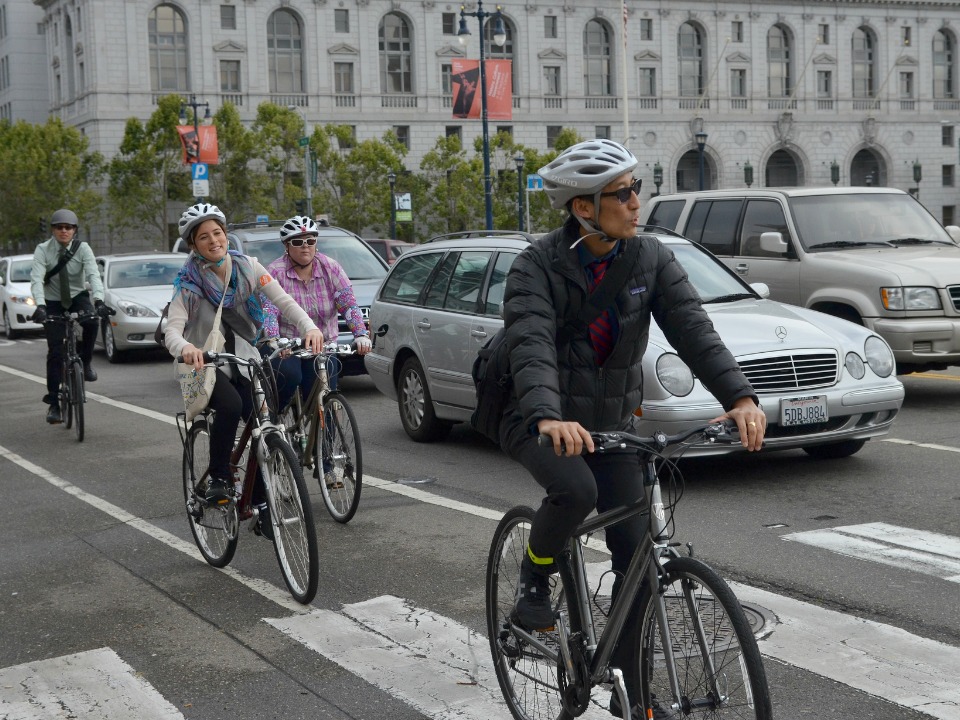 Supervisor Mar on Bike to Work Day. (Photo: SF Bicycle Coalition)
Supervisor Mar didn't hold back with his opinions, not only about the proposed policy change, but about the city's police department. "We should be pushing back on "bikelash" and the unfair ticketing of bicyclists who aren't putting anyone in danger," he said. "There's an anti-bicyclist bias in the police department and their culture." 

Supervisors Cohen, Yee, Tang, Peskin and Farrell opposed the measure. 
Cohen, who voted against the law during last week's Land Use And Transportation Committee, stuck with her original position. "There are 7,000 intersections in San Francisco, and we have a collective responsibility to ensure that they're safe," she said."Everyone who enters these intersections needs to be safe. We need to think holistically about cyclists, pedestrians, and people with disabilities."
"I am in no way trying to diminish the concerns of those from the cycling community," she said. "But I'm not available to support this legislation today." 
Supervisor Farrell also opposed the legislation. "Our streets are more congested than ever before," he stated. "We need everybody to be more vigilant on our streets than ever before. Changing the rules of our road at this point in time just doesn't make sense."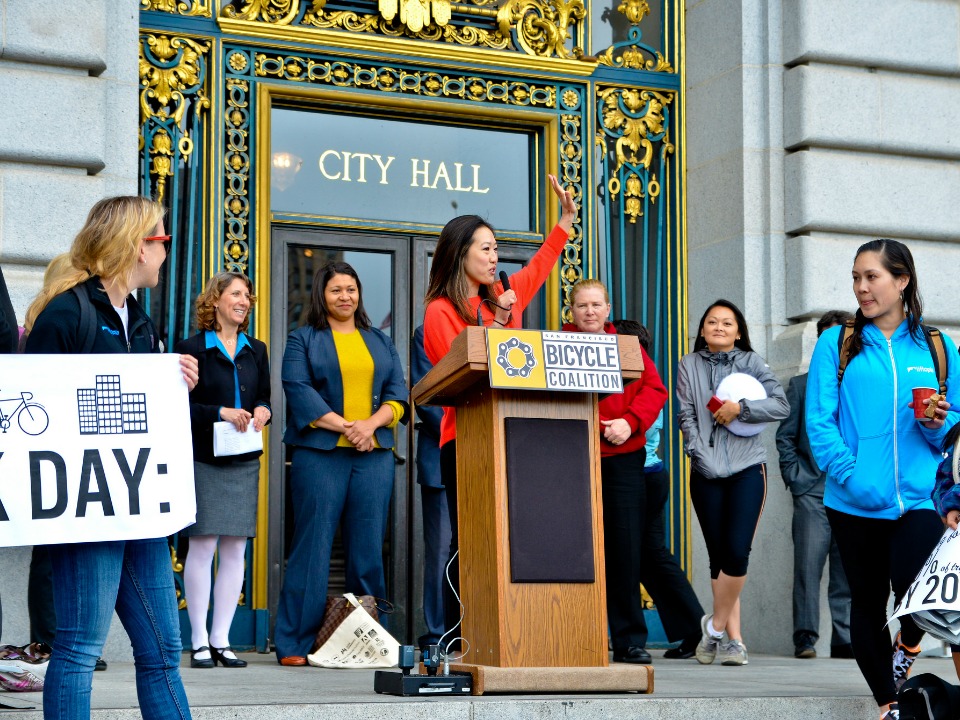 Supervisor Tang speaking at Bike To Work Day. (Photo: SF Bicycle Coalition)
"This ordinance came about after some outrageous behavior of one of our police captains," said Supervisor Tang, referring to the enforcement efforts of Park Station's Captain John Sanford. "But I don't think that we should pass this law because of that. I want to do everything I can to support the bicycling community, they've done a lot to get cars off the road. I would like us to focus more on other things to make the road safer for everyone, but I don't want to legislate what our police enforcement priority should be."
Mayor Ed Lee has already voiced that he opposes the law and would veto it, which means it would need eight supervisors' votes to pass and become an official policy recommendation. It's expected to go up for a final vote with the Board on January 12th, so we'll need to wait until 2016 to get some resolution on the issue—which continues to stir up Hoodline commenters.