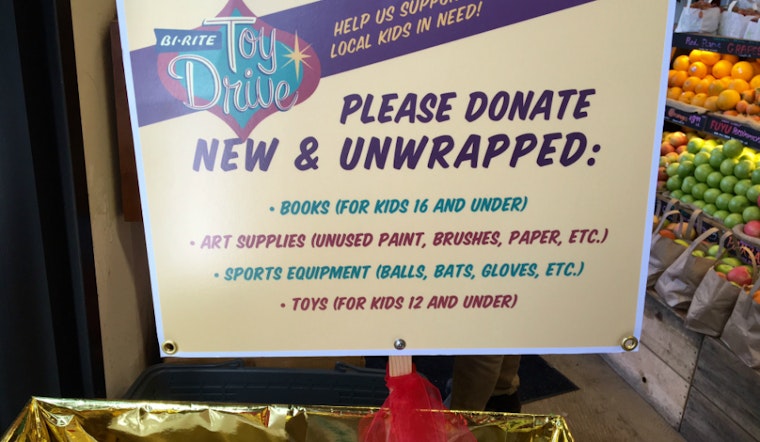 Published on December 11, 2015
This holiday season, we've highlighted a number of ways you can give back to the District 5 community, from the blanket and clothing drive at Wing Wings, to the Project Juice fundraiser and philanthropic Christmas trees from Delancey Street. Now, there's another way to spread holiday cheer: the Western Addition Beacon Center's annual toy drive.
For the unacquainted, the Western Addition Beacon Center is a YMCA affiliate that provides programming for youth and adults. The nonprofit is located at John Muir Elementary, which, despite recent progress, is still one of California's worst-performing elementary schools.
John Muir's low test scores are often attributed to its high enrollment of students with parents who struggle financially. According to school officials, 20 percent of the school's 270 students are registered as homeless.
"A lot of our kids are underserved, homeless or come from low-income families," said Tulsi Pi, a family outreach manager at the Beacon Center. "Before we started this toy drive, they were coming to us asking where they could find donated toys."
So they decided to start their own toy drive. In the eight years since, the event has largely been successful. However, they don't always reach their goal of 300+ toys—in which case they must dip into the school's very limited budget. "That's worst-case scenario," said Pi.
This year's toy drive kicked off last Wednesday, and will continue through December 16. New, unwrapped toys are being accepted at these locations:
John Muir Elementary School (380 Webster)
Buchanan YMCA (1530 Buchanan)
French American International HS (150 Oak)
New Traditions Elementary School (2049 Grove)
Gateway Middle School (1512 Golden Gate)
Redemption Church (1600 McAllister)
Bi-Rite Market (550 Divisadero)
All toys donated after December 16th must go to John Muir Elementary directly. A team of volunteers will wrap each gift and present it to a child in need at the school's annual holiday event on Friday, December 18th.
Interested in volunteering on December 18th? Contact Tulsi Pi at tpi[at]ymcasf[dot]net.