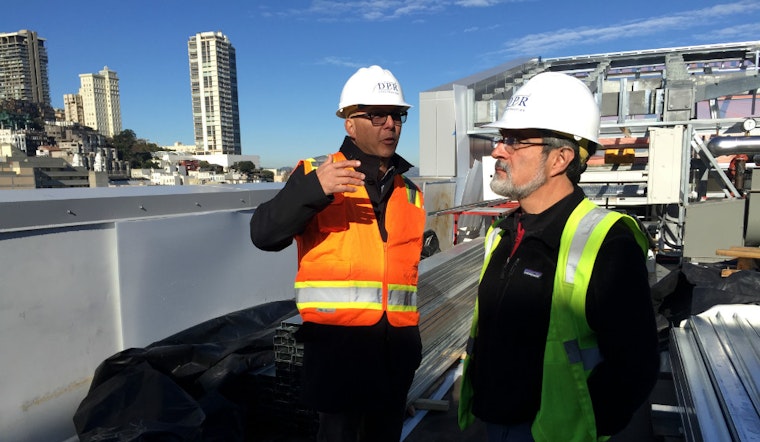 Published on January 07, 2016
It's been just shy of one month since District 3 Supervisor Aaron Peskin took his seat, so we caught up with him to chat about some of the current concerns his constituents have, some projects he's already working on, and things he has in the hopper.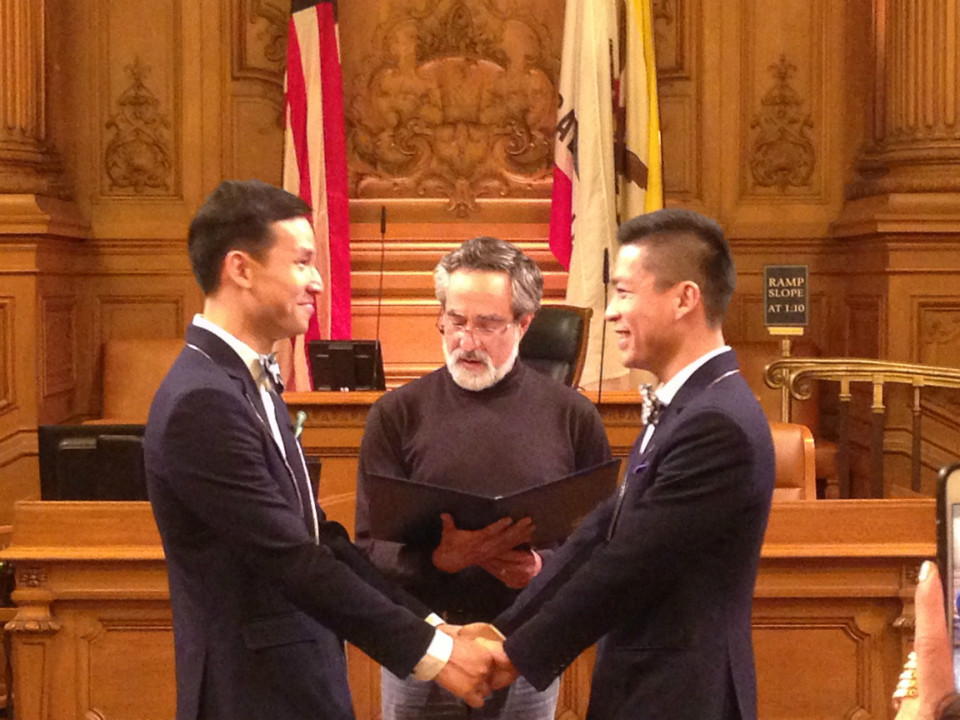 Peskin officiates a wedding at City Hall. Photo: Aaron Peskin/Facebook
Housing
Peskin's main campaign rallying cry was "leading the fight for a more affordable city," and a big part of his promise was more affordable housing. "There is no one magic silver bullet," he said, "but there are a number of things that, thus far, for any number of reasons, have not been pursued."
Since taking office, Peskin has been looking into ways to expand rent control to new construction—a big task and one that's unrealistic, some say, given that he's a city politician and rent control is state law. But he said he's working on ways to do it "within the boundaries of state law," and said it's "one way to address the affordability crisis, even for people who are coming in at relatively high rents." 
He also cosponsored, with District 6 Supervisor Jane Kim, a charter amendment proposing to more than double the amount of affordable housing required under the law in new construction, from 12 to 25 percent.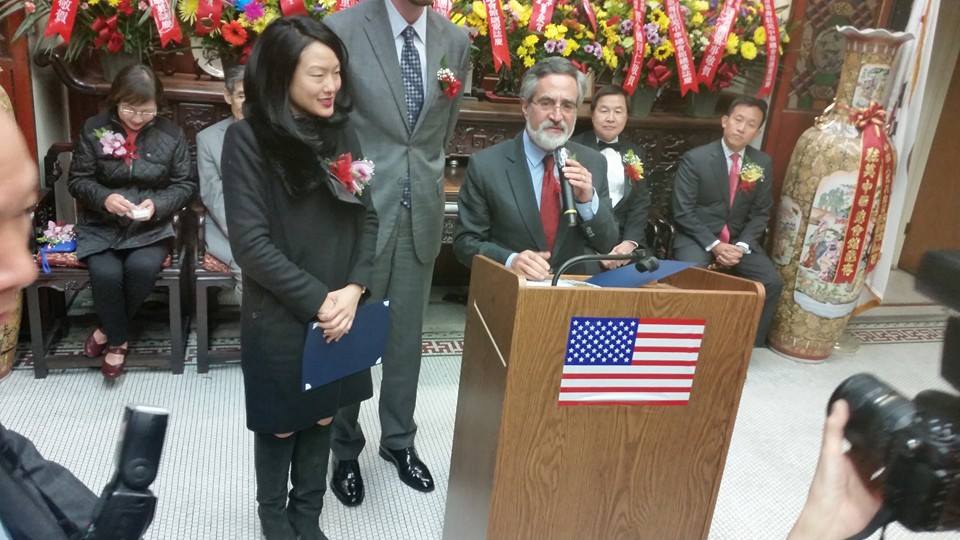 Jane Kim and Peskin. Photo: Aaron Peskin/Facebook
Homelessness

"I thought that the mayor's Navigation Center idea should be expanded and every area should deal with their local homeless population," Peskin said.
"I am actively pursuing potential sites for a Navigation Center in District 3."
Crime
Peskin said he communicates with SFPD Central Station Capt. David Lazar "on virtually a daily basis." Despite some recent high-profile crimes, Peskin said, "The good news is violent crime is still quite low, but any violent crime is still too much crime." He added, "My job is to make sure Capt. Lazar has the resources he needs to patrol the now-expanded Central district that is now under his command. We've had frank discussions about what additional resources he might need." 
To ease the cramped quarters at Central Station on Vallejo, Peskin said he's working with the city's Department of Real Estate to land additional office space on the other side of Emery Lane from the station. And, he added, "Part of my role as a district supervisor is to make sure the various communities within the district avail themselves of existing services that the city funds, whether it's SF SAFE or neighborhood crime watch." If anyone wants more information, call Peskin's office at (415) 554-7450 or call Capt. Lazar at (415) 315-2480.
Central Subway
The Central Subway's been in the news again the past few months because it appears a development could go up on the land that was used to remove tunnel boring machines—a site many think should be used for a future station. "It is clear that there are other viable alternatives for a North Beach station that do not limit the city to the Pagoda Palace site," Peskin said, "and that is a good thing because the city is not going to be held captive by one potential seller. I am confident that the city will do what it needs to do to ensure that a North Beach extension that ultimately connects to Fisherman's Wharf becomes reality in the years ahead."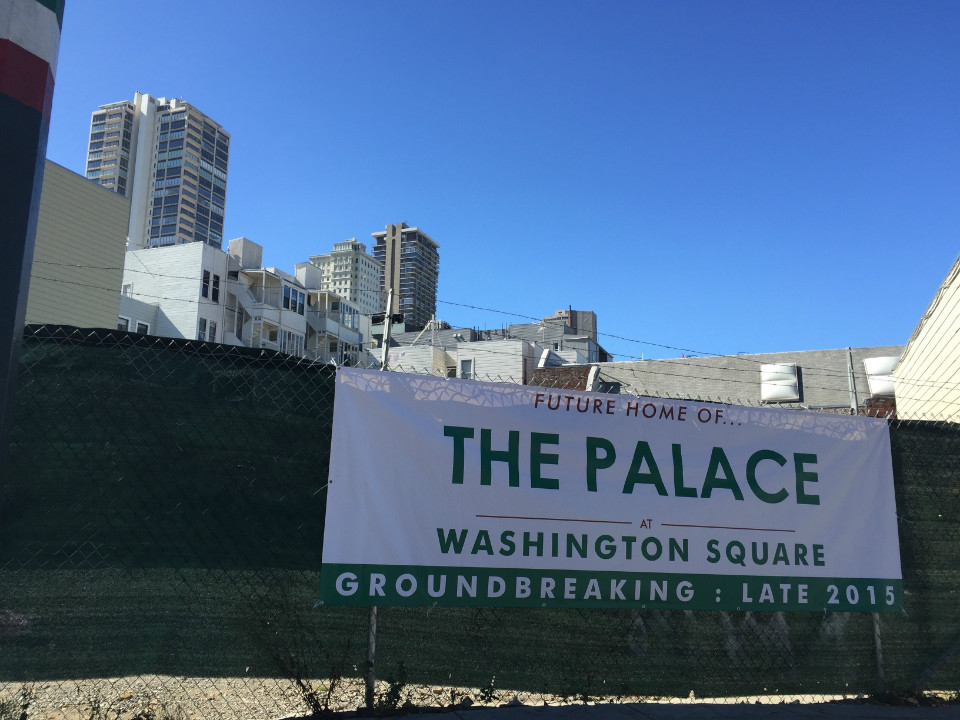 The former Pagoda Palace site. (Photo: Geri Koeppel/Hoodline)
Many in the neighborhood, though, have long grumbled about the Central Subway plans and don't want a station in North Beach. To that, Peskin said, "I think that unfortunate dynamic relative to the Central Subway that upset many North Beach residents was the fact that the city never had any public discussions about extending the tunnels to North Beach. The city owes it to our residents not to predetermine routes and station sites, but to have a real, meaningful public discussion in the future, rather than to come up with a preconceived idea. I think the public is owed a real dialogue and real input."
City spending

Peskin gets especially animated when he talks about city spending. "If you are minding the store at City Hall, there are untold ways of saving more money and maximizing revenue," he said. "I'm going to watch our expenditures like a hawk."
His first day in office, he successfully got the votes to pull back a parcel of land that the city was planning to sell to Related California for $80 million, even though it had been appraised for $87 million. The story as the San Francisco Chronicle reports it is much more nuanced, but Peskin paints it as a victory for fiscal prudence.
Another thing that gets his goat is the city's repeated willingness to finance events like the America's Cup and Super Bowl. As a private citizen, he sued the city over America's Cup, and as a result, he said, it "cost the city and taxpayers $15 million instead of $100 million."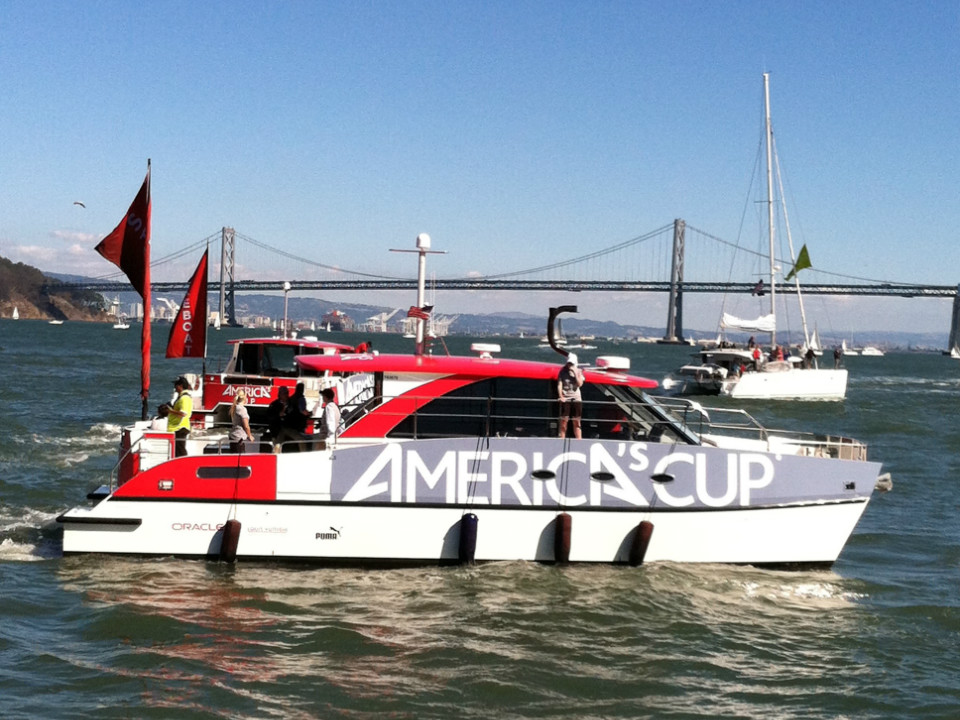 Photo: Geri Koeppel/Hoodline
The deals between the city and the
Super Bowl 50
Host Committee were made long before Peskin took office, but he said he has issues with the fact that the city won't be reimbursed for all of the extra expenses it expects to incur, from police overtime to extra Public Works cleanup. "
I enjoy football as much as the next person, but it's a business," he said. "I don't think this is too much to ask: If you want to have a big party in our city, our taxpayers shouldn't be left with the burden."
What questions or issues would you like Peskin to address in his new term? Let us know in the comments.