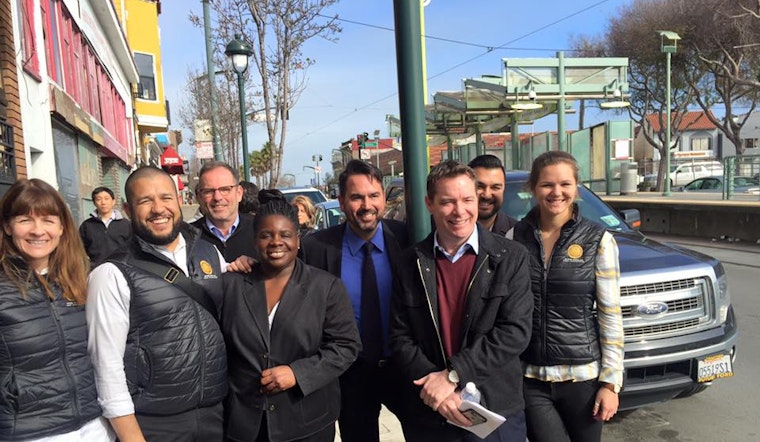 Published on February 01, 2016
Bayview may no longer be home to 49ers games at Candlestick Park, but enthusiasm for football in the community still runs deep. Businesses along the neighborhood's commercial corridor, particularly Third Street, are seeing Super Bowl 50 as an opportunity to highlight the community and promote its economic development.
To that end, they've launched a weeklong special event they're calling "Super Soul 50," with different eateries offering soul food-centric specials throughout the week. Radio Africa, All Good Pizza, Butchertown Gourmet, Sam Jordan's, Old Skool Cafe, and Auntie April's will all participate.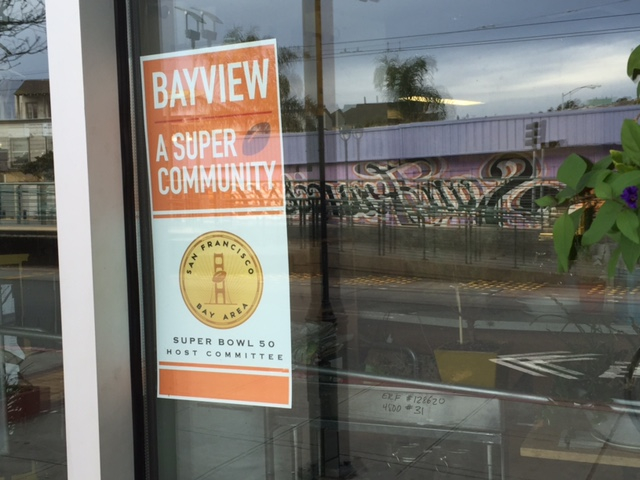 The Super Soul initiative was created by an organization called eDot (Economic Development on Third), formed in 2014 by a diverse group of residents, business owners and property owners. eDot aims to promote the Third Street commercial corridor by implementing marketing and beautification strategies that support, promote and celebrate local businesses. 

"Bayview/Hunters Point is proud of its long history supporting the San Francisco 49ers," said Earl Shaddix, executive director of eDot and a Bayview resident. "We want to remind our fellow San Franciscans and visitors this week that our businesses are still here, and serve up some of the best food in the City."
The organization is also hoping to promote Bayview as a tourist destination, one that's often overlooked. "As a native, I can honestly say Bayview is a hidden treasure, but it's left off the mainstream tourist destination lists," said eDot member Theodore Ellington, a Bayview resident and the director of public affairs for the Golden State Warriors. "Super Soul not only puts Bayview in the limelight, but it proves that our neighborhood can organize and be a force in San Francisco's greater culinary scene."
In addition to Super Soul, some Bayview businesses are finding unique ways to take advantage of the Super Bowl hoopla. Yvonne's Southern Sweets has earned a special contract to provide "snack packs" for the thousands of media that will be on the scene to cover the big game. 
"They're going to get a piece of my pie, my cookies, my pralines and a gingerbread football," owner Yvonne Hines told ABC7 last week.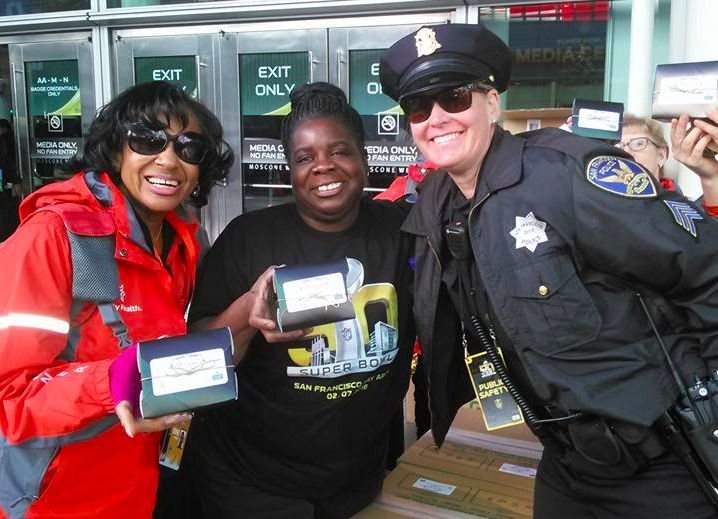 Yvonne Hines (center) poses with her snack boxes at the Super Bowl media center. (Photo: Yvonne's Southern Sweets/Facebook)
Marcel Banks, who owns Frisco Fried and grew up 10 blocks from Candlestick Park, is promoting his restaurant as a quiet destination for press to conduct interviews, far from the traffic and crowds of Super Bowl City. 
"This is a place where everyone comes usually after a 49ers game," he said. "It's an iconic place for on-air interviews."
Super Soul 50 kicks off tomorrow. Here's the full lineup of what to expect: