Late last year, Second Act Marketplace (1727 Haight St.) announced the upcoming addition of a new tenant to its market hall: Bulka Bakery, a new eatery specializing in fresh-baked sweet and savory pastries, tartine sandwiches, and a smattering of breakfast items.
This week, owner Tatiana Kasatkina opened her bakery for business, in the space occupied by Eatwell Farm's Ice Box, which departed in August. Another bakery, Community Craft, was part of Second Act when it first opened, but it closed in 2014.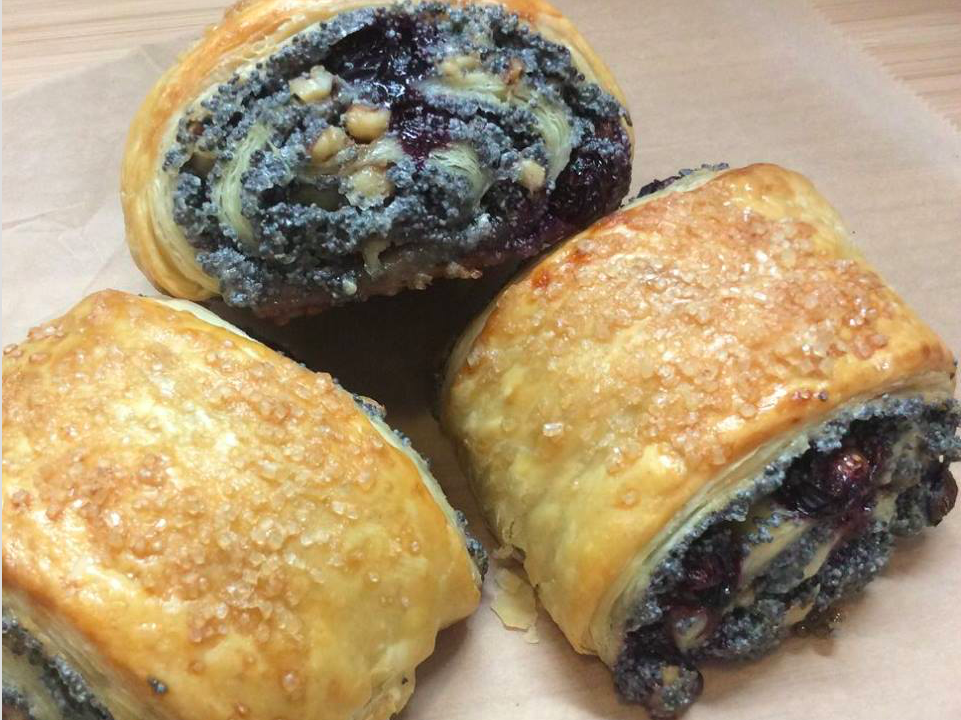 Blueberry poppyseed rolls. 
Kasatkina said she got her start as a baker in her mother's kitchen in Russia, where she would help her assemble something special every week. When she moved to the U.S. 10 years ago, she said, she started baking on her own for family and friends.
Last year, she got a taste of professional baking via a pop-up at Tenderloin cafe Farm: Table. "That helped me to realize that baking is more than just a passion," she said. "I love good food, but also I love to share it with others. I'd always dreamed that one day I would open a bakery/coffee shop; now that dream has come true."
Anda Tvelova of Anda Piroshki, another Second Act business, introduced Kasatkina to the owners, and things progressed from there.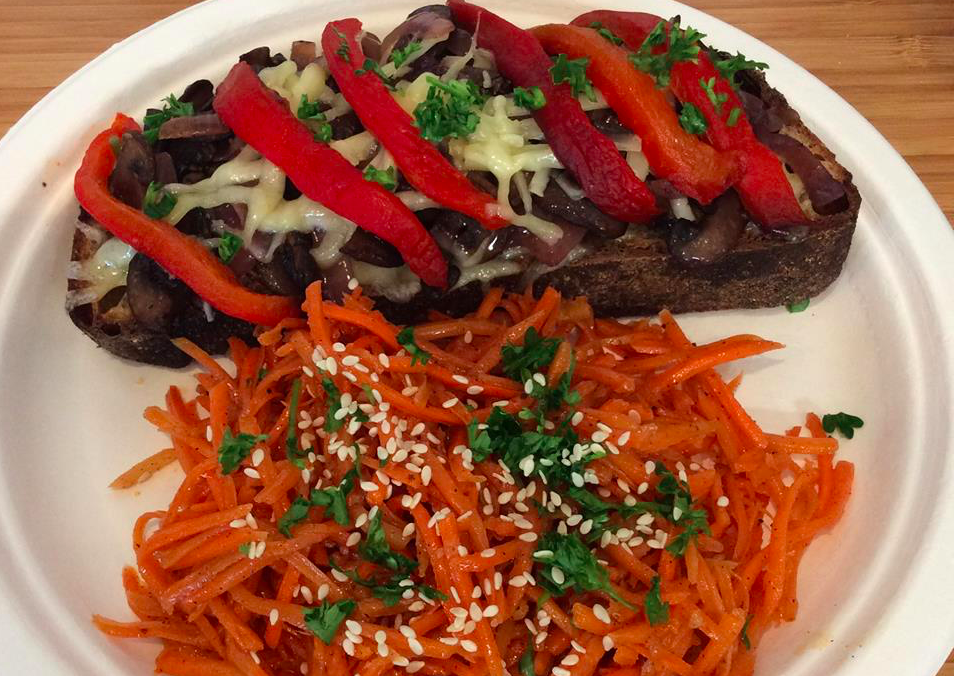 A wild mushroom tartine with carrot salad. 
Bulka's menu features fresh pastries baked daily ($3-5), like blueberry-poppyseed rolls, berry coffee cake, and almond apple cookies. There are also Russian-inspired breakfast items like grechka (buckwheat cereal with kasha, buckwheat flakes, milk, honey, berries, and nuts, $6.50) and tvorg (sweet farmer's cheese with Zane currants, berries, and nuts, $7).
For lunch, there are tartine sandwiches topped with lox, wild mushrooms, pastrami, roasted red pepper and hummus, or egg salad ($9-12). They come with either green or spicy carrot salad.
Kasatkina will also add some more savory dishes this weekend, like chicken goulash, hot buckwheat with mushrooms and creamy sauce, cooked sauerkraut with sausage and potato, and roasted chicken salad with pear, Gorgonzola and candied walnuts.

"I'm looking forward to sharing my passion and love of baking and cooking with the neighborhood, so people can enjoy delicious freshly baked goods and tasty food," she said. Most of the ingredients will be local, organic, and from farmers markets."
Kasatkina also said she was planning a grand opening celebration for Bulka, tentatively scheduled for Saturday, February 13th. We'll update this post with more info when it's announced.