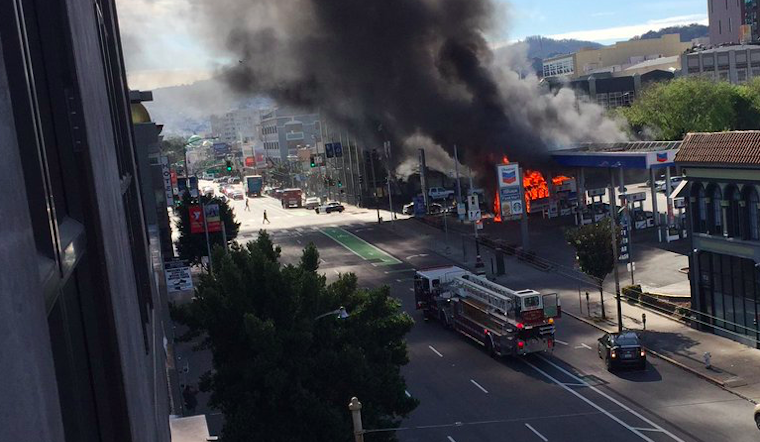 Published on February 29, 2016
According to reports we've received, the Chevron station at 9th and Howard is currently on fire after a series of small explosions. Hoodline reporter Brian Ray, who works near the intersection, says that his office was evacuated after a series of rapid pops and signs of smoke, but that there was no giant fireball or evidence of a major explosion.
Fire in SOMA AT 9th & Howard Chevron pic.twitter.com/xM06q5BVq4

— Molly (@mollymerp) February 29, 2016
"4-5 minutes after we evacuated the building, we heard one loud bang, but it wasn't a giant explosion—it sounded like a firework," he said. Fire trucks and emergency crews are on the scene, and Howard has been closed off at least between Eighth and Ninth streets; a plume of smoke, blowing to the east, can be seen from blocks away. We'll update this post as we learn more.
Update, 3pm: The SFFD says there were no injuries in the fire. It was apparently caused by a bus that caught fire.
#chev9th contained no injuries avoid area 1457 PIO ON SCENE pic.twitter.com/pkG3rq4B98

— San Francisco Fire (@sffdpio) February 29, 2016
AVOID AREA BUS ON FIRE GAS STATION 9th and HOWARD PIO ON SCENE 1453 pic.twitter.com/YFXw6Yib2P

— San Francisco Fire (@sffdpio) February 29, 2016
Update, 3:08pm: A witness at the scene tells Hoodline that the fire was caused by a white mini-bus parked at the gas station. The van's engine initially caught on fire under the hood, and the vehicle's owner tried to put out the blaze with a fire extinguisher, but was unsuccessful.
The fire then spread to the gas tank and to other parts of the vehicle, as well as to the surrounding gas pumps, causing the explosions. The flames were so high that they reached the station's roof, the witness said.
The fire has now been fully extinguished. However, Ninth Street remains closed on either side of Howard, as does Howard between Ninth and 10th.
Fire quicky consumed this shuttle bus but a quick response kept this fire the gas station from spreading pic.twitter.com/6FC7xWI6W9

— SF Firefighters 798 (@SFFFLocal798) February 29, 2016