A few days into the run of the nine-day Super Bowl City in the heart of downtown, we roamed the neighborhood talking to people with small businesses to see if they're getting a boost from all of the hubbub.
Super Bowl City, at the foot of Market Street in Justin Herman Plaza and Sue Bierman Park, offers free fan activities including games, concerts, a zip line and more, but it also has numerous booths selling beer, wine and food. It lies behind a security perimeter, so during peak times, it's not easy to leave and re-enter.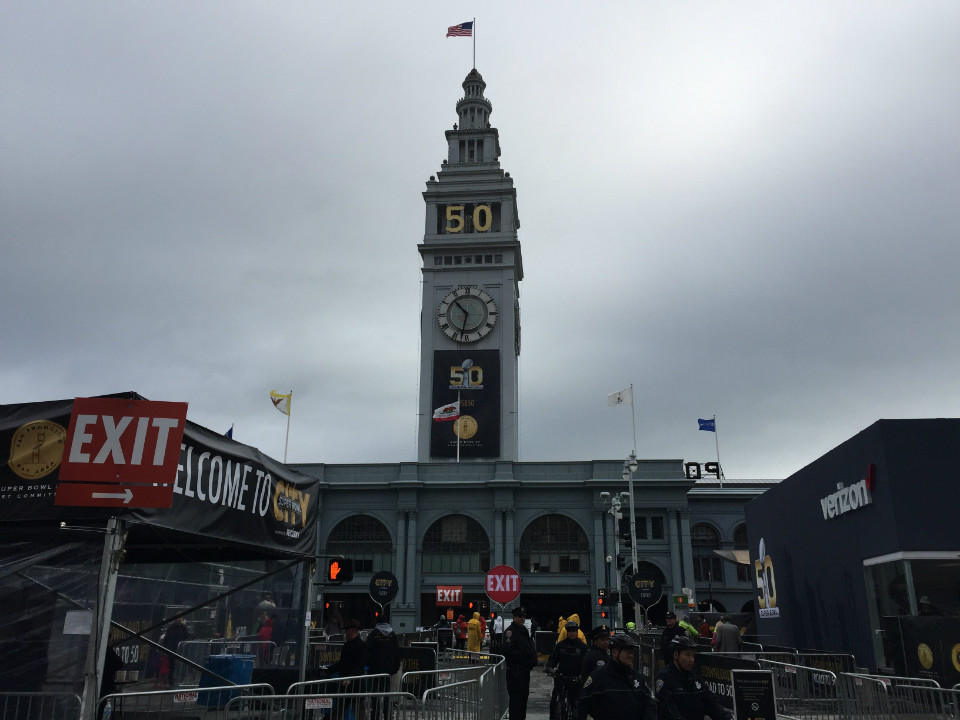 Some say Super Bowl City makes it less convenient to access the Ferry Building.

Responses were mixed, and we'll check back after this coming weekend to see if things changed. But for now, it doesn't appear a whole lot of trickle-down is going on, except in the more unpleasant sense of the word.
Some businesses are within the security perimeter, including several at 4 Embarcadero Center adjacent to Justin Herman Plaza, ground zero for the festivities. We stopped in at Over the Moon ice cream and cookies, and employee Sam Durham told us, "Business is wonderful right now. On Saturday and Sunday, we couldn't even keep enough hot chocolate in the machines; it was selling so much." Employees of Breaking Bread, also within the perimeter, said it was doing well.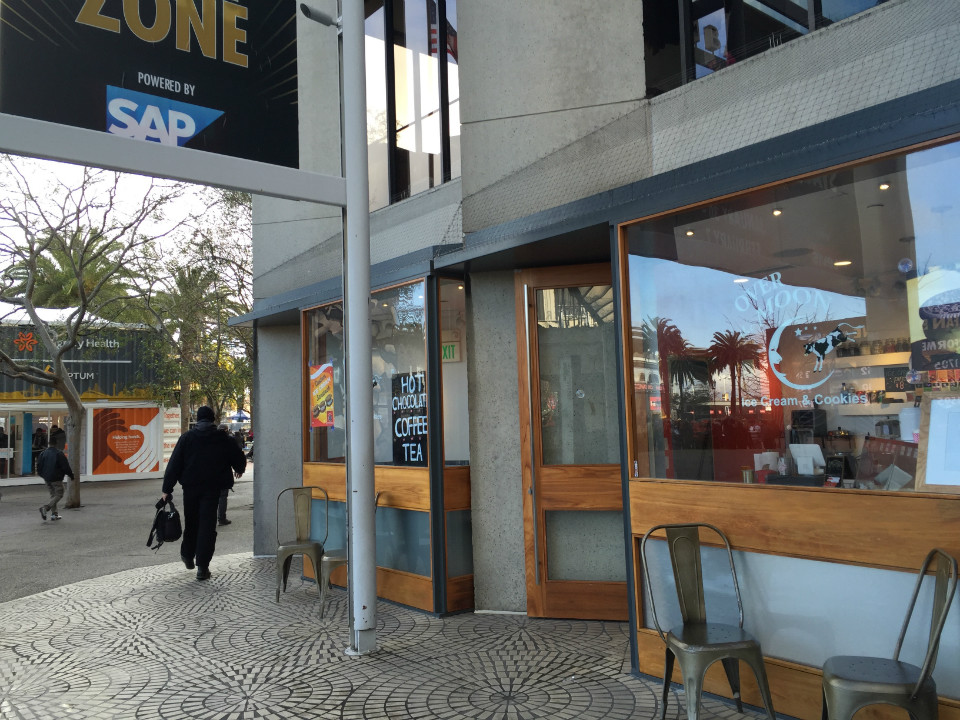 Over the Moon is inside Super Bowl City.
Durham did say they're having some difficulty getting deliveries, however. They were all out of Nutella Party ice cream on Tuesday, one of the most popular flavors, and waiting on more. And, he said, workers have to go through security, so it took him an extra 30 minutes to get to work on Saturday afternoon.
On the other hand, Paramo Coffee's business is down, said manager Tom Robley. "It's been absolutely terrible for business so far," he said. "We've done about half of what we normally do during the week because our regulars have to go through a metal detector to get a cup of coffee." Although Paramo usually isn't open weekends, he said it'll open this Saturday and is hopeful business will be as strong as their macchiato.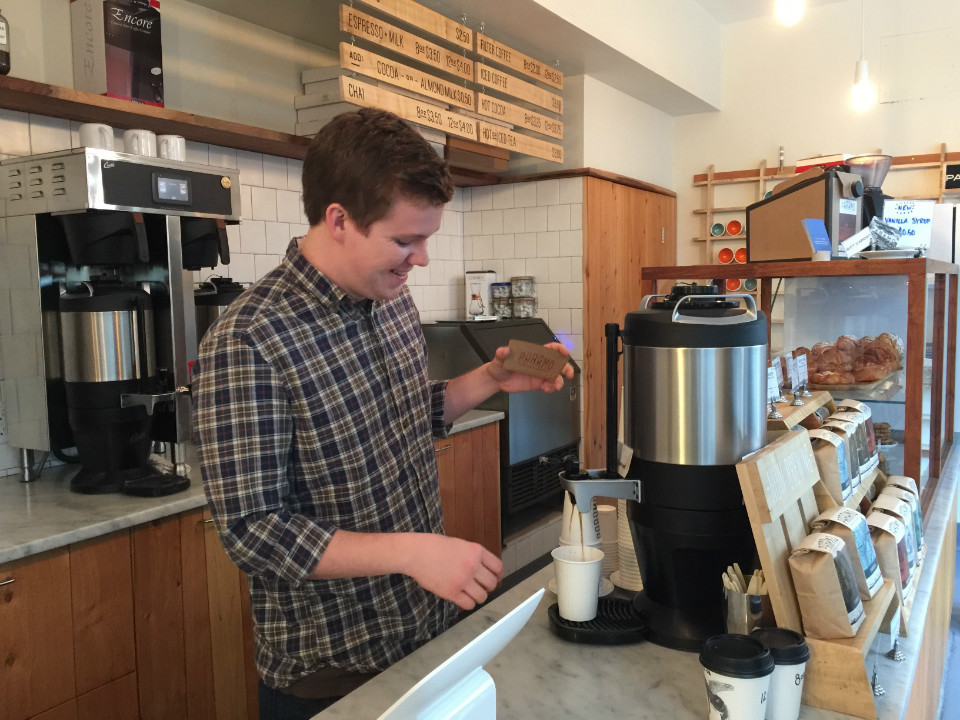 Tom Robley of Paramo Coffee.
But even worse, Robley said, is the lack of communication about the event and lack of consideration for local workers. He and the staff normally use a bathroom on the second floor of 4 Embarcadero, but that has been locked, so they have to exit the perimeter and use the restroom at the Hyatt Regency, and then go through the security line to re-enter.
Speaking of potty breaks, Will Herrera of Cafe Terminus, across from the Hyatt Regency, said they've had issues with people urinating in front of—and inside—the bar. He said that one "adult female didn't make it to the restroom" and left a cup of pee in the hallway for them to dispose of. "People don't know how to behave."
When asked if they saw an increase in revenue due to the crowds, Herrera said last Saturday was "only marginally better than a normal Saturday," and they had to compromise their level of service. He said the tenor among other businesspeople he's talked to is "indifference; even disappointment." On the upside, he said, traffic has been a breeze: "I've been working in downtown for years now, and I've never gotten to work faster."
A few Ferry Building Marketplace merchants told us they're seeing more foot traffic, but it's not resulting in higher sales—probably because visitors aren't taking gourmet ingredients back to their hotel rooms. Tatiana Graf of Boccalone told us, "A lot of our regular customers who work downtown have been told they can work from home," so business is about breaking even. She said news reports of "traffic and hassles" are keeping people away.
Keith Bevan of McEvoy Ranch said business is about the same as any February there. "We haven't seen a real big impact," he said. "It tends to be a little slow this time of year for us." He added that restaurants, wine bars and hotels are doing well.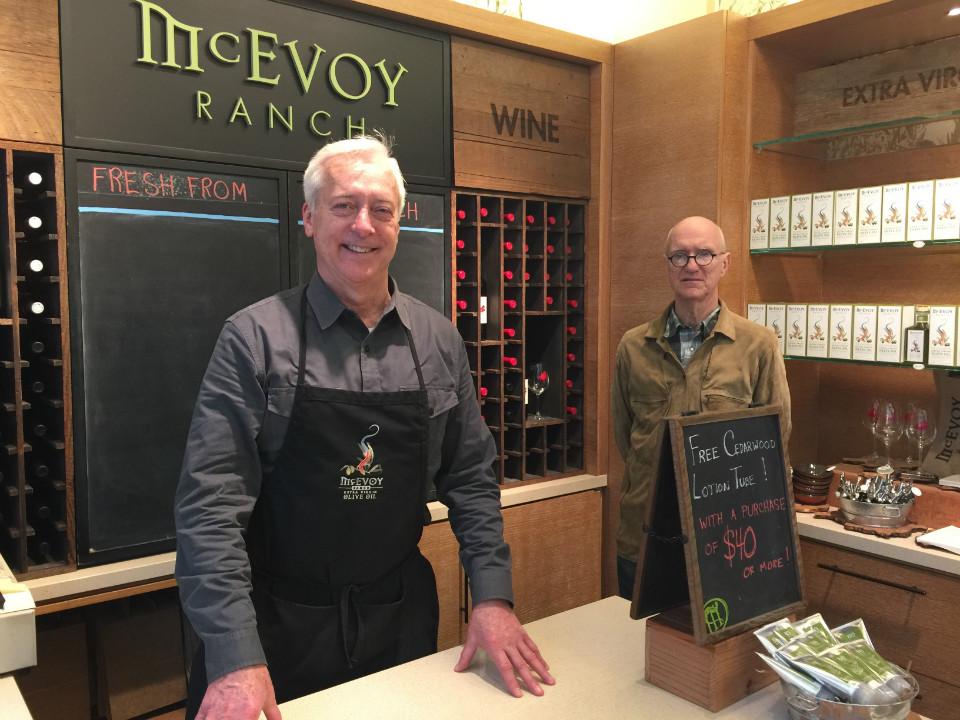 Keith Bevan (left) and Russell Miller of McEvoy Ranch. 
Over at the Ferry Plaza Wine Merchant, however, Chris Ciolino said even though a line was out the door last Saturday waiting to get in, their sales were slightly lower because they saw fewer retail sales and more people drinking lower-priced beers instead of the boutique wines the shop is known for. 
The Center for Urban Education about Sustainable Agriculture, which runs the Ferry Plaza Farmers Market, promised the thrice-weekly markets would continue to operate as normal, but foot traffic and sales have been slower than normal. Dave Jamrock, who manages the Heirloom Organics booth, told us he was off about $500, or 25 percent, the past two Saturdays in a row, ever since street closures began for Super Bowl City. Joe Serna of Twin Girls Farms also said, "It's definitely slow," but added, "At the same time, the weather doesn't really help, so it could be a combination of the two, but we're really feeling it."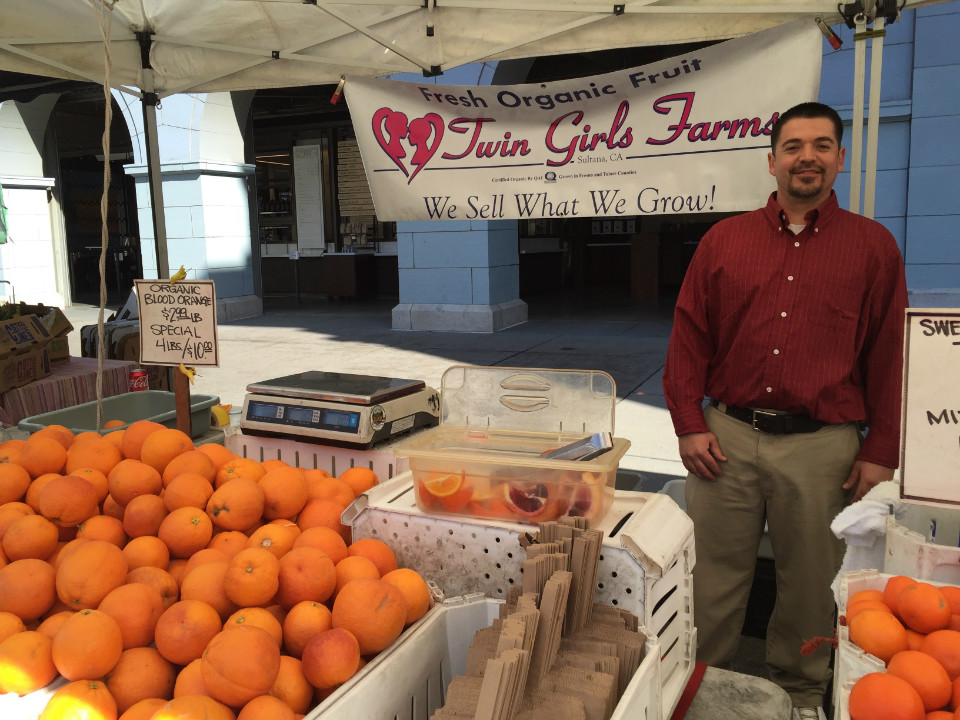 Joe Serna of Twin Girls Farms at the Ferry Plaza Farmers Market.
Brie Mazurek, marketing and communication manager for CUESA, said the market's business last Saturday and this past Tuesday was down by about half, with many of the regular buyers for area restaurants even steering clear. "Overall, it's been disappointing," she wrote in an email, "but we're hoping business will pick up on Thursday and Saturday."
Mazurek added that a few vendors are making extra appearances and offering specials this week; for example, Tacolicious is popping up on Saturday with buffalo chicken tacos and breakfast burritos. "We want to remind everyone that our farmers market is open during Super Bowl City, and we're grateful to our loyal customers for supporting local farmers and food producers who depend on this market for a large part of their business," she wrote. "Shop early, and sidestep [Super Bowl City] by walking down Mission or Washington to the Embarcadero."
And remember, the Ferry Building has bathrooms near the north and south entrances and on the second floor. We haven't seen any port-a-potties outside of Super Bowl City. (Update: we've learned that there are port-a-potties located at Piers 1 and 2.)