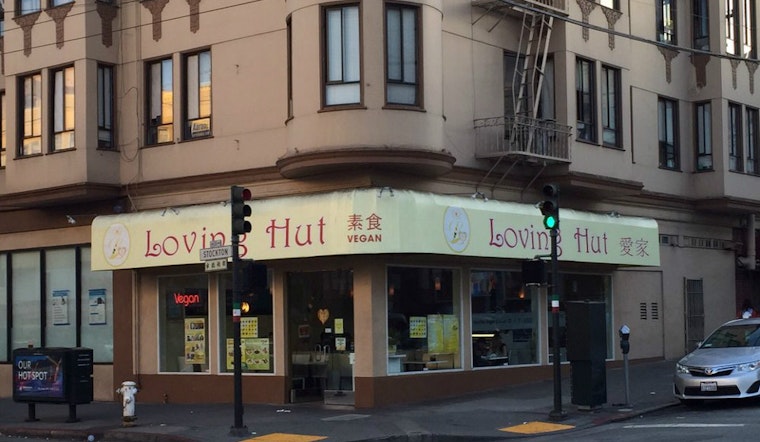 Published on February 06, 2016
Sometime last week, Loving Hut, a fully vegan restaurant in Chinatown on the border of North Beach, mysteriously closed without warning.
While the interior of the restaurant at 1365 Stockton St. doesn't appear altered, all of the signs on the awnings and posters in the windows have been completely removed. Two other Loving Hut locations in San Francisco are still open: one at a kiosk at the Westfield San Francisco Centre in Union Square and one in the Inner Sunset at 524 Irving St.
We stopped by the Westfield location to see if anyone had any information, but were told that different owners operated the store in Chinatown, and that they hadn't heard about the closing. We've reached out to Loving Hut's U.S. headquarters to find out more about the closing, but have yet to hear back as of press time. According to Yelp reviews, the location opened around 2008.

Even as late as January 23rd, a Yelp reviewer named Johnny T. wrote a review saying, "it was surprisingly good," possibly indicating that no one was alerted to their potential shutdown. That was the last entry. (Disclosure: This reporter frequented this location several times a week and was unaware of the closure as well).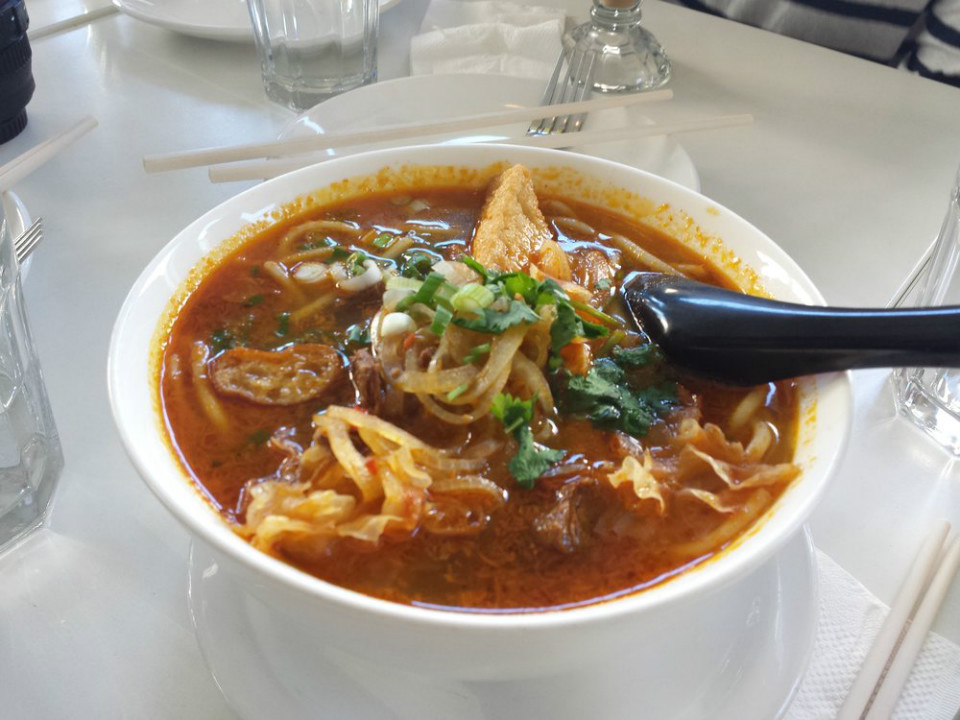 Spicy Noodle Soup. (Photo: Cristina T./ Yelp)
Loving Hut is an international chain of vegan restaurants founded by the controversial Supreme Master Ching Hai, who is the spiritual leader of tens of thousands of followers worldwide. She is often equated with Quan Yin, a Buddhist Boddhisatva and the Goddess of compassion as well as being on par with someone who is enlightened, much like how the Buddha is revered among more mainstream believers. She encourages her followers to adhere to a strict vegan diet. Their U.S. website states, "Loving Hut believes that a plant-based diet is healthier, more compassionate, and is the only sustainable diet for the whole planet." 
Most of the eateries connected to the Supreme Master, including the popular Golden Era restaurant in the Tenderloin, are known for the ubiquitous large screen televisions that play episodes from Supreme Master Television, broadcasted from their studios in Los Angeles.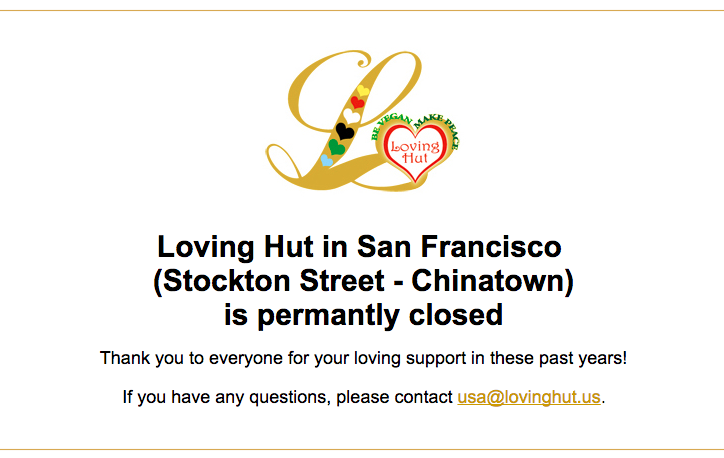 San Francisco Loving Hut's current home page

While most vegetarians and vegans alike have expressed no interest in the religious element associated with dining at Loving Hut, they have embraced it as a quick, fast food option with many affordable meals for herbivores of all kinds. Cassandra J. wrote on Yelp, "There's seriously something amazing about being able to go through all of a menu and pick something instead of trying to find the one vegetarian item per section!"
Other well-regarded places for predominantly vegan food in the neighborhood are Enjoy Vegetarian at 839 Kearny St., and The Lucky Creation Vegetarian Restaurant at 854 Washington St.

Incidentally, Loving Hut's location—even though it borders Chinatown—is part of the North Beach Neighborhood Commercial District, which prohibits formula retail. Even though Loving Hut has over 200 locations worldwide, according to a Wikipedia entry, it was allowed to open. But Kathleen Dooley of the North Beach Business Association, which tends to keep an eye on such things, told us, "We didn't know anything about it and had no part in its closing at all. As far we know, no one filed any complaints."