When you're running a business that's valued equality and inclusivity for 40 years, how do you handle the problems that come with operating alongside the city's largest homeless encampment? For Rainbow Grocery at 13th and Folsom, the answer is still unclear.
Late last week, the worker-owned co-op placed letters on every checkout lane, urging customers to contact their city officials and demand services—like public restrooms, showers and garbage disposal—for the growing number of people setting up camp along the border of SoMa and the Mission.
Like many other businesses in the area, Rainbow says that the neighboring encampment has grown immensely over the past six to eight months. Sara Gorman, a worker-owner and member of the storewide steering committee, says that Trainor Street, where Rainbow's loading zone is located, used to house two to three tents at a time. Now it's home to about eight.
Rainbow's 3am receiver is now placed in the awkward position of being approached by individuals for supplies or services, or forced to ask campers to move to allow incoming shipments through, she told us.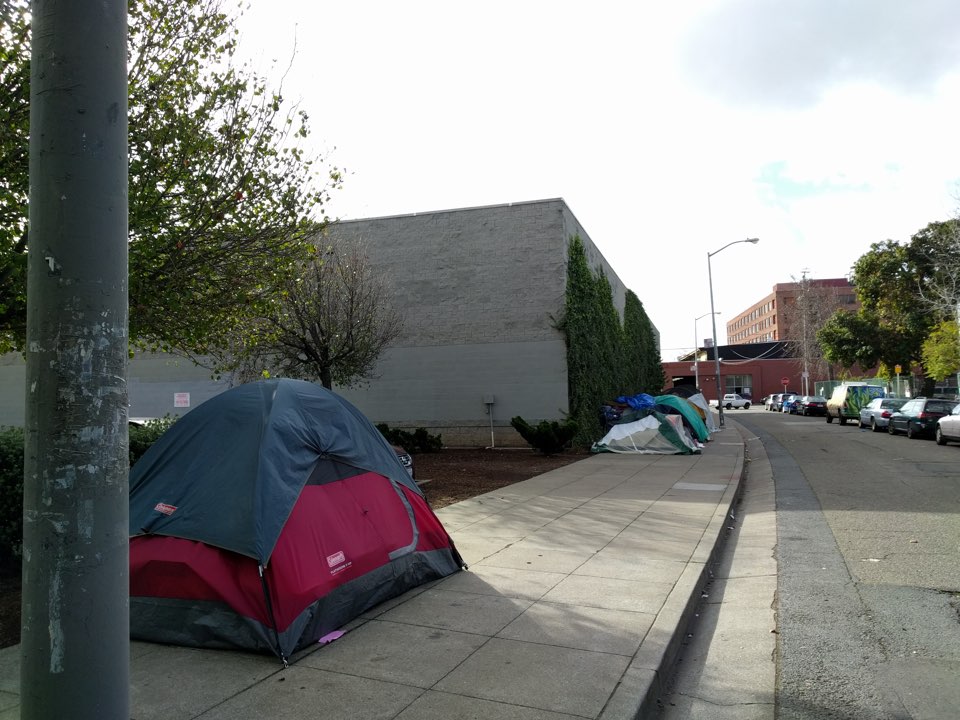 Tents lining Trainor Street, across from Rainbow Grocery's loading dock.
Another major issue impacting Rainbow and nearby businesses is the lack of public restrooms in the area. Rainbow completed a major redesign of its store about a year and a half ago, Gorman said, and that included providing two publicly accessible restrooms right up front for customers.
But the restrooms have become a major issue since the encampments expanded, as neighbors with no other resources use the facilities to shower, or leave behind messes of feces, urine or vomit. In one case, someone dumped 50 used syringes into the trash can, rather than using the safe disposal box provided. "That was really scary for us," Gorman said.
Gorman told us Rainbow is also seeing an increase in theft, violent encounters and mental health issues in and around the store. It's common to see individuals enter the store yelling or getting physical, or exposing themselves to patrons outside the store. 
Just a few days ago, a woman was mugged in the area, which in the past was "not something that happened much in this neighborhood," she added. Some shoppers have even written letters to the store, saying that they're taking their business elsewhere out of concern for their own safety.
In its own letter to customers, Rainbow Grocery states that staff have "made every effort to arrange for support services for these groups, but have come to the realization that the City has de-prioritized addressing the obvious housing and homeless crisis that exists in San Francisco." The letter asks the city to prioritize the installation of trash cans and bathrooms, as well as stepping up mental health services for those on the streets. 
Gorman says the store calls 311 and the SFPD's non-emergency line constantly, but they've been told that officers will only respond to reports of violence. She and her colleagues attend community meetings on the topic, and they regularly send letters to Mayor Lee and Supervisor Campos—even attaching recent incident reports that detail particularly disturbing encounters they've experienced in and around the store.
They've tried to collaborate with neighboring businesses, and have even considered teaming up to hire a private patrol for the area. But working with larger corporations with very different structures and decision-making policies is difficult for Rainbow as a cooperative, she said.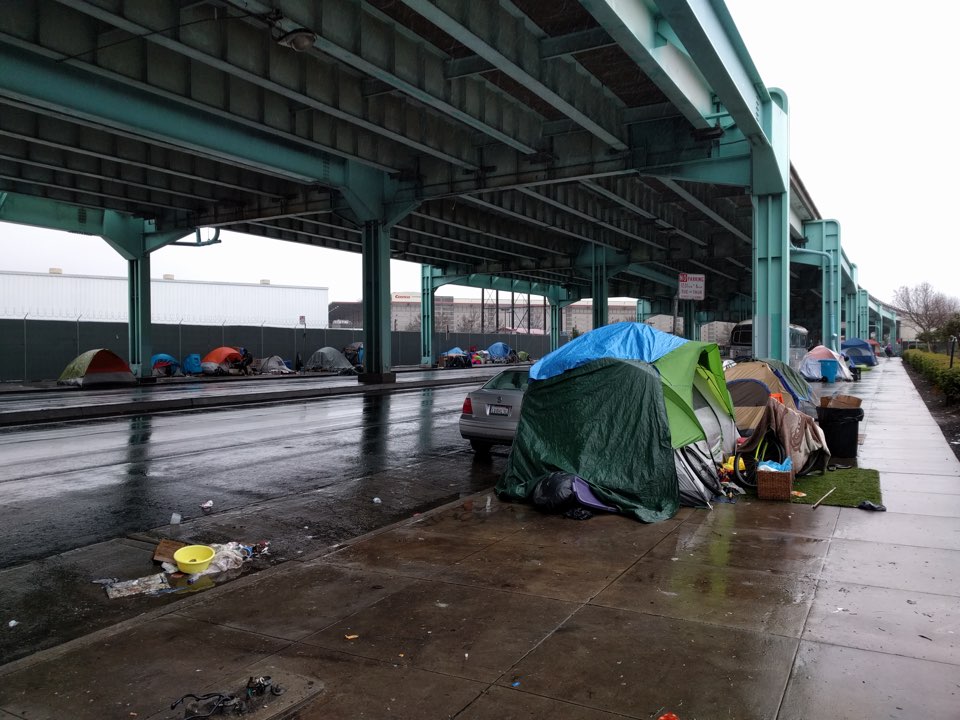 Tents lining Division Street one week before Super Bowl 50.

Overall, Gorman says Rainbow hasn't received much of a response from Mayor Lee or Supervisor Campos, or support from city agencies. She's heard that the Pit Stop program is expanding (and called about getting a toilet in their neighborhood) and that a community center for homeless residents may be set up in the area, but hasn't gotten concrete details on either front.
While community ambassadors do visit the area weekly to talk with people living in the tents about services, shelters around town and the nearby Mission Navigation Center are generally full, and a large new shelter out at Pier 80 has been poorly received. 
"It's a troubling thing for Rainbow," Gorman said. "We want there to be room for everyone, but our store can't provide for this many people."
While it may not provide an immediate solution for Rainbow, its patrons and homeless neighbors, District 10 Supervisor Malia Cohen has called for an update on the city's response to homelessness in 2016 thus far. The discussion is first on the agenda for the Government Audit and Oversight Committee at 10am Thursday, Feb. 25th, in City Hall Room 250. 
Monica Chinchilla, a legislative aide for Cohen's office, confirms that representatives from the Department of Public Health, which oversees the Homeless Outreach Team, Human Services Agency, the Mayor's Office of Housing Opportunity, Partnerships & Engagement and new department overseeing homeless services, will present progress updates on the following:
Where the new department on homelessness stands

Potentially adjusting the Human Services Agency's shelter bed system to meet increased demand as funding for the HOT Team increases

The Department of Public Health's plan for directing people detained through 

5150s 

to case management and outpatient services

The City's Family Homelessness initiative with the San Francisco Unified School District to direct services and resources to house elementary school families

Obtaining data on the city's 

General Assistance program, which fewer individuals are taking advantage of although more people are living on the streets
Community members who would like to address the board are encouraged to arrive right at 10am. Concerns can also be shared ahead of the meeting by contacting Chinchilla at [email protected] or (415) 554-7672, and Supervisor Cohen at [email protected] or (415) 554-7670.