Any bar that operates for the better part of a century is bound to have had a few bad nights, and Yancy's Saloon is no exception. Since its founding as Sunset Grill in the 1920s, the bar at 736 Irving St. has seen more than its fair share of action. Though it's been a relatively quiet place in recent years, here are a few instances from the past in which the historic bar made the news.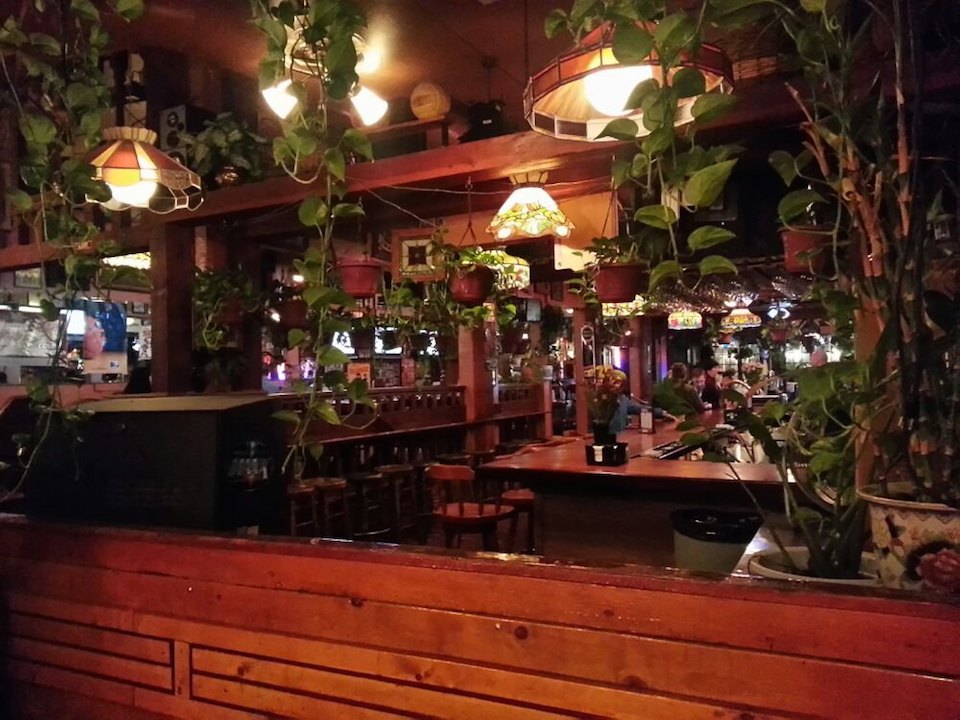 Today, Yancy's Saloon is a quiet neighborhood sports bar. (Photo: Yelp)
March 9, 1955: Boxer in Bar Battle With Wife
In the 1950s, domestic violence was still a laughing matter, as evidenced by the Chronicle's reporting of an incident in which a professional boxer beat up his wife outside 736 Irving, which was then the Woodshed Club.
When welterweight boxer Alex Amador, 25, was confronted by his wife Armida, 24, inside the bar, he reportedly took her outside, after which he "socked her, kneed her and pulled her hair." When Corporal Thomas Griffin, a 26-year-old soldier stationed in the Presidio, tried to intercede, "Alex leveled him, too," the Chronicle reported.
After being treated for bruises and a scalp contusion at Park Emergency Hospital, Armida acknowledged that the abuse was routine. "This happens about once a week," she said. "Whenever he gets mad, he takes a poke at me." She later filed a felony assault report at Park Station.
"It was just a little family spat," said the boxer, after posting his own bail. "Frankly, I'd rather take on Kid Gavilan than my wife."
On March 29, Amador was sentenced to 30 days in county jail and a year's probation for battery. In his sentencing, Judge Clayton W. Horn warned the boxer against using his fists, "except in the prize ring."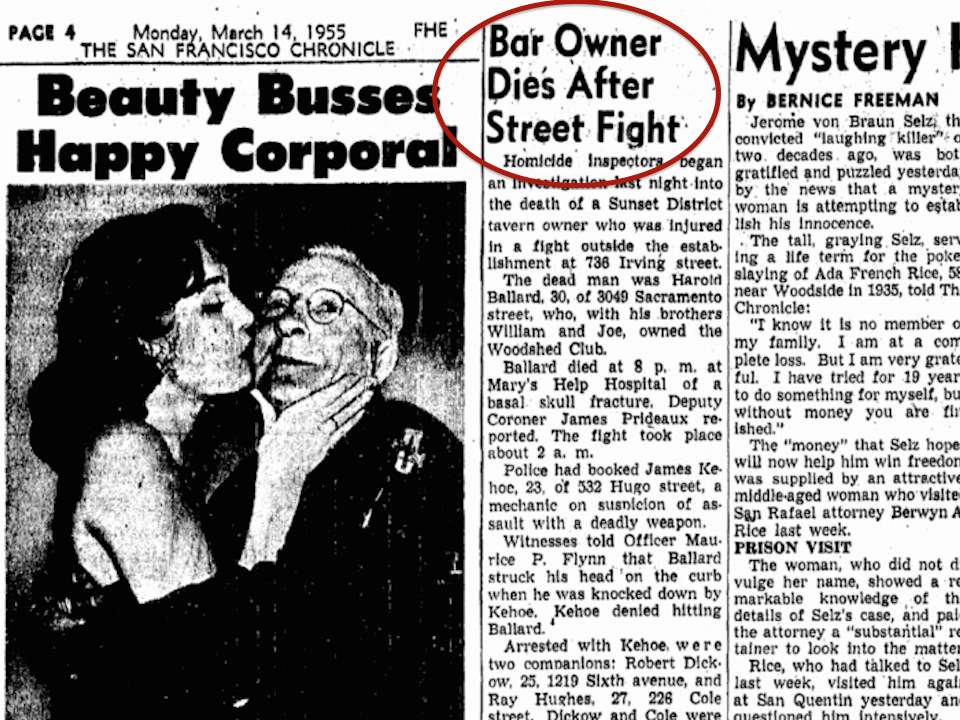 March 14, 1955: Bar Owner Dies After Street Fight
Just a few days later, the Woodshed Club was back in the headlines when bar owner Harold Ballard died after being injured in a fight outside the saloon.
Ballard, 30, sustained a basal skull fracture in an altercation with James Kehoe, 23, of 532 Hugo Street. Ballard succumbed to his injuries at St. Mary's Help Hospital, and Kehoe, a mechanic, was charged with suspicion of assault with a deadly weapon. 
According to witnesses, Ballard, who co-owned the bar with his brothers William and Joe, "struck his head on the curb when he was knocked down by Kehoe," who denied hitting Ballard. Along with Kehoe, two other men were arrested on suspicion of public drunkenness: Ray Hughes, 27 of 226 Cole St., and Robert Dickow, 25, a resident of 1219 Sixth Ave.
March 8, 1962: Pitfalls of the Pool Hall
The Woodshed Club eventually became The Pitfall, and by 1962, when 22-year-old Daniel Navin got his hand trapped in the side pocket of a pool table, it was known as The Encore. Navin got stuck while reaching for a lost cue chalk.
"I guess he must have had his hand in there for 40 minutes before we called the fire department," said Encore co-owner Maurice Curry. According to the Chronicle, an SFPD crew "took another 20 minutes to dismantle the table and free the stricken pool player," who was treated at Park Emergency Hospital for wrist lacerations.
The '70s and Beyond
After The Encore, the saloon was known as Grant's Tomb, but in the early 1970s, it became Country Road, a space that featured dancing and live music. Throughout the '70s, the bar expanded into other forms of cabaret, including a gong show featuring local talent, a recurring wet T-shirt contest, and free disco lessons offered by Gary and Gloria Poole, a brother-sister dance team who won Dick Clark's American Bandstand 1977 Disco Dance Competition.
Today, Yancy's Saloon is a sports bar, better known for its laid-back vibe and hanging garlands of live plants than its mayhem and mishaps. Have you had any memorable or infamous moments at 736 Irving? Share them in the comments.