In early February, Brew Bros Coffee opened its doors in the former Chameleon Cafe on Pacific and Leavenworth after the popular spot's lease wasn't renewed. And Brew Bros owner Joseph Hinn hopes his new cafe becomes a neighborhood favorite and a community gathering space, just like the previous tenant was.
But the cafe's presence isn't free from controversy. Some in the neighborhood aren't happy with the way Chameleon lost its lease, and some even believe that Hinn may have had something to do with the former business' demise, which he says is simply not the case. 
Brew Bros Moves In
Hinn has made a few changes to the cafe: He put a fresh coat of paint on the walls, hung some new artwork and offers a completely new menu. He told us he wants serve traditional cafe-style food, but also "wants to make it a little more upscale." He's still working on the menu and says what's on the board above the cash register is temporary. He's working with a professional chef consultant, but declined to give his name.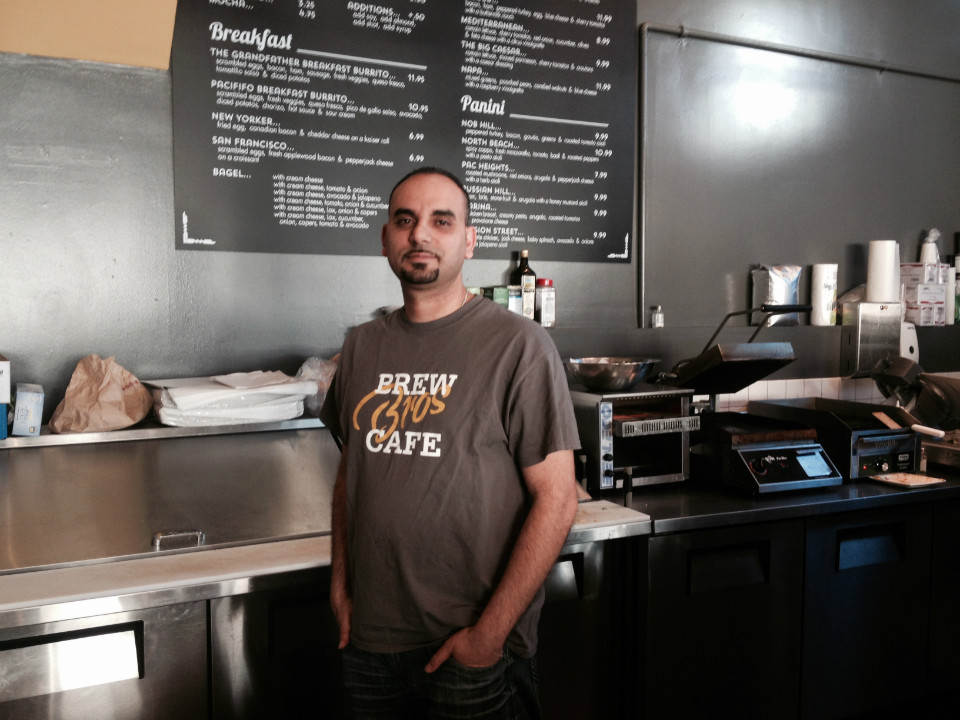 Joseph Hinn
So far, the most popular item at Brew Bros is the breakfast burrito ($11) filled with scrambled eggs, fresh vegetables, queso fresco, pico de gallo, avocado, diced potatoes, chorizo and sour cream. "We already sell a ton of them," he said. The "San Francisco" is another favorite; the croissant with scrambled eggs, applewood bacon and pepper jack cheese goes for $7. 
The sandwiches are all named after San Francisco neighborhoods, and Hinn plans expand the menu to include favorite items associated with other states, such as Texas barbecue and a Philly cheese steak. The "Russian Hill" panini comes with ham, brie, stone fruit, arugula and honey mustard aioli for $10. The brewed coffee is from Moschetti, a San Francisco roaster, and the cold brew coffees are Stumptown Nitro. 
Chameleon's Closure
Brew Bros took over the former Chameleon space, which left some bad blood among neighbors even though he says he's not to blame. In April of 2015, Chameleon owner Melody Hsu learned that she'd have to close when her landlord decided not to renew her lease. Many in the neighborhood were upset by the news, and soon, the windows of the cafe were covered with signs, drawings and letters depicting how much the cafe meant to them and pleading the landlord to allow the cafe to stay.
Owner Melody Hsu told the Examiner, "I feel like my business is being taken away from me." But the same article also said Hsu had a month-to-month lease after it expired in 2013, and it was subject to be terminated anytime. The landlord's attorney even said in a statement, "ownership dislikes the way you run your business," referring to a hosted food truck once a week and children's chalk drawings on the sidewalk that were "slippery."
Hsu decided to throw a "going out of business" party on May 22nd, 2015, and vacated the spot on May 30th. 
New Owners Moving Forward
When Hinn heard Chameleon was losing its lease, his first instinct was to approach Hsu and ask her to sell it to him as-is. He also told us he personally contacted the employees as well—many of whom were customers of his at the New Russian Hill Market he co-owns with his brother and father just a block away—and told them he wanted to help save their jobs. If he was able to purchase the cafe, he said, he would've kept them on staff along with the much-coveted beer and wine license under the previous ownership.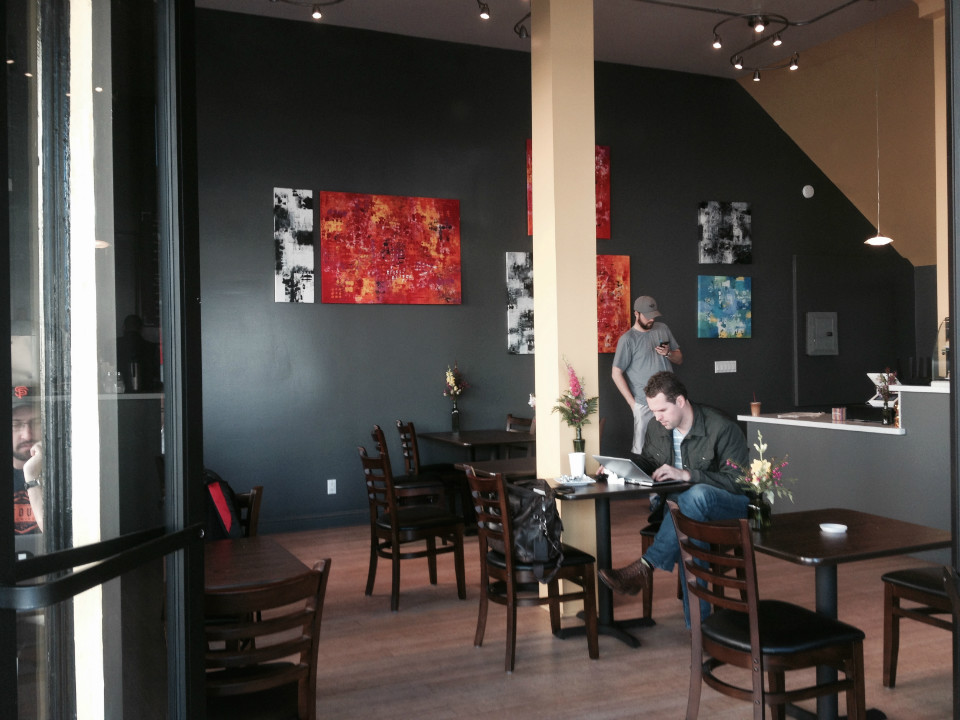 But, Hinn said, Hsu declined to sell the business to him. The alcohol license was surrendered and the employees lost their jobs.
With the space now vacant, Hinn decided to contact the landlord directly to see if he could secure a lease for a new cafe himself. His family once ran another store at the same location from 1997–2001 and had a rapport with the landlord. He told us that he was welcomed back and began preparing to open up Brew Bros. 
Cafe Controversy 
Reaction to his new cafe has been mixed in the neighborhood, Hinn said. Some are excited to have him there, as he and his family have owned businesses in the neighborhood for almost 23 years and they're familiar with him. Others have said the previous owner got a raw deal, and he's getting some backlash from that. 
Hinn told us some neighbors took to the website Nextdoor to voice their concerns about Chameleon closing, and accused him of being the catalyst for its demise. He says that that's not true. "I went to the cafe, gave the employees my information and told them to contact me if they needed a job once the cafe closed," he said. "I had nothing to do with the closure of Chameleon. I heard that they were shutting down and wanted to help." 
Hinn also told us that a few neighbors and former fans of Chameleon walk by and give him "the finger" as they pass, "even in front of their children," he said. But he shrugs it off and said he is just trying to do good by the neighborhood. "I'm a neighborhood guy," he said. "It's not like I opened a Starbucks on the corner." 
He does have his supporters, and many others welcome the addition of his new business. Yelper Guillaume C. posted, "I'm happy they took over Chameleon instead of random people!" 
Brew Bros Cafe is currently open from 7am–4pm daily. In the coming weeks, Hinn plans on staying open until 8pm. He also applied for a beer and wine license and may stay open until 10pm if that's approved. We have reached out to Hsu and the landlord for comment, but didn't immediately hear back by deadline.