One thing has been true about San Francisco for a very long time: It's known for its quality restaurants. 
Recently, a colleague at Hoodline found a travel book called The Dolphin Guide to San Francisco and the Bay Area Present and Past by Curt Gentry (Doubleday & Company), published in 1962, which lists several recommendations for restaurants that are still in business today.
We thought we'd give you a little tour of some of the famous FiDi spots with photos then and now.
Blue Fox, 659 Merchant St. (now Alfred's Steakhouse)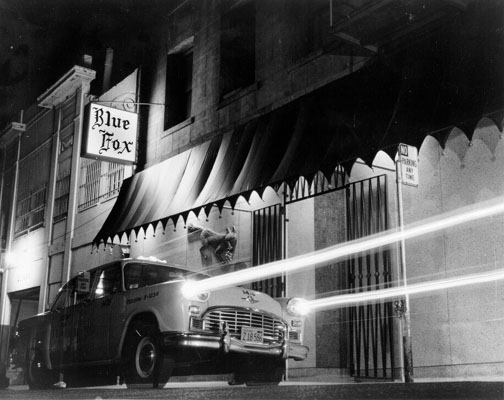 Photo: SF Public Library San Francisco Historical Photograph Collection
The Blue Fox was one of the city's swankiest places to dine in its day, according to an obituary of its owner, Mario Mondin, on SFGate. The article mentions "gold-leaf walls, chandeliers and red carpet—as well as specialties like vitello tonnato, pheasant baked in clay and strawberries Armagnac. It adds, "Herb Caen once noted that the Blue Fox served radicchio salad 35 years before it became trendy."
Another article from the Toledo Blade (October 18th, 1970) raves about the "elegant taste" in decor as well, which included "copies of Renoir and Van Gogh and other 19th-century paintings." It also remarked on a $3,000 silver serving cart.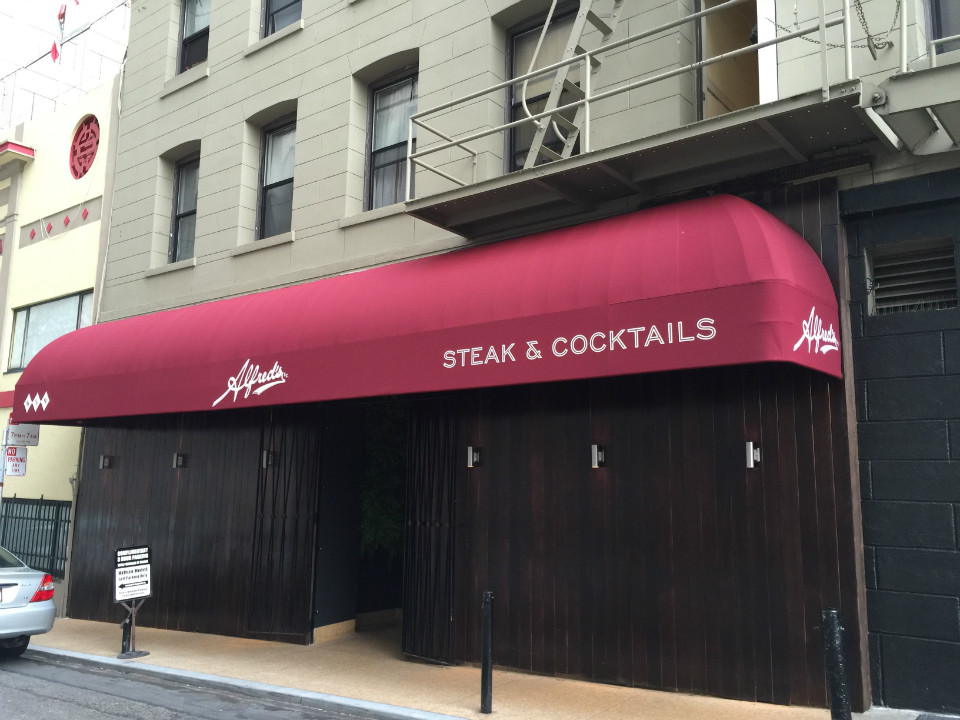 659 Merchant is now Alfred's Steakhouse. (Photo: Geri Koeppel/Hoodline)
Alas, the Blue Fox closed in 1993, and Alfred's Steakhouse moved into the space in 1997. It recently was sold to the Daniel Patterson Group (Alta, Aster, Coi, Plum Bar, Haven), which kept the name and concept. It reopened on February 18th after a short hiatus to freshen it up.

Club Cairo, 77 Fourth St. (now part of San Francisco Marriott Marquis)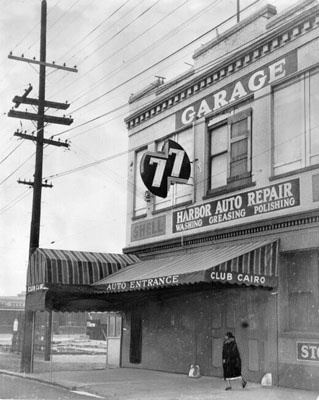 Club Cairo, 1935. Photo: SF Public Library San Francisco Historical Photograph Collection

Club Cairo, while not particularly appealing in the above photo, was recommended by our guide book as a moderately priced Armenian restaurant. We haven't tracked down anything more about this mysterious place, so if you know more about it, let us know.
Today, 77 Fourth St. is not a used address; it's near Mission Street, but has been absorbed into the San Francisco Marriott Marquis.
Domino Club, 25 Trinity Place (now vacant)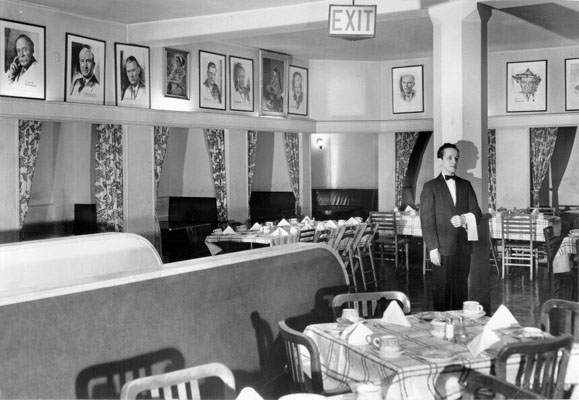 Domino Club, 1953. Photo: SF Public Library San Francisco Historical Photograph Collection

The Dolphin Guide not only recommended the Domino Club as a top American restaurant, it also noted that it had a "Domino Penthouse" piano bar "in surroundings that include the world's largest collection of nudes (framed)." Another article we found online from San Francisco's Lost Landmarks by James R. Smith clarified that many of the nude paintings were made on-site by house artist Robert Lupetti. "Patrons could eat or drink and watch Lupetti create another masterpiece," the book states. Although the artwork was the main draw, the club also featured live music.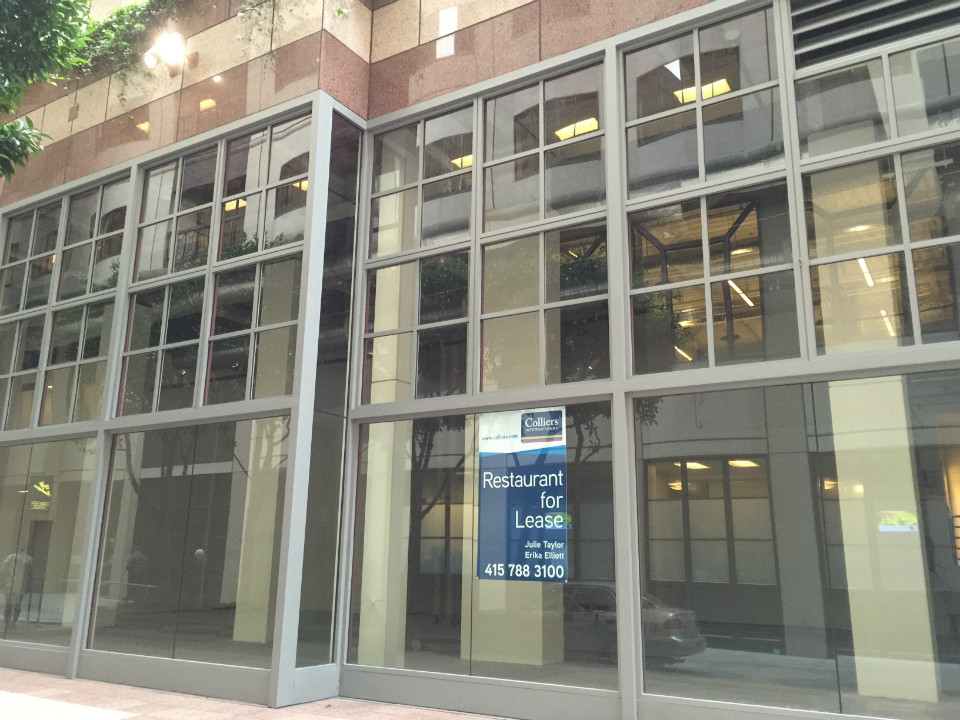 25 Trinity Place today. (Photo: Geri Koeppel/Hoodline)
If you have a hearty collection of nudes (framed) and an interest in opening a restaurant to recapture the excitement of the Domino Penthouse, you might be intrigued to know the space is for lease.

Jack's, 615 Sacramento (now vacant)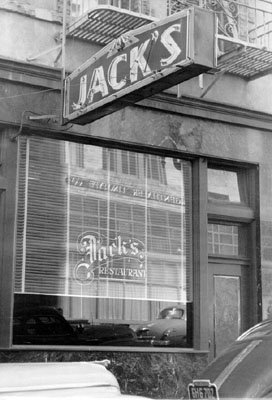 Jack's, 1952. Photo: SF Public Library, San Francisco Historical Photograph Collection

Jack's opened in 1863 and was the city's second-oldest restaurant next to Tadich Grill. But as an article on SFGate outlines, it "couldn't withstand today's voracious real estate market, which is about to claim the elegant, three-story building." That was back in 2000.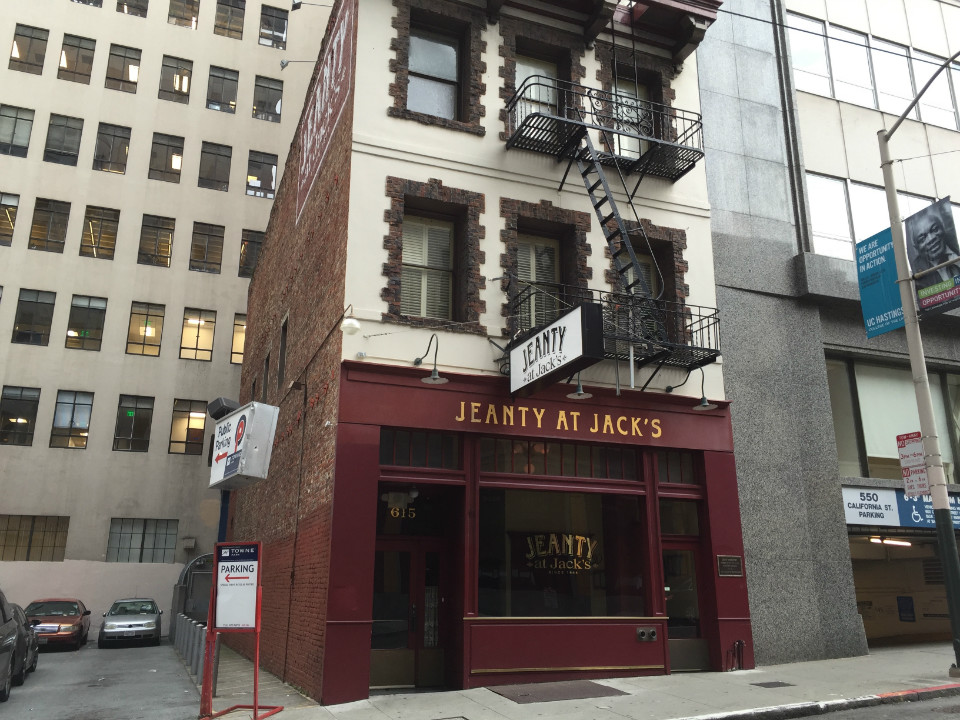 Jeanty at Jack's, now closed. (Photo: Geri Koeppel/Hoodline)
Chef Philippe Jeanty of Bistro Jeany in Yountville later opened as Jeanty at Jack's, but it closed in 2009. An Inside Scoop article in 2012 said he was still looking to lease the building, but was being picky.

Ritz Old Poodle Dog, 65 Post Street (now vacant)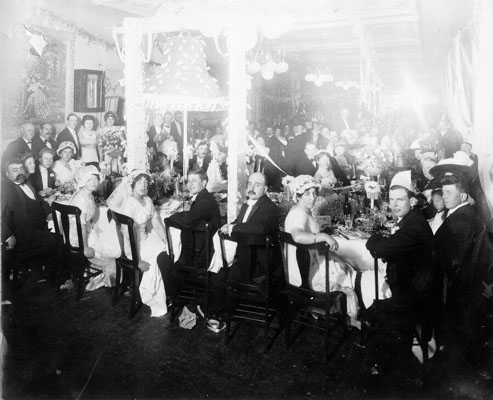 Wedding, 1908. Photo: SF Public Library San Francisco Historical Photograph Collection

The Old Poodle Dog French restaurant first opened by another name in 1849, according to an article by James R. Smith on HistorySmith: Tales of California and San Francisco. The origin of the name is murky, Smith writes, but could have had to do with the owner's pet poodle, a resident stray poodle, or a lack of French pronunciation skills on the part of the locals.
In any event, the name stuck, and the restaurant survived a hiatus during Prohibition and several moves. The above photo shows a wedding in an earlier location; in 1908, the restaurant was at Bush and Claude Lane, Smith's article states. (Another fascinating fact: "The original Louis Dressing originated in the Bergez-Franks Old Poodle Dog circa 1908; a product of the skills of Louis Coutard," Smith writes.)
The Old Poodle Dog was at 65 Post St. for a time and finally ended up at the Crocker Galleria, 1 Montgomery St., in June of 1984, but closed a year-and-a-half later, according to Smith.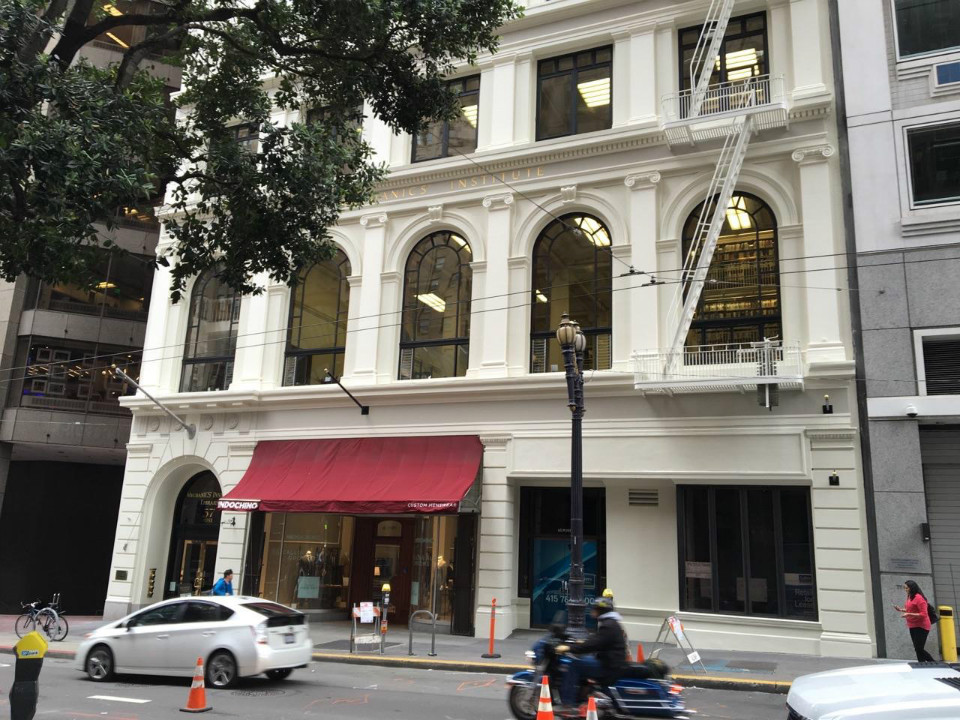 65 Post St. today. (Photo: Michael Gouddeau)
The 65 Post space is going to be the new home of DaDa, which is moving after a decade at 86 Second St.
Schroeder's, 240 Front St.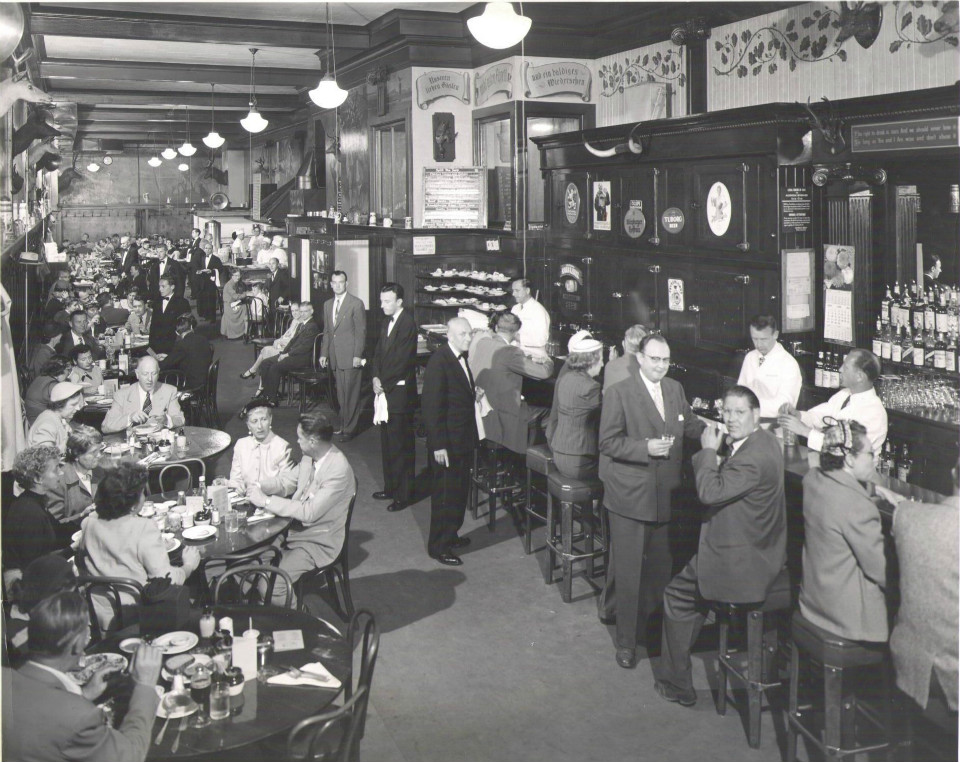 Photo: Courtesy of Schroeder's
Schroeder's opened in 1893 when a young German, Henry Schroeder, got the "idea that there were hungry and unsatisfied appetites in San Francisco and came along to remedy the situation," according to the book Look What's Cooking by Katherine Kerry, (Pike's Publishing SF 1953; provided courtesy of Schroeder's). It goes on to say, "He designed a place for lusty males, without any of the fripperies for the ladies of the period. Unlike its neighbors there was no family entrance and no women were allowed."
The Bavarian-style beer hall continued to ban women for decades. Perhaps realizing it was missing out on a major market (namely, half of the population), it finally relented in the 1970s. The place remained a FiDi happy hour mainstay despite its drab interior and surly service, probably because of the reasonable prices and free snacks. In May of 2014, new owners Jan Wiginton and Andy Chun (of Press Club San Francisco) reopened it with updated decor and a fresher menu, and it's more popular than ever.
Photo: Nader Khouri
But wait, there's more... While we don't have rights to run old photos we found of John's Grill, Sam's Grill and Tadich Grill, we'd be remiss without mentioning these three stalwarts and running photos of them as they are today.
John's Grill, 63 Ellis St.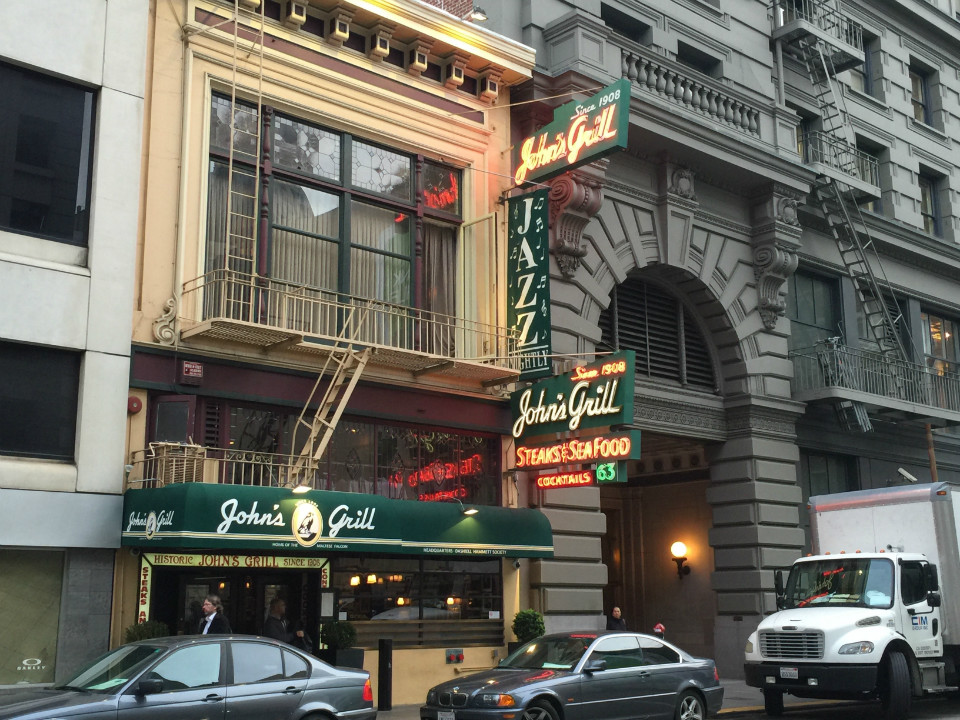 Photo: Geri Koeppel/Hoodline

John's is famous because it was used as a setting in the Dashiell Hammett novel The Maltese Falcon. Its website features a long list of famous patrons, ranging from Andy Warhol to Hillary Clinton.
Sam's Grill, 374 Bush St.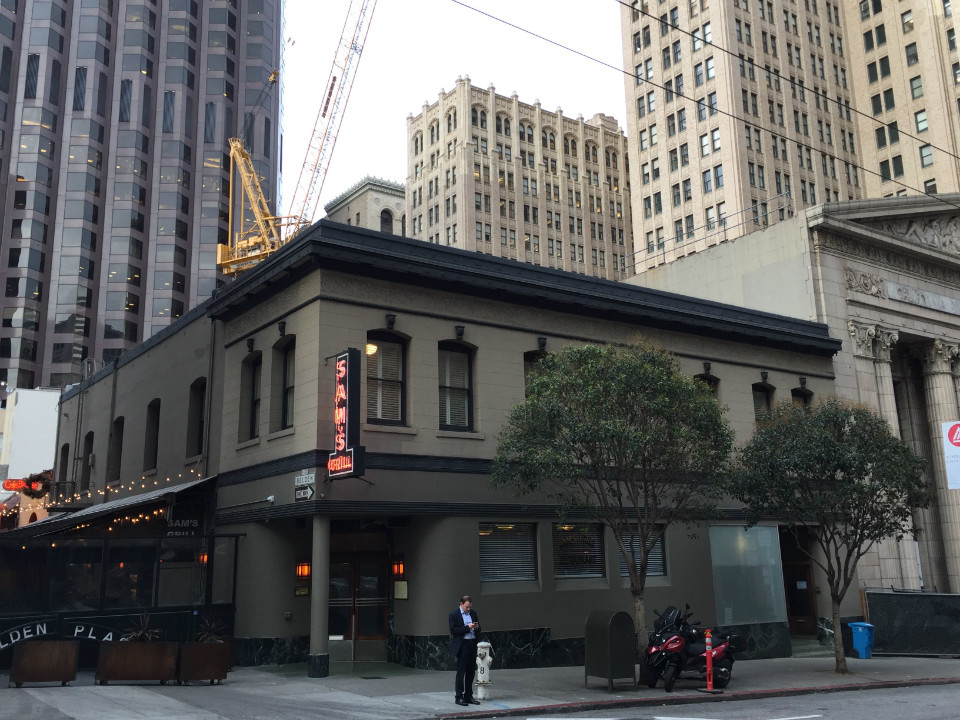 Photo: Geri Koeppel/Hoodline

Sam's was originally started by Michael Molan Moraghan as an open-air oyster stand in 1867 and later became Burlingame Oyster Co. In 1922, Samuel Zenovitch acquired the oyster company, and eventually, the restaurant became known as Sam's. The whole history is on the Sam's Grill page on the Belden Place website.
Tadich Grill, 240 California St.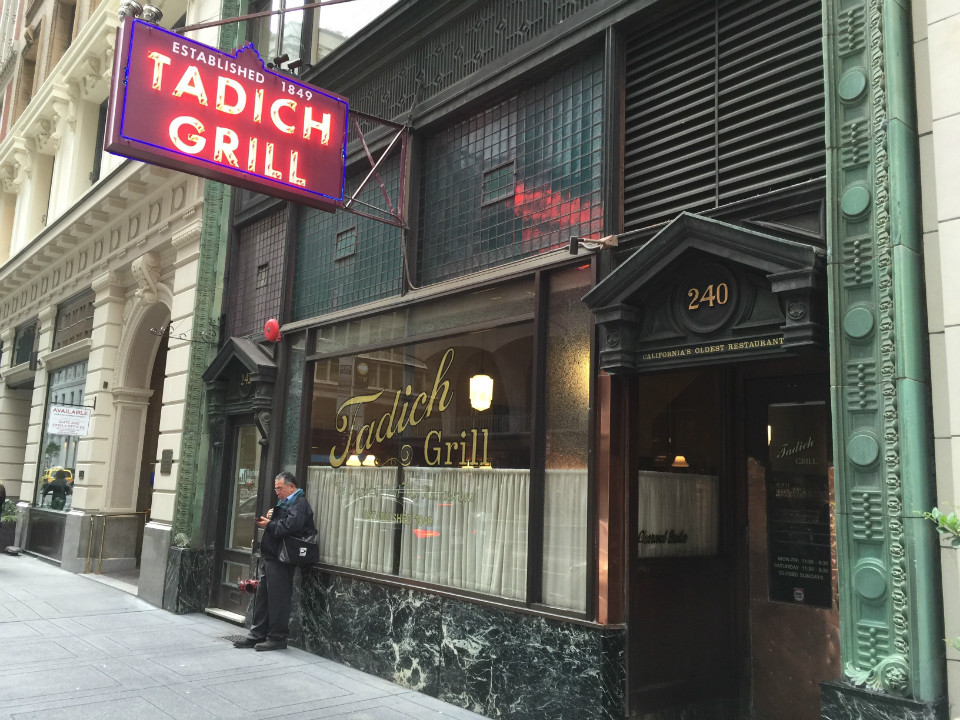 Photo: Geri Koeppel/Hoodline
Tadich Grill, beloved for its seafood and its proper waiters in white jackets and ties, is one of those rare restaurants that manages to walk the tightrope of appealing to both tourists and locals. As the sign says, it's been around since 1849, when it was a coffee stand on the Central Wharf. It's the oldest continuously run restaurant in California and believed to be the third oldest continuously run eatery in the nation. The entire history and a timeline of proprietors and locations is posted on its website.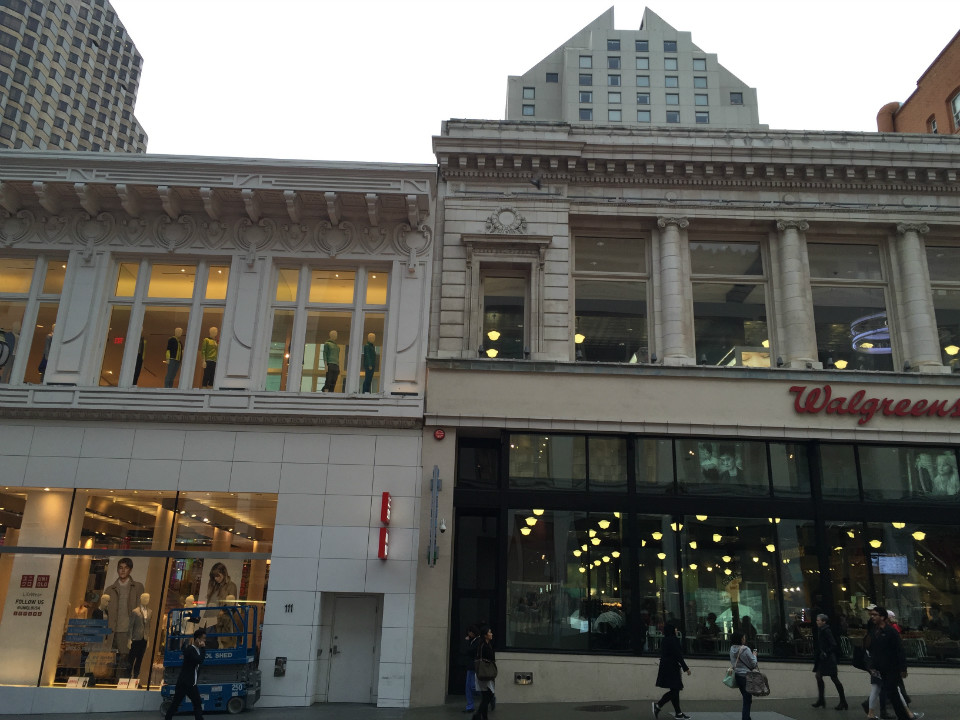 Photo: Geri Koeppel/Hoodline
Finally, we'd like to leave you with this tidbit. We can't run the photo, but you can link to it here. According to our handy guidebook, there was once an establishment at 123 Powell called Bernstein's Fish Grotto. It was along the shopping strip where Uniqlo and Walgreens now stand, but instead of bland, corporate façades, it was a spectacular theme park of a place with the bow of a ship jutting out from the entrance. Bernstein's closed in 1981, according to a Wikipedia entry.
Did we leave off your favorite legendary FiDi eatery, or do you have your own memories of these old spots? Let us know in the comments.