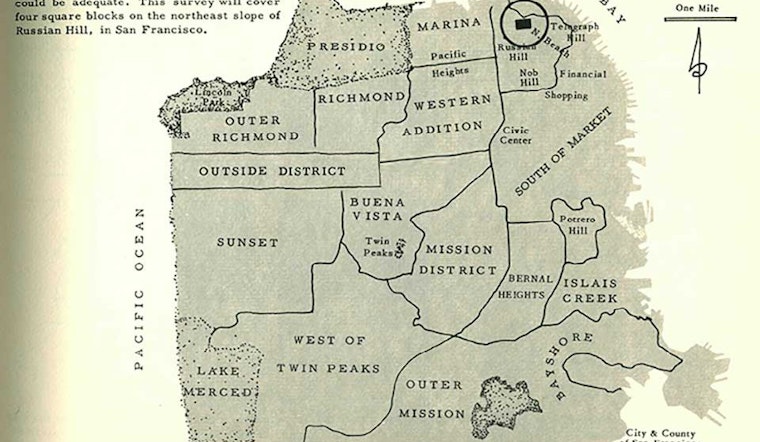 Published on March 19, 2016
Across the western half of San Francisco stretch 1,017 acres of rolling greenery: Golden Gate Park.
Over the course of its existence, the park, with its gardens, lakes, meadows, and museums, has cemented its status as a San Francisco landmark. However, what if the city's 19th century planners had instead annexed the Outside Lands not for a park, but for residential development?
Sprouting From Sand, a Park
Transformed by the Gold Rush of the mid-1800s from a small port town into a thriving metropolis, San Francisco sought ways to incorporate aspects of East Coast cities into its planning and development. Early San Franciscans, inspired by the unveiling of Central Park in New York City in the mid-1860s, petitioned the Board of Supervisors to set aside land for a park.
"Pioneer Californians were proud of their isolation in the far west, but were also aware of their difference from the established, cultured East Coast," wrote historian Christopher Pollock. "The emerging city lacked the earmarks of greatness, such as museums, wide tree-lined boulevards, and monumental civic buildings, let alone a great park."
According to the San Francisco Museum and Historical Society's Encyclopedia of San Francisco, the acquisition of land for a park, in true San Francisco fashion, was not without pushback. When the city petitioned the Board of Land Commissioners for property falling outside of city limits, a lengthy legal battle to incorporate the western side of the peninsula ensued.
To further complicate the matter, squatters who occupied the land west of Divisadero Street claimed ownership of the Outside Lands. They stalled the city in purchasing land that they felt they owned as homesteaders.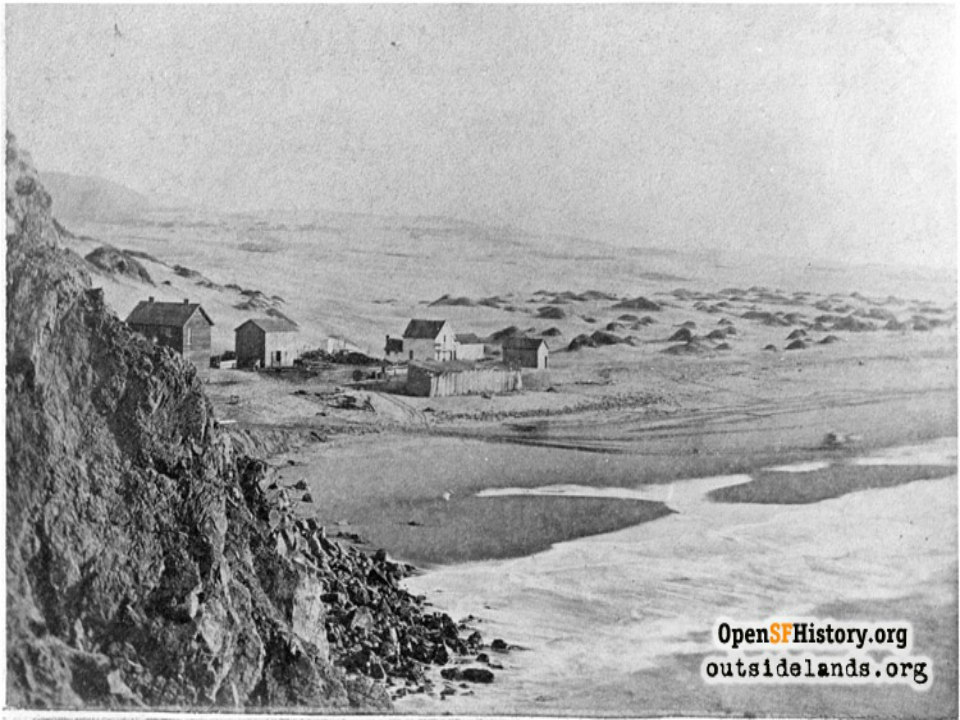 Photo: Ocean Beach view looking southeast (circa 1855), courtesy of OpenSFHistory
A decree from the United States Supreme Court in 1864 and a Congressional act in 1866 moved the city closer to acquiring the Outside Lands; however, it wasn't until 1868 that Mayor-Elect Frank McCoppin negotiated a settlement and ordered a survey of potential sites for a park.
In 1869, the Board annexed 1,013 acres for the establishment of Golden Gate Park. The price paid was $801,593, or taking inflation into consideration, roughly $14 million in today's dollars.
To put that into perspective, the median price to purchase a home in San Francisco today is $1,045,000. Therefore, in 1869, the cost of Golden Gate Park was a little more than 14 modern-day, median-priced San Francisco homes.
Three quarters of the proposed area for Golden Gate Park was covered in sand dunes at the time of purchase, similar to the terrain along Ocean Beach and beneath the Sunset and Richmond Districts.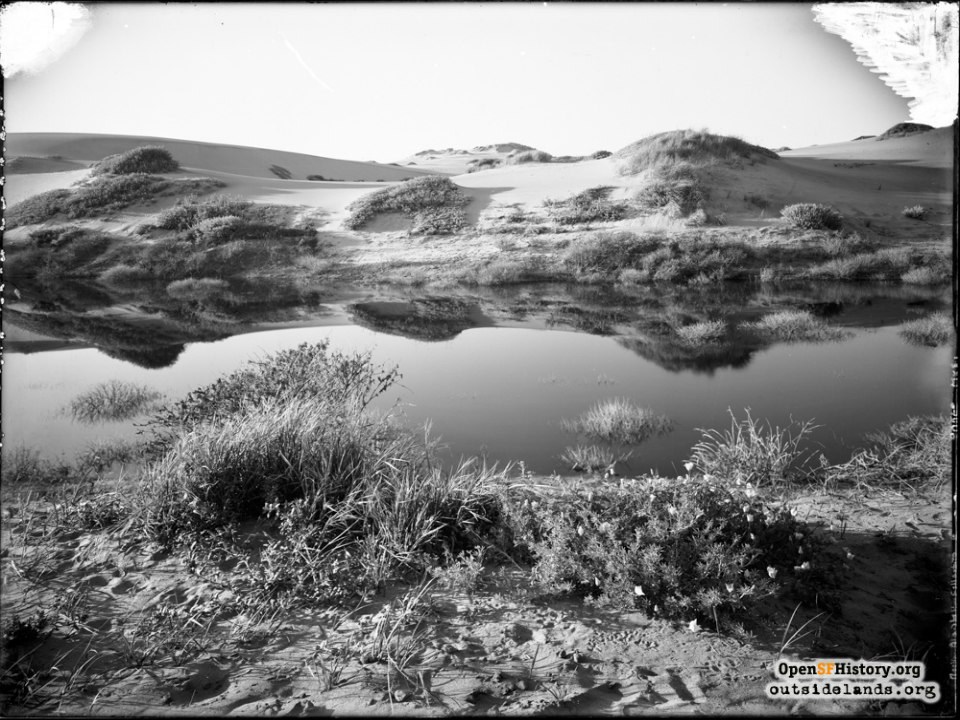 Photo: Sand dunes (circa 1910), courtesy of OpenSFHistory
In an unprecedented horticultural experiment, William Hammond Hall, the park's first superintendent, and John McLaren, a master gardener, were tasked with turning these "dreary desert" dunes into thriving parkland.
Their eventual success sprouted from a horse's feedbag.
After a number of failed experiments, the men noticed that barley grain, serendipitously spilt from the feedbag of a horse, took root in the sand. Even though the grain only lived for a couple of months, barley played an essential role in taming the dunes and ultimately transitioning the Outside Lands from sand to vegetation.
Starting in what is now called the Panhandle, barley grain was broadcasted, followed by sea bent grass and yellow lupine. Layers of topsoil, manure, and organic matter were shipped in, and strategically-placed wind barricades aided in the land's conversion.
Once the dunes had been subdued, larger plants were introduced. Within ten years of Golden Gate Park's inception, over 155,000 trees and shrubs were planted. "Sand Francisco" had effectively grown into a green oasis, sustained by windmills that pumped water from wells drilled near the Pacific Ocean.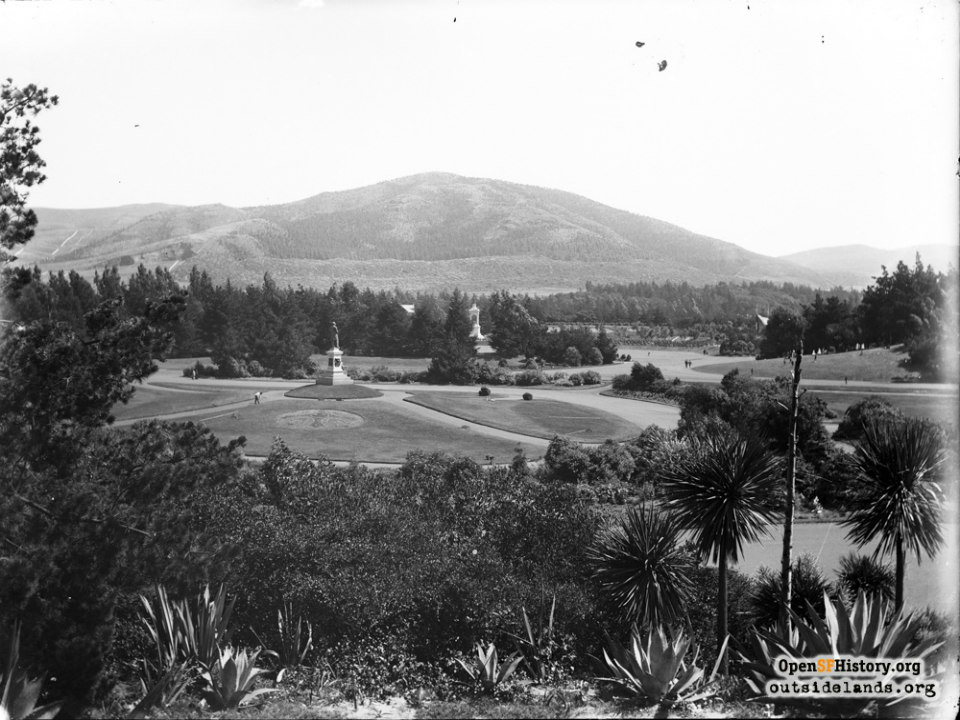 Photo: View south from Conservatory (circa 1888), courtesy of OpenSFHistory
In its earliest days, the park was a popular destination for San Francisco residents.
"Everyone could see the need for a remote park to provide an escape from their workaday lives," wrote Pollock, of San Francisco's quarter million residents. "Parks became an antidote to the materialistic ambitions of the city's citizens."
In 1886, three streetcar lines served the park, bringing upwards of 47,000 visitors to the park in a single day. Today, the park's sprawling vegetation offers refuge to thousands of people looking for the chance to escape from the surrounding urban environment. Golden Gate Park is the third-most-visited park in the United States, with more than 13 million annual visitors.
Imagining the Outside District
But what if the city's 19th century leadership, realizing that San Francisco's seven-by-seven mile dimensions would one day see a housing shortage, had decided to develop the Outside Lands into, say, "the Outside District" — a residential neighborhood instead of a park?
Chances are, the Outside District would have evolved similarly to other western San Francisco neighborhoods.
In 1887, Aurelius E. Buckingham bought land around 5th Avenue and Lincoln Way and began development of the Sunset District. Although the Inner Sunset's growth was tied to early Golden Gate Park, and specifically the California Midwinter Exposition of 1894, the neighborhood would likely still exist in the absence of the park. The young district was a destination for refugees of the 1906 earthquake and fire, which had left two-thirds of San Francisco's population homeless.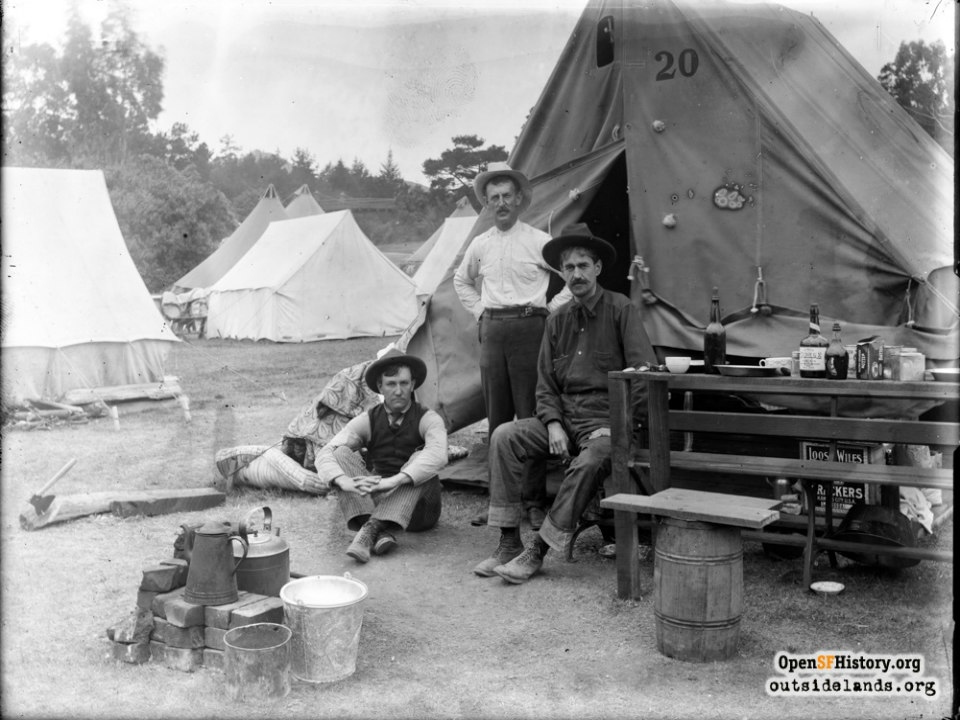 Photo: Refugees in Golden Gate Park (1906), courtesy of OpenSFHistory
The Richmond District too would likely still exist today in the absence of Golden Gate Park. Adolph Sutro built reliable rail service in the late 1880s to Land's End and Sutro Baths, officially making the Richmond District a neighborhood of San Francisco.
Like the Sunset District, it wasn't until the 1906 earthquake and subsequent fire that waves of new settlers migrated to the Richmond looking to move out of emergency tents and shacks and into permanent housing on the dunes.
One of the neighborhood's most prominent early residents was George Turner Marsh. In 1876, Marsh built his home on what would become the corner of 12th Avenue and Clement Street. The house was named "Richmond House," after Marsh's place of birth in Richmond, Australia. The Board of Supervisors voted to designate the area The Richmond District of San Francisco in 1890.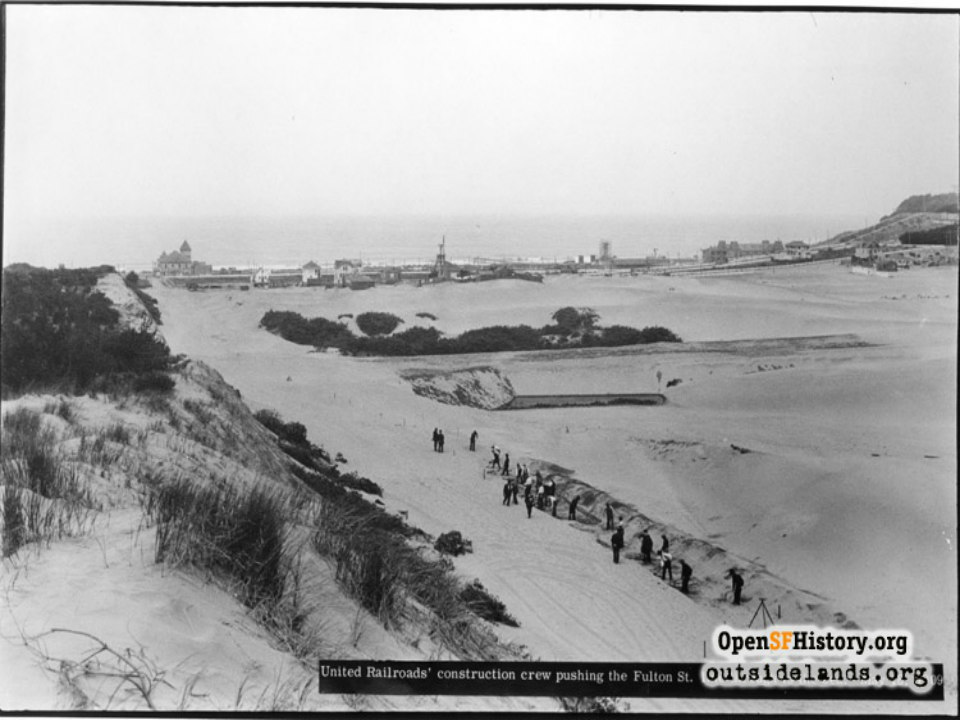 Photo: Richmond District (May 18, 1909), courtesy of OpenSFHistory
The Richmond and Sunset Districts' genesis and development alludes to how the Outside District may have been established. Early settlers and squatters, with their cemeteries, dairy operations, and chicken farms, would have slowly transformed the dunes into hospitable real estate, escalated by the arrival of refugees in 1906. Wartime industry and population growth during the 20th century would have reinforced the Outside District's status as one of San Francisco's robust residential localities.
In today's world, the Outside District would be bounded by Fulton Street and Lincoln Way, and would stretch from Stanyan Street to Ocean Beach: just over one and a half square miles in area. To put that into perspective, another of the city's large, residential neighborhoods, the Mission District, is just under one and a half square miles in area.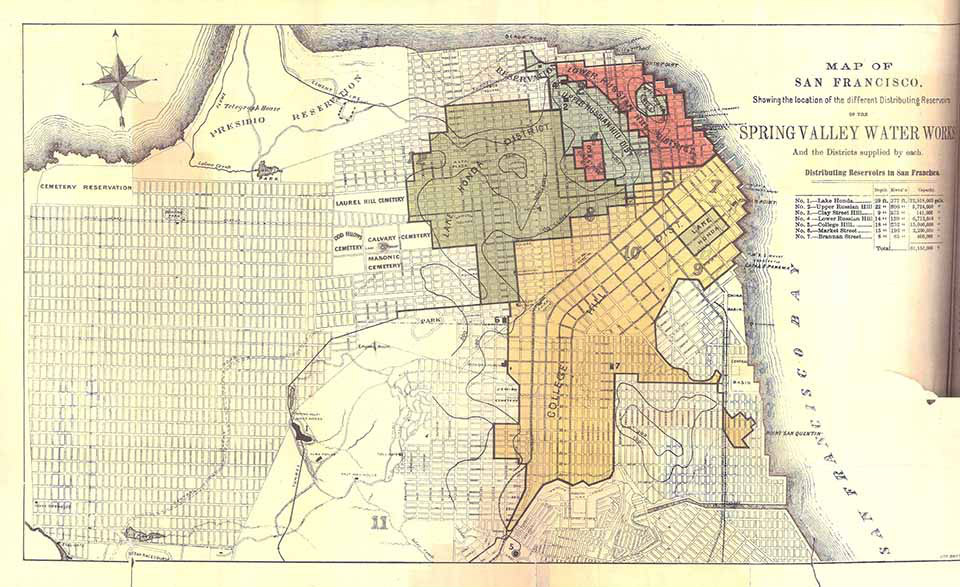 Photo: Map of San Francisco (1876-77) via Eric Fischer/Flickr, edited by Shannon McLean
It is difficult to say which immigrant populations might have settled in the Outside District, or what businesses would have set up shop. It is impossible to know what counterculture movements may have blossomed out of the sand, or what San Francisco history might have been made.
However, even with the current housing crisis, it's safe to say that San Francisco is far better off without the Outside District. Golden Gate Park is more than just 600 square city blocks of developable land. It is an escape from the swirling complexities of life in San Francisco, and a singular destination for enjoying the great outdoors without leaving the city. We'll take that over a new neighborhood—or sand dunes, for that matter—any day.