Most San Franciscans know Stern Grove and Pine Lake Park as a musical retreat on summer Sundays, when the sounds of free concerts fill the air, or as a place to stroll with their dogs. But this retreat from the hustle and bustle of city life wouldn't have existed without the efforts of a determined family of squatters and a female philanthropist with a love of the outdoors.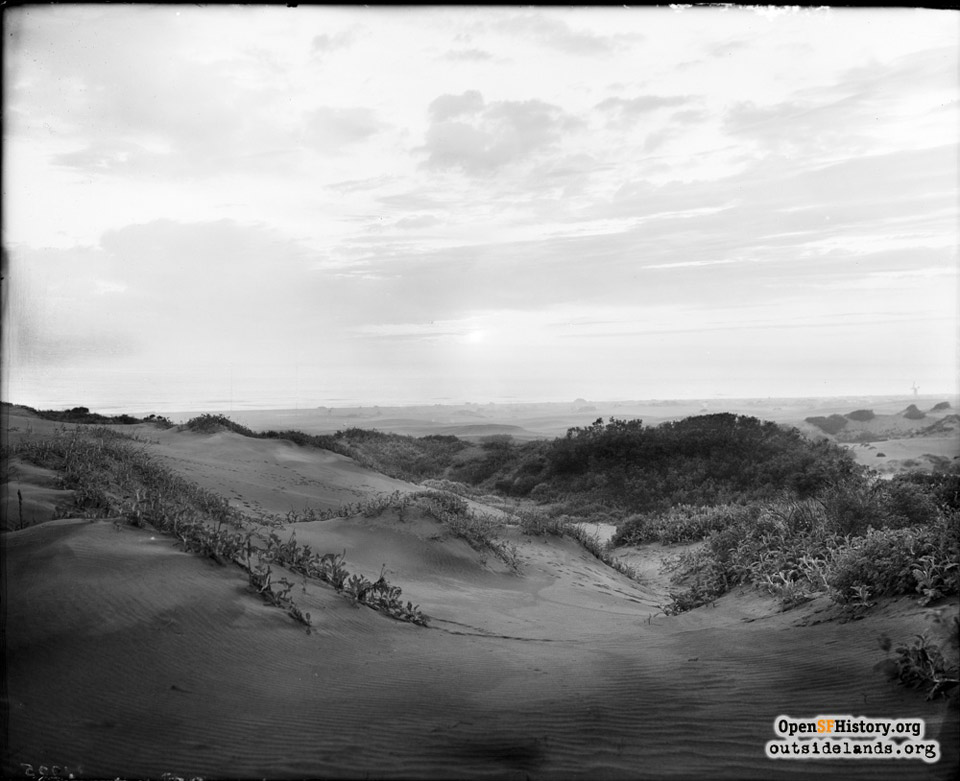 Sand dunes, circa 1910. Windmill in Golden Gate Park is at far right. (Image: Willard E. Worden, wnp15.366, OpenSFHistory.org)
To understand what Stern Grove used to look like, you'll have to imagine a time when the western boundary of the city was located where Divisadero Street is today. In the 1850s, the official charter established this line, separating the developing city from what was then federal land.
Located outside of the official city limits, the area that now encompasses Golden Gate Park and most of the Richmond and Sunset/Parkside districts was called the Outside Lands. The area was eventually incorporated into the city in 1866, but for more than a decade, it stood on its own. 
The Outside Lands were a windswept area of shifting sand dunes, some more than 100 feet high, constantly blowing, morphing and reforming into valleys and peaks. Creeks that flowed west from the eastern hills were dammed by the sand, forming freshwater ponds and lakes.
In what is now the Parkside District, Trocadero Creek created one of these freshwater bodies, which has been known by several names. Originally called Laguna Puerca (Pig Lake), then Dirty Lake and Mud Lake, it is now officially known as Pine Lake—one of only three freshwater lakes left in San Francisco. (The other two are Lake Merced and Mountain Lake.)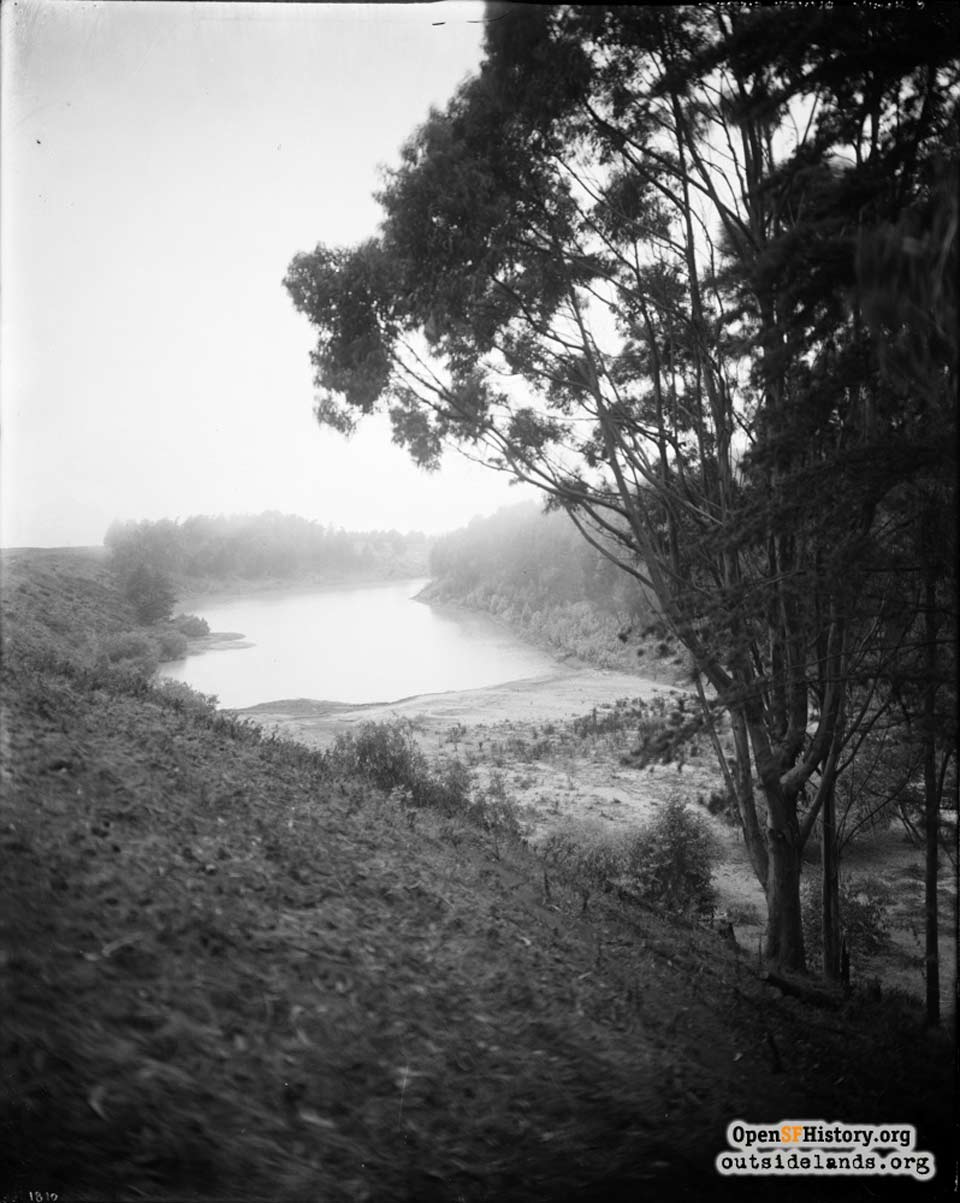 Pine Lake looking west, circa 1910. (Image: Willard E. Worden, wnp15.658, OpenSFHistory.org)
During the wild-west era of the Gold Rush, some squatters decided to stake their claims in the Outside Lands. The Greenes, originally from Maine, were one such pioneering family, settling in the area that extended west from 19th Avenue to the ocean, along what is now Sloat Boulevard. In the area, which included Pine Lake, they raised hogs and cattle, cultivated barley and potatoes, and stabilized the sand by planting thousands of cypress, pine and eucalyptus trees, creating what we know today as Stern Grove.
"Yes, they called us squatters, and they sent the red-shirts out to get us off the land," George M. Greene, son of the original family settlers, told the Chronicle in 1932. "But we weren't getting off—no, not till they carted us off in the morgue wagon."
The Greenes defended their land, and eventually were given the title to only a portion of their claimed property, between Wawona and Sloat from 19th to 25th avenues.
In 1892, Mr. Greene built a Victorian-style roadhouse among the trees, known as the Trocadero Inn, that became a fashionable destination for wealthy San Franciscans traveling to the coast. It featured an outdoor dance pavilion, a deer park, a beer garden, a trout farm and rowboats.
The Trocadero Inn also played a role in a slice of unsavory San Francisco history. In 1907, it was a hideaway for Abe Ruef, a powerful San Francisco political boss, after his indictment in municipal graft trials. Ruef was eventually apprehended there by police. But when Prohibition came along, George Greene closed it to the public, converting it into the family residence.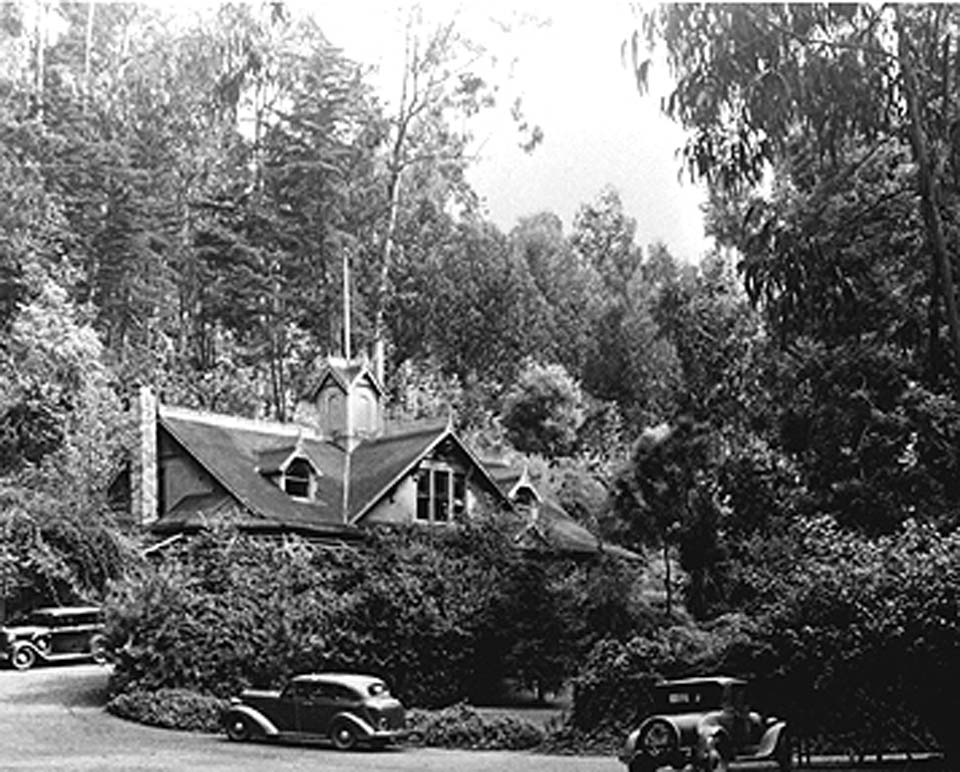 The Trocadero Inn still stands in the park. (Photo: Greg Gaar/Courtesy of FoundSF)
As the city continued to grow, streets and parcels were platted across the wide expanse of sand. Even the deep valley of trees and the muddy lake were marked on early-20th-century real estate maps as potential subdivisions. But the Greenes refused offers to sell, holding on to their property as the land around them started to develop.
That changed in 1928, when Rosalie Meyer Stern, then president of the city's Recreation Commission, began looking for a way to honor her recently deceased husband, Sigmund Stern, a San Francisco philanthropist and nephew of Levi Strauss. Throughout their lives, the Sterns were dedicated to civic improvements and were advocates for the "recreation movement," a campaign to create outdoor public places for adults and children to escape the crowded city and thrive in open space set aside for physical activity.
John McLaren, the superintendent of Golden Gate Park and a friend of Rosalie Stern, was concerned about the Greenes' grove being lost to developers. So he took her to see the secluded hollow, in the hope that she would acquire and preserve the land.
When Stern first visited the grove, "the stillness and quiet of the place made a deep impression. One seemed to be far distant from the turmoil of city life," she said. (The quote appears in Nature's Music Box, a 50th anniversary book published by the Stern Grove Festival Association in 1987.)
In 1931, Stern purchased the 14-acre property for $50,000 from George Greene. She dedicated the valley to the city as a lasting memorial to her late husband, requiring that it be used for admission-free recreation and cultural activities, including "music, dramatics and pageantry." The plan was a perfect fit for the space: amidst the tall trees, the valley formed a natural amphitheater, with superior acoustics. 
Sigmund Stern Recreation Grove was dedicated on June 4, 1932 with great fanfare and a program of multi-cultural music, including a classical youth symphony and folk dancing. In 1938, Stern Grove's first Midsummer Music Festival was launched, with 12 free shows over three months. It's an annual tradition that continues to this day.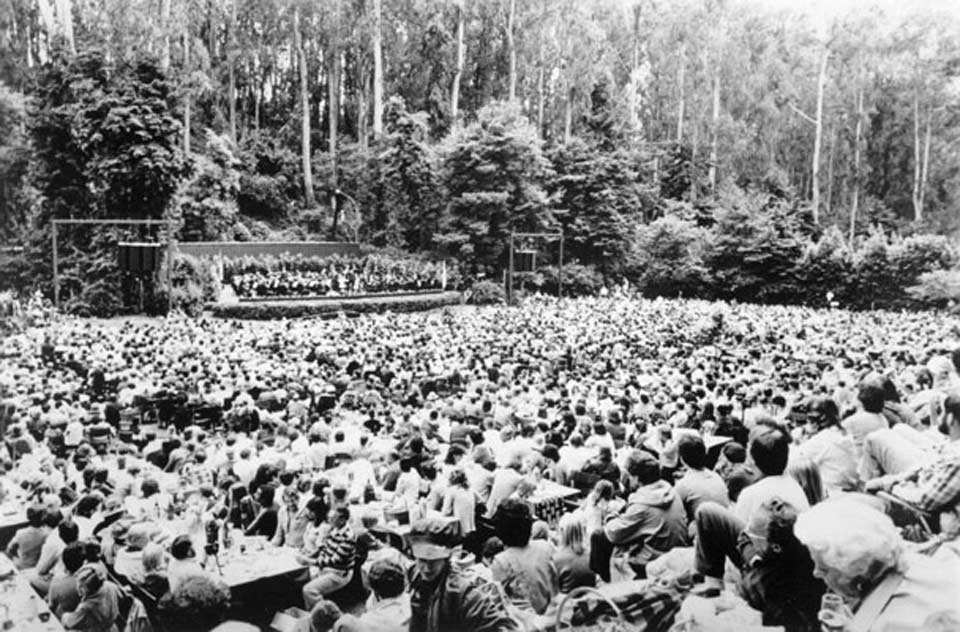 Crowd listening to a concert in Stern Grove. (Photo: Courtesy of San Francisco Public Library, History Center)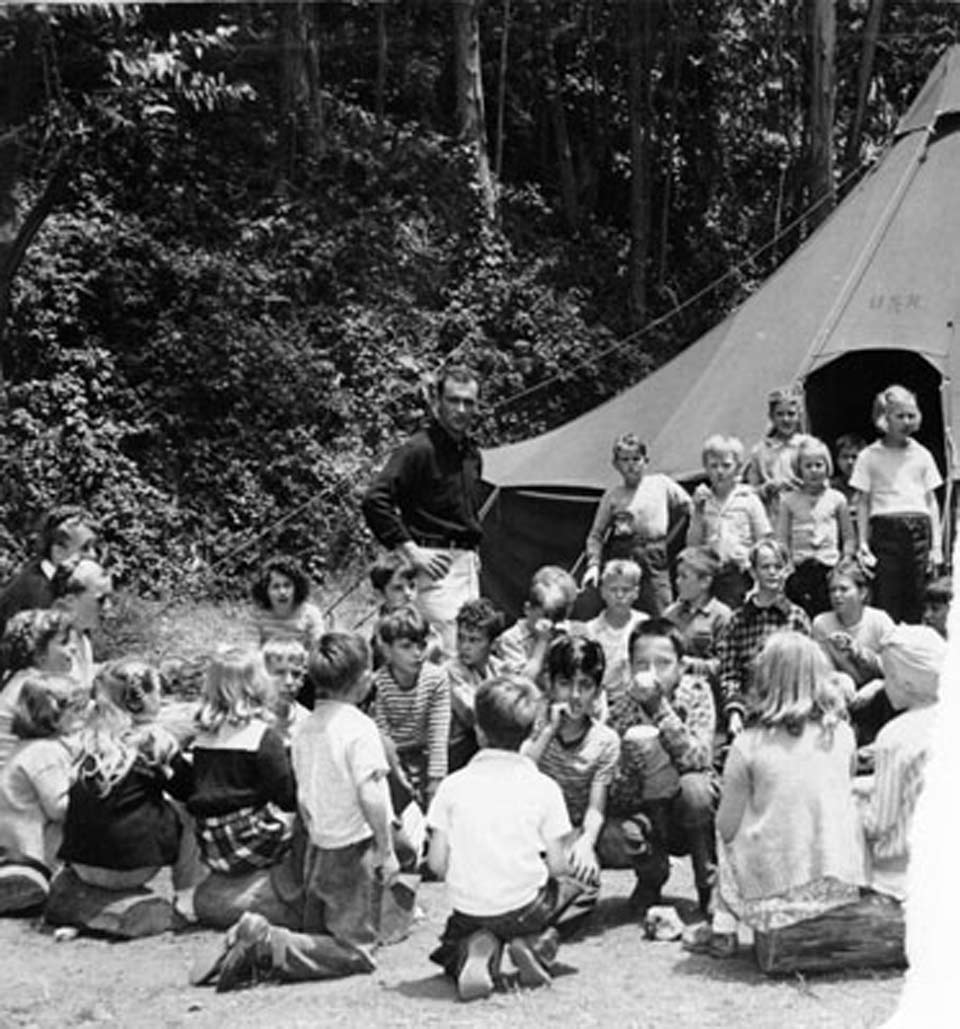 Children's camp activities in Stern Grove. (Photo: Courtesy of San Francisco Public Library, History Center)
Shortly after Mrs. Stern purchased the land, the house and grounds were renovated by a team of architects, including Bernard Maybeck, famous for creating the Palace of Fine Arts as part of the 1915 Panama-Pacific International Exposition. The Trocadero house still stands in the dell, and can be reserved for special events.
Over the next five years, the city purchased even more land adjacent to the grove, including Pine Lake. Eventually, the park grew to its current size of 63 acres, within the boundaries of 19th Avenue, Sloat Boulevard, 34th Avenue and Wawona Street.
Today, Sigmund Stern Grove and Pine Lake Park are owned and managed by the San Francisco Recreation and Parks Department. The nonprofit Stern Grove Festival Association, created in 1938, oversees performing arts events in the grove.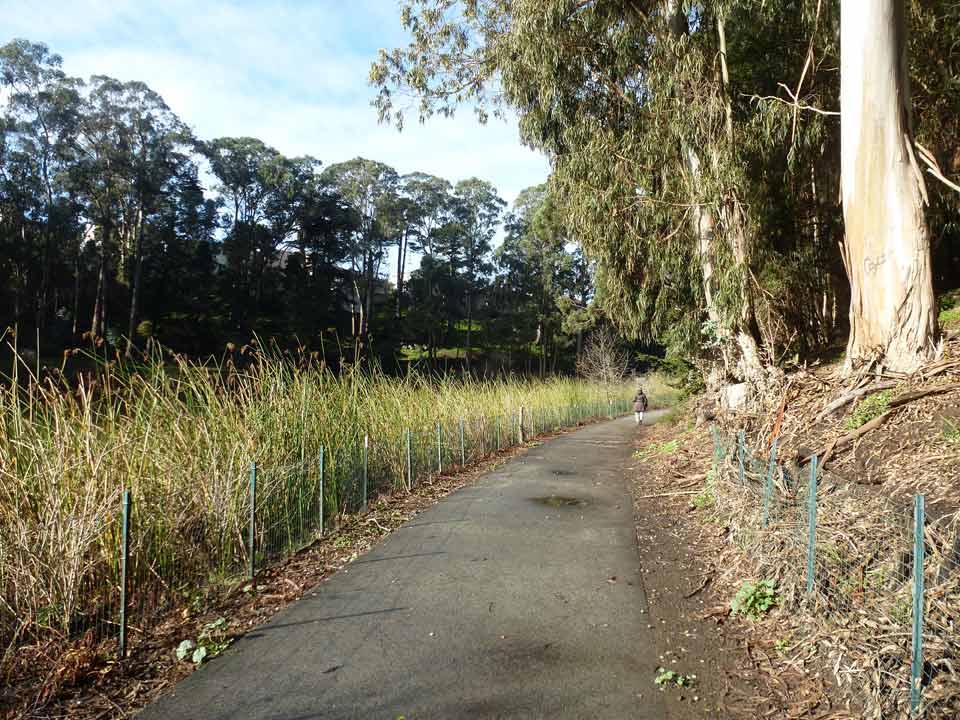 Walking on the Ridge Trail next to Pine Lake. (Photo: Laura Thompson/Hoodline)
Visiting the park today, 84 years after the land was opened to the public, the valley continues to invoke a strong sense of serenity. The Bay Area Ridge Trail snakes through both parks, winding along the edge of the lake and through the grove as part of its 550-mile span around the bay.
Brian, a local birder visiting the park recently, says that at this time of year, the park has a nice collection of local and seasonal birds. It's also a good place to see a banana slug in the woods, as two young explorers discovered on a recent wet winter day.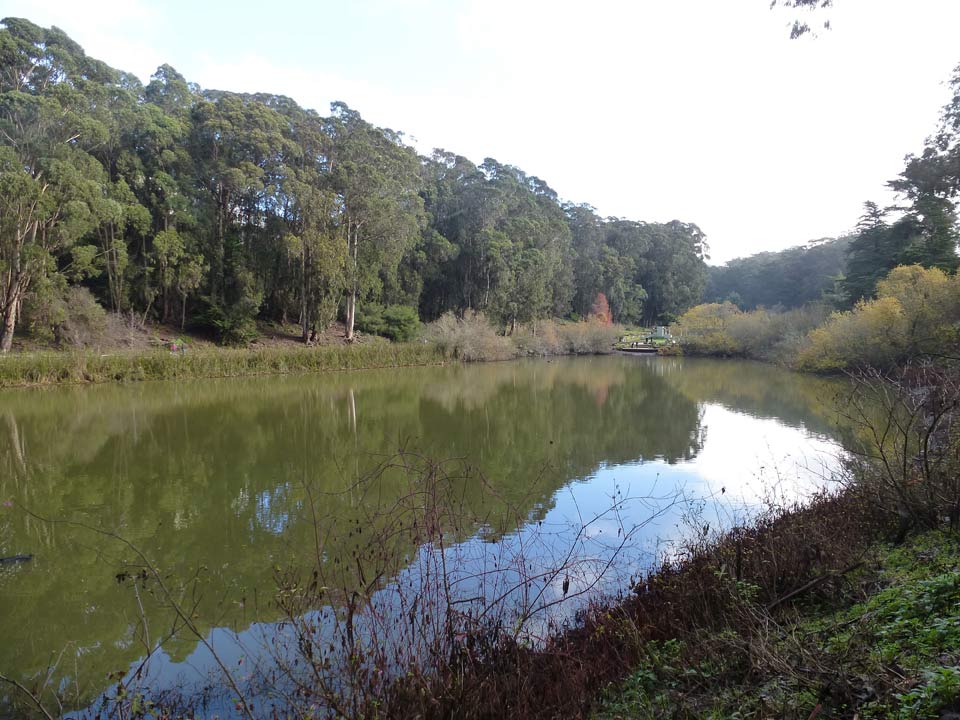 Pine Lake. (Photo: Laura Thompson/Hoodline)
The large meadow east of Pine Lake is open, for dogs to run off-leash. It's a regular meeting place for hounds and their owners, says Bernie, who lives nearby and has brought his dogs to the park for over 20 years. "First you get to know the dog, then their owner," he says.  
However, a series of recent coyote attacks on dogs in the park have raised concerns about safety, especially for small dogs. Warnings are posted in the park and by chihuahua owners on social media.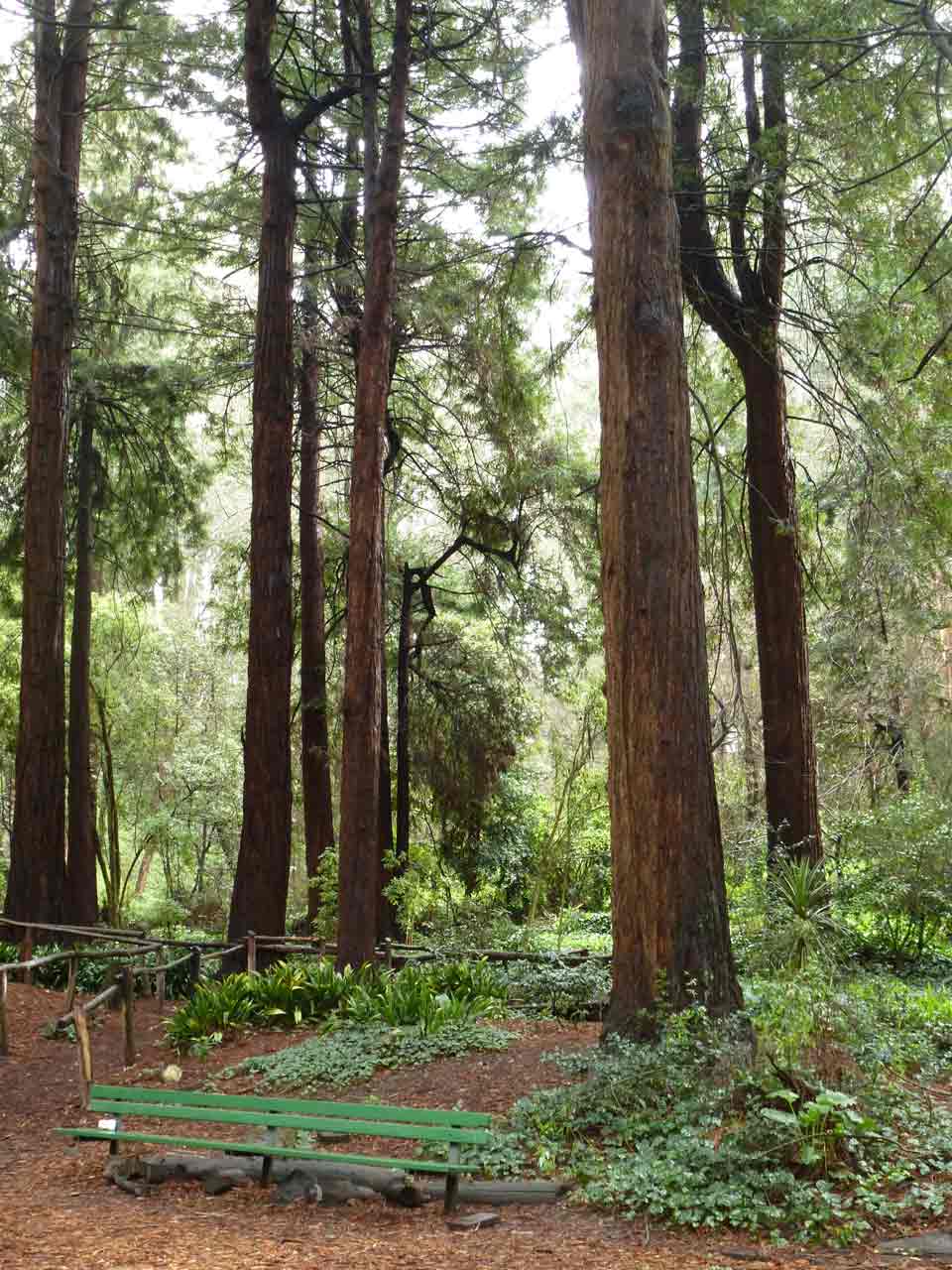 Stern Grove. (Photo: Laura Thompson/Hoodline)
Before the 2005 season opened, Stern Grove underwent a significant restoration, funded entirely by private donations. Designed by renowned landscape architect Lawrence Halprin, Stern Grove's new look includes terraced stonework seating, a new stage, improved access for the disabled, upgraded infrastructure and a new entry at Sloat Boulevard and 19th Avenue.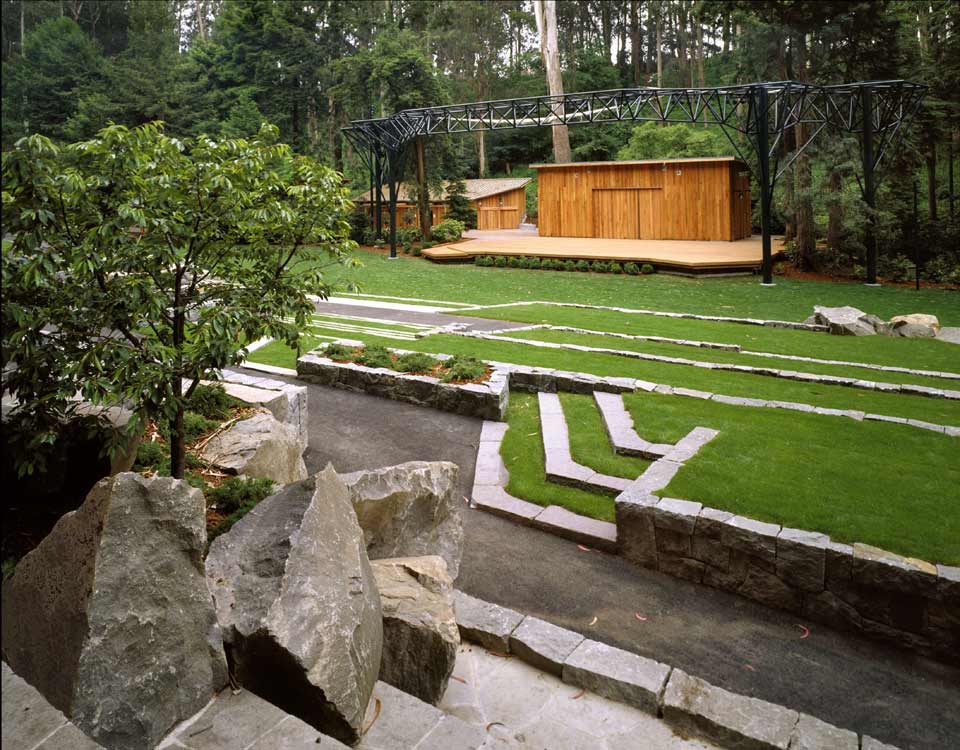 Stern Grove festival grounds. (Photo: Alan Geller)
The Stern Grove Festival Association told us that the festival has held over 800 concerts, attended by more than 6 million people, since it started in 1938. The musicians who've played at the festival include Lucinda Williams, Pete Seeger, Diana Krall, Talib Kweli, Los Lobos, Carlos Santana, and many more. The San Francisco Symphony is regularly featured there as well.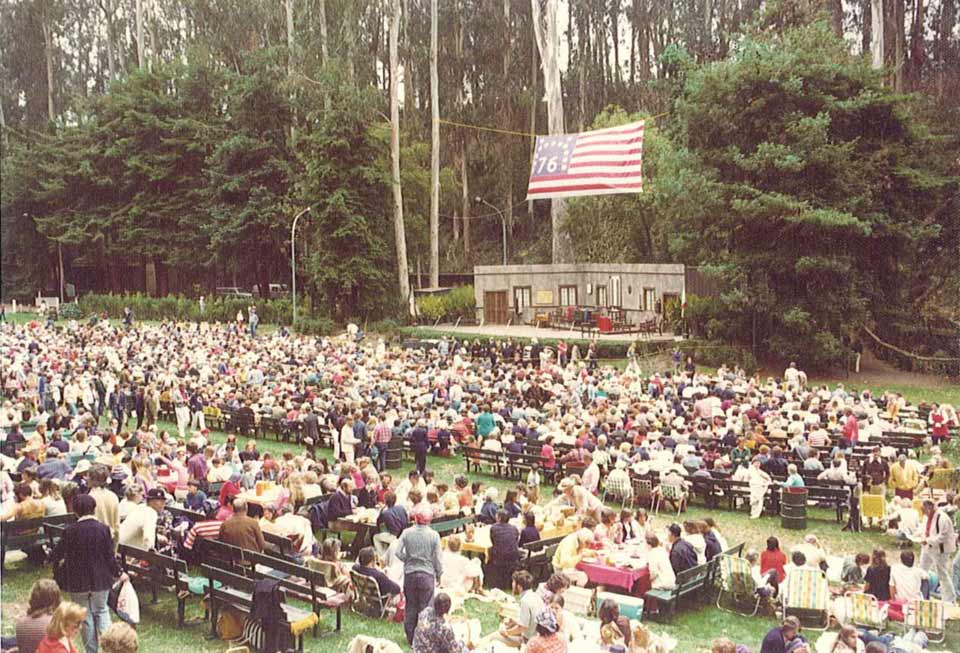 Stern Grove Music Festival, 1976. (Photo: Stern Grove Festival Association)
Patrons Ann and Bill describe Stern Grove as a unique concert experience. "You descend into such beautiful sheltering trees that form a natural concert hall where you are unaware of the noise of the city. Where better to sip California wines while enjoying the music?"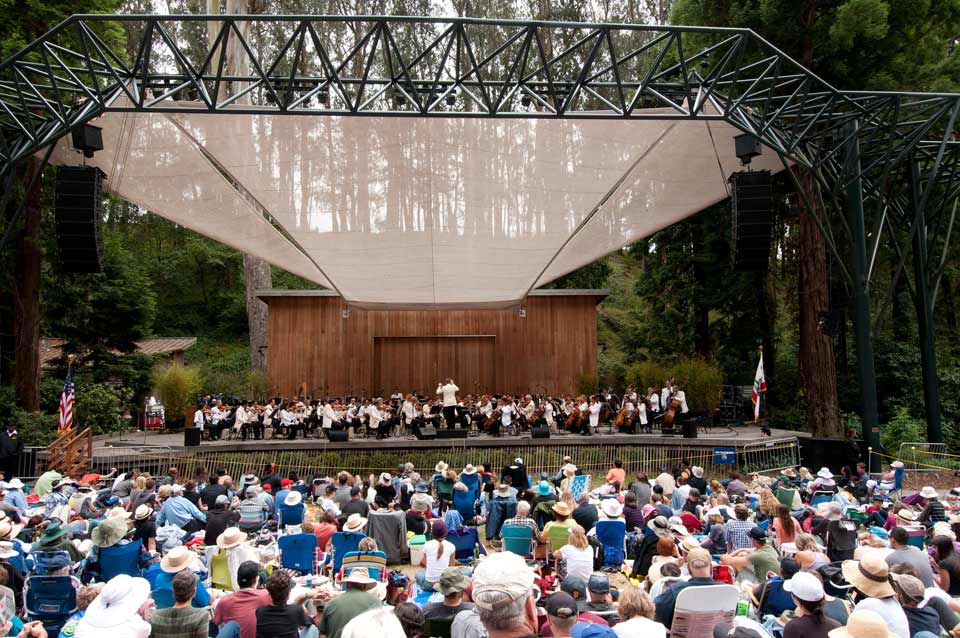 Stern Grove Music Festival, 78th season, San Francisco Symphony. (Photo: Scott Wall)
This year, the Stern Grove Festival will celebrate its 79th consecutive season of free performances, held every Sunday at 2pm from June 19th-August 21st. Janelle Monáe has already been announced as the performer for the first show of the season, and the rest of the lineup will be announced on May 1st at sterngrove.org.
Getting there: MUNI's 23-Monterey and 28-19th Avenue buses stop at 19th and Sloat, and the 29-Sunset bus stops at Sunset Blvd and Wawona Street, near the west entrance. The M-Ocean View and K-Ingleside trains stop at Sloat and Junipero Serra, a few blocks from the park.
A parking lot can be accessed from Vale Avenue off of Crestlake Drive, but during Stern Grove Festival days, parking is extremely limited. Concert-goers are encouraged to use public transportation.