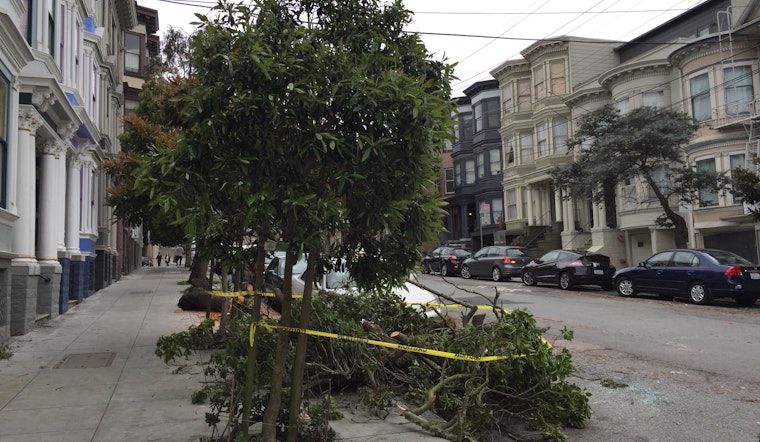 Published on March 07, 2016
After a month of dry weather, El Niño returned with a vengeance this weekend, complete with a flash flood watch. All in all, the storms drenched San Francisco with 2.37 inches of rain over the course of the weekend, according to the Chronicle, with as much as 10 inches in other parts of the Bay Area. 
That was bad news for the already beleaguered local street trees, many of them weakened by drought. Here are some of the fallen trunks and lost limbs seen around town as the wind and rain blew through. 
The most notable incident occurred in Presidio Heights on Friday afternoon, where a 30-foot tree came down on two cars and a 33-Ashbury bus. No one was injured: 
BREAKING: Large tree falls on cars, #Muni bus in Presidio Heights https://t.co/sker1lwjPK via @jonahowenlamb pic.twitter.com/6HaLYRq5A6

— SF Examiner (@sfexaminer) March 4, 2016
But there were lots of other trees downed around town, including this one blocking a sidewalk at 9th and Judah in the Inner Sunset on Sunday morning:
@SF311 Fallen tree in front of 1382 9th Ave. pic.twitter.com/siUlbrEfFo

— Akit (@AgentAkit) March 6, 2016
Golden Gate Park saw its share of downed limbs, as seen in the photos below, taken at the intersection of MLK Drive and Music Concourse Drive yesterday: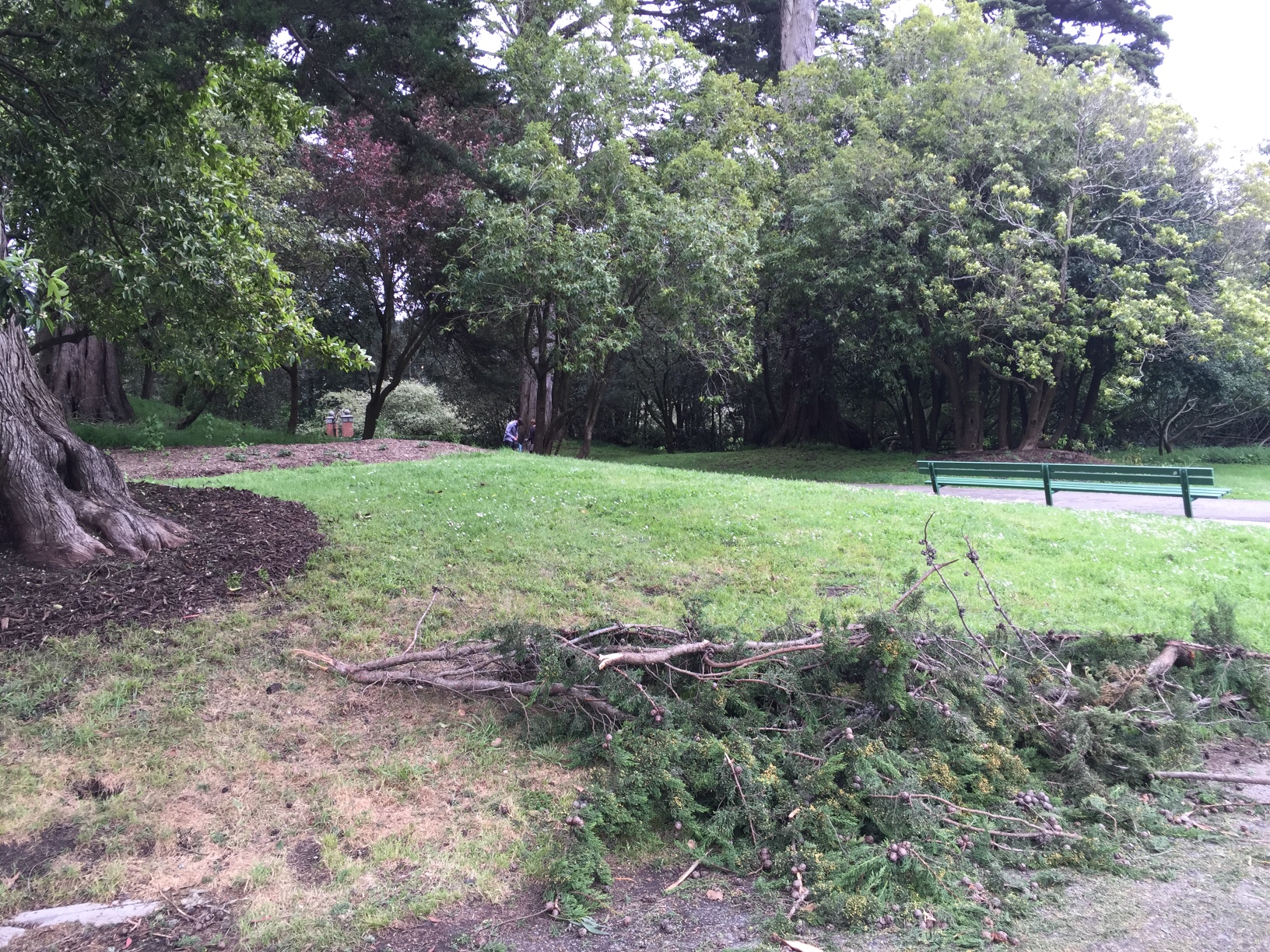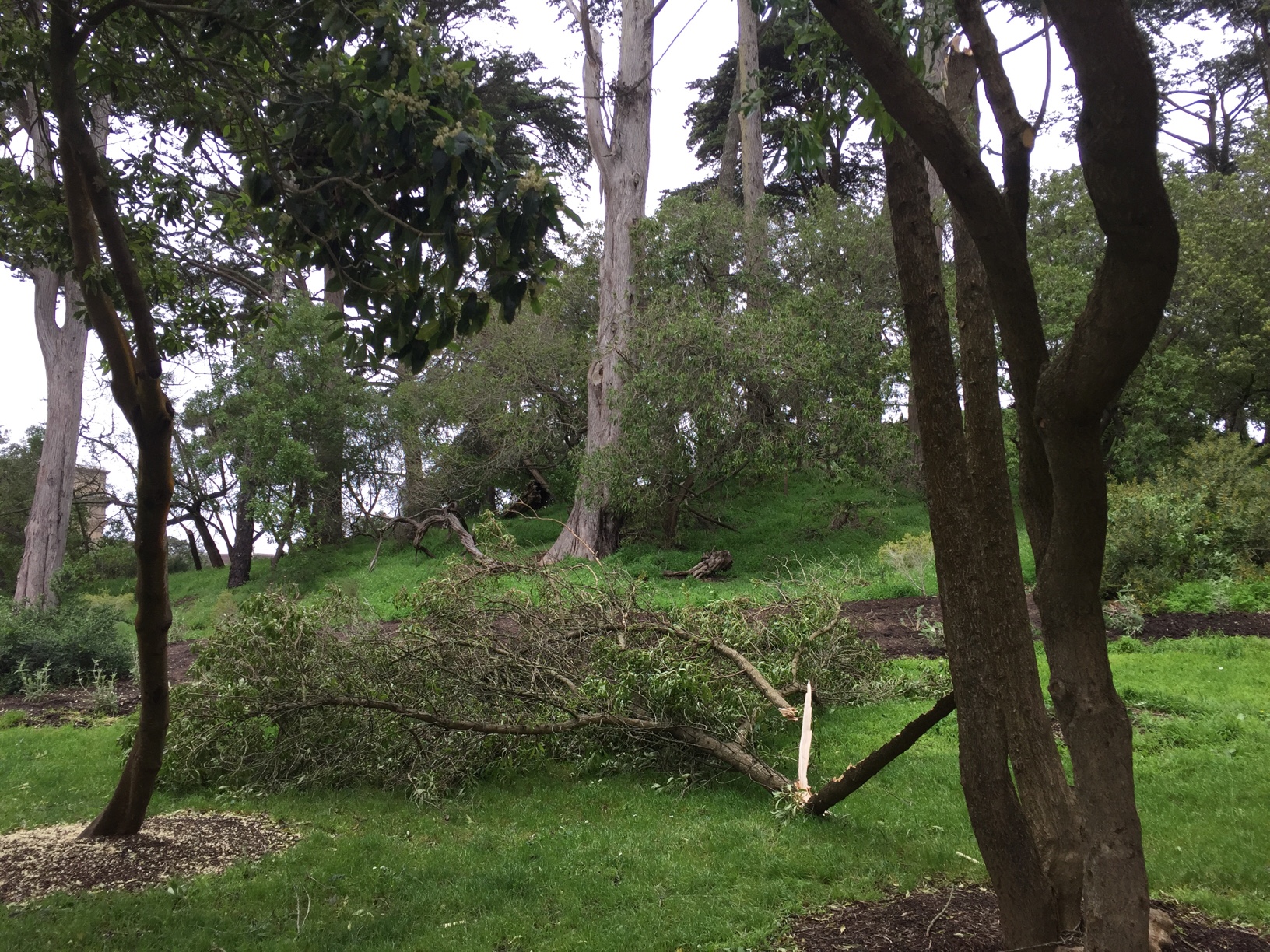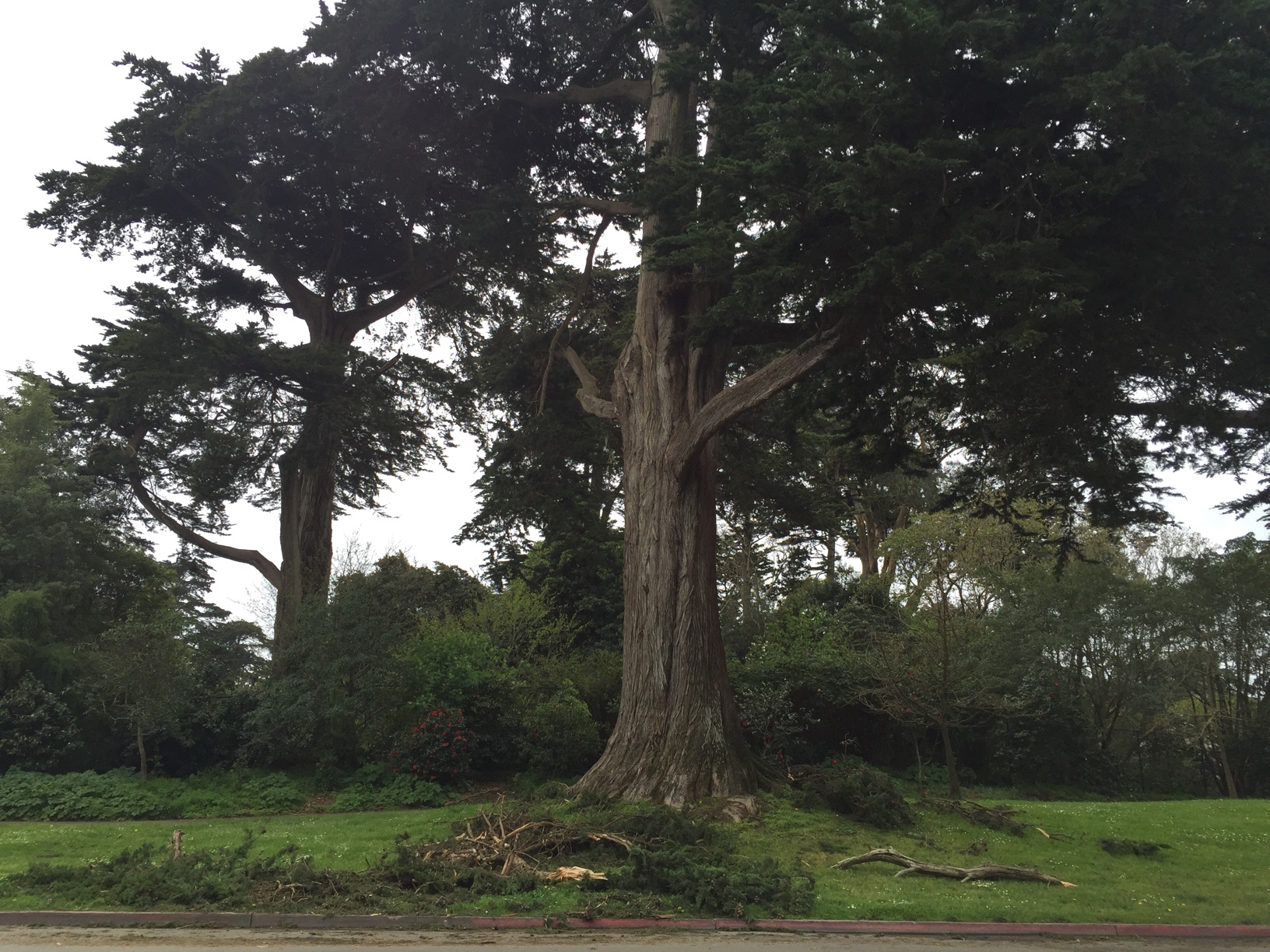 Photos: Geri Koeppel/Hoodline
Over in the Upper Haight, piles of fallen branches were amassing at Haight near Clayton on Sunday afternoon. (Update: A commenter says they were actually two fallen trees that had damaged parked cars, and were awaiting removal after they had been cut into pieces by work crews.)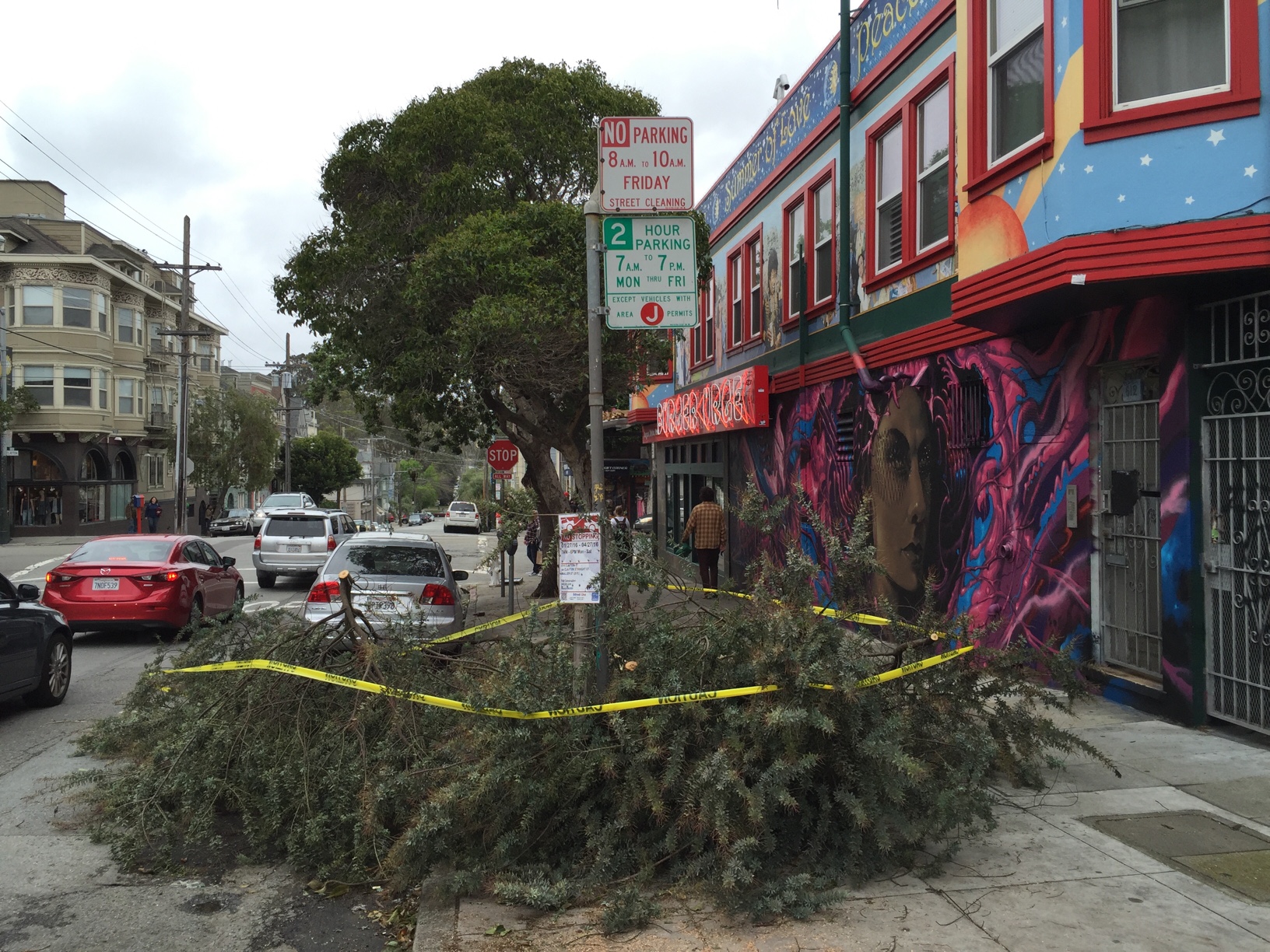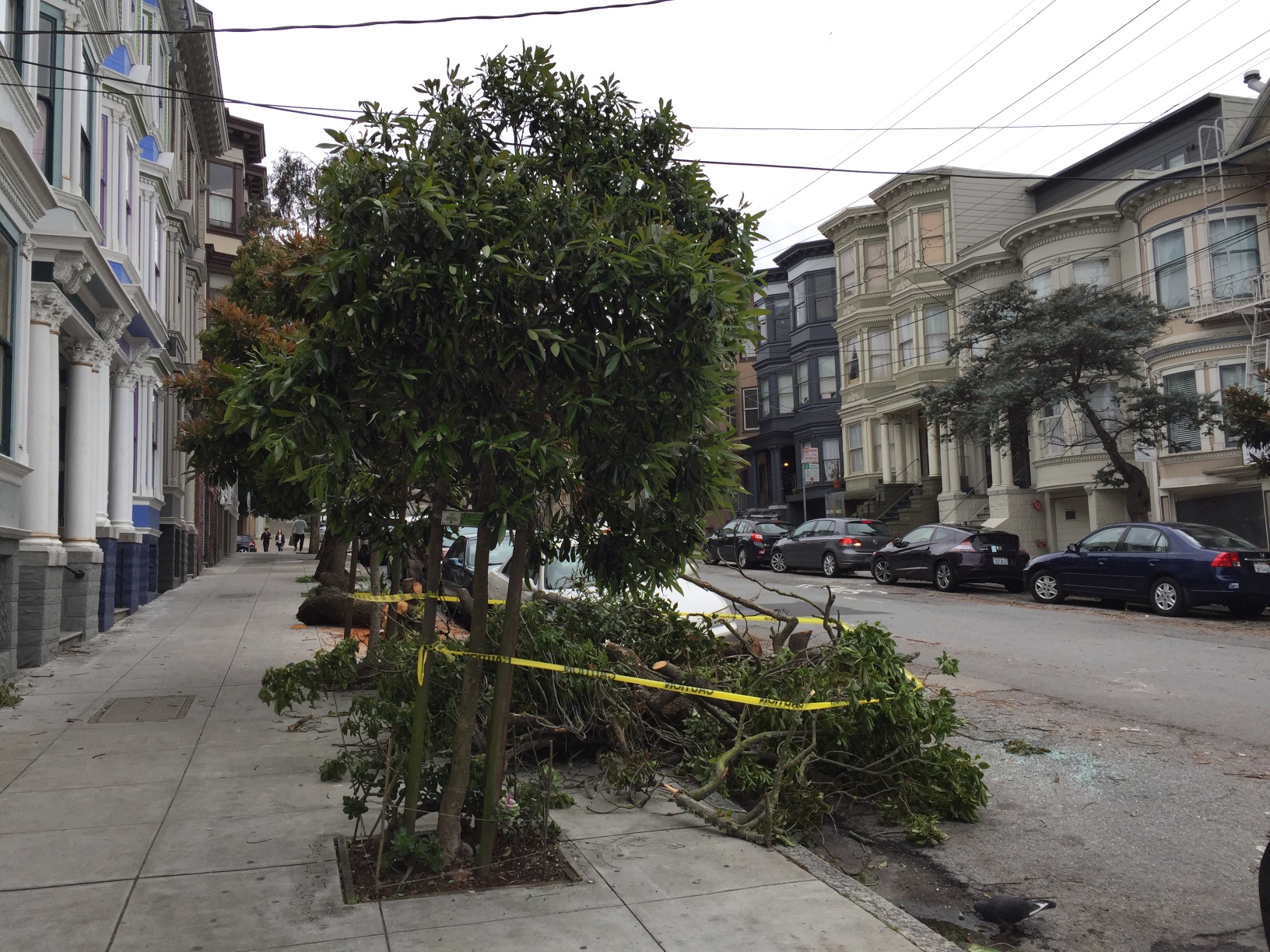 Photos: Geri Koeppel/Hoodline
Meanwhile, in NoPa, a tree went down in the street on Ashbury between Grove and Hayes, though the parked car beneath it luckily escaped damage. 
@SF311 Re: 5633135 (I called in Sat night), downed tree branch is in front of 143 Ashbury St, blocks half of road pic.twitter.com/jr7yjypdTj

— Jeremy F. Koo (@jfkooAN) March 6, 2016
Duboce Triangle saw two mature trees go down, which had to be removed with chainsaws: 
@hoodlinesf Second mature tree down in Duboce Triangle, across from L'Ardoise. SFFD on scene with chainsaws. Sad! pic.twitter.com/o6cJ7NX4Zs

— ReeD (@reedm) March 6, 2016
Finally, tipster Chris D. sent photos of two trees that fell in Golden Gate Park. The first was a massive eucalyptus that fell near the Big Rec Baseball Diamond around 4am this morning. "It took the flagpole with it," he said.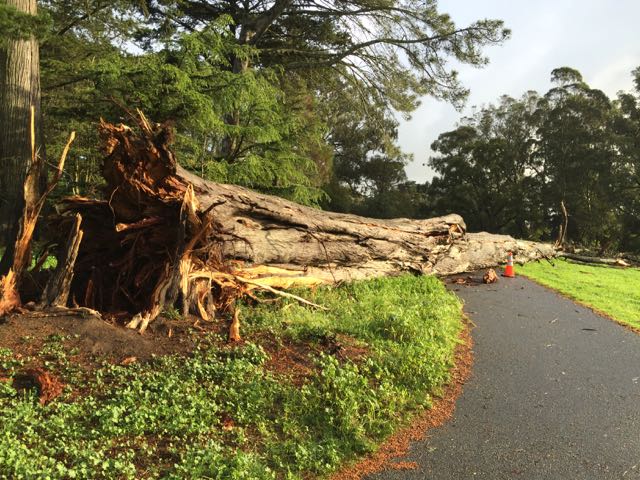 Photo: Chris D. 
Meanwhile, in Sharon Meadow, a large cyprus had also fallen.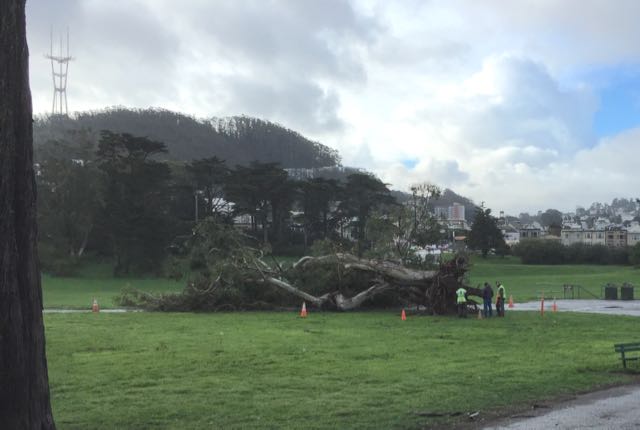 Photo: Chris D. 
Did you see any notably large or destructive tree falls in the city over the weekend? If so, send us a tip (photos are especially appreciated).