Two months ago, on the night that a three-alarm fire burned down two residences on Fulton Street, nearly no one was home. It was a Saturday, and most people were out—having a drink on Divis, wrapping up work at a piercing shop on Haight, or hanging out with significant others. Everyone who happened to be at home got out safely, including pets.
But as the concerned neighbors and passerby who had crowded the sidewalk to watch the fire slowly dispersed, the truth of their situation was still dawning on the 17 people who had lived in the buildings at 1563-1567 and 1571 Fulton.
As the fire raged, Clint Womack, a community organizer who has worked as an immigration paralegal, a children's outdoor educator, a manager for an after-school program in a homeless shelter, and a carpenter, remembers sitting with his housemates on the stoop of a friend who lived across the street. Together, they watched the water pouring out of their house as the smoke rose up off of it. "There wasn't anything we could do," he said. "We just sat there and sort of just huddled together."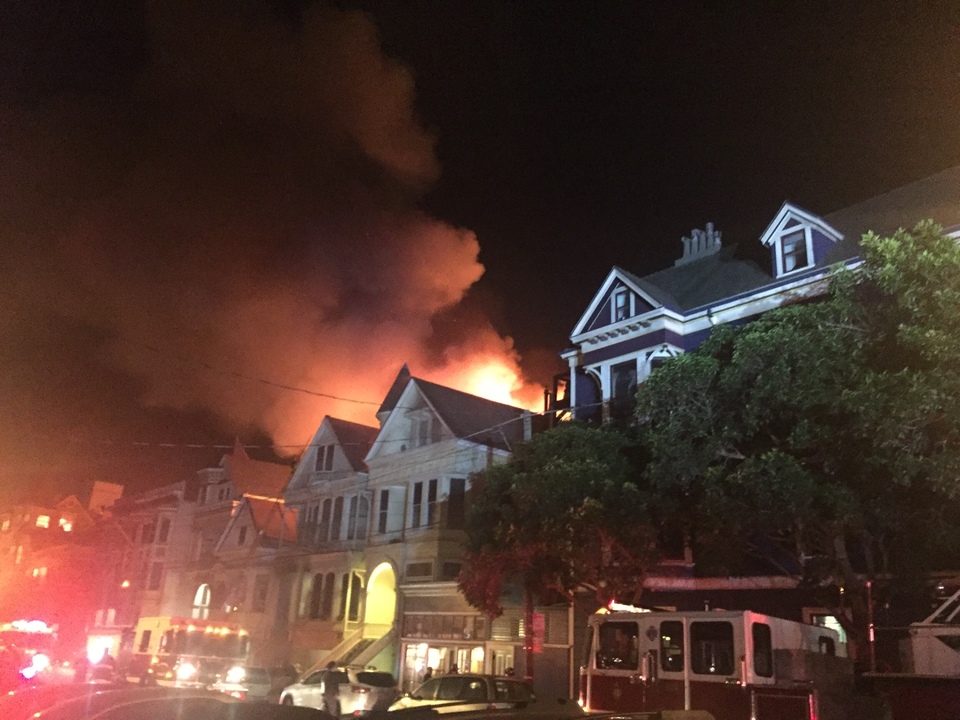 The February 13th fire on Fulton Street. (Photo: Nuala Sawyer/Hoodline)
In the past 10 years, 2,654 fires have impacted 31,000 units in the city. And when they occur, there isn't a lot the city can do for displaced tenants. Those who have rent control have the right to return once the building's rebuilt, but in the meantime, they're required to find another place—which prices many of them out of the city.
The Good Samaritan law, which allows landlords to temporarily rent their units below market rate, is, theoretically, one solution to this problem, allowing tenants affordable housing while their pre-disaster units are being repaired. But it is seldom practiced—which makes sense, considering it's an opt-in program. (We reached out to the Human Services Agency to see how many times the Good Samaritan law has been used, but did not receive a response by this story's deadline.)
Instead, in the wake of a fire, most help comes from the community—friends, neighborhood associations, the Red Cross, and similar groups. A GoFundMe page set up by Womack and his six housemates at 1571 Fulton, known as the "Sunshine Castle," raised almost $18,000; those in the house next door set up similar pages. NOPNA raised $3,000 for the fire victims, and friends gave them places to stay and donated bedding, clothing, and more.
"Boy, do I know what community means now. That's what I tell people," said Womack with a rueful laugh. "I had been a community organizer for six years! But I had no idea what community meant until my house burnt down. And I am so, so very thankful to have the community."
Community had been the main premise of the Sunshine Castle, the house Womack lived in with six other people. Roughly seven years prior, Womack had left San Francisco to travel for a few months and find some headspace after a breakup. "I did a lot of mushrooms that summer," he said. "Like every other weekend. And did a lot of biking and baking bread and brewing beer. And it really grounded me," he said. 
After what he calls a "yuppier time" right out of college, Womack made the decision to change his lifestyle, focusing on permaculture and urban homesteading. Within his first month back in the city, he met Morgan Fitzgibbons, who had just finished his master's in Philosophy, Cosmology, and Consciousness at the California Institute of Integral Studies. They discovered they both wanted to build community, and according to Womack, "Pretty much, that was it. It was that one conversation."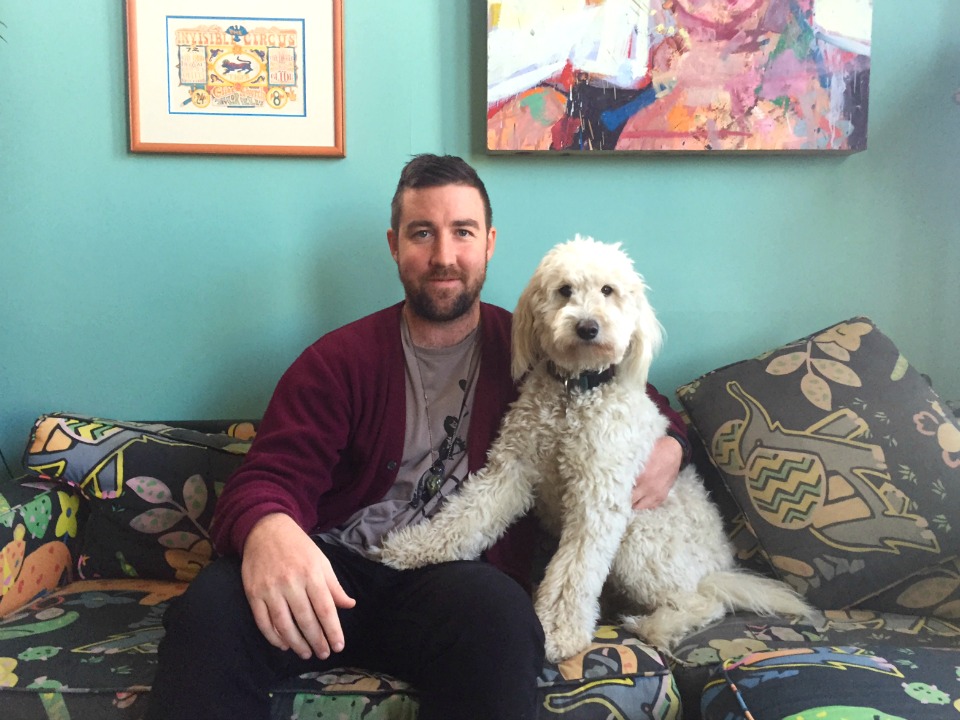 Morgan Fitzgibbons. (Photo: Nuala Sawyer/Hoodline)
They moved into the Sunshine Castle together with other friends who wanted a bigger co-working space. Within a month of signing the lease, they held their first Wigg Party get-together.
The mission of the Wigg Party was to build community along the Wiggle bicycle route. Not limited to members of the household, the organization has given free dinners and food giveaways, produced the Urban Eating League, and promoted the Wiggle for both cyclists and pedestrians (they've "refereed" the route for bad bicycling behavior and organized a "stop-in" when Park Station Captain John Sanford Jr. began issuing citations to cyclists for rolling through stop signs).
Fitzgibbons and a few others also started the NOW! Festival, which invites people to reimagine the Panhandle by organizing classes, performances, and installations. The next NOW! Festival is around the corner: April 16th-22nd. 
"It's another example of a program that came out of that house and that community of people," said Womack of NOW! "And that, luckily, has lived on. Which feels good—to have some things survive."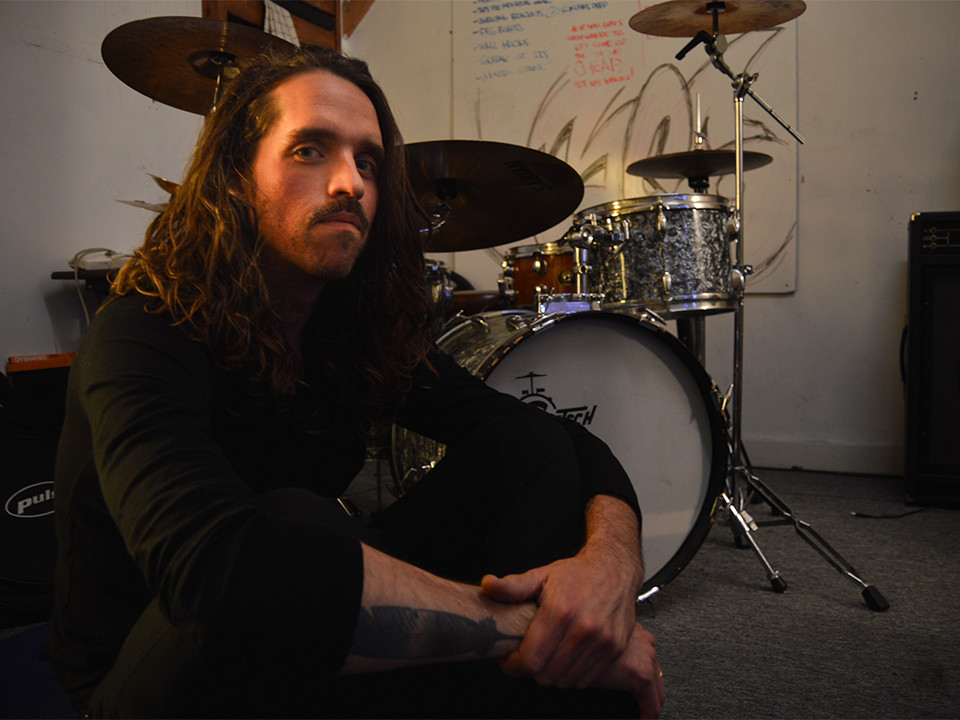 Joseph Macrino in his music studio.
Multi-instrumentalist Joseph Macrino, who lived in the house next door to the Sunshine Castle, has played in a number of local bands, including Wild Eyes and Zodiac Death Valley. He's now finishing a solo project called We Are In Constant Motion.
According to Macrino, dance-fusion collective Afrolicious used to live in his building. His apartment still had a piano, and what Macrino calls "a really funky San Francisco vibe you don't see a lot of anymore."
But the main thing Macrino misses after the fire are the people in his house and in the Sunshine Castle next door—and the stoop where they would all pass the time. "We're all going to get 'stoop life' tattoos," he laughed. "Right on our kneecaps, so we can see it when we're sitting out there. Now it'll probably have to be a picture of a stoop on fire."
After watching the smoldering husk of his building from the stoop across the street, Womack and his roommates all stayed in the living room of a good friend. "It felt surprising," said Womack. "I thought that what I would want after a fire would be some quiet and peace … but that's not at all what we wanted." He remembered one night in the aftermath of the fire, when six of the housemates all laid down together on a double futon pad and slept side by side. "Because nobody wanted to go. Going gave up the one thing that we had built the whole time, which was that community of friends."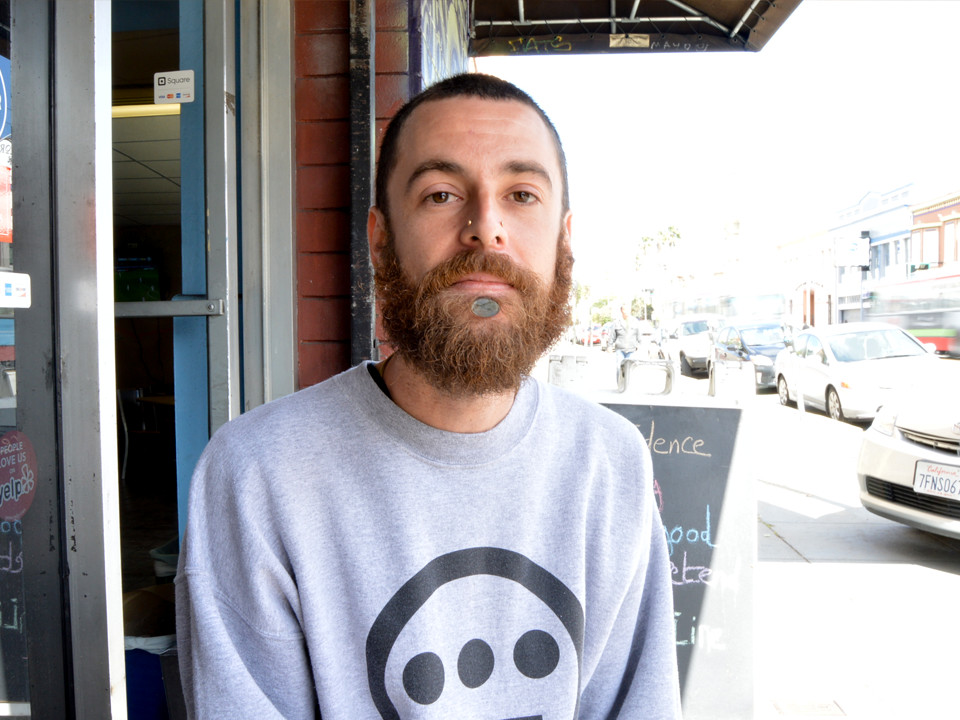 Joey Rosenlof in the Mission, where he is now staying with his girlfriend.
Joey Rosenlof, a lapidary who also lived in the Sunshine Castle, remembered the toll the fire took on people's health. "I think this sort of brought out the sickness in everybody," he said. "Everybody pretty much came down with a cold afterward, and I still have dreams about the fire." 
Womack has also mentioned difficulty sleeping since the fire. "I obviously knew that something like this would be traumatic and hard, but when it actually happened, I had no capacity to function. I was drinking too much. I didn't eat at all, I was rarely thinking."
Since then, he's come to see his reaction as a kind of grieving process. "When you have a parent or loved one who's passed away, the people who are really helpful are the ones who just show up, cook a meal, and serve it to you. Because you're kind of so dysfunctional that you don't know what you need or want."
A major reason for mourning is that the chances of finding a comparable space are low. Fitzgibbons had already said goodbye to SF two months before the fire, moving back to his hometown in Ohio.
Womack remembers the Urban Eating Club that doubled as Fitzgibbons' send-off as the best event the Sunshine Castle had ever thrown. The theme was utopia and dystopia, and the Sunshine Castle was transformed into a Garden of Eden, flush with foliage stolen from the Panhandle and housemates dressed as frolicking animals. After an idyllic meal of ribs and apple crumble, the guests were sent down the back stairs to the dystopic world below.
Before he left, Fitzgibbons told us the cost of living was a huge factor in his departure. "The reality is, you cannot have people continuing to create these things if you don't pay them, in a place where it's insanely expensive."
Macrino agrees. "The gap between the price of rent and the culture you get for it—in terms of art and music and food—has widened," he said. "For a long time, I really loved meeting all of the weirdos that moved here. The weirdos aren't here anymore. The weirdos are getting burned out."
Macrino's amp (above) and some of Rosenlof's tools survived the fire, though Rosenlof says his tools are covered in rust from water damage "and need some serious TLC."
Rosenlof, who is now looking for a new place with his two dogs, a 120-pound American bulldog and a 12-pound "chiweenie," faces an additional challenge because his home also served as the workshop where he made his custom stone jewelry.
"Between the time I moved into the house and when I left, a lot changed," he said. "A lot of artists are moving. Collectives like this are disappearing—monthly. There used to be so many more." But he says he's still optimistic that he'll find something else in the city.
Womack, on the other hand, had already been to two dozen open houses in Oakland in the two weeks before we spoke. "I hope that with a little intentionality, I can find a place where I'll be really happy," he said. "And where I won't have to move from again anytime soon."