Several hot topics for our Hayes Valley readers pop up time and time again in comments, tips and emails. How can we work on homeless issues in the neighborhood? What's the plan with all of these developments? How many neighborhood rental units are being lost to Airbnb? And where can I park my car?
In response, we've reached out to a local expert: Gail Baugh, the president of the Hayes Valley Neighborhood Association (HVNA). Baugh has lived on the corner of Hayes and Buchanan since 2003, and in that time, she's helped develop the Market & Octavia Area Plan, working closely with developers, planning, residents and community groups.
We sat down with Baugh to discuss some of the aforementioned hot topics, and what the HVNA is doing to make the neighborhood a safer, livable and more inclusive place. 
From the beginning, HVNA has worked very closely with developers who have projects in the neighborhood. How was this relationship created, and how is it maintained?
Our group is all about inclusiveness. We welcome and embrace development at HVNA. But developers have to be honest and transparent with us, and we will work with them in return. If they break that trust—and we have two cases where that is happening—that's not good. We have to make sure they do what they promised.
As a guide for the neighborhood, we have the Market-Octavia plan, which we helped create when the freeway came down. We knew that if we didn't have a comprehensive plan, it would be bunker-to-bunker like World War I—in the trenches, battling developments block-by-block. By having a reference point, we can apply our values to developments going forward.
One of our biggest strengths is that through years of experience, HVNA really knows our stuff, and we make it our business to educate the new board members. If we don't do that, then the collective memory goes away. That's why it's so important to remember the freeway that was here. 
What's HVNA's action plan regarding affordable developments in the neighborhood?
We're actually having a board meeting in May about this. We're a 501(c)4 organization, which means we can take political stances—and that's exactly what we do. We will weigh in on it.
But there are some things that still have to happen with public policy. The Planning Department needs to develop the criteria by which they're going to determine, on an ongoing basis, what affordability means. The definition has to change, that's for sure. What London Breed did was make sure that 40 percent of all available BMR units will go to people in the neighborhood—and that was an important step.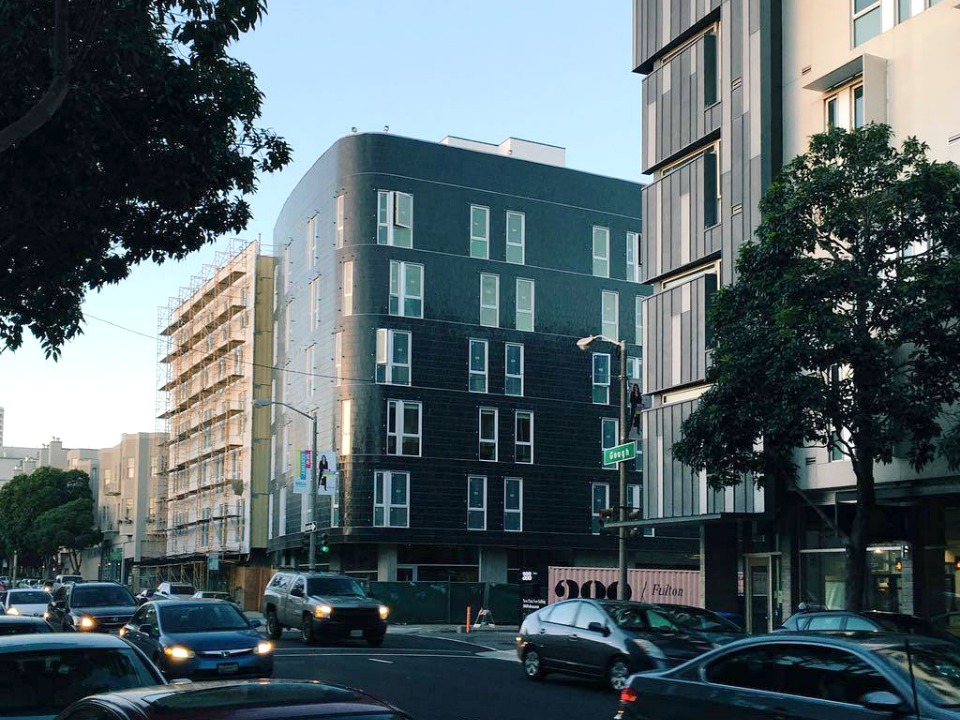 Newly-built 388 Fulton St, which has zero parking spots. (Photo: 388 Fulton)
HVNA has taken a stance in opposition to parking in new developments. How do you feel that this benefits the neighborhood? 
We are at car capacity, and it's a walking-friendly neighborhood with great transit. Right now, a big topic is the Market Street Hub, with the upcoming Van Ness buildings. If you're going to build 4,000 units in that transit-rich area, you don't need even one private parking space. If Planning allows the Hub to have any parking spaces for its tenants, it's a complete mistake.
When the developer for the Flax site stood up and said "A site without parking is still 20 years away," I emailed the developer and said, "Let me tell you about developments around you that have zero parking." For example, 388 Fulton said they have no problems at all selling their units, despite the fact that they have no parking.
The need for parking is a mentality brought in by developers who were raised in the suburbs. In the central part of the city, it makes no sense. 
What about the struggles residents are having finding street parking? 
Get rid of your car if you're going to live here. Having a car in the central part of the city is a luxury. If someone wants a car, then have one, but understand what you're going to be dealing with. Don't come to this neighborhood with the expectation that you're going to be able to have a car. 
For those residents who've lived here a long time and used to be able to find parking easily: I'm sorry. That must be tough. But maybe it's time to question why you have a car, and decide if you really need one.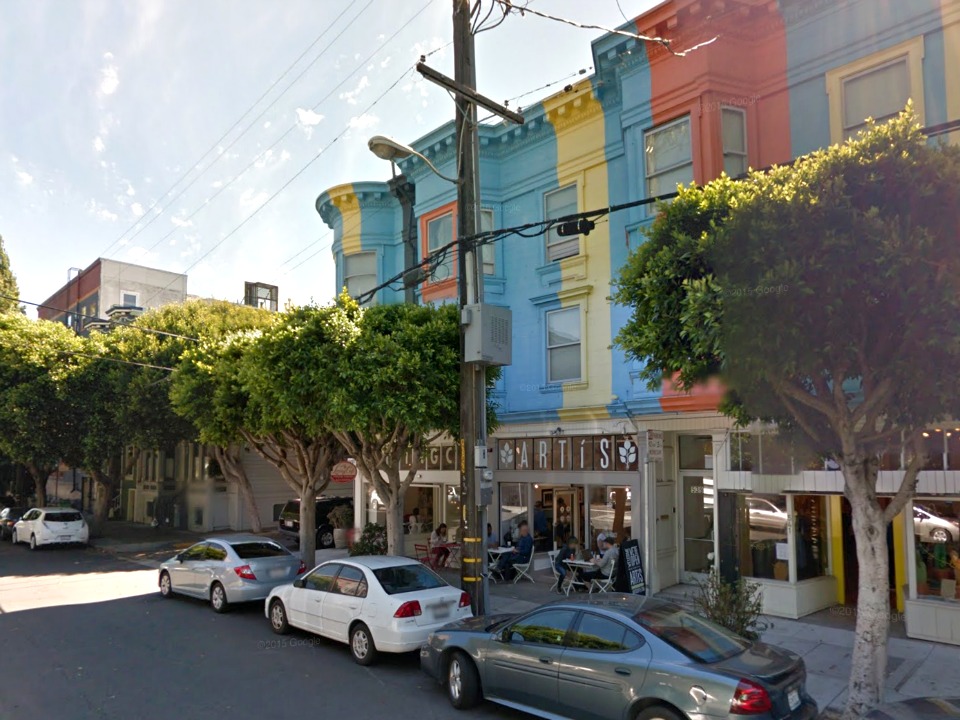 Cars parked outside Loving Cup and Artís Coffee on Grove Street, where a new parklet is proposed. (Photo: Google)
Airbnb is a big citywide issue right now, and there are a lot of rental units listed in Hayes Valley. Is HVNA doing anything to address illegal units in the neighborhood?
We had Airbnb come to a recent meeting, but they've taken the stance of refusing to manage any of their listings. Their excuse is that they're just a platform, which is true. But the issue in our neighborhood is that there are a large number of rental units which have been taken off the market, being used exclusively for short-term rentals. Airbnb is refusing to manage these. 
I see nothing wrong with Airbnb as a company, but when you decide not to be responsible for the listings on your site, it's like an automobile company refusing responsibility for airbags that blow up in your face. There needs to be some ownership of what you do. 

I've asked to meet with their public policy department, so I can fully understand how it's possible that they cannot manage a certain region's inventory, to determine if that particular posting is registered with the city or not.
HVNA is creating a "what to do" cheat sheet for the neighborhood to use when they suspect the presence of an unregistered unit. That should be finished soon. 
The issue of homeless people in the neighborhood frequently comes up at HVNA public safety meetings. What is your perspective on this group of people residing or hanging out in the neighborhood?
The value of inclusiveness, and not exclusiveness, is a key part of HVNA. That means developers, new people coming in to the city, homeless people, tourists. The idea that we all belong here means then that we all have a role to play here. It isn't about looking away from homelessness, it's about asking "Can I help you?" 

When I ask homeless folks "Do you need help?" it doesn't register at first. Often I'll say "I'll come back," and then I'll check in later. It changes the relationship, because instead of feeling invisible, they know that you see them—and their behavior changes. 
Rather than saying "You don't belong here," I'd like to change the dialogue to "Do you need any help?" You have to do it from a safe distance, and use your judgment. If you look away, that means they're invisible, and so they feel like they can do anything they want. If you say hello and make eye contact, even that changes the relationship. 
Respect is an important part of this. It's not about judging people, it's about making sure that they respect their environment, by not leaving needles or broken glass around. If it becomes "we vs. them," then it's never going to work out.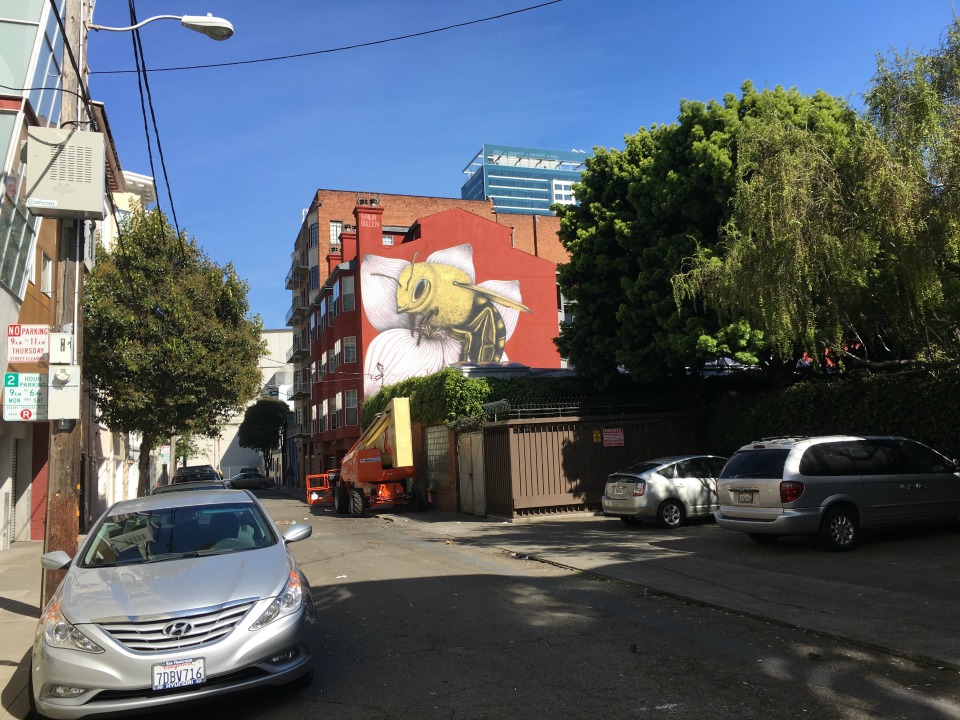 A potential site for a living alley on Ivy Street. (Photo: Ben Zotto/Hoodline)
Walkability and community spaces are big element of the long-term plan for Hayes Valley. How does HVNA's work to create "living alleys" contribute to these goals?
On a very basic level, it's about "What makes it feel good here?" The greening piece is the last piece of the Market-Octavia Plan that has yet to be fully developed. It's a tricky one, as the city has put the responsibility on the neighborhood to fix alleys that don't feel good. That's why the April 19th meeting on Living Alleys is so important, because I'm asking other residents who've made alleys to meet their neighbors, and empower them to put something together. There's almost $2 million allotted for this purpose. 
Overall livability means creating spaces for everyone—families, play spaces, creative spaces, and diversity. And we want to bring new residents into the plan. We're doing a census program for empty tree wells to see what we should plant there, and we want to make a succession plan for old trees, especially the ficuses.
It's a new day. It's not a "get in your car and go places" situation anymore. It's about why someone wants to live in a neighborhood, and how we can make it livable. And all of that is really really important. 
The next general meeting at the Hayes Valley Neighborhood Association will be held on Thursday, April 28th, at the Hayes Valley Clubhouse on the corner of Hayes and Buchanan.