Behind the papered-over windows of 528 Divisadero, the former home of Ziryab and the temporary pop-up Tsk/Tsk has been a hive of activity—both online and off. As the space transforms into the much-anticipated bar and restaurant Horsefeather, a flurry of articles have been keeping tabs on the interior overhaul and food and cocktail menus. After a few delays, Horsefeather is finally set to open Monday this week, pending inspections and last-minute touches to the space.
Why all the fuss? Because Horsefeather will be the first full-blown solo project from Justin Lew and Ian Scalzo, who helped shape the craft cocktail movement via years of operations, design, and management work at Future Bars, the enormous bar group whose roster includes Bourbon & Branch and Local Edition.
But as the two took a break from renovation work to sit down in one of the few seats that was not still wrapped in packaging to talk about the bar, they seemed somewhat wary of the hype.
"We're basically just trying to create a nice environment for people to enjoy—all different demographics—and serve them really good things, with good service," said Lew, an Academy of Art grad who's largely responsible for the design of the bar. "Nothing magical; we're not trying to create an era or anything like that. There's no theme. We just tried to make it look like somewhere we wanted to spend all of our time," he said, laughing.
Both Lew and Scalzo have roots in the neighborhood—Scalzo lived off of Hayes when NoPa opened, and Lew, who remembers the Horsefeather space back when it sold hubcaps before becoming Ziryab, has been in the neighborhood for over a decade.
So when they saw the space open up, they jumped on it. Both were excited to be in the neighborhood, though Lew admitted the convenience of living a few blocks away comes with a downside—"I literally don't leave a 10-square-block radius pretty much ever. But it's rad."

They hope that the bar will fill a niche between Divisadero's super-approachable neighborhood bars, such as Waziema and Madrone, and higher-end places like Nopa. "We're trying to hit the middle ground, so people will feel just as comfortable coming here just to have a drink as they will to have a full dinner," said Scalzo, who's worked as a sommelier and beverage director.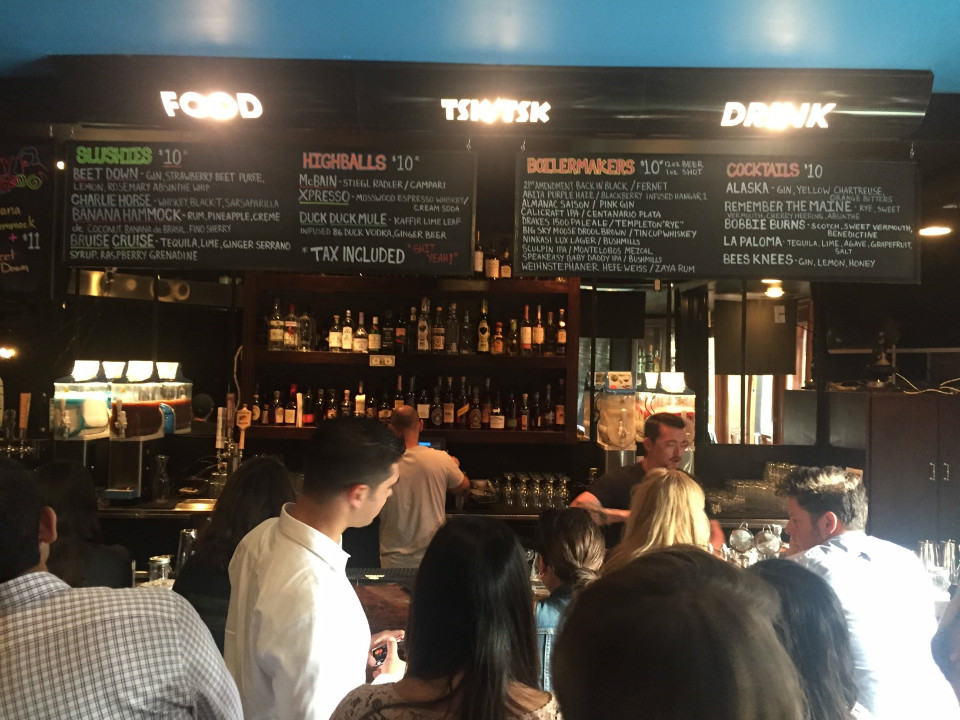 The crowd at Tsk/Tsk. (Photo: Stephen Jackson/Hoodline)
While they did the groundwork in preparation for the space's permanent reincarnation as Horsefeather, they kept it open as Tsk/Tsk, a slightly more lowbrow pop-up with boozy slushies and food from Bacon Bacon. Horsefeather will now feature shared plates from chef Ryan Chinchilla (Foreign Cinema), but they told Inside Scoop they might bring back the slushies come summertime. 
Tsk/Tsk also opened them up to the idea of serving brunch, which they started as a pop-up with Chinchilla in their final month of business. They found that brunch brought in more families during the day, and hope it will again. "We enjoyed actually having youth in here," said Lew. "It's a little bit refreshing."
Their favorite memory in the space thus far: Tsk/Tsk's closing party/"liquidation sale," which took place on New Year's Eve. There was no cover, the place was packed, and they poured Miller High Life—the champagne of beers—in a toast to 2016. (Scalzo wistfully recalled trying to build a champagne tower for the beer out of plastic coupes. "That didn't work.")
The best part? It was a night without consequences—people could carouse as they pleased, and there was no need to clean up the following morning. The aftermath would get taken care of with construction. And unlike most closing parties, which are sad affairs, theirs was a celebration of what was to come.   
"It all kind of lined up perfectly. It was a messy, messy, time," said Lew. "Lots of confetti that we're still finding everywhere. The confetti will never, ever go away."