Earlier this week, the SF Pride Board announced the Grand Marshals and other honorees for the 46th Annual San Francisco Pride Parade and celebration, to be held on Sunday June 26th, 2016. Through a process that included community input, SF Pride selected these individuals and groups "in order to honor the work they have put into furthering the causes of LGBT people."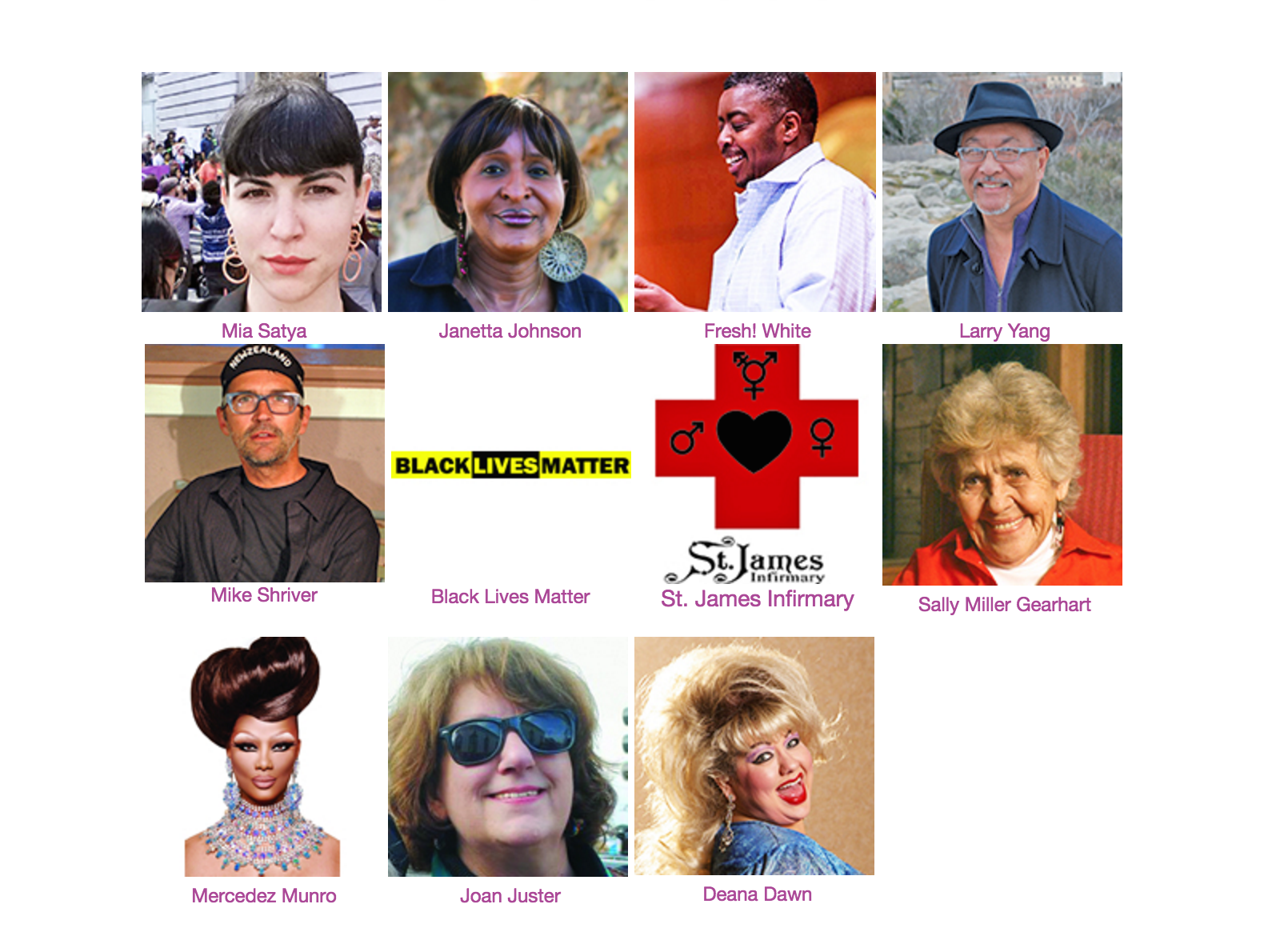 2016 San Francisco Pride Grand Marshals. (Image: San Francisco Pride)

This year's theme is "For Racial and Economic Justice," and in a release, the SF Pride board said honorees are "intended to illuminate our connected struggles, and ignite our obligation to address all forms of inequality." (Full disclosure: This reporter is a member of SF Pride.)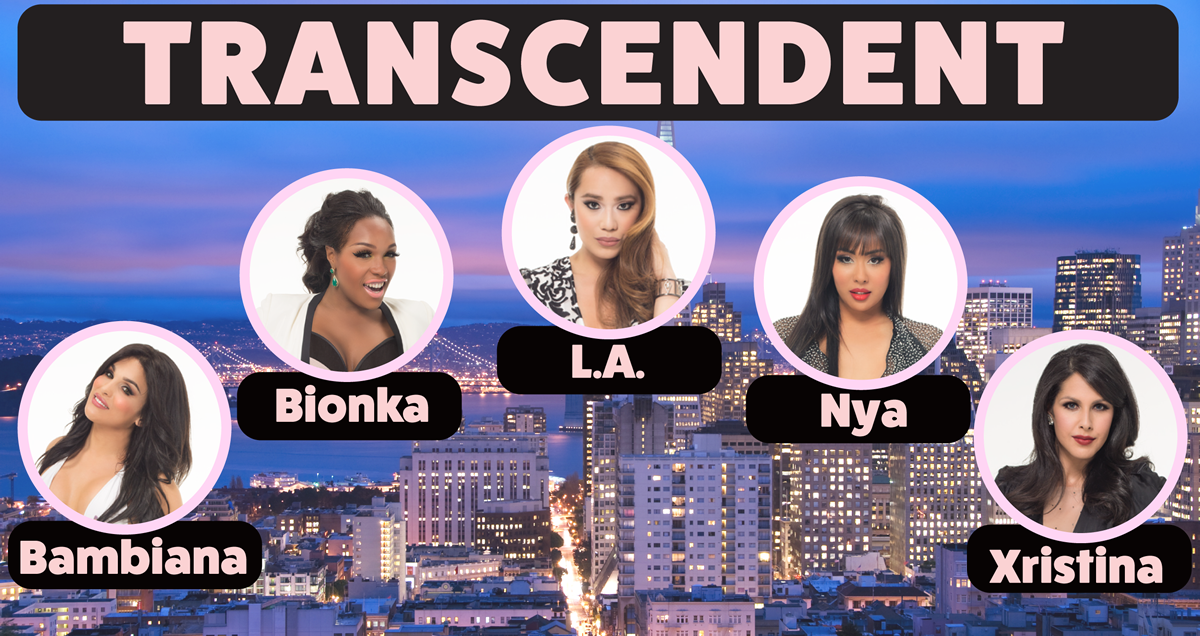 Cast of Transcendent. (Photo: San Francisco Pride/Facebook)
The parade's Celebrity Grand Marshals will be the cast of Transcendent, the Fuse docu-series that follows the lives of five transgender women who perform at the SoMa dinner and cabaret show AsiaSF. Bambiana, Bionka, LA, Nya and Xristina will all appear to highlight season two of the show, which premieres June 8th.
The Community Grand Marshals, chosen in a vote by the general public, include Fresh! White, founder of the Bay Area's first trans and genderqueer mindfulness and meditation center, and Mia "Tu Much" Satya, a community organizer focused on youth empowerment, economic justice, affordable housing, and LGBTQ+ liberation.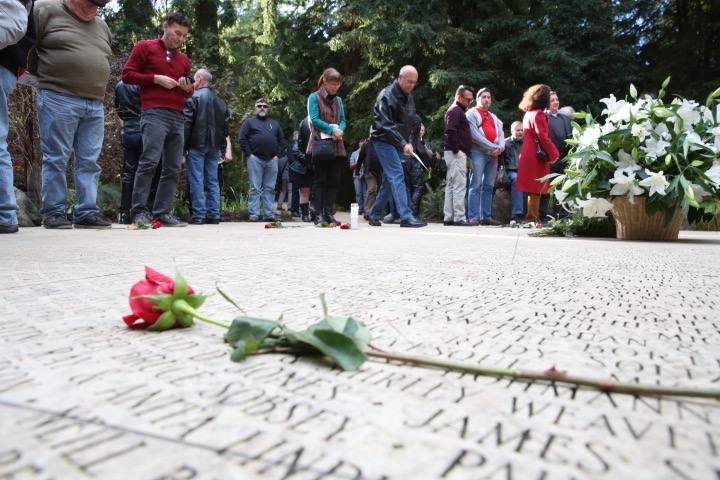 World AIDS Day 2015 at the National AIDS Memorial Grove. (Photo: National AIDS Memorial Grove/Facebook)
2016's Lifetime Achievement Award goes to Mike Shriver, for his nearly 30 years of work being "deeply involved in HIV/AIDS advocacy, activism, program development, organizational development and public policy." Shriver is currently the chair of the board of directors for the National AIDS Memorial Grove, and also served as co-chair for World AIDS Day from 2009-2011.
Two other Community Grand Marshals were announced in March: Larry Yang, an author and key player in the development of the East Bay Meditation Center and the Insight Community of the Desert, and Janetta Johnson, a transwoman, for her work as Executive Director of the Transgender Variant and Intersex Justice Project. 
In March, Black Lives Matter was also selected as the Organizational Community Grand Marshal, for its work rebuilding "the Black liberation movement and affirm the lives of all Black people, specifically Black women, queer and trans people, people who are differently abled, and those who are undocumented and formerly incarcerated."
Along with the Grand Marshal Awards, Pride announced the recipients of the Heritage of Pride Awards. The Pride Community Award went to St. James Infirmary, an Occupational Health and Safety Clinic run by and for sex workers. They provide "free services such as medical care, mental health care, HIV services, transgender healthcare, groups, education and outreach."
Joanie Luster was awarded the 10 Years of Service Award, for her work in "fundraising, event production and grassroots community organizing for programs fighting AIDS, breast cancer, poverty and social injustice."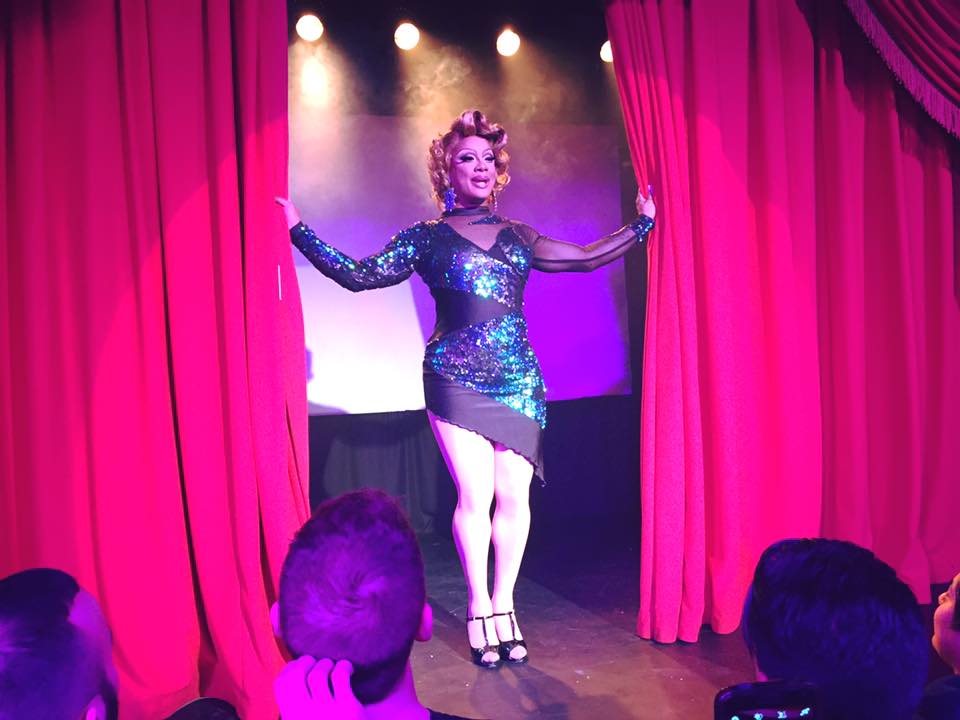 Mercedez Munro performing at a recent Mother. (Photo: Mercedez Munro/Facebook)
Mercedez Munro, a Castro resident since 2003, was selected for this year's Pride Creativity Award. A female impersonator, Munro is a former Miss Gay San Francisco, Miss Gay California and Miss Gay United States 2013. Munro describes her female impersonation as "old-school pageant drag that's clean and well put together, without error." You can see her perform next week at Lookout, as her monthly party MaryGORound celebrates its seventh anniversary. 
The Pride Freedom Award goes to "nationally renowned gay and lesbian activist" Sally Miller Gearheart. In 1973, Gearheart became the first open lesbian in the country to receive a tenure-track faculty position at San Francisco State University. Gearheart also fought alongside Harvey Milk in the battle to defeat Prop 6 (the Briggs Initiative), which sought to ban gays and lesbians from working in California public schools.
Stage personality Deana Dawn has received the Audrey Joseph LGBTQ Entertainment Award. Dawn has been a volunteer and worker at the HIV/AIDS charity store Under One Roof, and mentors youth by training them how to "command a stage and take on leadership roles as title-holders."
The 2016 recipient of the Pink Brick Award, given to an individual or organization that has done harm to the LGBT community, has not been announced yet. Other special guests or celebrity Grand Marshals may also be forthcoming. "No one has been confirmed at this time," Pride executive director George Ridley, Jr. told us. "We will make all additional announcements as they become available."