A crowd of approximately 80 gathered last night at the County Fair Building to attend the second debate between city supervisors Scott Wiener (District 8) and Jane Kim (District 6), both of whom are vying to be the Democratic candidate for the state Senate seat currently held by Mark Leno.
Wiener and Kim maintained a generally cordial tone throughout the debate, but the candidates used their positions on crime, housing and homeless to draw sharp differences between them.
The debate, which was hosted by Inner Sunset Park Neighbors, Sunset Heights Association of Responsible Persons and the Golden Gate Heights Neighborhood Association, covered six topics: affordable housing, the environment, crime and public safety, homelessness, quality of life crimes and economic opportunity. District 11 includes all of San Francisco, as well as portions of Daly City and Colma in San Mateo County.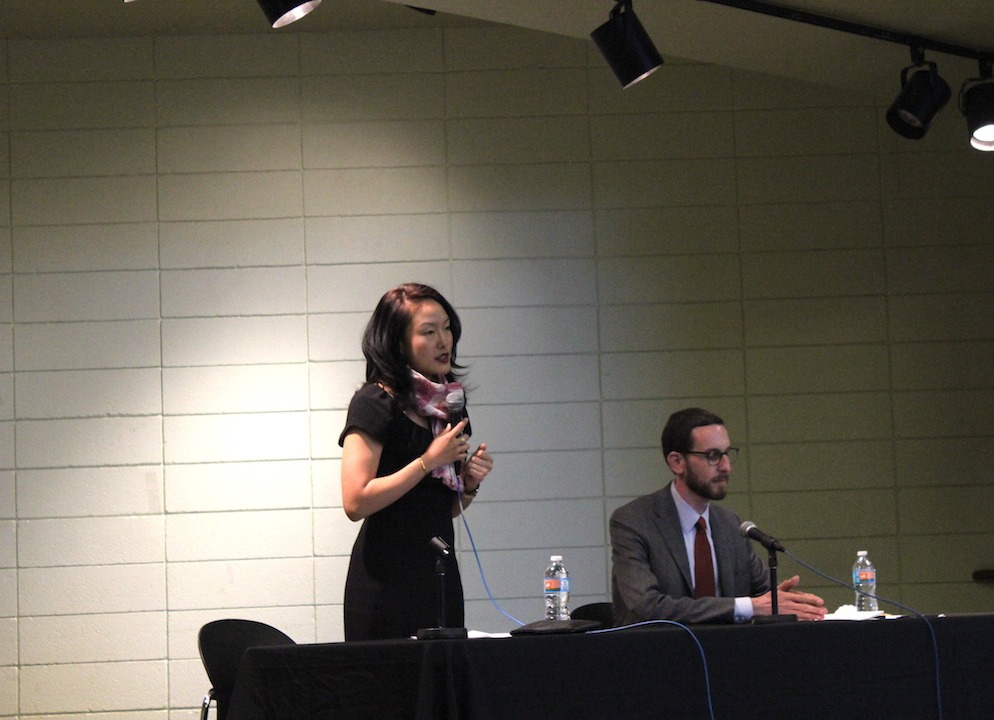 As Democrats in a left-leaning town, Kim and Wiener have each lined up a long slate of local endorsements; she's backed by five current supervisors, several union organizations, EMILY'S List and Harvey Milk LGBT Democratic Club. Wiener is supported by three supervisors, several labor groups, the Democratic Party and outgoing Sen. Mark Leno.
In her opening statement, Kim touted her efforts to create more affordable housing for middle- and low-income residents and making City College free for all San Francisco residents. "We can do that by asking those that sell homes and buildings at $5 million and $25 million just to pay a little bit more into the City," she said, referring to her proposal to raise funds via a "Mansion Tax."
Throughout the debate, Kim referred to her work on behalf of renters and depicted Wiener as a friend to landlords. "His campaign is, in fact, even funded by individuals who have spent over $1 million to abolish rent control here in the state of California," she said.
Given the number of donors to political campaigns, Wiener said it was unfair to spotlight a single contributor, and countered by asserting that many of Kim's donations originated outside District 11.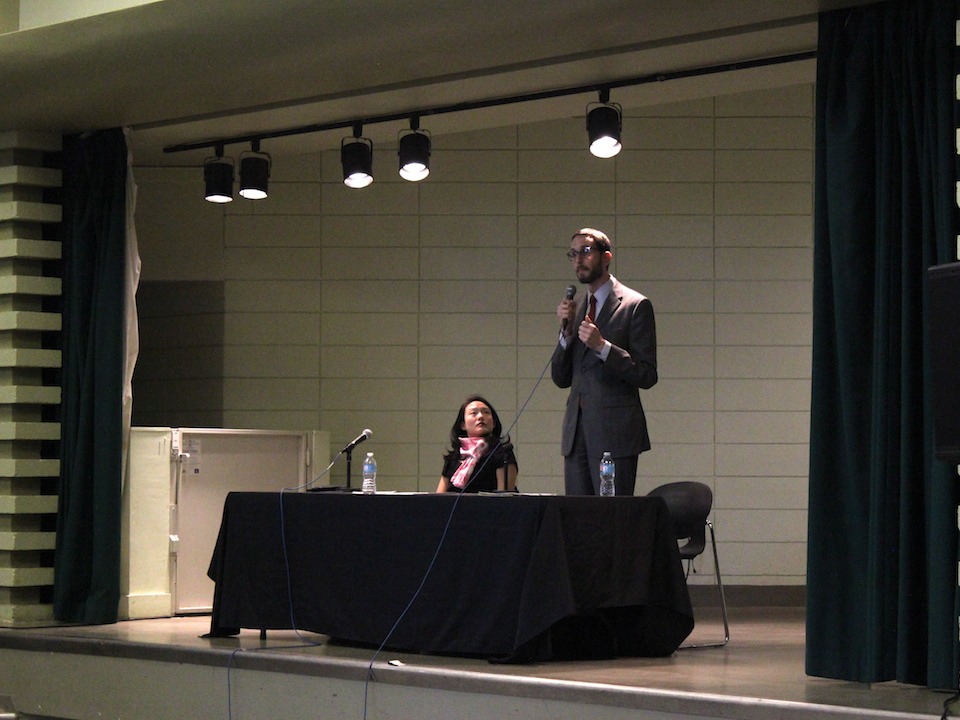 Housing

Wiener said the state "needs to provide better incentives to local communities" to spur the development of more affordable housing, and criticized Kim for her support of a temporary moratorium on new development in the Mission.
He also noted that many municipalities "completely ignore" the state's local housing element law, which requires them to adopt "comprehensive" plans that meet the needs of their communities. "We have some communities in the Bay Area that simply refuse to build any housing, including affordable housing," he said.
If sent to Sacramento, Kim said she would build on the work she's done in San Francisco to compel developers to create more affordable housing. "I'm proud of the fact that I have built more housing and more affordable housing than any member" of the Board of Supervisors, she said. "I was able to achieve an unprecedented 40 percent affordable housing on three different development projects in the district I represent," an increase from 12 percent, she added.
"The vast majority of the housing I fought for was actually for middle-income households, the first time ever that the City has intentionally built middle class housing," Kim said. Many of those residents earn between $80,000 and $150,000 per year, "the very households that we're losing in San Francisco."
"The market is no longer taking care of people that earn good wages in San Francisco," she said.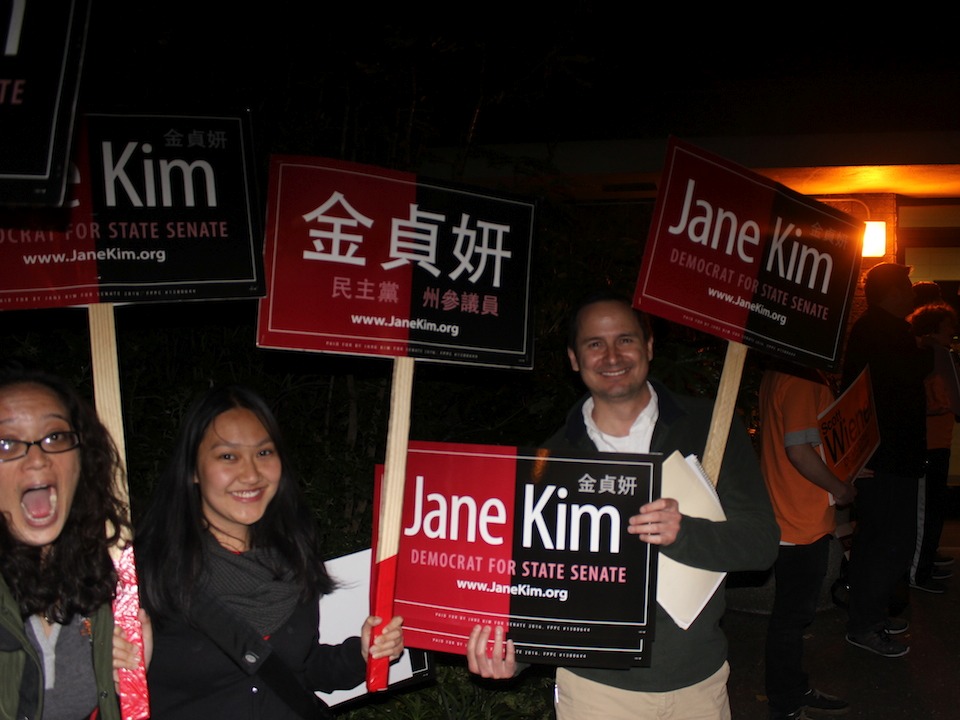 Crime/Public Safety
When it comes to addressing the citywide spike in property crimes, Wiener said he'd worked hard "to address the very real public safety challenges we face" by supporting efforts to hire more police. "We do not have nearly enough officers to walk beats or do traffic enforcement, and this is a real distinction in this race," since Kim has opposed legislation to tie the size of the police department to the City's population.
If elected, Wiener said he'll support greater investments in technology that will let law enforcement agencies collaborate more easily and would seek more accountability from repeat offenders. "It shouldn't take being arrested 10, or 12 or 15 times for breaking into or stealing cars to actually have accountability for that," he said.
Kim, who said her roommate's car was broken into twice in a single weekend, said she'd invest in more crime-fighting strategies and would strengthen the state's victim compensation fund "so we can actually help people become whole after the crime is committed."
"For decades, California has pursued a strategy of mass incarceration that's cost a lot of money and didn't work," said Kim, who cited a New York Times article in which Wiener said locking up offenders for six months might be a deterrent. "It's cheaper to send that individual to UC Berkeley for an entire year," she said.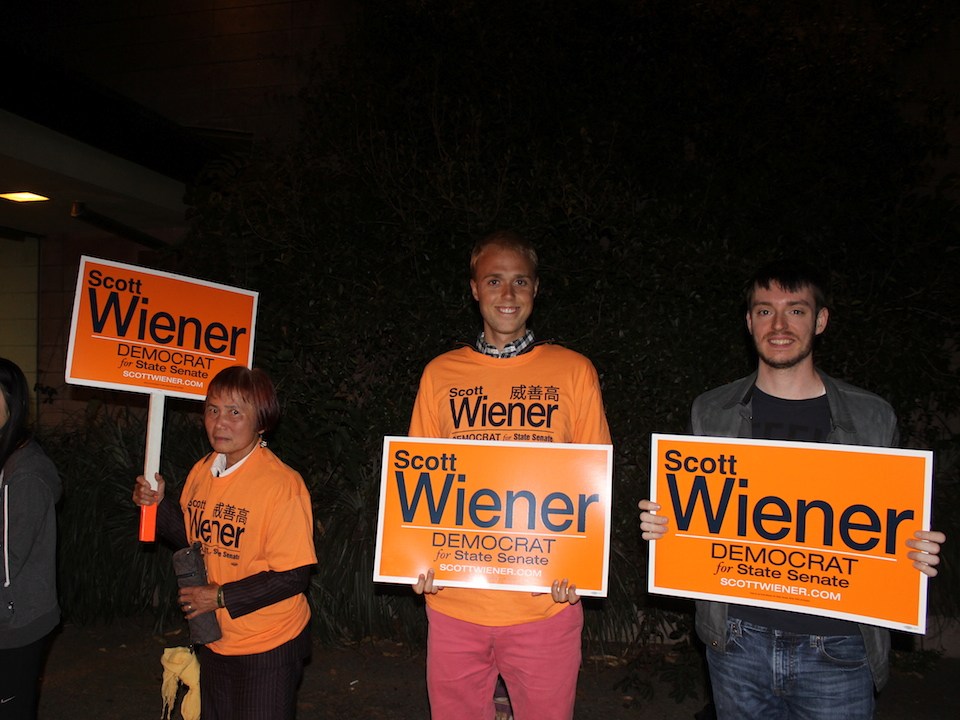 Homelessness
When asked if she supported legislation that would make it legal for homeless people to sit, sleep or camp in City parks regardless of local ordinances, Kim said she opposed "criminalizing behavior that is not criminal in nature."
"When we don't allow people to sleep in our parks or on vacant streets, we're just moving them in front of our doorsteps," she said, criticizing the sweeps that occurred before and during the Super Bowl. "When we talk about sweeping the homeless because we think that tents are inhumane, we should also understand that it's just as inhumane to sweep people when we have no where else to put them," said Kim.
Wiener said the proposed "Right to Rest" law "wipes away all of our local laws regulating public space" and would make it "100% legal" for people to pitch tents in front of homes, "and the city would not be able to do anything about it."
(As he answered, a woman disrupted the proceedings, shouting him down for allegedly criminalizing homeless people.)
"Allowing people to live, and ultimately, to deteriorate and die in tents on our sidewalks is not progressive, it is not humane, it's not safe," said Wiener.
Kim and Wiener will hold their next debate on May 18 at John O'Connell High School (2355 Folsom St). Voters can meet Kim, Weiner and Republican candidate Ken Loo tomorrow evening at Ortega Branch Library (39th Ave. & Ortega).