Crime incident reports in the Castro have notably lighter in frequency over the last couple of weeks since our previous roundup. So this time around, we're shifting focus to the safety front, with updates on Upper Market street safety, new plans for an urgent care center, and information on an upcoming self-defense workshop in early June. But first, the crime reports. (All reports below come via the SFPD, unless otherwise noted.)
Jeffrey's Natural Pet Foods Repeat Burglary
We reported last week that the Castro location of Jeffrey's Natural Pet Foods, was burglarized on May 8th, for the second time in five months. The store's manager guessed that a crowbar was used to pry open the store's back window, and that the same instrument was used to get into the store's register and safe. No products or electronics were stolen, only cash.
While police investigate, Jeffrey's is making some changes, adding stronger security at the back door and windows, as well as extra lighting, security cameras, and an alarm system.
Argument Leads To Violent Robbery
On May 14th at 2:30am, a 22-year-old man got into an argument with two men in their 20s as he was getting into a ride share vehicle at Castro and Market. One of the suspects slammed his head into the car. Both suspects then smashed his phone and stole money from him. The ride share driver took the victim to the hospital where he was treated for a mild concussion. No arrests were made.

Dolores Phone Robbery
Later on the 14th, at 10pm, a 41-year-old man was walking while on his phone near 16th and Dolores. Another man, 35-40, punched him and grabbed his phone, running in an unknown direction. No arrest was made.

Upper Market Intersection Safety Updates
Hoodline covered a May 5th open house put on by the SFMTA, which presented proposals for improving driving conditions and pedestrian and bicycle safety along Market Street between Octavia and Castro. Proposals included solutions to double-parking, improved bike lanes, and new left-turn rules. Get more information on the proposals here.
New Urgent Care Center Heading To Former RadioShack
After a little over a year of vacancy, we learned that an urgent care center plans to move into the former RadioShack space at 2288 Market St. GoHealth Urgent Care will be opening its first Bay Area location, offering local treatment for upper respiratory conditions, cuts, fractures, sprains, and other minor injuries. If all goes according to plan, GoHealth will open in August of this year.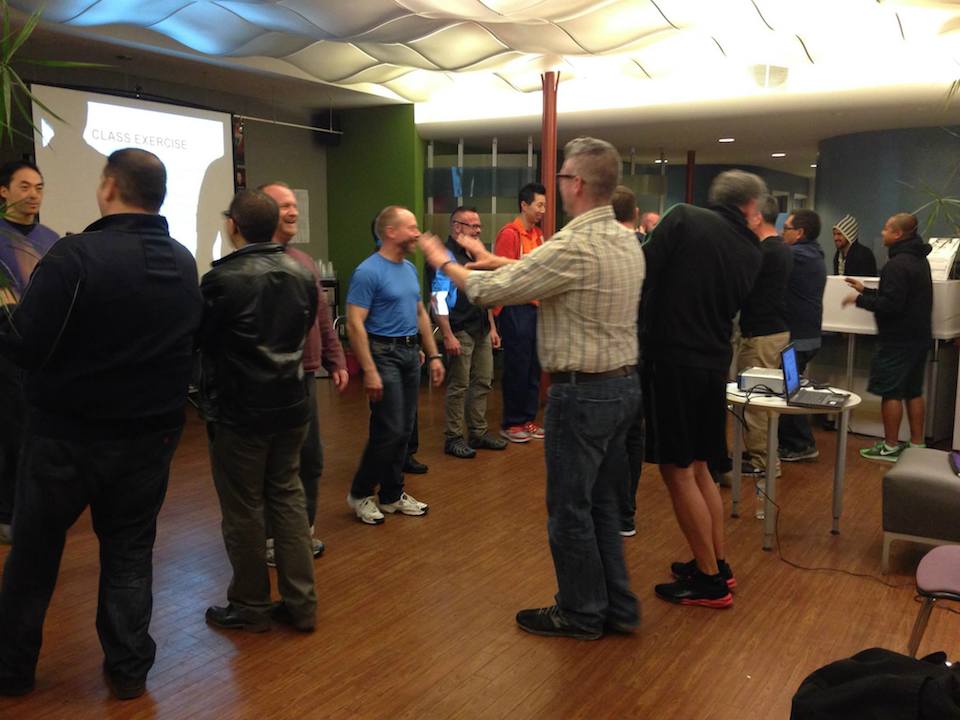 Participants at a CCOP self-defense class. (Photo: CCOP)
Castro Community On Patrol Offering Free Self-Defense Workshop
Castro Community On Patrol, the neighborhood's yolunteer-driven safety and awareness group, offers self-defense classes in addition to their routine patrols of the Castro. Their upcoming class, taught by Grand Master Ken Craig, will take place on Monday, June 13 at 7:00pm at STRUT (470 Castro St.). The class is already at capacity, but interested readers can register to be on the waitlist via Eventbrite.
---
Did we miss any recent crimes around the neighborhood? If you've got info on a crime or neighborhood safety issue to share, send us a tip here or add a comment below.