On Saturday night, the cast and crew of ABC's forthcoming miniseries When We Rise descended on the Castro, filming scenes into the wee hours of Sunday morning. Now, after a few days off, the crew is set to return to the neighborhood for more filming, starting tonight and continuing into Friday and Saturday. 
Tonight, filming will take place at Harvey Milk Plaza from 4-8pm, and at Twin Peaks bar from 8pm-midnight. More evening filming will occur tomorrow at 17th and Castro, again from 8pm-midnight. (The crew will also venture to the Upper Haight tomorrow afternoon, shooting scenes in Buena Vista Park and at Haight & Central.) 
Things wrap up on Saturday, with shooting from 11am-5pm at 18th & Castro—including scenes outside 520 Castro, formerly Harvey Milk's Castro Camera (and now the HRC Store). Saturday's shooting will wrap up at the Castro Theatre, from 5-8pm.
For the next three days, expect parking to be heavily affected in the surrounding areas, both for filming on Castro between 17th and 19th streets and for crew trucks on Market Street between Castro and Noe streets. 
For the unacquainted, When We Rise marks the reunion of the Milk team of screenwriter Dustin Lance Black and director Gus Van Sant. Based on a memoir by LGBT activist and Castro resident Cleve Jones, it follows the lives of several key players in San Francisco's LGBT community through the '70s, '80s and beyond.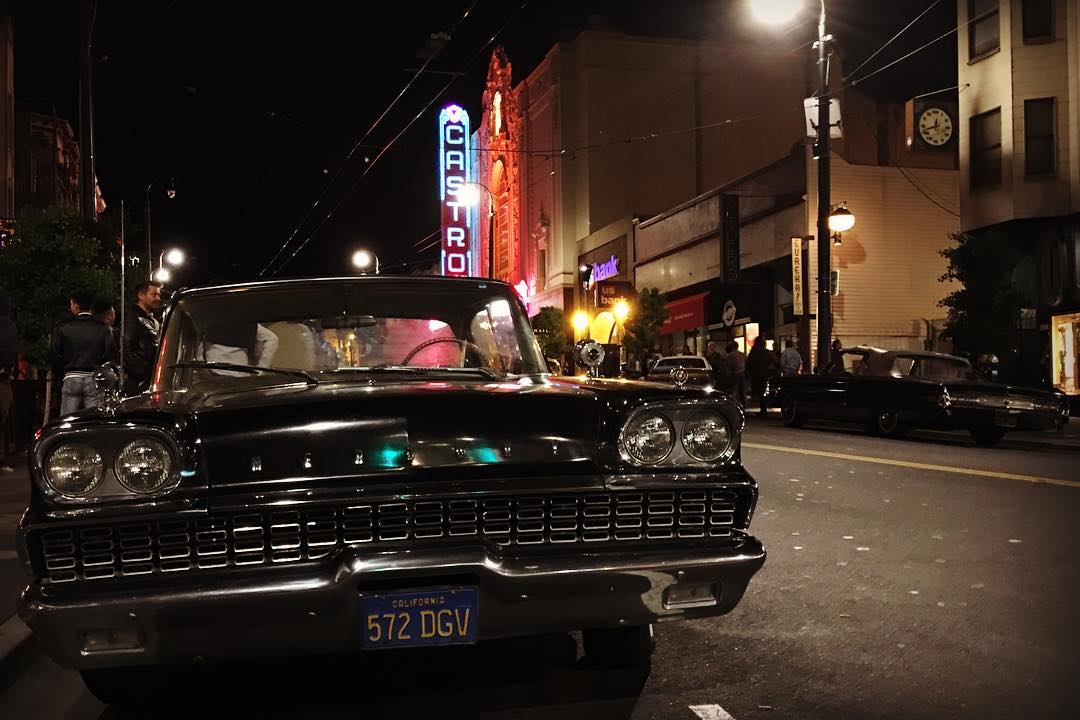 One of many classic cars brought in for the shoot. (Photo: thealmightyt/Instagram)
Last Saturday, crews could be seen preparing the neighborhood for the shoot by covering up the palm trees that line Castro Street, bringing in period cars and dressing up some storefronts to make them appear as they had in the past.
One of the scenes filmed last Saturday featured a young man being harassed after leaving a bar. A carful of young men followed him along Castro Street as he frantically blew his rape whistle, screaming for help. Right before the young man is assaulted, the Butterfly Brigade comes in to break up the altercation.
The Butterfly Brigade was a 1970s Castro safe-streets patrol co-founded by now-deceased LGBT activist Hank Wilson. Wilson and Tom Ammiano also started the Gay Teacher's Coalition, which was integral in the fight against the 1978 Briggs Initiative, which sought to bar gays and lesbians from working in public schools. 
American flag with rainbow stripes soaring above UN Plaza. (Photo: Steven Bracco/Hoodline)
Earlier last Saturday, the miniseries recreated the 1978 Gay Freedom Day March over at UN Plaza, complete with replicas of the original hand-dyed gay pride flags created by artist Gilbert Baker. One of the flags was the rainbow Pride flag; the other was the American flag, with rainbow stripes instead of red, white and blue ones.
Baker, who now resides in New York, created the replicas himself for the show. In 1978, he and 30 volunteers created the first Pride flags inside huge trash cans in the attic of the Gay Community Center at 330 Grove St.
Back then, the Pride flag included eight colors: hot pink, red, orange, yellow, green, turquoise, indigo/blue and violet. After they went into mass production, hot pink was removed, due to the fabric not being readily available. Turquoise was also removed before the 1979 Gay Freedom Day Parade, to make it an even six stripes when the Gay Freedom Day Committee (now SF Pride) split the flag in half in order to fly it from light poles on opposite sides of the street.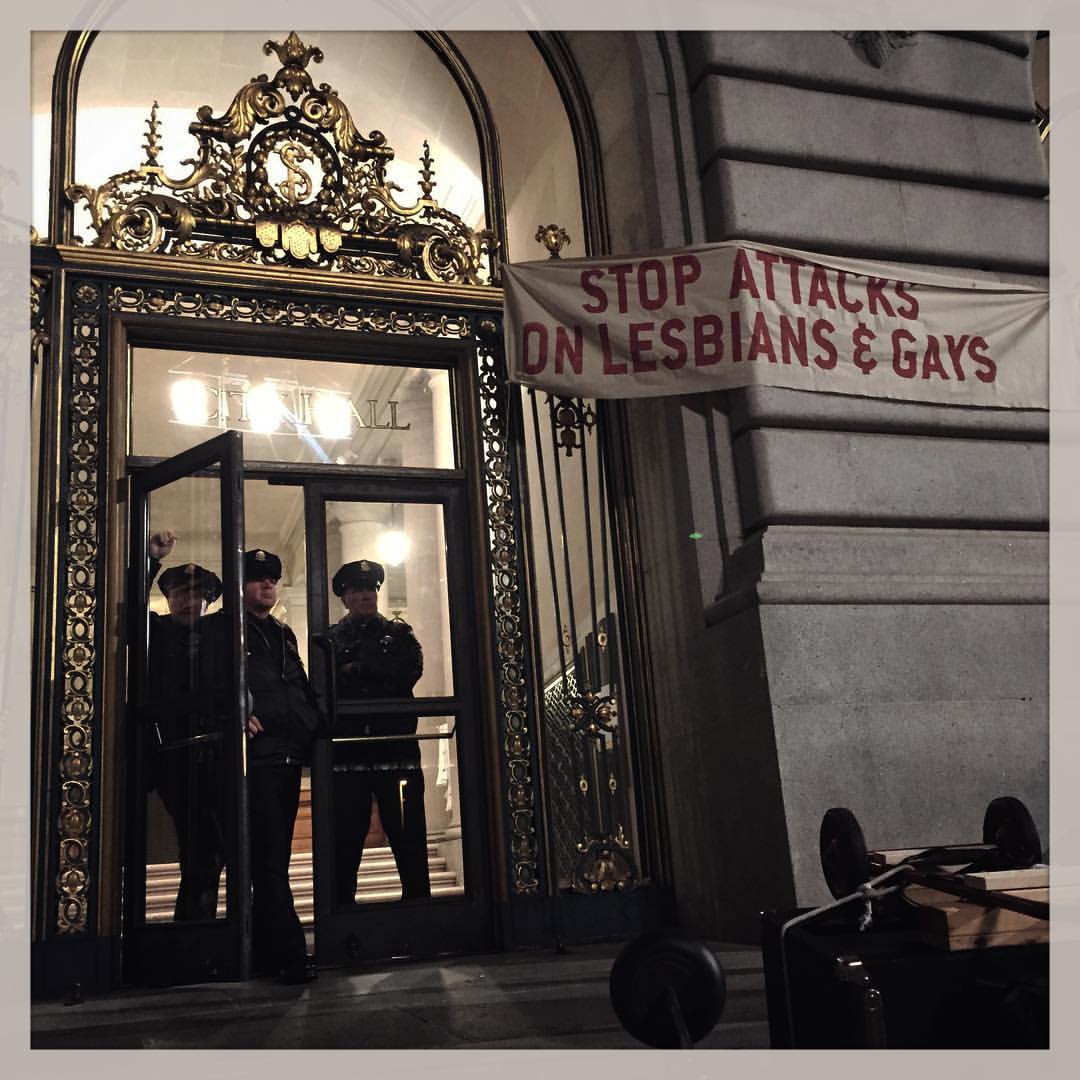 Photo: Dustin Lance Black/Facebook
On Friday evening, the crew was at City Hall, filming a partial recreation of the 1979 White Night Riots, which occurred after Dan White received a voluntary manslaughter conviction for assassinating Harvey Milk and Mayor George Moscone. Though the real-life rioters burned police cars and shattered windows at City Hall, those scenes were filmed in Vancouver, instead of San Francisco.
Planning on checking out some of the filming this week? Let us know in the comments below, and be sure to share your photos and videos. Based on the previously announced production schedule, this weekend will likely be When We Rise's last in the city, but if we get word of any extra shooting days, we'll be sure to let you know.